Istanbul is Turkey's biggest tourist attraction, and it's not difficult to see why. With historic mosques, trendy neighborhoods, and antique bazaars, this city can consume weeks of a traveler's time. However, it's possible to get so distracted by the city's charm that you miss out on other destinations that are just as worthy.
We're not saying you shouldn't go to Istanbul, but make sure you leave time to explore other corners of this magical country. From the sparkling Mediterranean coast to underground cities, check out these five places in Turkey unlike anywhere else on Earth.
İzmir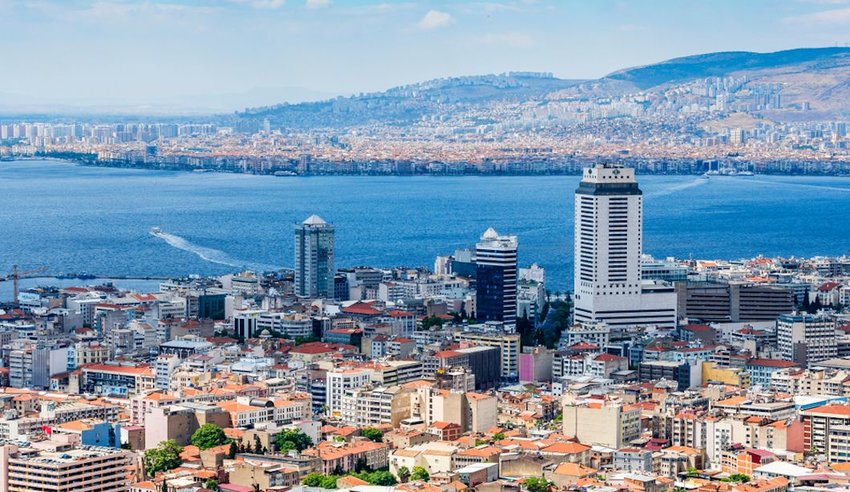 Turkey's third largest city is home to as many historically significant sites as Istanbul. The difference is many of them can be enjoyed without fighting waves of other tourists. Forget the Grand Bazaar. The genuineness of Kemeraltı Çarşısı is immediately apparent in the constant bustle of local vendors. Some of the best food in İzmir is found within the depths of this labyrinth and there's no better place for a Turkish coffee. Although you'll find only a few souvenirs here, this market is where many local İzmirites do their shopping.
In addition to great market shopping, İzmir also has ancient ruins. One mile from Kemeraltı, you'll find the roots of modern-day İzmir among the remains of Smyrna (İzmir's former name). Since it's relatively unheard of by tourists, don't be surprised if you're the only person wandering around. Later, make sure you join the masses and head one hour south to visit the ruins of Ephesus. Lastly, don't miss Pergamon. Largely passed up for Ephesus, the extensive remains of this ancient hilltop city include temples, a massive theater, and breathtaking views over the river and valley below.
Tip: In İzmir proper, chill with the locals in the laidback seaside nargile cafés in the Göztepe neighborhood or feast on seafood, meze, and Raki along the boardwalk in city's hippest area, Alsancak.
Fethiye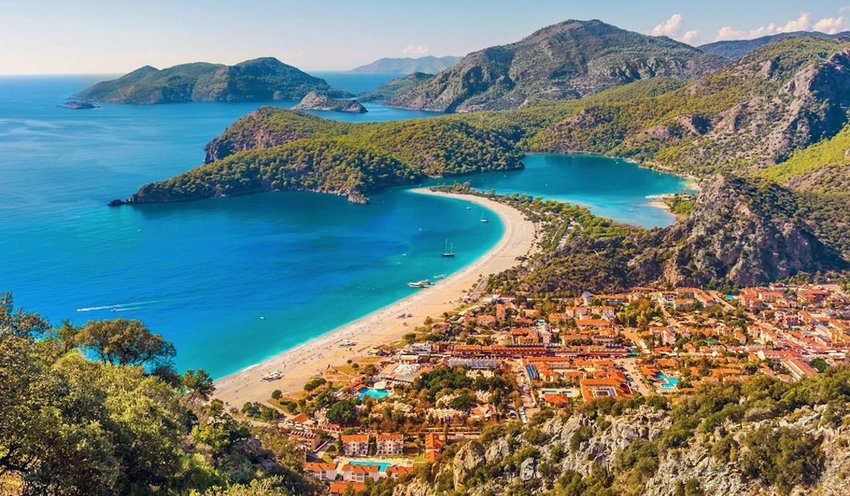 Adventure rules where the Aegean Sea meets the Mediterranean along the southwestern coast of Turkey. The coastal town of Fethiye is condensed into a small, somewhat touristy core, but the days are better spent outside the center.
Adrenaline-seekers will get their fix with Doğadayız, Fethiye's premier outdoor adventure company. Scuba dive through rocky caves and tunnels, run off the peak of a 6,561-foot mountain and paraglide over the iconic bay of Ölüdeniz, or take the plunge off a 180-foot high crane in Saklıkent Canyon — one of only two bungee jump-certified locations in Turkey. If you've still got energy to burn, there are also options to go whitewater rafting or canyoning through Saklıkent National Park.
Tip: Rent a bike and cruise the blue bike path running the length of town. This is a great way to get your bearings and enjoy an uninterrupted sea view.
Kaş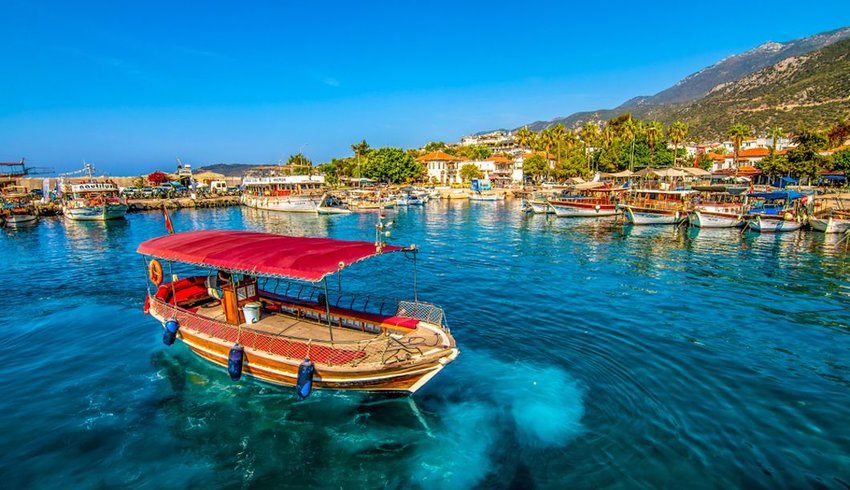 The turquoise coast becomes more irresistible the further south you go. Located just 90 minutes south of Fethiye, Kaş draws scuba divers, free divers, and beach-goers with its clear, deep waters and breathtaking beaches. Deep wrecks and cave-diving should be expected, but there's something for every skill level. If you're brave enough to give it a go, ditch the equipment and learn how to reach unimaginable depths on a single breath since Kaş is Turkey's leading free diving destination. For those uninterested in exploring deep waters, Kaş' beaches present the perfect substitute. Lounge at Kaputaş Beach for a relaxing vacation memory.
Tip: Save time for wandering around the cobble-stoned town center. Cap the day with dinner, drinks, and panoramic views in a restaurant at the "top" of town.
Cappadocia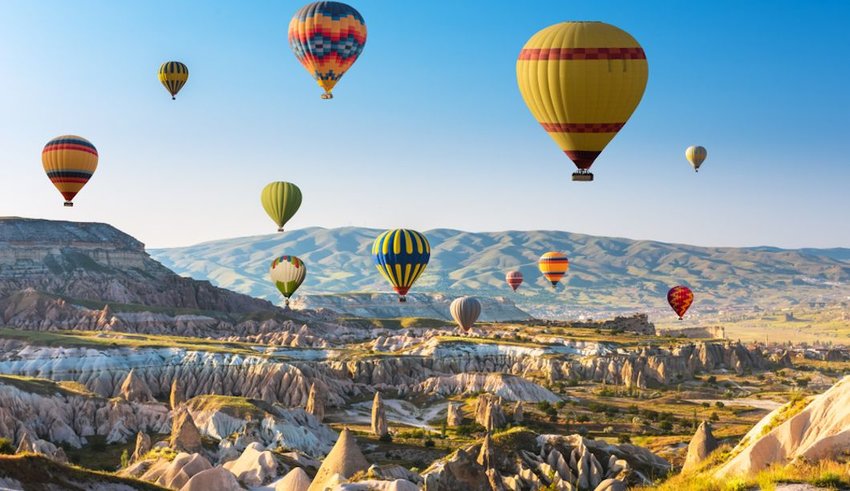 The region of Cappadocia gained international attention for its distinct "fairy chimneys," cliff-side dwellings, bizarre rock formations, and underground cities. Unlike anywhere else in Turkey, Cappadocia's magic captivates all who make the trek to what could only be described as another planet.
Days here can be spent outside visiting spectacular valleys, walking around outdoor museums, and discovering entire cities excavated beneath the earth's surface. Don't miss the Love Valley, Goreme Open-Air Museum, and the multi-level subterranean world of Derinkuyu, the deepest (but not the only) underground city in the region.
After an exhausting but rewarding day of venturing around, retreat to your cave hotel (yes, you too can stay in cliff-dwelling) to eat and drink on a balcony overlooking Goreme's chimneys.
Tip: Splurge on a hot air balloon ride for a birds-eye view over the region. Be aware that Cappadocia is snowy and cold in the winter. While the snow-dusted landscape makes for fewer tourists and a one-of-a-kind experience, bad weather can result in canceled hot air balloon trips.
Mardin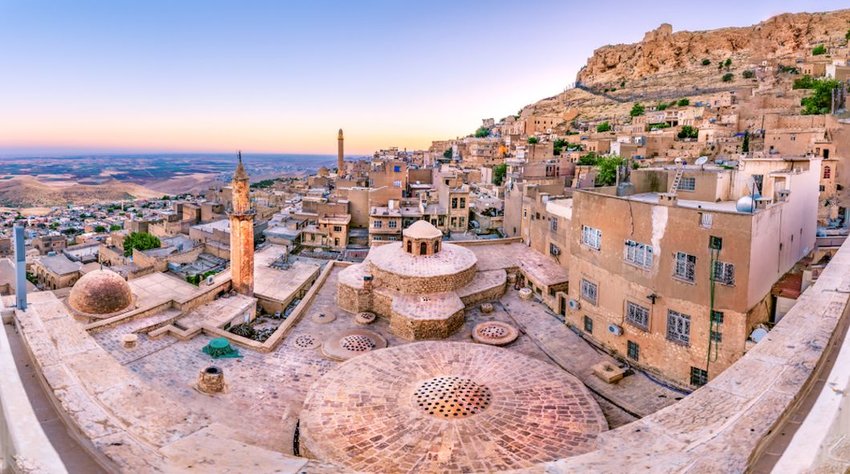 Veer off the tourist track completely to experience a side of the country that most Turks don't even see. Mardin's location near the Syrian border fosters a Turkish culture heavily influenced by its middle-eastern neighbor. Once occupied by Assyrians — an ancient Christian ethnic group — the old city of Mardin boasts a rare mix of mosques, churches, and medreses (colleges for Islamic instruction).
Visiting Mardin in the dead of winter is like discovering a new civilization. The twisting maze of cobblestoned alleys and quiet courtyards are devoid of tourists and the only buzz comes from the locals setting up their daily markets. Spend the day walking around old buildings like the Şehidiye Camii, Forty Martyrs Church, and the Kasımiye Medrese. If you're willing to venture 90 minutes from Mardin's old town to Midyat, you'll find the oldest surviving monastery of its kind, the Mor Gabriel Monastery (still in use today).
Apart from historic sites, another reason to go to Mardin is for food and drink. Intimate eateries serve heaping platters of eastern Turkish cuisine, the Syriana coffee fuels the day's exploration, and age-old wine making traditions keep the alcohol flowing.
Tip: Visit Atilla Çay Bahçesi (tea garden) for a warm cup of tea and a shisha pipe. The simple establishment sets up shop just behind the Şehidiye Camii's elegant minaret and overlooks the rolling hills of Mardin as far as the eye can see.