Autumn's crisp, blue skies punctuated by an explosion of fiery foliage are a welcome relief after the hot dog days of summer. Maybe you've seen the Instagram feeds or driven popular fall foliage road trips such as Virginia's Blue Ridge Parkway or Massachusetts' Mohawk Trail. These popular routes can be crowded and busy and accommodations sometimes book months in advance. Instead, here are some fascinating autumn road trips around the U.S. where you can avoid the biggest crowds.
Vermont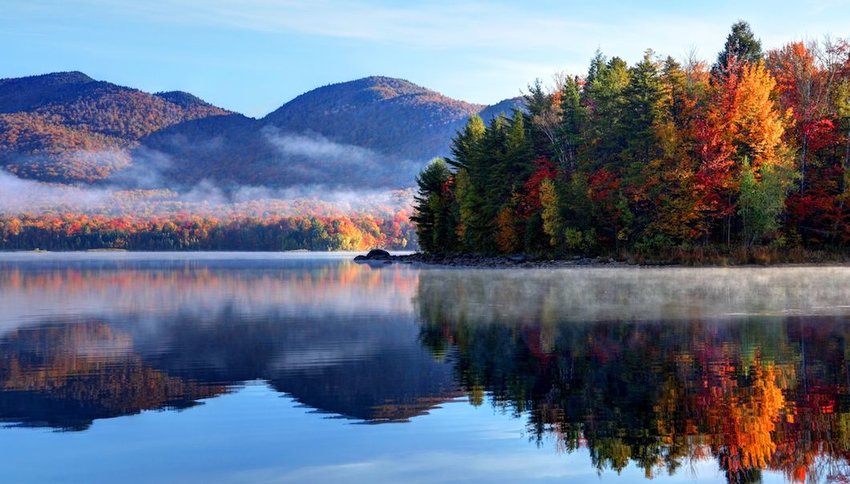 You'll have multiple options for drinking in this New England state's dazzling oranges, yellows, and reds on one of its many scenic routes. Build your own itinerary with short one-to-two-hour road trips or extended multi-day trips. To avoid crowds, travel during the early side of the peak fall foliage season, mid-September through early October. On weekdays, you'll also find fewer cars on the scenic byways.
Choose from 10 scenic byways ranging in length from 14 miles to 400 miles. From the Northeast Kingdom to Scenic Route 100 and the Shires of Vermont, you'll have plenty of chances to see every inch of this gorgeous state. Drive as many routes as your time allows and plan for stops along the way to visit museums, antique shops, festivals, and historical and cultural sites. And don't forget to dine on authentic farm-to-table cuisine.
Michigan's Upper Peninsula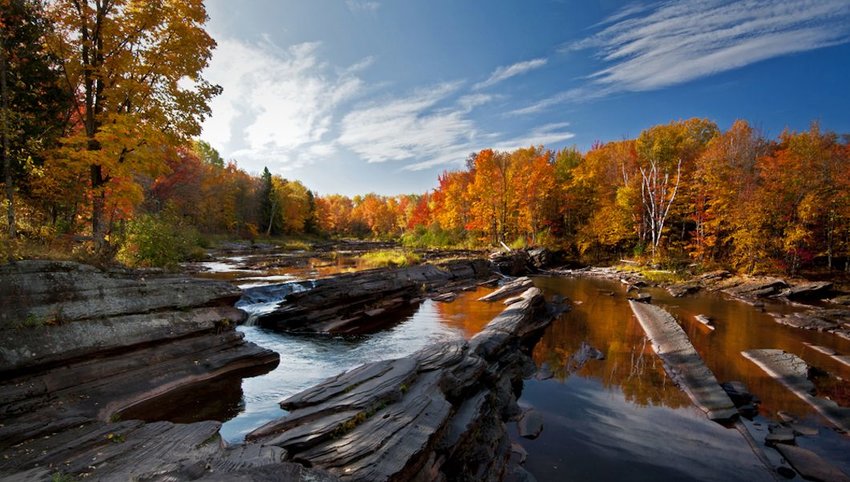 Surrounded by three Great Lakes with 1,700 miles of shoreline, 4,300 inland lakes, and eight national and state byways, Michigan's Upper Peninsula offers a plethora byways and highways to show off its autumn leaves. If you want to cover the seven million acres of forested, resplendent terrain, plan on at least six days. If you only have a day, try the 92-mile-long US-2 Top of the Lake Scenic Byway that begins just across the magnificent Mackinac Bridge, one of the world's longest suspension bridges. US-2 winds along towering bluffs and deserted beaches and passes quaint villages, restaurants, shops, and hotels with plenty of roadside turnouts to fill your Instagram feed.
Great River Road National Scenic Byway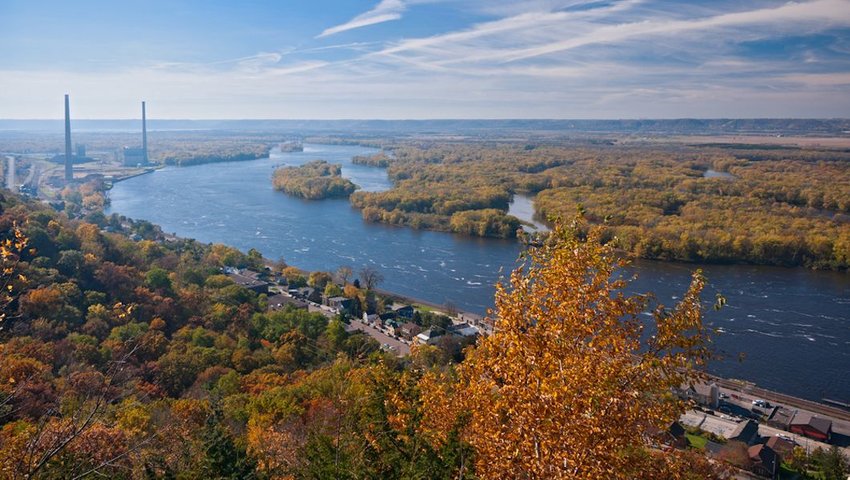 If you have the time, traveling the 3,000-mile Great River Road Scenic Byway is a bucket-list trip. This byway follows the mighty Mississippi River from northern Minnesota to the Gulf of Mexico and crosses an impressive 10 states. Depending on how many stops you want to make, plan on at the very least four days to make this incredible journey.
You'll pass bustling cities such as Minneapolis, St. Paul, St. Louis, Memphis, and New Orleans, as well as countless smaller cities and towns. Plan to stop at interpretive centers, locks and dams, museums, parks, historical sites, and local restaurants. Since the byway crosses multiple climate zones, be prepared to see a diverse palette of brilliant hues from the oak, ash, maple, birch, walnut, sumac, and sassafras trees. For the ultimate leaf-peeper trip, begin in Minnesota in late September and make your way south.
Natchez Trace Parkway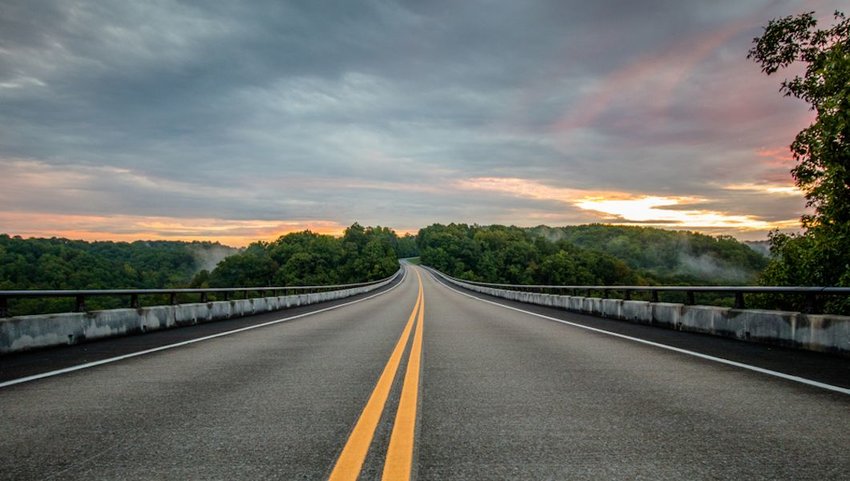 We usually think of northern states when we want the best leaf-peeper opportunities, but for a twist on a typical autumn road trip, head south and explore the Natchez Trace Parkway. The 444-mile scenic drive roughly follows the Old Natchez Trace, an ancient travel and commerce artery used by Native Americans, slave traders, European settlers, and soldiers. A drive along the Natchez Trace Parkway, which runs from Tennessee through Alabama to Mississippi, is a drive through 10,000 years of history.
Expect to pass ghost towns, Civil War grave sites, and haunted estates. Be sure to stop and explore Rocky Springs, a once-prosperous town first settled in the 1790s. It reached its peak population of 4,616 people in 1860, but the Civil War, Yellow Fever epidemics and crop infestations over subsequent decades decimated the town. Today, all that remains are an 1837 church and a cemetery. For the best fall foliage, travel the Natchez Trace Parkway in middle to late October and see oak, hickory, maple, and other hardwoods reach their fall glory.
Colorado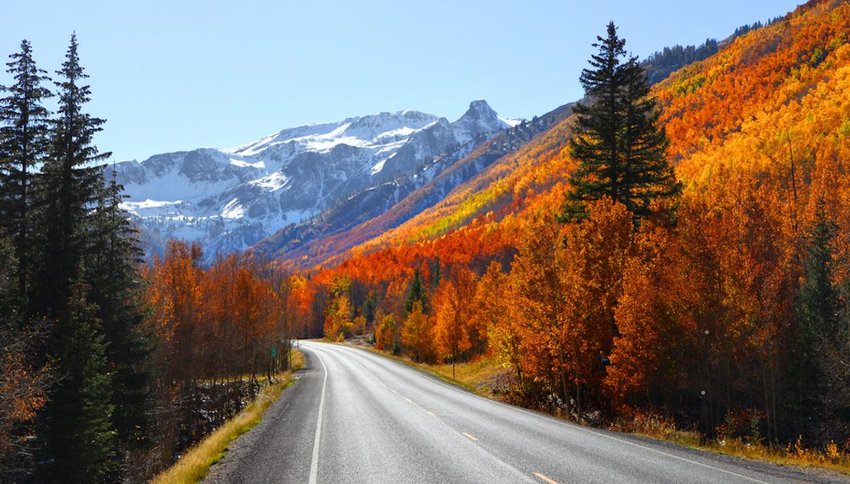 An autumn road trip through the Rocky Mountains in Colorado yields dramatic 14,000-foot, snow-capped mountain peaks and lovely, fluttering golden aspen leaves interspersed with deep green evergreens against a bluebird sky. Head out on the Peak to Peak Highway, which starts in Idaho Springs and winds north through Indian Peaks Wilderness Area onto Estes Park, a mountain town adjacent to the stunning Rocky Mountain National Park. This 55-mile-long trek is Colorado's oldest scenic byways.
For another dazzling display, head to the San Juan Skyway, a 235-mile-long loop that includes the "Million Dollar Highway." The San Juan Skyway passes through the historic mining towns of Durango, Telluride, Silverton, and Ouray. A must-see stop is Mesa Verde National Park, home to an impressive array of prehistoric and archeological wonders including cave dwellings. The canyon-clinging, nail-biting stretch that runs from Silverton over Red Mountain Pass down into Ouray is known its "million-dollar views" that you won't want to miss.
Pacific Coast Highway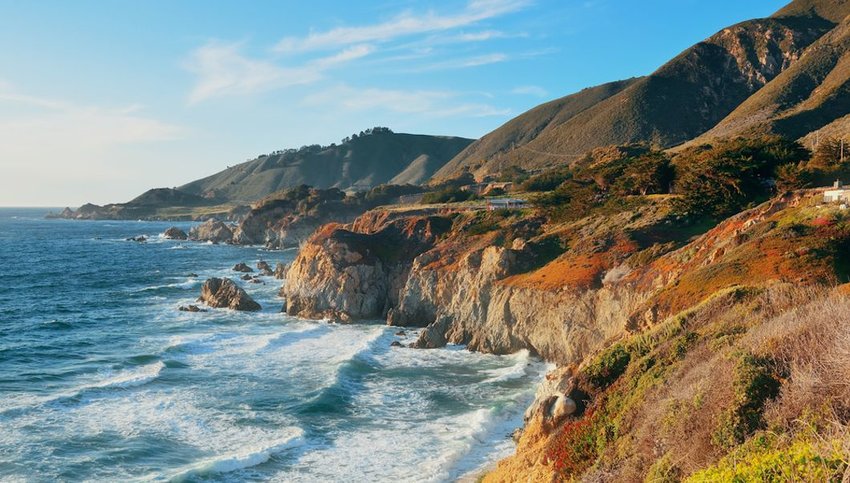 If dramatic cliffs overlooking pounding ocean waves and spectacular sunsets over the ocean sound appealing, a fall road trip along the 1,650-mile Pacific Coast Highway from Washington to California is for you. Fall is the perfect time to drive this iconic road since the weather is generally still warm and the beach crowds have thinned out.
If you have about 10 days, start in Port Townsend near Washington's Olympic National Park and head south. In Oregon, take in the breathtaking beaches and fascinating geological formations. Once you hit California, the Pacific Coast Highway ventures into redwood forests, so be sure to stop by the Avenue of Giants with its massive trees. You'll cross the Golden Gate Bridge into San Francisco and then down into Big Sur, arguably California's most stunning coastline where the mountains kiss the sea. Continue south to San Luis Obispo with a stop at Hearst Castle and then continue south to the land of beaches and fun and sun in Los Angeles. If you don't have 10 days, you can drive any piece of the Pacific Coast Highway for a few hours or a few days.