We can do our part to make this planet healthier by choosing more sustainable lifestyles, like forgoing some car rides, and taking a bike instead. To get you in the mood, here's some of the coolest and most innovative bicycle infrastructure that's already out there. Hopefully it inspires you to lobby your own locality to build unique bike paths of its own.
Cycling Through Water, Genk, Belgium
We can't cycle on water, but it certainly feels like we can in the Bokrijk nature park of Belgium's De Wijers wetlands region. Cycling Through Water is a 656-feet-long, and arguably most dramatic, section of the Bokrijk cycle node network. It cuts a straight line between two ponds, and drops to just over five feet below the surface. Approached via ramps, bikers feel as if they are pedaling into the water itself. They can then observe the water at eye level and even run their hands through it.
About 18 miles away in Bosland's Pijnven nature reserve is a similar path called Cycling through the Trees. This circular path takes cyclists and pedestrians to a height of 30 meters in the reserve's forest.
Cykelslangen, Copenhagen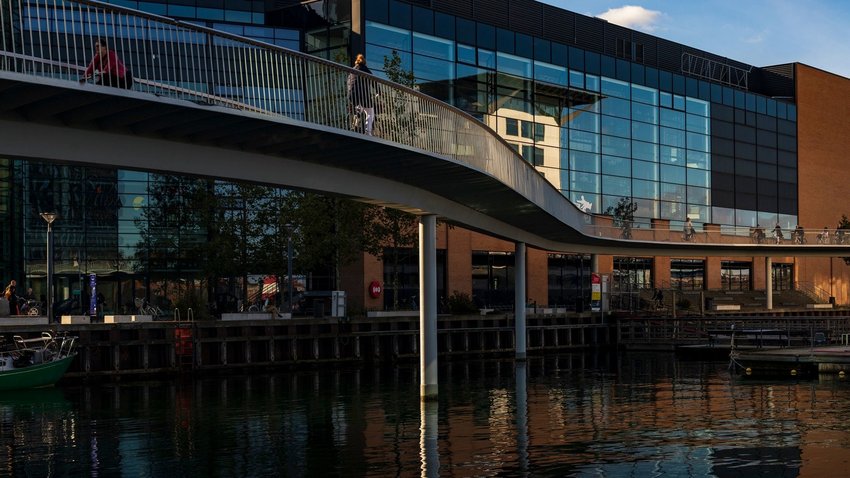 Danes have made cycling their transportation method of choice. In Copenhagen there are more bikes on the road than cars, and over 60% of locals' work or school trips are made by bike. The Cykelslangen (or Bicycle Snake) is a suspended winding bridge that provides access from the Fiskertorvet shopping mall to the Bryggebroen bike bridge, which crosses the Grand Canal. It hangs above a heavily pedestrianized area once also used by cyclists, thus creates safer and quicker travel for those traveling by foot and pedal power.
Unsurprisingly, this is just one of several city bridges built with the cyclist in mind. Inderhavnsbroen and Lille Langebro connect the city center with the Christianshavn neighborhood. Both of these contemporary structures open to allow boat traffic to pass through, too.
Happy and Healthy Bike Lane, Bangkok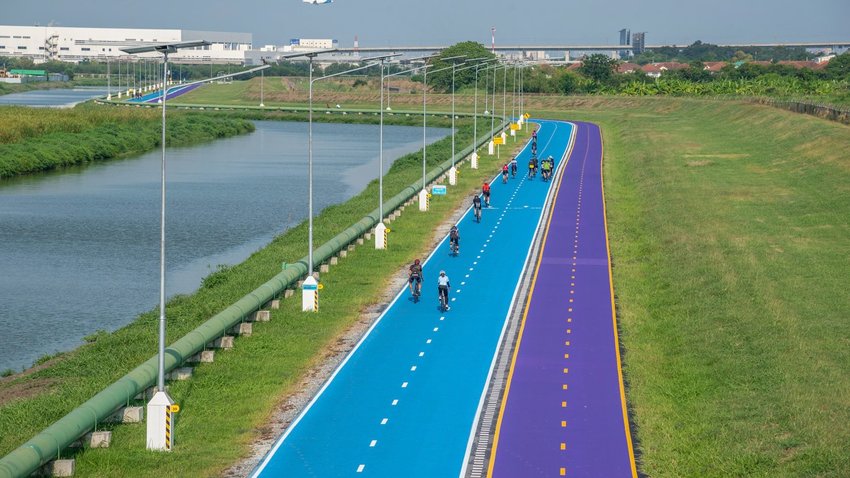 Groups of cyclists are perhaps one of the last things you'd expect to see upon arrival at Bangkok's Suvarnabhumi Airport. However, circling the airport is the 14.6-mile-long and wonderfully named Happy and Healthy Bike Lane, completed in 2014. Cyclists of all skill levels come to pedal along the blue and purple lanes, which pass alongside canals while circling the airport. The blue lanes are for casual bikers, while the purple are for those that want to increase the speed. Tourists can even enjoy the lanes by picking up a bike at the rental shops. Rarely have cycling and plane spotting been combined so wonderfully.
Hovenring Roundabout, Eindhoven, Netherlands
While Copenhagen specializes in bridges, the Dutch city of Eindhoven opened a visually impressive bicycle roundabout in 2012. This circular floating structure was conceived to improve car and bike traffic at a chaotic intersection that connects the city with the neighboring Meerhoven and Veldhoven areas. Hovenring functions as a roundabout, with ramp access on four sides, but is technically a cable-stayed bridge. It has a 236-feet diameter bikeway held in place by a pylon and 24 steel cables. If you are ever in the city, be sure to pass by after dark, when LED lighting illuminates the deck and adds to Eindhoven's City of Lights nickname.
Tunel de Morlans, San Sebastian, Spain
When the Basque city of San Sebastian decided to reroute a railway line, it was left with an unused tunnel. Rather than close it off, city planners came up with the idea to turn it into a bike underpass that now connects the Amara and Ibaeta neighborhoods. The two areas were previously impassable by bike and, upon opening in 2009, the tunnel served to promote cycling among commuters and students. It makes up just over half a mile of a mile-long bikeway, which also has open-air sections framed by verdant vegetation.
Van Gogh Path, Neunen, Netherlands
You'll probably be familiar with Vincent van Gogh's painting The Starry Night and might have seen it hanging in Manhattan's MoMa museum. In Van Gogh's one-time hometown of Neunen you can experience a bike path inspired by the masterpiece. It's the work of Daan Roosegard, an artist notable for fusing technology with urban art. By day, this kilometer-long path resembles any other, cutting through a field between the outskirts of Neunen and Eindhoven. But the path is embedded with 50,000 fluorescent stones that charge during daylight hours and twinkle at night, just like the stars watched by van Gogh from the window of his asylum in Saint-Paul, France.
Eco Cycle, Tokyo
While not actually a bike path, Japan's ECO Cycle infrastructure was too cool not to mention. Journeys by bicycle amount to about 15% of daily travel in Tokyo. With this number growing, cyclists in this city of 14 million inhabitants face the all too familiar frustration of finding spaces at parking racks. This is where the visionary ECO Cycle project comes into play. The company has designed a system that is able to automatically store up to 204 bikes in both underground and overground lockups. You simply approach something that resembles a vending machine, place your bike on a platform, press the Start button and watch as it disappears into safety. Upon the swipe of a card you can get your bike back within 13 seconds.
Photo by Henri van Avezaath