As an American who grew up with a first-generation Cambodian best friend, I've always been fascinated by Cambodian or, Khmer, culture. I was introduced to Khmer cuisine, traditions, and its rich history at a very young age, so the first time I went to Southeast Asia, I headed straight to Siem Reap, Cambodia. I wanted to see for myself the country that my friend's family had called home before having to flee during the Khmer Rouge, a genocide of the Khmer people by Pol Pot that lasted from 1975 to 1979.
That first visit to Cambodia had a profound effect on me. It was even more beautiful than the pictures I'd seen. The temples, Angkor Wat in particular, were the type of ancient architecture that takes your breath away. The first visit involved a lot of "pinch me" moments, as I explored the city solo and a guide drove me out to dozens of temples tucked in the forests of the countryside. Although I've been to over 40 countries, to this day, Cambodia remains my favorite. I have never met a more welcoming and kind group of people, so proud of their history.
Unfortunately, during that first visit, as the city was preparing for their New Year, I had an outbound flight to Chiang Mai. I promised myself I'd return during the Khmer New Year as soon as I could. I may have experienced aspects of it, thanks to my friendship with Thalika and her family, but to celebrate the most important and sacred holiday of the Khmer people while actually in Cambodia would be the experience of a lifetime — one I plan to be part of once travel is safe again.
Cambodian New Year is the celebration of the solar new year and the biggest celebration of the year in Cambodia. Similar to other New Year festivities in Asian cultures, it combines tradition with religion, and puts a big focus on honoring ancestors and elders. While there are parties with lots of traditional foods and drinks, the three days are filled with Buddhist ceremonies that center on giving thanks, making offerings to deceased loved ones, and donating to those less fortunate.
Running from Wednesday, April 14, to Friday, April 16, in 2021, Cambodian New Year is the perfect introduction to Khmer culture, history, traditions, and values. Here are six things to know about this important holiday that are bound to inspire you to book a flight to Cambodia as soon as you can go.
It's Technically Khmer New Year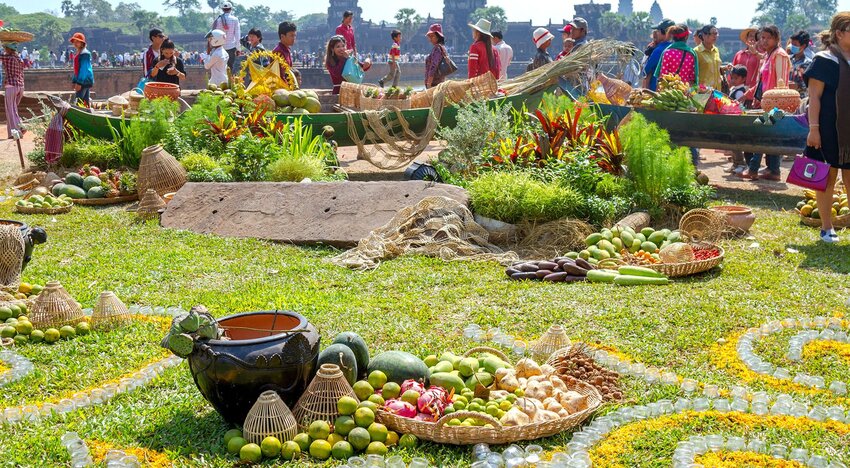 If we're going to talk about the Khmer (pronounced kh-MY) people, we should use the proper word for them, which is their word: Khmer (ភាសាខ្មែរ). Khmer people live in the country of Kampuchea, which can be translated to "Khmer country." People who are Khmer speak Khmer, formally known as Khemarapheasa. Therefore, for the sake of this piece and out of respect, we're going to be calling it Khmer New Year (Chol Chnam Thmey), or KNY for short.
It's the Most Important Celebration of the Year in the Khmer Culture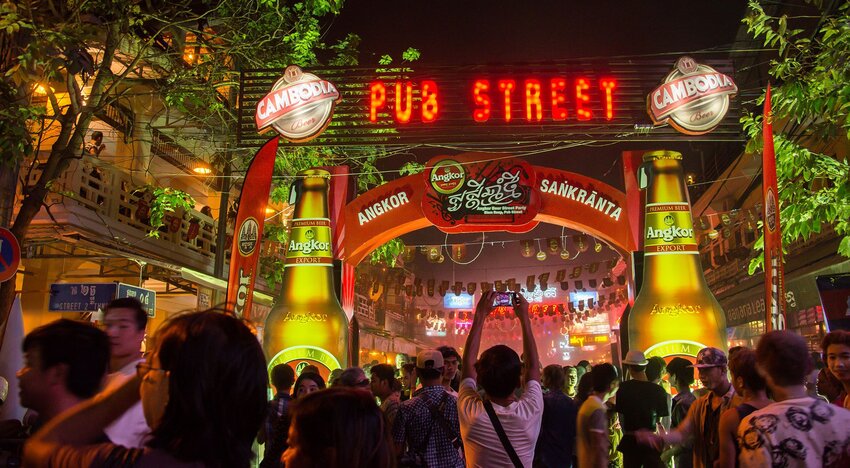 Although it's certainly not the only celebration in Cambodia, KNY is by far the most important. The country pretty much shuts down so families can gather to both celebrate the New Year and honor their ancestors. As is the case in most Asian cultures, honor and respect play a major role in everything the Khmer do, and celebrating the New Year is no exception. While there are parties to attend with lots of food, drinking, and dancing, these parties are steeped in tradition and honor family. If you're lucky enough to find yourself in Siem Reap during KNY, you're likely to end up on Pub Street enjoying performances and live music with a drink in hand. Having been to a handful of Khmer weddings, I can say from personal experience that they really know how to party.
It Hasn't Always Been in April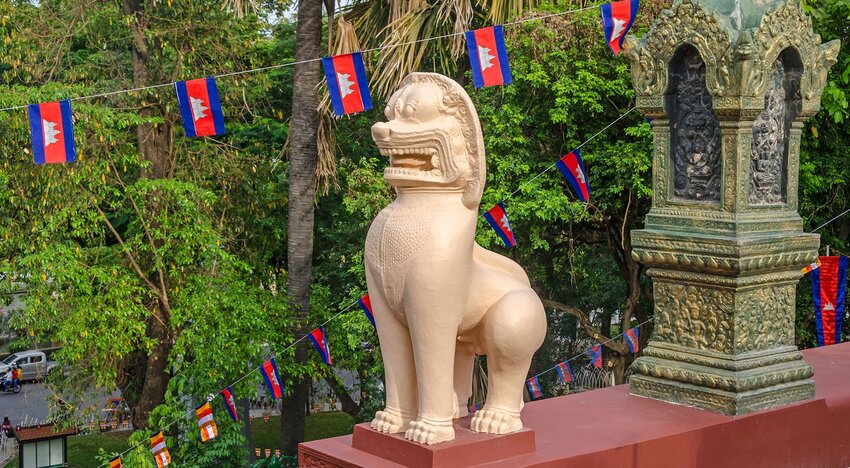 Khmer New Year was originally celebrated on the first day of the first month of the lunar calendar, which would typically fall in November or December. However, in the 13th century, during the Angkor Era, the Khmer King at the time changed the date of the New Year so it fell in the fifth month of the lunar calendar, thereby making it the date of the traditional solar new year: April. This made sense both then and now, as November to March are the busiest months for farmers. The New Year thus lines up with the end of harvest season, but takes place before the rainy season begins in May.
It Lasts Three Days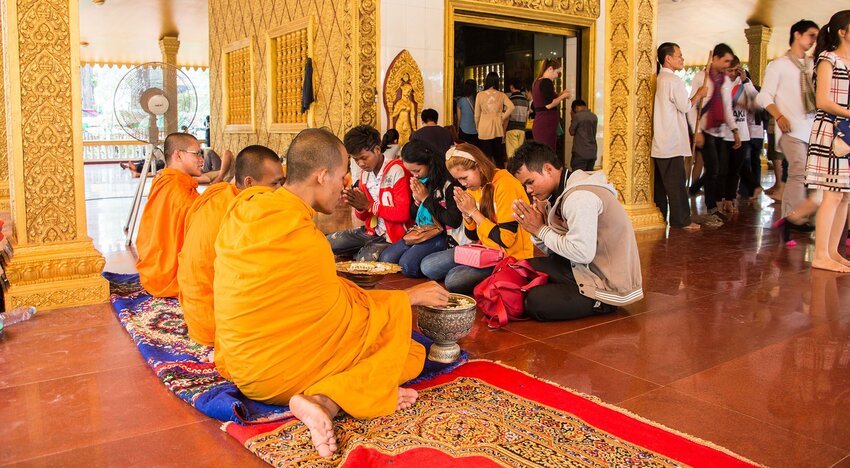 KNY takes place over three days — or sometimes four days, if the third day is a Friday. Why stop celebrating when you still have the whole weekend to go?
The first day of the New Year is called Moha Sangkran. On this day, those celebrating will dress in new yet traditional Khmer garb so they look their best when welcoming the angel of the New Year, who will arrive and stay until the next New Year.
There are seven possible angels that can appear on Moha Sangkran, and the one that appears is based on the day of the week. For example, this year Khmer New Year starts on a Wednesday, so the angel who will appear, based on legend, is Mondar Tevy. She wears champa flowers in her hair, rides a donkey, and loves milk.
In preparation for this day, people clean their homes (every single corner in case the angel checks!) and decorate with lights, plants, and offerings for the inside altar, as well as the spirit house — an outdoor roofed shrine that sits on a pillar in front of someone's home to house the protective spirit of the family.
Inside altars — some of which are kept up all year — are given offerings of fresh fruit, traditional Khmer food, and canned drinks (especially soda). After the Khmer Rouge regime, one of the worst human genocides in history, honoring the dead during Khmer New Year became an even more important aspect of the holiday.
Older generations pray the Dharma on the first day as a way to further welcome the angel into their home, and it's also tradition that food offerings are brought to the monks at the local pagoda or Khmer temple. For those who strictly observe the holiday, bathing in holy water three times is done on the first day as well.
The second day of the New Year is called Vireak Vanabat (also known as Vanabot). This is the day of giving. Throughout the daylight hours, donations of money and clothes are made to those in the community who need it, and gifts are given to family members, especially elders. Families also visit their Khmer temple to receive blessings from their ancestors. In some Khmer communities — as some of these traditions are altered a bit depending on where you live — monks are asked for blessings of love, happiness, and peace after families build a pointed mound of sand to represent the Valuka Chaitya. It's here in Valuka Chaitya where the Buddha's diadem and hair are buried.
The third day of the New Year is called T'ngai Loeng Sak. On this day, statues and images of Buddha, as well as the elders in the community, are washed with perfume water. This washing, called Pithi Srang Preah, is the last official ceremony of the KNY. The washing of statues or images of the Buddha symbolizes washing away bad behavior and mistakes from the past year, so the family can start fresh for the upcoming year. Washing parents and grandparents is seen as both a sign of respect and a good deed. The practice is meant to bring good luck, happiness, and posterity to the elders, while the children who are doing the washing receive advice and positive energy that will last the entire year.
It's a Feast for the Senses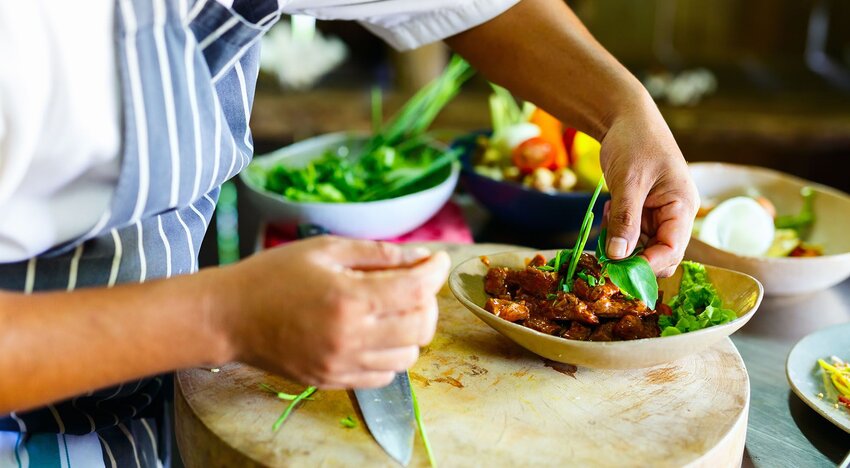 If you were raised in a Khmer household, you already know there's always amazing food being cooked. But during the three days of the New Year, families bring out the big guns of traditional dishes, not just for those alive and celebrating, but also as offerings to their ancestors.
Some of the more popular traditional dishes that are served and offered during the New Year are egg rolls; ya-hon (Khmer hot pot); Kralan, a steamed rice cake mixed with peas, grated coconut, and coconut milk that's stuffed inside a piece of bamboo and roasted; Lort Cha fried egg noodles; Num Pang; and Khmer Fish Amok. One of the most prized dishes, nom ansom, is typically served as a sweet sticky rice dessert, but can also be savory when it's made with pork and a potato-like starch filling.
It Includes Games, Contests, and World Records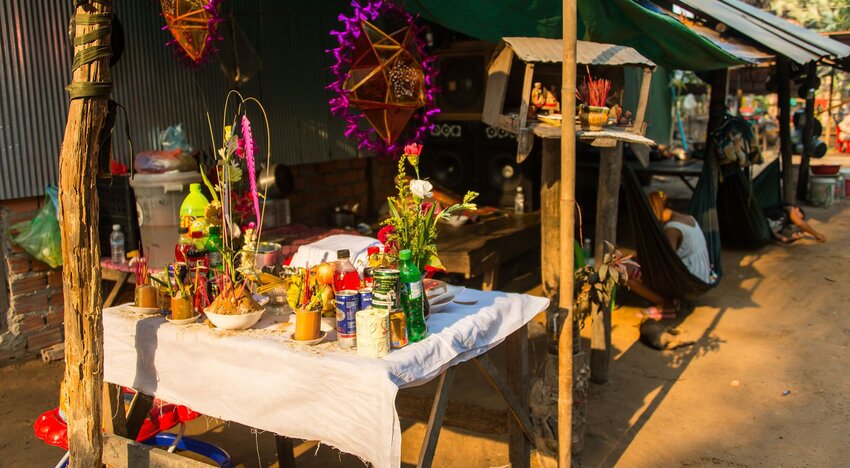 When you have three days, possibly four, to fill with activities, people can get really creative. Children and adults alike engage in traditional games like Chol Chhoung, which is similar to a dance off but with singing involved; Leak Kanseng, which is a modified version of the childhood game "Duck, Duck, Goose"; and Chab Kon Kleng, played on the first night of the New Year, when adults take on the roles of hens, crows, and chicks, as the first two fight to catch as many chicks as they can.
For a few years in a row, in Siem Reap, world records were set for the largest sticky rice cake (nom ansom) ever made. The largest weighed 8,906 pounds and 10 ounces.
While there are solemn aspects to Khmer New Year, more than anything it's a celebration of life, family, food, and tradition. In the capital of Cambodia, Phnom Penh, the last day of the New Year is filled with horse races, fireworks, boxing matches, and partying in the streets. Each part of the country puts their own spin on the holiday, as do Khmer expats all over the world, making every celebration unique in its own way.
Main photo by Dara TEK/Shutterstock.