Signs of spring are popping up all around us and what better way to ring in the new season than hiking to a mesmerizing waterfall? With several factors like global warming and overuse affecting our ability to enjoy these beautiful cascades, seasonality is more important than ever. Here are our top picks for waterfalls in the U.S. that are flowing in spring.
Multnomah Falls, Oregon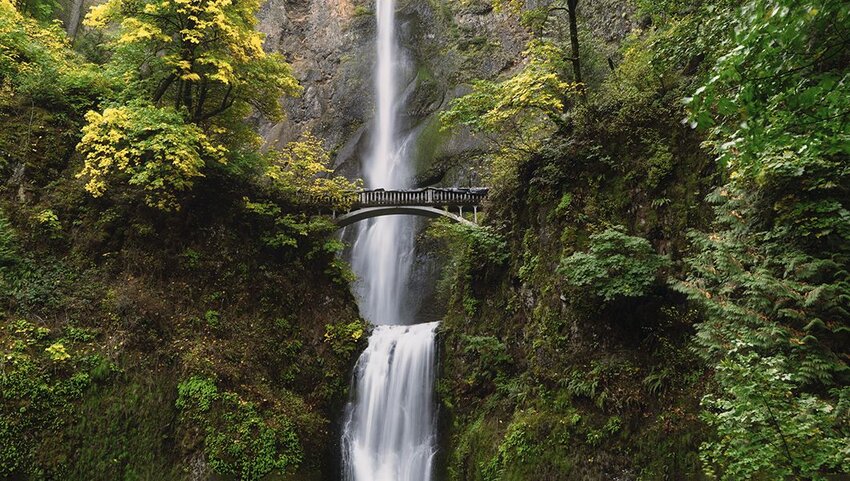 Multnomah Falls is one of the most popular natural attractions in the Pacific Northwest and with over 2 million visitors a year, it's not exactly an off-the-beaten-path destination. But, if you arrive early in the day or late in the afternoon you can enjoy uninterrupted views of the 850-foot falls, plunging into the Columbia River Gorge.
The falls are actually a combination of an upper and lower waterfall system fed from underground springs that originate inside Larch Mountain. Flow variation throughout the season is based on snowmelt and storms making the off-season of late winter and early spring the perfect time to visit, especially if you're concerned about crowds. Be sure to view this stunning torrent of water from the idyllic viewpoint, Benson Bridge.
Havasu Falls, Arizona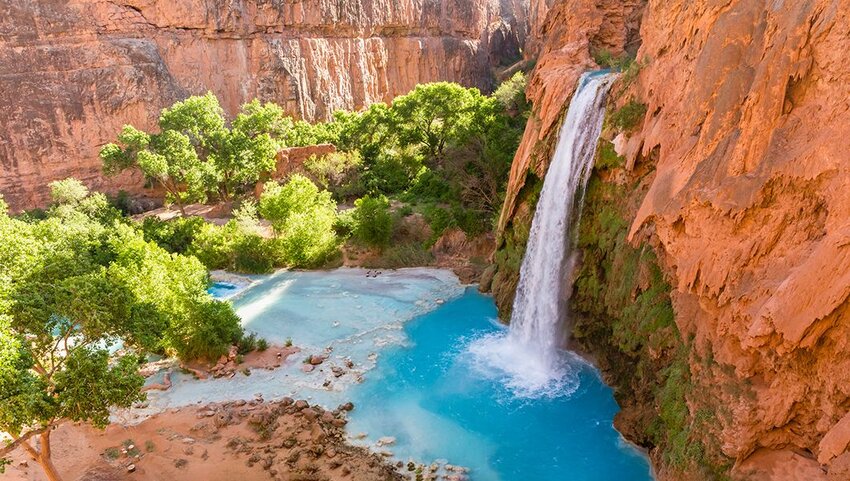 A trip to the enigmatic Havasu Falls takes more planning and preparation than you might expect. You'll need to apply for special permission through a lottery permit to visit. The Havasupai people only allow a small number of visitors to hike into the area every year, helping to preserve the fragile, desert environment.
The rigorous lottery system isn't the only difficult obstacle to witnessing this azure plume of water. The 20-mile round trip hike will test those who aren't prepared as its finale is a precarious ladder. Make the most of your permit and spend a night in the nearby campground. If you wake up at sunrise, you might have the falls all to yourself.
Rainbow Falls, California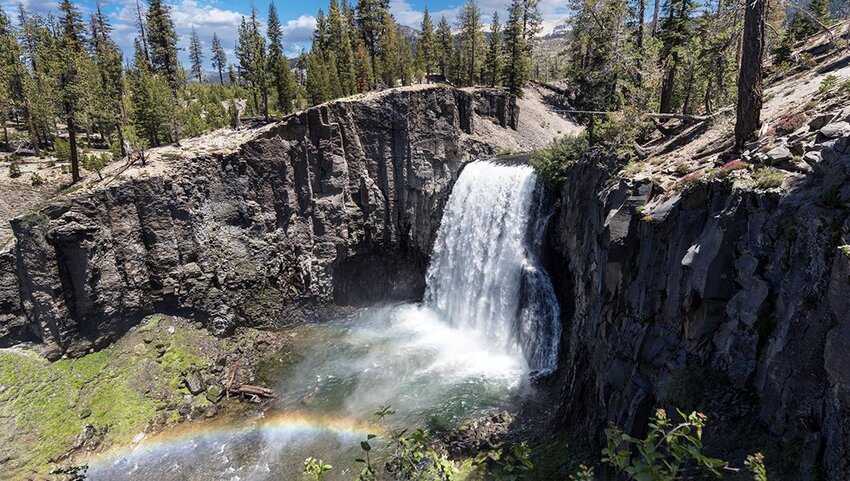 Located inside the Devil's Postpile National Monument in eastern California, Rainbow Falls is a stunning torrent of water and a force to be reckoned with. Its name comes from the myriad rainbows cast from the mist hitting the rocks below. Rainbow Falls is the perfect day hike after camping in nearby Red's Meadow. Pitch your tent under a quilt of shooting stars and rise early the next morning. There's a chance you'll have the whole thing to yourself. Rainbow Falls isn't far from Yosemite National Park, a waterfall chaser's dreamland. Be sure to stop at the stunning ski-town Mammoth on your way out of the mountains.
Olo'upena Falls, Hawaii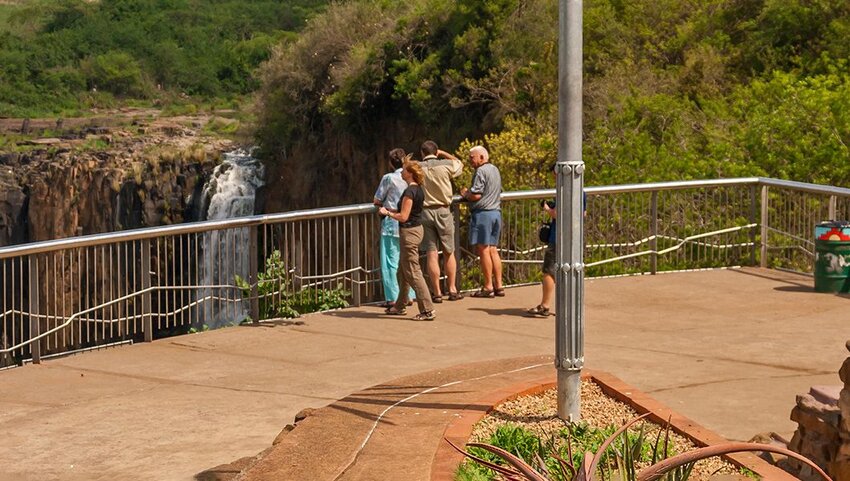 As the fourth tallest waterfall in the world at 2,953 feet, Olo'upena Falls isn't easy to reach. Only observed by ocean or air, but best by helicopter tour, Olo'upena Falls is a ribbon of mist, cutting through the dense Hawaiian jungles of Moloka'i. Moloka'i is the least-visited and most remote of the inhabited Hawaiian islands giving a different perspective than the tourist-clogged hot spots of O'ahu or Maui.
Most Hawaiian waterfalls flow year-round due to the tropical climate and penchant for heavy rains throughout the year but it isn't unusual for them to slow to a steady trickle in fall. The wettest months tend to be from November to March making early spring the best time to view this epic cascade.
Grand Falls, Arizona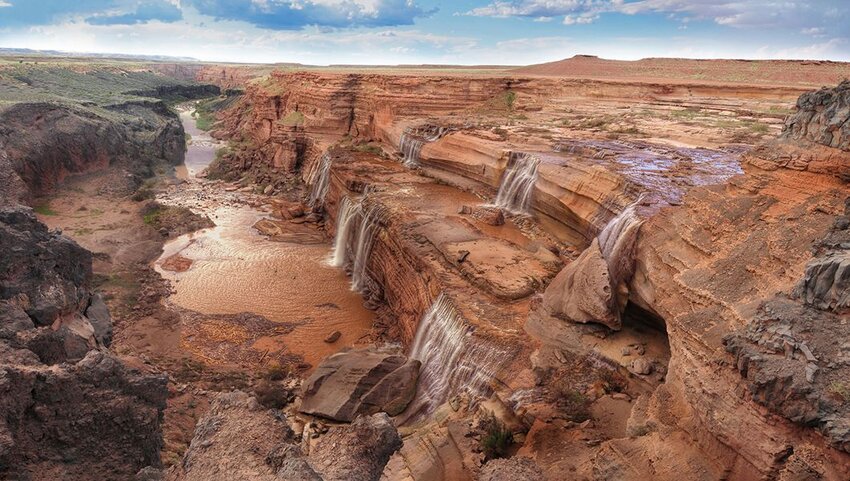 Only a 30-mile drive from Flagstaff, Grand Falls is a breathtaking addition to a desert vacation in spring. Although Willy Wonka might be jealous of Grand Falls' chocolatey appearance, the water's brown tinge is a byproduct of the silt and sediment that the Little Colorado River picks up as it runs downstream through the Navajo Nation's Painted Desert.
Grand Falls is even taller than Niagara Falls, soaring 185 feet in height, but what really sets this cascade apart are the plumes of water falling from varying heights and the rainbows that dance  in the mist. Snow melt and seasonal rain make spring the perfect time to visit Grand Falls before it all but dries up in the impending summer months.  
Looking Glass Falls, North Carolina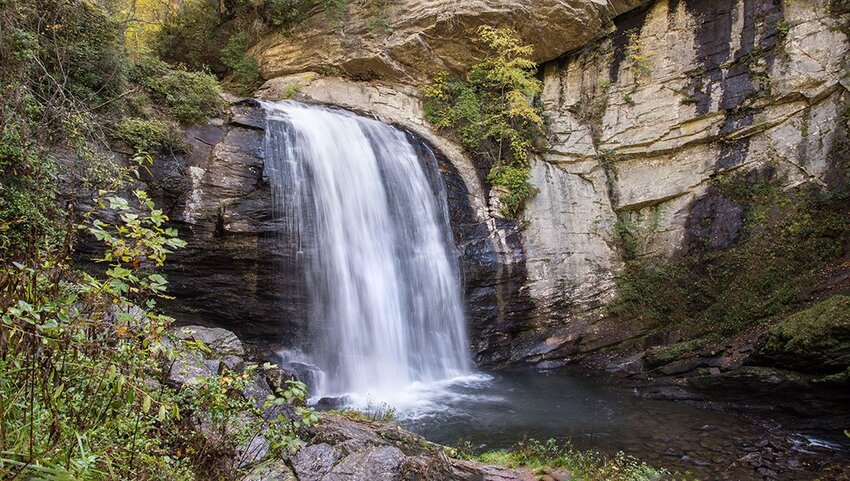 Just outside the romantic mountain town of Asheville, North Carolina is the enchanting Looking Glass Falls. Located just off the famous Blue Ridge Parkway, Looking Glass Falls is one of the easiest waterfalls to reach on our list in terms of accessibility and proximity to parking.
At just 60 feet tall, Looking Glass Falls might not be the most boisterous of torrents but what it lacks in deluge it makes up for in pristine beauty. The water flow can come down to a trickle in the heat of summer making spring the best time to see the falls in all their glory. If you visit in early March there's a chance the waterfall will still be encased in ice giving off stunning Narnia vibes.