World travel may be temporarily out of the picture, but that doesn't mean you can't visit Paris, Peru, or Poland. When you road trip to Western Maine, you'll be able to see all of these places, albeit with fewer baguettes and babkas, and more bull moose and bears.
How did this oddity come to be? When Maine settlements were being established at the turn of the nineteenth century, it was en vogue to choose names inspired by foreign places. The result is an abundance of Maine towns named after international destinations, many of which are featured on the World Traveler's Sign Post.
Drive too fast and you'll miss the signpost, which is located at the intersection of Route 5 and Route 36 in Lynchville, Maine. If you do find the roadside attraction, pull over to marvel at the fact that China is less than 100 miles from where you stand. Then choose a town on the list — there are nine in total — and decide where you should travel next on your world tour of Maine.

Norway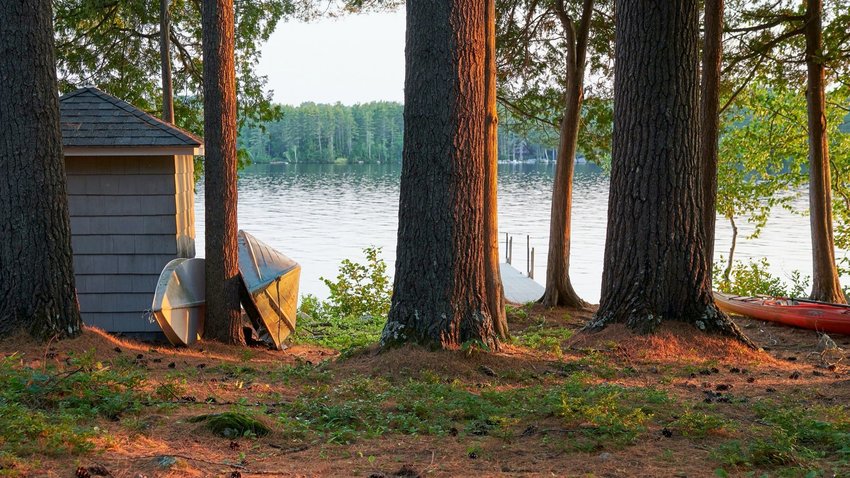 Interestingly enough, the town of Norway, Maine exists due to a bureaucratic glitch. In 1797, Maine townspeople petitioned for their small settlement to be called Norage, but after the paperwork was submitted, someone misread the name and the town was registered as Norway. Clerical error aside, the small town in Maine does share one thing in common with its Scandinavian brethren — both are subject to long, cold, and snowy winters. That's why Norway, Maine holds an annual Winter and Snowshoe Festival, celebrating the snowy season with snowshoe races and contra dances. The town is also home to the Norway Triathlon on Lake Pennesseewassee, a popular event for athletes around the state. And a trip to Norway wouldn't be complete without a visit to the Norway Brewing Company, which serves up local brews and tasty grub year-round.

Paris
According to the Maine Traveler Sign Post, Paris is only a mile away from Norway — who knew? In reality, the town of Paris, Maine is divided into four separate villages: South Paris, Paris Hill, West Paris, and North Paris. South Paris is the home of Flexible Flyers, which are classic runner sleds made for speeding down winter slopes, and McLaughlin Garden & Homestead, a historic home and formal garden open to visitors. There's also Streaked Mountain, which offers a moderate hiking trail to the summit and is a favorite spot of backcountry skiers. The township is located over a bed of quartz, which is why many people search for mineral gemstones like smokey quartz, garnet, tourmaline, and amethyst at Dig Maine Gems in West Paris.

Denmark
Not far from Paris and Norway lies the town of Denmark, Maine, which was purposefully named after the Scandinavian nation. After a British naval attack on the city of Copenhagen in 1807, the town christened their hamlet Denmark, as a way to defy the Brits and to support Danes. Denmark, Maine is small and relatively quiet and the area is best known for its access to the region's abundant mountains, rivers, and lakes. Since the Saco River flows through Denmark, it's a busy spot in the summer for floaters and paddlers, as well as for hikers summiting Pleasant Mountain. Not far from Denmark are the bustling towns of Fryeburg and Bridgton, both of which offer more amenities, such as restaurants, bars, and shopping.

Naples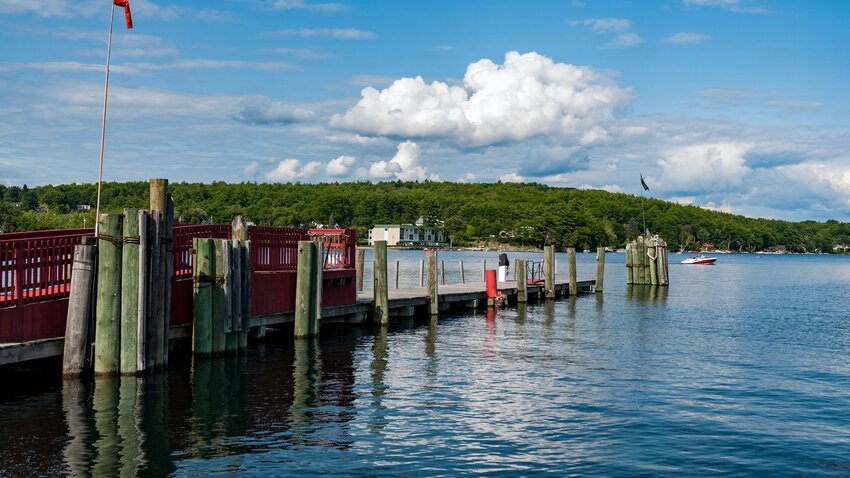 Naples, Maine bears little resemblance to its Italian namesake. Nestled between the towns of Bridgton, Casco, and Sebago, and located along Route 302, bustling Naples is a huge draw for summertime visitors to the state's Lakes Region. The southern portion of Long Lake is located in Naples, offering visitors plenty of opportunities to get out on the water. For a traditional cruise, the Songo River Queen II offers daily trips around the lake in a Mississippi River Paddle Boat. And fishing, pontoon, and speed boats are also available to rent at the Causeway Marina. Plus, Sebago Lake, the second largest lake in Maine, shares some of its shoreline with Naples, offering up easy access to Sebago Lake State Park, a favorite destination for families.

Sweden
Another Scandinavian town found in the heart of western Maine, Sweden was named for the European country in the early 1800s. Once called Southland, and part of the town of Lovell, eventually the settlement broke away to form a separate hamlet called Sweden. Similar to the town of Denmark, Sweden is best known for its undeveloped acres of ponds, streams, and woods. There's also Pietree Orchard, an apple and berry orchard that was bought by Tabitha and Stephen King in 2007 — the famous writer has a home on nearby Kezar Lake in Lovell. In addition to apple picking, visitors to the orchard can dine outdoors on wood-fired pizzas for lunch.

Poland
Poland, Maine is home to none other than Poland Spring, a bottled water company owned by Nestle. Although it's now a national brand, Poland Spring has humble roots. In 1844, a Maine resident named Hiram Ricker found Poland's water to be so healing that it cured his dyspepsia. As a result, Poland Spring was born and the refreshing tonic was sold for 5 cents a gallon throughout the Northeast. Eventually, the Ricker family opened the Poland Spring House as a way to attract more visitors to the town. After the house burned to the ground in 1975, the Poland Spring Resort was rebuilt and is still a popular tourist attraction today.

Mexico
In 1818,  "Township Number 1" was in desperate need of a formal name for their newly established settlement. That same year, Mexico was embroiled in a bitter battle for independence from Spain, a conflict that had lasted for eight years and would go on for three more. In solidarity with a country fighting for its freedom, Township Number 1 renamed itself Mexico, Maine. Besides the Androscoggin River that forms the town's southern boundary, Mexico, Maine is best known for its proximity to Rumford, a larger town located across the river. In addition to a small downtown, Rumford is home to a large paper mill and a local ski hill, Black Mountain of Maine.

China
Contrary to popular belief, the town of China was not named for the Asian nation. First settled in 1774, China was originally part of the Plymouth Patent Colony from Massachusetts, and religion played an integral role in the town's culture. As a result, the town was named after the favorite religious hymn of a town representative, Japeth C. Washburn. Today, China is 17 miles away from the city of Augusta but remains fairly quiet otherwise. It maintains over 100,00 acres of lake frontage on the popular China Lake and is also home to Threemile and Branch Ponds.
Peru
If Peru had never gained independence from Spain, Partridgetown, Maine would still exist. As fate would have it, the country won freedom from its European rulers in 1821, and Partridgetown was renamed Peru in recognition of the victory. Today, the town's biggest claim to fame is its access to the outdoors. Both Bald and Speckled Mountains are two peaks available for hikers looking for a climb, while Hedgehog Hill is an old quarry where rock lovers can hunt for mica, quartz, and garnet. Plus, many adventure seekers and climbers in the state love to head to Tumbledown Dick Mountain for a chance to scale the mountain's rock face.