Over the last decade, thanks to economic growth and a thriving arts and culture community, Dallas has become a hub for all things creative. In addition, the city has a rich community of people from Asia, South America, and Africa, turning Dallas into one of the most exciting food cities in the U.S. as well as a home to world-class museums, art fairs, respected galleries, and a thriving music neighborhood in Deep Ellum.
This wealth of diversity spills over into the arts, retail, and entertainment sectors as well. For example, North Dallas features a dense Chinese community with many restaurants and stores, while South Dallas features generations of African-American artists, entrepreneurs, and activists that use the South Cultural Center as their creative epicenter.
There are several hotels that put you right in the middle of the action, close to the attractions that make Dallas unique. Each also has an impressive art collection and is a good bet if you want to stay close to Dallas' remarkable arts community. But before you book your stay in the Big D, use this weekend guide to discover where to eat, how to take in the city's culture, and the best places to see art.
Friday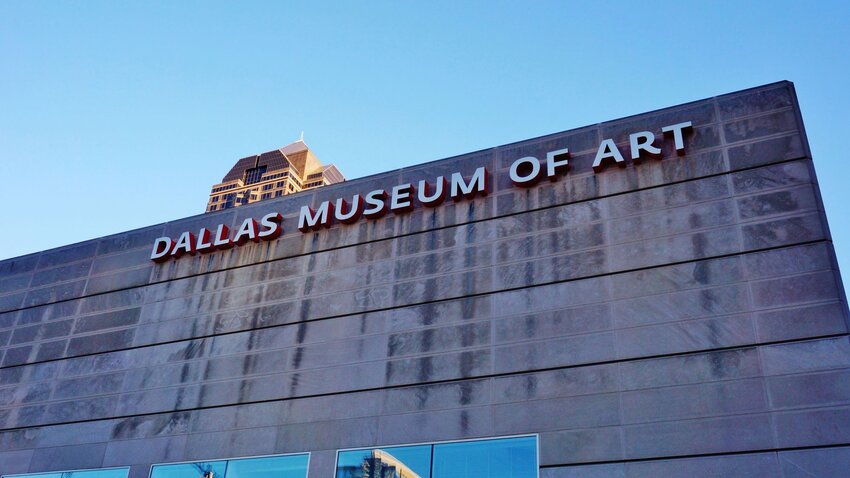 Each also has an impressive art collection and is a good bet if you want to stay close to Dallas' remarkable arts community. Upon waking up at your hotel of choice, grab breakfast at Overeasy, a contemporary diner located on the first floor of The Statler. Then walk off the avocado toast and butternut pancakes with a stroll through downtown towards the Dallas Museum of Art.  
The Dallas Museum of Art is the nexus point for art lovers across Dallas. From the permanent collection to traveling exhibitions, the museum offers something for admirers at every level. Over the years, the museum has connected and employed the local art community, inviting them into the space to host exhibitions and performances and teach classes to the public. The museum has also engaged academics with small, emerging-artist shows and large-scale crowd pleasers, like 2018's México 1900–1950: Diego Rivera, Frida Kahlo, José Clemente Orozco, and the Avant-Garde.
Next, head five minutes out of downtown to lunch at Georgie. The restaurant's custom mahogany doors, travertine and marble floors, coffered ceilings, and plush orange booths transport patrons outside of Texas, and into a dining experience from overseas. Georgie's seasonal menu implements ingredients and cooking traditions from Australia and Texas, with dishes like Spanish turbot, agnolotti, and the 14 oz boneless ribeye. Georgie encapsulates the Southern dining experience with premium Australian Blackmore wagyu and elevated comfort food like roasted green asparagus, grilled mushrooms, potatoes, and creamed corn.
Circle back downtown to Human Dior, a vintage store specializing in deadstock, high-end fashion pieces. It's a favorite of sneakerheads and t-shirt collectors for designer labels like Rick Ownes, Raf Simons, Opening Ceremony, and Balenciaga. The store also hosts open markets with like-minded vendors, skaters, and DJ sets. While Human Dior focuses on men's fashion, they also specialize in Japanese garments and unisex streetwear; the aesthetic meshes gothic monochromatic looks and hip-hop couture, and a visit here is the perfect stop to pick up a fresh item for your stay in Dallas or to bring to a streetwear fan back home.
Finish with dinner at newly-minted Villa Azur in the W Hotel, located downtown near the American Airlines Center, where the Mavericks play (and be sure to include the truffle burrata with your dinner order). The Miami transplant fits right into the see-and-be-seen atmosphere of the W, a hotel known as much for its nightlife and celebrity sightings as it is for its luxurious rooms and amenities.
Dinner here puts you within walking distance of Stars and Mavs games as well as popular cocktail bars like Happiest Hour, Old No. 7 Club, Golden Lion, and  locals' favoriteBilly Can Can, where you can enjoy a negroni and charred octopus or Texas hot links in a saloon-style atmosphere. W hotel is ultra-modern and sleek and features one of the best views of downtown Dallas from its rooftop bar. Grab a nightcap and dip your feet in the panoramic infinity pool at the WET deck on the 16th floor.
Saturday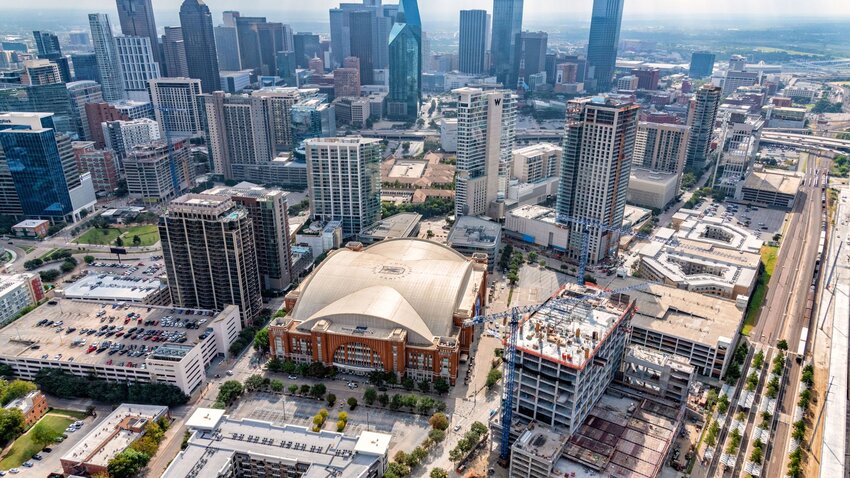 Like most metropolitan cities with a rich art scene, Saturdays are when most galleries open their door for new exhibitions. Your first stop is five minutes south of Downtown Dallas in the Design District, an industrial neighborhood home to some of the city's best galleries. The Dallas Contemporary is where Dallas high fashion and art mesh in a post-modern floor plan, emphasizing size and scale for installations. The institution focuses on exhibiting works by emerging and established local and international artists. Outside the DMA, DC is the next-best space to see international artists given the room to stretch their creative muscles and build experimental, large-scale installations. Past artists include Julian Schnabel, Joan Semmel, Kiki Smith, and Pedro Reyes.
While traversing the food and culture scene in Dallas, you'll notice the interior design of many of the city's restaurants and bars stands out; many of the best interior designs in Dallas come from Coeval Studios, one of the few design firms owned and operated by Mexican-American creatives. With a female-led design and architecture team, Coeval is credited for the design of many unique restaurants and clubs in Dallas, including Italian restaurant Fiatto, Gloria's Latin Cuisine, and The Rustic.
Speaking of The Rustic, if you're looking for the intersection of Texas cowboy culture and craft cocktails, this is the best country-western bar to dust off your hat and boots for. It hosts a variety of country-themed concerts on its outdoor patio, filled with wooden tables that encourage socializing and meeting new people.
The next art stops are all within a half-mile of each other. Conduit Gallery, Site 131, Mary Tomas Gallery, PDNB Gallery, and Barry Whistler Gallery are some of the best and longest standing galleries in North Texas. Conduit Gallery features a roster of some of the best painters and installation artists in Dallas, such as Stephon Lapthisophon and Ludwig Schwarz. Site 131 focuses on emerging artists by pairing international and Texas artists for exhibitions. Those two galleries showcase the best in Texas-based art. While the following galleries focus on large-scale image based works, that make accessibility and priced appropriately for new collectors to begin their collections PNDB Gallery is a photography-based gallery and the only one in Dallas with a concentrated focus on photo-centric art. Barry Whistler Gallery's best exhibitions happen when they host large-scale, group shows with artists of varied backgrounds, ages, and artistic practices — typically twice a year.
Wind down with dinner at Tei-An, a Japanese restaurant offering hot and cold tastings, tempura, sushi, and sashimi while providing a first-class dining experience. While Tei-An is at a slightly higher price point, the passion for Japanese wine, spirits, and cuisine shines through in a minimalistic, zen atmosphere. The dining room fosters close-quarter sitting for an intimate dining experience,  while attention is focused on the display of each dish. Besides the handmade soba noodles, highly recommended dishes to order include the tonkotsu ramen, sea urchin risotto, and miyazaki beef, all of which elicit a full-sensory experience.
Before heading to bed, grab a drink at Midnight Rambler, downtown Dallas' best cocktail bar. The lounge is located in the basement of the Joule Hotel and patrons have to descend two sets of stairs marked by luminescent neon signage to a night of decadence. The bar's drink program is run by Dallas legend Gabe Sanchez, renowned in Dallas restaurant and bar culture as a mixologist and cocktail creator. The subterranean bar employs a steady playlist of acid jazz, soul, funk, and house music to set an ambience for quiet conversations and one-on-one dates. Tables are limited, so arrive early to snag a spot and enjoy original house cocktails and sipping spirits. The drinks menu is seasonal, and Sanchez adds an experimental flair to each rotating selection. If you order any of the bar's creative concoctions that are mezcal- or whisky-based, you're good to go.
Sunday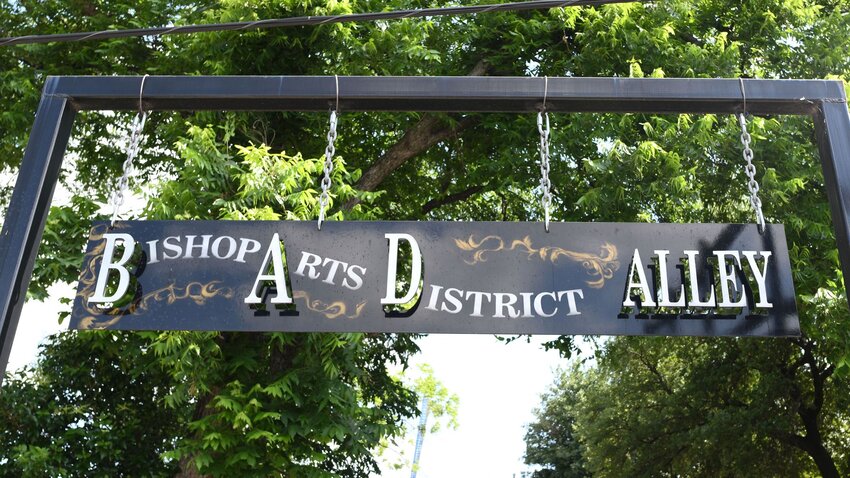 If you want to see more of Dallas outside of downtown, travel south of the Trinity River that separates Downtown from the Oak Cliff neighborhood, a rich Mexican-American community. There's plenty of shopping and high-end restaurants in Bishop Arts, a single street mini-neighborhood, which also features a melting pot of out-of-town tourists and Mexican artists, vendors, and murals.
Once in Bishop Arts, start your shopping at Red Pegasus for comics, graphic novels, and collectibles. The Oak Cliff shop carries a select single-issue run of titles and an expansive shelf of Marvel, DC, and other independent trade titles, and is proudly BIPOC and queer-friendly.
Travel a few minutes south to the historic Jefferson Boulevard — a strip of Mexican shops and eateries — for horchata lattes and chorizo omelets at Xaman Cafe. The restaurant is inspired by the aesthetics and architecture of Mexico City and features an interior filled with greenery, wooden art, and handmade pastries. About a block down the street is Daily, a  sneaker shop and barbershop in one, where you can get a fresh cut and shop for designer streetwear all at once. The store is a hangout as well as a driving force in the community,  positively impacting the surrounding area with back-to-school drives, mentorship, and entrepreneurial incubation.
For decades, galleries in Dallas have been dominated by white male and female artists, but Daisha Board has been a champion of black and queer artists long before it was a Dallas hot spot. As you head back downtown, stop in West Dallas to visit her gallery and see impressive mixed-media work by a diverse range of artists.  One of the few Dallas spaces of its size owned and operated by a woman of color, the gallery focuses on mixed media, sculpture, photography, installations, and performance art.
After you've had your fill of gallery wandering, make a visit to one of Dallas' most wealthy neighborhoods, home to former President George W. Bush and Southern Methodist private university. Highland Park feels like another world, but best encapsulates the stereotypes of big-haired, wealthy Dallas socialites; it's also home to one of the best Mexican restaurants in North Texas. José is one of the most renowned Mexican restaurants in the state, with an open floor plan and tiled walls invoking Mexico City charm while the diverse flavors and textures of the menu prove Dallas is a rich hub for authentic Mexican food.  Star menu items include queso fundido, tetelas de espinacas, duck confit mole, and chile relleno.
Where to Stay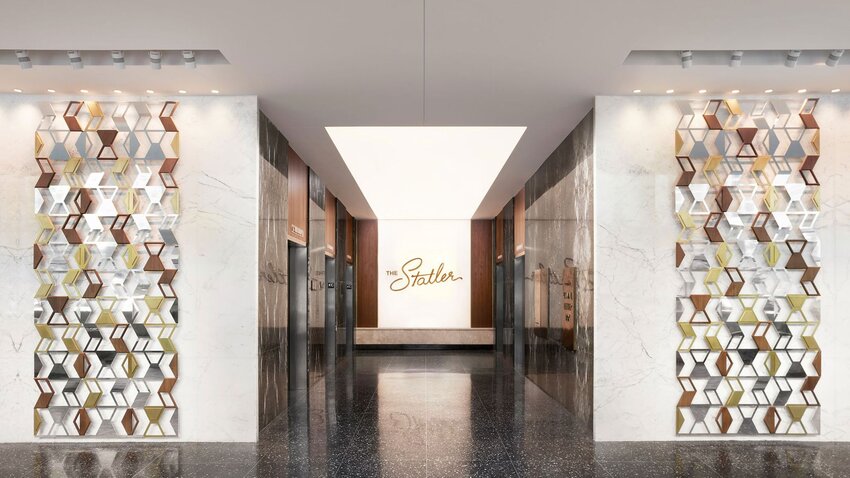 The Thompson Dallas is the luxury boutique where those go to be seen. Architect George Dahl's 1965 National Building was given a $460 million preservation budget in 2020, one of Texas's most significant adaptive reuse projects. Post-renovation, the hotel now has 219 rooms, 52 suites, and contemporary art from world-renowned international galleries Frieze London and PAD London. Of the boutique hotels in Dallas, the Thompson features the best in-house art collection.

The W Hotel has the Marriott name recognition making it a popular spot in downtown Dallas, but when the hotel opened in 2006, it found its way on the social map via its rooftop, Ghost Bar, where musical artists had after parties and DJ sets. Today, it has a more modern, toned-down approach to its nightlife component. Visitors can take advantage of its proximity to American Airlines Center as a nexus point for hotel accommodations, evening libations, and upscale eating around the schedules of basketball games, hockey games, and concerts. You can get a massage anywhere in the Big D, but there's something to be said about a 16th floor sanctuary with skyline views overlooking the city. Loosen up with a massage at AWAY Spa and then take a cool dip in the rooftop pool.  

The Statler Hotel originally opened in 1956 but was remodeled in 2017 into a chic downtown hotspot. The hotel has enough amenities to keep you inside during the sweltering summer heat, including a bowling alley and arcade venue.  Each room is decked out with hardwood floors, quartz countertops, and European-style espresso cabinetry. Of course, it wouldn't be a premier Dallas hotel stay without a rooftop pool; bake in the rays or cool down by dipping your toes in at Waterproof. Statler also accommodates late-night cravings, with dinner options at Primo's MX Kitchen and Sfereco or cocktails in the renovated barbershop, Bourbon and Banter.