Travel is mostly on pause for the foreseeable future due to the coronavirus pandemic. For many, that means canceled plans and an empty calendar without much to look forward to. While the outlook may seem bleak, camping is a relatively low-risk activity that can satisfy your sense of adventure and exploration this summer and fall without ever having to board an airplane or sleep in a hotel bed.
Leaving the comforts of home and sleeping in nature may sound intimidating or even impossible to some, but we're here to tell you that with the right plan and preparation, camping can be your new go-to getaway. Disconnecting from technology for a few days and surrounding yourself with the beauty of nature can really go a long way to recharge and recenter yourself, especially during these difficult times when our stress levels are higher than normal.
Why Start With Car Camping?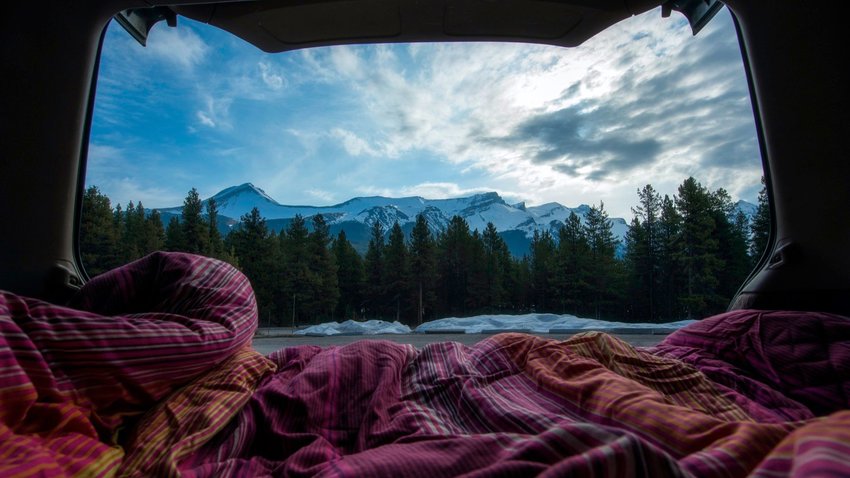 There are a number of different ways to camp, depending on how adventurous you are. But car camping is the most straightforward and accessible, because you can drive right up and park your car at your campsite.
The great thing about car camping is that you can bring anything you can fit in your car. So the possibilities for outfitting your campsite are nearly limitless. But if you're new to camping, car camping can be a great introduction to an extended trip outdoors, and there's no need to go overboard with buying gear. If you're just getting started, we recommend trying to camp with some basic essentials before filling your garage with brand new gear. That way, you can learn what you like and don't like and get the gear that best fits your needs.
At a basic level, the car camping essentials are shelter, food and water, and there are a variety of options to ensure that you have each essential covered.
Shelter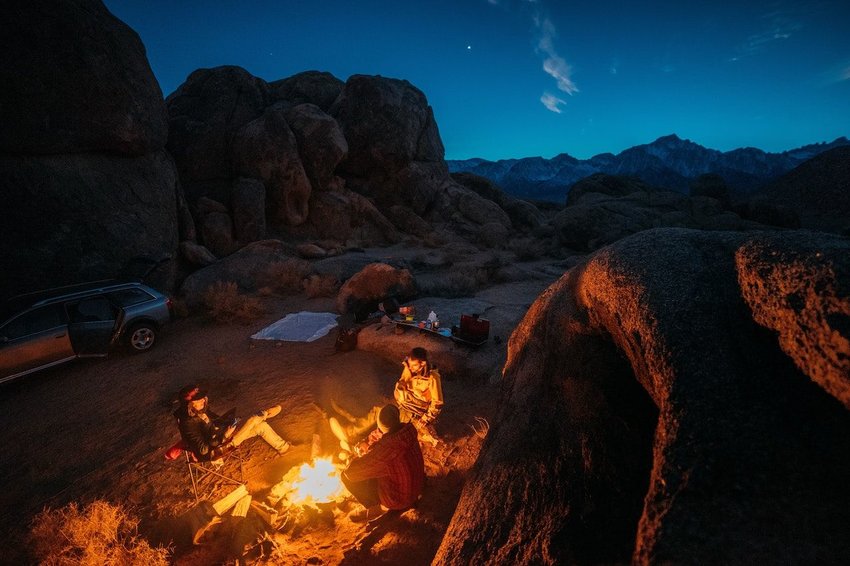 The standard setup is a ground tent, sleeping pad and sleeping bag. For beginners, we recommend trying out this convenient bundle, which includes basic gear for two people. Bundling the gear together can save you money compared to buying each item individually, and is a simple, convenient option for first-timers. We always recommend trying your setup at home prior to heading out so you're confident that you have all the parts, everything works the way it's supposed to and you can set up camp without cell service or access to YouTube tutorials.
Car camping allows you the luxury of bringing supplies beyond just the essentials, and there are a few items that we'd recommend adding to your packing list. Pillows will help you get a good night's rest in your tent. When car camping, there's no shame in bringing the pillows from your bed at home to maximize comfort. We also recommend keeping a couple of camping pillows handy, just in case. While sleeping pads, like REI's self-inflating Camp Bed, are just fine for a one or two night camping trip, if you are hoping for an extended getaway, you may want to consider an air mattress or a more substantial pad, like the Exped MegaMat, to improve your sleeping set up. Don't forget to check the mattress measurements against your tent to ensure that it'll fit.
Campsite Furniture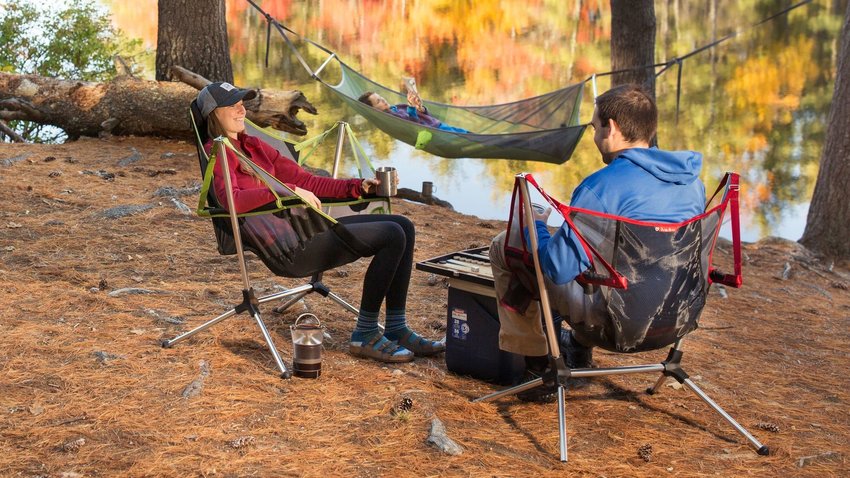 While you'll certainly survive a couple nights of camping with just a tent, you'll likely want to have a few furnishings to make your time more enjoyable. At a minimum, we recommend camping chairs and a table. Any collapsible chair and table will work, but if you're hoping for maximum comfort, we recommend the NEMO Stargaze Recliner Luxury Chair.
A hammock is another great addition to any campsite, and can be easily packed up and taken along on a daytrip to relax by a lake or for a nice break along a hike. You may also consider bringing a pop-up shade tent if there's a chance that your campsite won't provide decent tree coverage.
Food
There are quite a few camping kitchen options depending on your preference and whether or not you want to buy a bunch of gear. But fear not! There is a way to eat while camping without purchasing any new gear.
No Gear or Heat Source, Seriously!
Thanks to modern innovations, you can enjoy a warm, yummy meal at your campsite without any kitchen gear or a heat source. OMEALS is a revolutionary company that makes tasty, fully-cooked meals that include a utensil and napkin. All you do is add water to the bag, seal it, and wait for the included biodegradable heating element to create steam to heat up the food. We've tried the Beef Stew and Turkey Chili and both are as delicious as they are convenient. OMEALS offers a variety of meals that will have you covered for breakfast, lunch, and dinner. These are a great option for first-timers who are looking to keep meals simple and convenient.
Campfire Cooking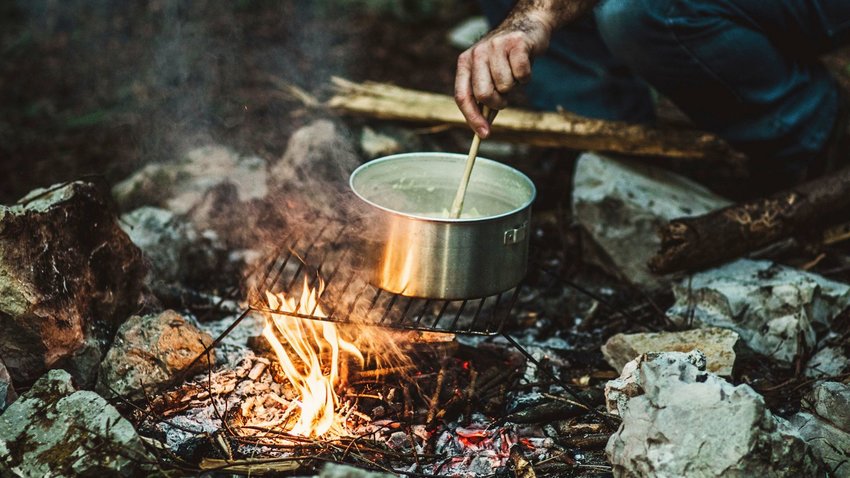 Campfires are a camping classic if you're heading to an area where they are permitted (always check and adhere to fire bans or restrictions). Just remember to bring a simple grate to cook over the fire. Even the most basic cooler will keep food chilled for at least a couple of days, allowing you to pack up some hot dogs and hamburgers for a classic camping dinner. And of course, you'll want to bring a small pot to boil water over the fire for oatmeal and coffee in the morning.
Flash Cooking System
A Jetboil is an incredibly convenient item to add to your camp kitchen setup. The propane-powered camping stove boils a liter of water in around 90 seconds. It might not be as pretty as a campfire, but I use one to avoid having to start a fire in the mornings for coffee and quick breakfasts. Adding a Jetboil to your collection also opens up the option of freeze-dried meals, which are easy and convenient, especially if you have ambitions of backpacking in the future.
Camping Stove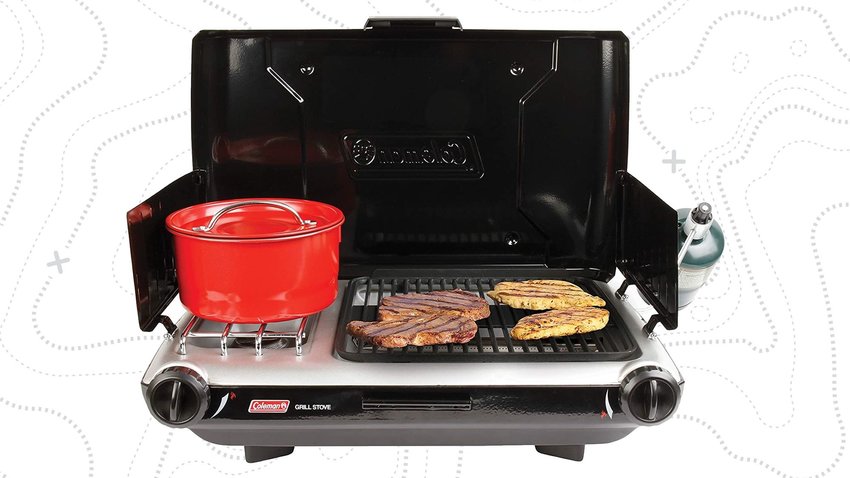 If you live in an area prone to fire bans and restrictions, you may consider getting a camping stove. These are also typically powered by propane and make cooking at camp pretty straightforward. We like this combo cooktop from Coleman that features a grill and stove and folds up for compact storing when not in-use.
Pick and Choose
The bottom line is that there are a ton of ways to keep yourself fed on a camping trip and you can pick the ones that will work best for you. Typically, I pack a cooler and do some campfire cooking over our Biolite Firepit for dinners and bring a Jetboil for quick access to boiling water without needing to start a fire.
Water
Clean drinking water is obviously an essential. Fortunately, car camping makes access to drinking water pretty simple. The National Parks Service recommends bringing at least 2 liters of water per person per day. We always like to bring extra for cooking and because we camp with our dog. You can pick up reusable water containers and fill them at home ahead of time or get water jugs from the grocery store. If you're car camping, it's easy to bring as much water as you think you'll need, but it's still not a bad idea to pack a basic water filtration system in case of emergency.
What About The Bathroom?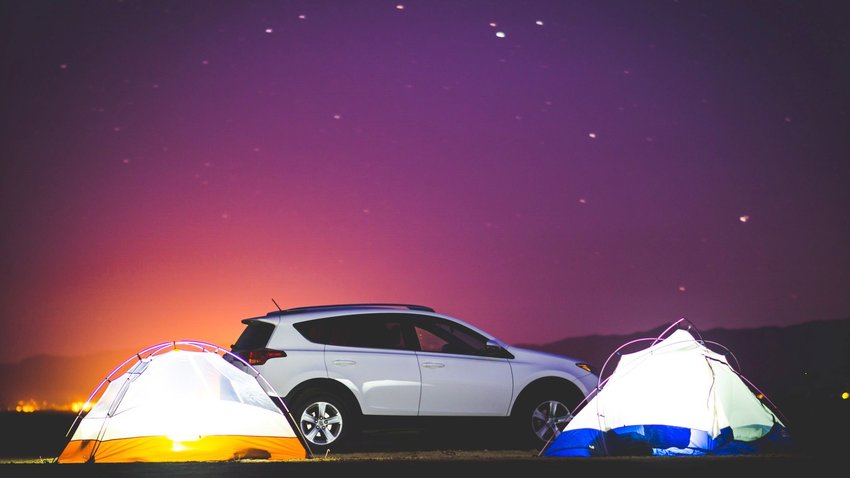 If you're planning a more primitive camping adventure (i.e. not at a developed campground), you'll need to be prepared to use the bathroom. After you set up your campsite, your group should designate a general area as the bathroom. It should be at least 200 feet away from your campsite, any trails, or any water sources. In most locations, burying solid waste in a cat hole is the most effective disposal method.
This trowel has markers on it so you can be sure your hole is deep and wide enough. Use as little toilet paper as possible, cover the hole back up when you're done, and mark it with a stick to notify other campers that the spot has been used. Packing out waste (toilet paper, at least) may be required in certain areas and is a best practice for minimizing your impact. There are camping toilets and waste bags that make this somewhat less terrible. Read more about properly disposing human waste here, and always be sure to adhere to any local requirements. Needless to say, going to the bathroom in the backcountry isn't the most fun part of camping, but it's certainly part of the experience.

Safety and Leave No Trace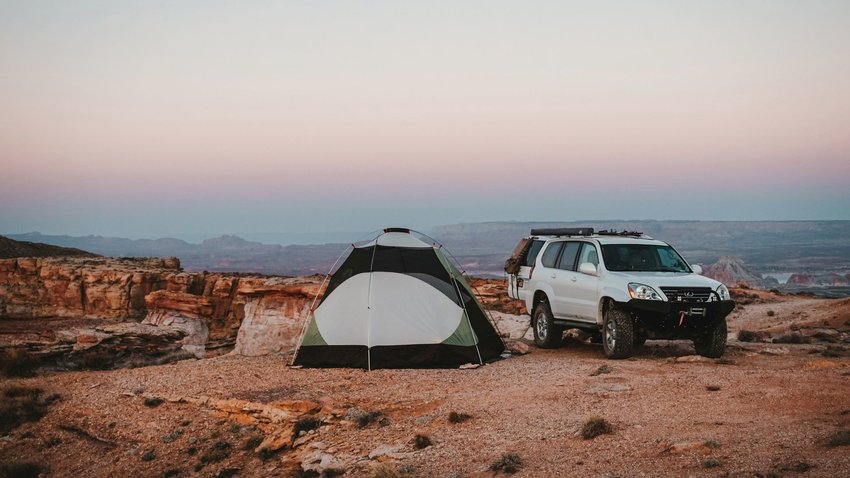 When car camping, it's better to be over-prepared than stuck in a pinch. It's never a bad idea to bring extra food and water, a well-stocked first aid kit or survival kit, and sufficient warm clothing. Additionally, always be vigilant about keeping a clean campsite to avoid visits from unwelcome critters and insects. Food should always be stored away from your main campsite, including and most importantly away from where you'll be sleeping. Do sufficient research about the area where you'll be camping before your trip so you can adequately adhere to any restrictions or precautions to keep you and other campers safe.
Spending time in the outdoors is a privilege and all visitors should make Leave No Trace principles a top priority to minimize our impact on nature and to ensure that others are able to enjoy the experience after we leave and for years to come. Always plan ahead, pack out everything you bring to your campsite, respect wildlife, leave areas as you found them, and be considerate of other visitors. You can read more about all seven Leave No Trace principles here.