Deal Alert!
The 35L Allpa deal (which you may have seen in your email) has sold out, but the 28L version is also on sale for $120 right now, down from the usual $170.
---
Years ago, I hopped on a two-hour flight to visit my cousin and her newborn baby for the weekend. It was a short trip, so I stuffed some clothes, a toothbrush, and a gift for the baby in a backpack and carried it on the plane. When my cousin picked me up at the airport, she was astonished by my minimalism.
"How on earth did you pack everything you need in a backpack?" she asked, with genuine curiosity. At the time I shrugged, not fully recognizing the miraculousness of this achievement.
The Problem with Packing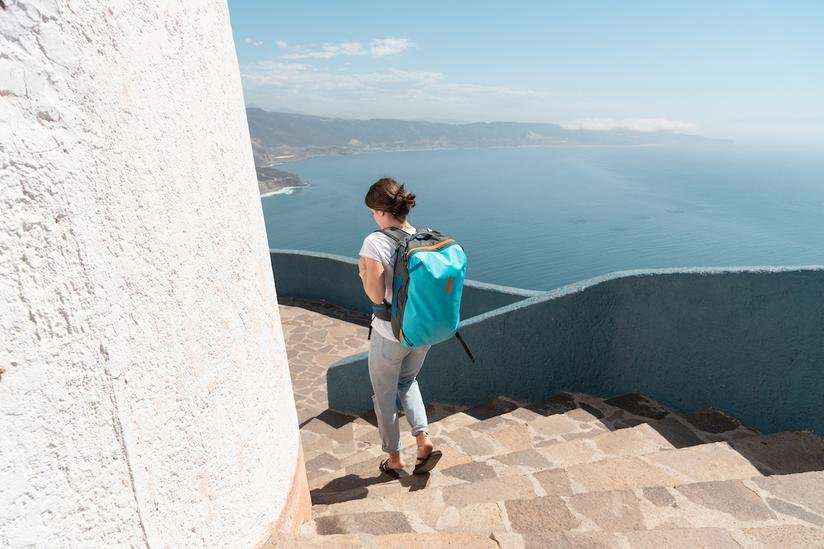 Looking back on my younger self — as a point of reference, the newborn baby is a teenager now — I can understand my cousin's astonishment. In the ensuing years, I've traveled a lot, and have since developed a packing routine that requires, well, more stuff.
Up until recently, my routine was as follows: I'd pack clothes, shoes, and a big bag of toiletries into my clunky roller bag, which I would stuff (with some effort) into the overhead bin. I'd also carry an additional "personal item" that held things like my laptop, phone, wallet, and book, which I'd place under the seat in front of me, using up nearly all of my precious legroom.
You've likely traveled this way yourself, and so you know that carrying two bags through crowded airports or onto packed trains almost always feels cumbersome and excessive — especially for shorter trips. And in recent years, as I've transitioned to 100% remote work, lugging my laptop onto every plane ride began to feel like a burden. I found myself craving the simplicity of my younger years when I could stuff everything I needed in a backpack and take off on an adventure.
A Different Kind of Carry-On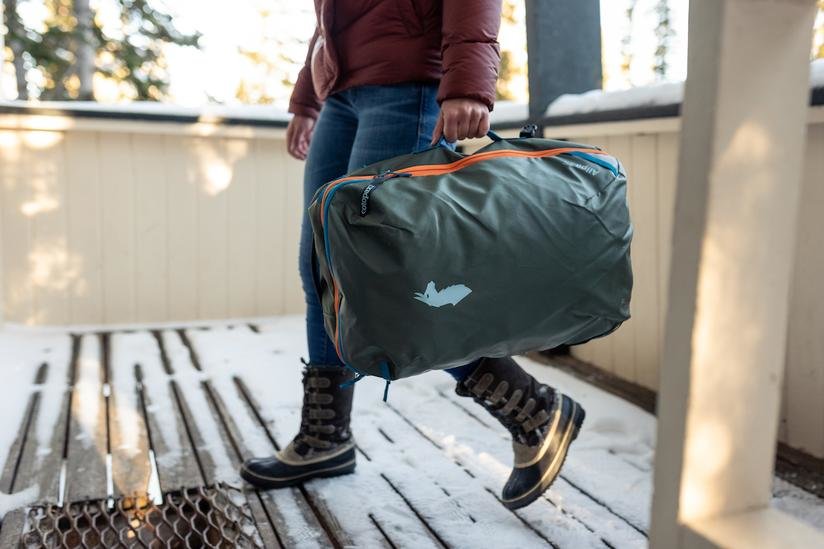 It was for this reason that I became interested in the Cotopaxi Allpa 35L Travel Pack. When I scoured the reviews, I was intrigued by the many adventure travelers who sang the bag's praises. I read tales of how it performed well on a 10-day trip to Europe, and drooled over photos of other travelers wearing it around the globe.
The Allpa seemed to combine the best of both worlds —  the convenience of a backpack and the functionality of a suitcase. As an added bonus, it featured a padded laptop sleeve to store electronics, which was the feature that sold me in the end.
When the Allpa Travel Pack arrived at my doorstep, I loved the look of it. The black bag was emblazoned with a green alpaca, while the zippers and straps were a melange of different colors — neon green, blue, red, and orange — giving it Cotopaxi's signature look.
Best of all, the package arrived with a handwritten note from a member of the refugee community in Salt Lake City, which Cotopaxi calls home. With a motto of "Do Good," Cotopaxi aims to make a positive impact in the world, and it's taken the lead both in sustainable product design, as well as partnering with the International Rescue Committee to create employment opportunities.
Everything I Need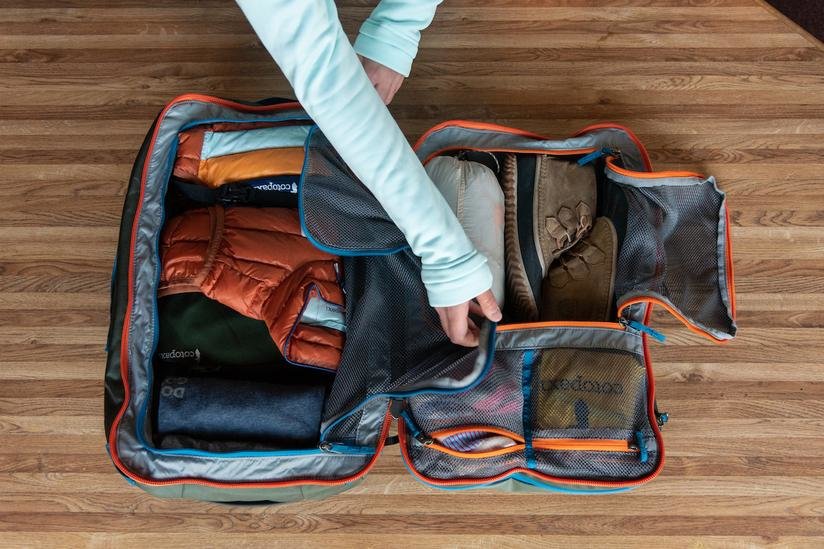 In order to open the pack, I had to thread the zippers through small, attached loops, which is a security measure designed to prevent theft. When I managed to zip it open, the bag unfolded on my bed like a suitcase, revealing two compartments.
The right compartment was a large rectangular mesh section surrounded by a zipper.  The left compartment was subdivided into multiple partitions, with one half-zip section on the bottom and two rectangular mesh chambers on the top. In addition to the padded laptop sleeve in the back, the front held an extra deep pocket and an additional zipped pouch to hold smaller items.
As I started packing my bag for an upcoming weekend trip, I was pleased to discover that the Allpa Travel Pack held more than I had anticipated. In the largest compartment, I was able to fit my flip flops, shorts and t-shirts, pajamas, hiking clothes, a pair of jeans, sweatpants, a bulky fleece, a dress, a cover-up, and two swimsuits.
In the opposite compartment, I packed underwear and socks, hiking boots, all of my toiletries (including clunky items like sunscreen, bug spray, and my travel-sized hair products), and my first aid kit. I loved the smaller mesh compartments, which is where I put items I wanted to access easily, like my eyeglasses, extra contact lenses, lip balm, and my vitamins.
And rather than packing a separate personal item, I just made full use of the front pocket, where I stashed my wallet, phone, charger, e-book, and sunglasses. It struck me that this would be the perfect spot to store my passport for the next time I traveled internationally. Finally, I slipped my laptop and charger into the padded back section, zipped everything up, and stepped back to admire my work. The bag was full, but not stuffed, and I knew it would easily fit into an overhead bin on an airplane.
One and Done
When I donned the pack, it fit well — I'm 5'9'' and I was able to adjust the back and lower straps so that the weight sat comfortably on my hips.  It wasn't too heavy and I knew I'd be able to carry it through a busy airport with ease.
Next, I took the pack off and practiced sliding the straps into the back panels, where they fit effortlessly. In a minute my backpack transformed into a sleek carry-all. I appreciated this function because I hate wearing backpacks in tight spaces, like a plane aisle, where it's easy to bump into my fellow passengers unknowingly.
I could already picture it — no longer would I have to wheel my battered suitcase down cobblestone streets or worry about finding space for my roller bag in the overhead bin. No more would I have to pack a separate bag for my laptop or decide upon the best suitcase for a weekend getaway.
This travel pack is making me feel as free and unencumbered as I was in my early twenties. Once again, I'm packing everything in a backpack, and I couldn't be happier about it.