Camping is an integral part of life for many Ontarians, whether it's with family, friends, camp counselors, on a rite-of-passage group trip, or on a solo backcountry adventure. More than 10% of the province is protected, which is more than 27 million hectares of conserved land. And these parks demand exploration, from their crystal-clear freshwater beaches and bird- and wildlife-watching potential to pristine peaks and the chance to snowshoe during the winter. Unearth all the perks of experiencing the land and culture just to the north within the time frame of a weekend road trip.
Point Pelee National Park
Distance From the Border and Where to Cross: 40 miles (1 hour, 7 minutes) from Detroit, Michigan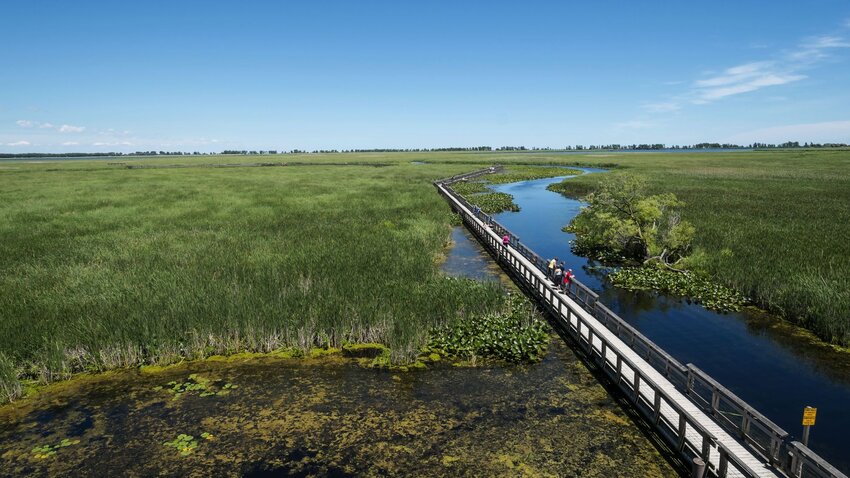 Nothing's quite as inspiring as watching a monarch butterfly flutter against the gray expanse of Lake Erie. And in the fall, all the monarchs in Canada east of the Rocky Mountains make their way to Point Pelee to make the crossing. Similarly in the spring, hundreds of species of migratory birds, like black terns and rose-breasted grosbeaks, arrive from all over the continent, moving back to their summer homes.
This park sits in the middle of a migratory flyway and is the launching point of one of the shortest distances across the Great Lakes, so it functions like a funnel for all migratory animals moving across the continent, making it the perfect location for anyone who appreciates wildlife and wants to catch a glimpse of the animals on the move. And in particular, the Friends of Point Pelee, a nonprofit formed to support the park with fundraising and conservation, hosts its annual Festival of Birds to celebrate the spring migration at the end of April and into May.
Stroll along Marsh Boardwalk Trail, which stretches for just under a mile around Sanctuary Pond and offers a close look at this internationally significant wetland, which makes up two-thirds of the entire park. For an even closer look, rent a canoe or kayak or take a freighter canoe tour through the marsh. Head down the Tiessen channel to explore the rest of the marsh's hidden and more remote areas like West Cranberry or Lily Ponds to view the rare birds and turtles living there.
Besides being a great platform to admire the wonders of nature, Point Pelee is also among some of Ontario's richest wine country. If you're interested in a tasting or picking up a few bottles, Pelee Island Winery is one of the most famous and beloved wineries in the area.
Silent Lake Provincial Park
Distance From the Border and Where to Cross: 164 miles (3 hours) from Wellesley Island, New York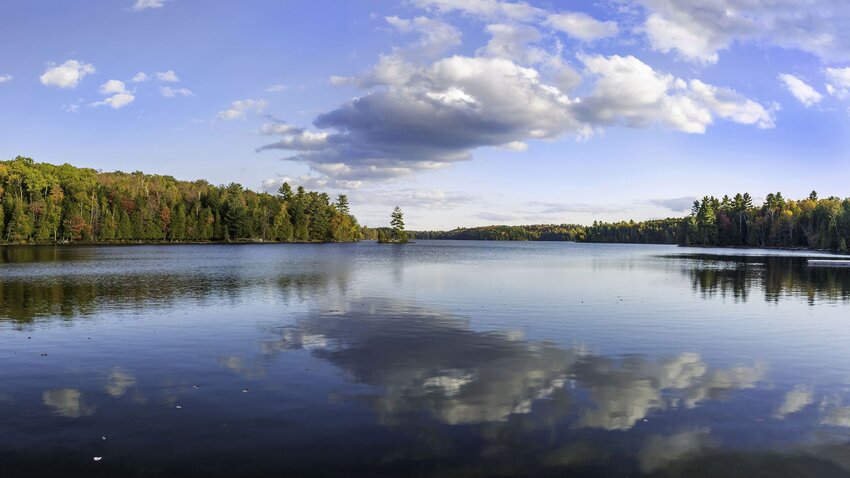 Silent Lake Provincial Park is peaceful and majestic, especially if you go in January, February, or March when it's mostly empty. You'll have Bonnie's Pond Trail all to yourself to explore via snowshoe, and if you like cross-country skiing, the park staff grooms more than 20 miles of color-coded ski trails, ranging in difficulty from novice to advanced. Come back to your heated cabin or yurt for a cup of hot chocolate to warm up before settling in for an epic night of board games or heading out for a ski by moonlight.
That said, if you decide to go in the summer, it's also the perfect spot for a classic, Ontario-style camping trip without the crowds of Algonquin Provincial Park. Motorboats (and motors in general) aren't allowed on Silent Lake, so it's pretty quiet, and you can bring your own canoe or kayak or rent one at the park. You can also take a short portage to nearby Quiet Lake if one lake isn't enough. Silent Lake also offers mountain biking and hiking trails, and you're likely to spot some iconic northern Ontario wildlife like moose, eastern wolves, lynx, or porcupines since the park sits in the middle of the Algonquin to Adirondack protected wildlife corridor.
Bon Echo Provincial Park
Distance From the Border and Where to Cross: 101 miles (1 hour, 53 minutes) from Wellesley Island, New York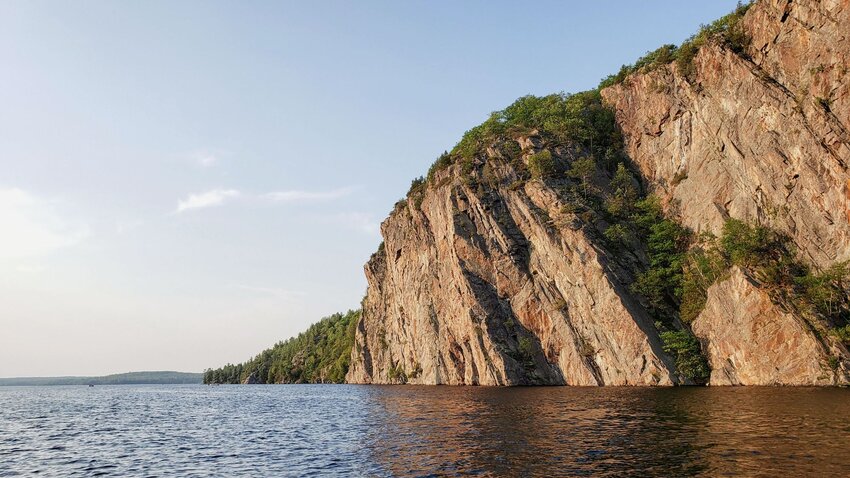 Bon Echo was named for the echoing effect heard off the imposing Mazinaw Rock, a sheer cliff rising 328 feet from Mazinaw Lake and plunging 328 feet below that's one of Ontario's best climbing destinations. Mazinaw Lake is also one of the deepest lakes in North America at 475 feet at its lowest point. The Toronto section of the Alpine Club of Canada operates a hut here for climbers with a boating shuttle service to and from it, and while it's beautiful here year-round, it's best in the fall when the park is less busy, the air is crisp, and the Canadian forest all around you is golden and crimson.
More than 260 pictographs that are hundreds of years old or more can be found on the rock and are thought to depict visions and dreams of the original Algonquin people. Animals and cultural spirit figures can be made out among the paintings, and since they're located just above the waterline, you can kayak out to examine the works. Among the pictographs is a famous portrayal of Nanabozho, the shape-shifting, rabbit-eared spirit figure known to play tricks, and Mishipeshu, an underwater monster.
Afterwards, wildlife enthusiasts can hike Mazinaw Rock and observe roosting peregrine falcons. These birds are the fastest animals in the world and can reach speeds of nearly 200 mph when diving for prey.
Sleeping Giant Provincial Park
Distance From the Border and Where to Cross: 94 miles (1 hour, 54 minutes) from Grand Portage, Minnesota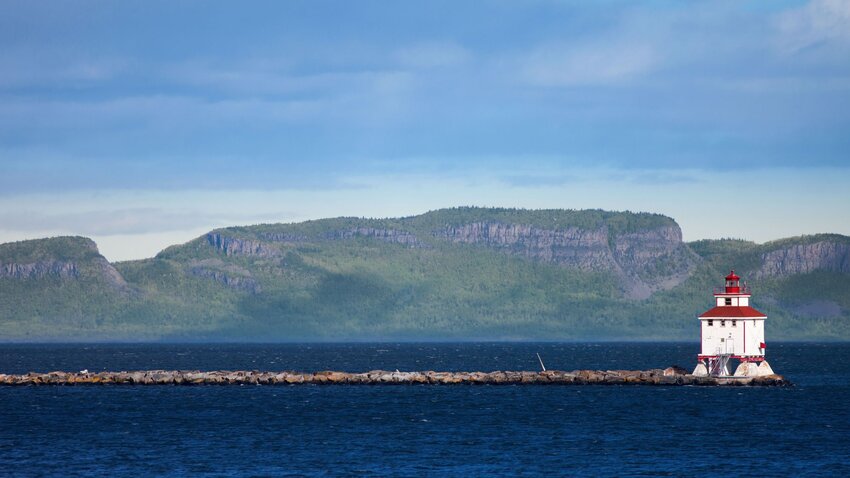 The North Shore of Lake Superior offers some of the most spectacular views in Ontario. The park is located on the Sibley Peninsula—across from the city of Thunder Bay—and is home to a series of mesas affectionately known as Sleeping Giant, in reference to its silhouette. It's best to visit in the summer or fall when you can enjoy the excellent hiking and views of the sapphire-blue waters.
Hiking is the main activity at here, with over 60 miles of trails throughout that range. Take the Top of the Giant trail or the Sleeping Giant Heat trail for the best views of Superior, but look out for cracks in the cliffs, some 900 feet deep. Or go for a multi-day journey on the 23-mile (46 mile round trip) Kabeyun trail and stop at beach or forest campsites along the way. This trail is challenging, with long distances between campsites in the northern portion of the trail, so some experience is necessary. This route also includes a scramble over a talus slope between Sleeping Giant's feet and Lehtinen's Bay.
Long Point Provincial Park
Distance From the Border and Where to Cross: 106 miles (2 hours, 21 minutes) from Buffalo, New York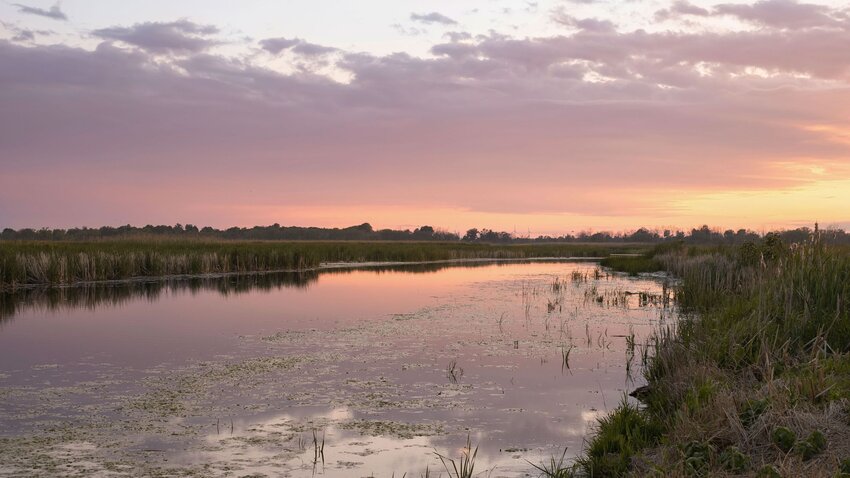 The Long Point land formation is a 25-mile-long spit of sand that sticks out in the middle of Lake Erie. The Provincial Park itself is known for its freshwater beaches, so plan a trip for the height of summer when you can spend hours lounging on the soft white sand and catching some spectacular sunsets. When you visit, camp at Monarch's Rest or Turtle Dune campgrounds, where only the dunes come between you and the water. The park's camping areas offer a laid-back, friendly atmosphere while some areas are reserved for a quieter experience.
Long Point is also in the heart of Canada's Carolinian zone, which is the rarest forest zone in Canada and is one of the most biodiverse places in the country. The park is located on a world biosphere reserve, meaning it's designated for conservation and promotes beneficial interactions between people and nature. Also near the park is the Long Point Bird Observatory, the oldest in North America, where people gather to view hundreds of species of migratory birds making their way through the area.
Fish for bass in Long Point Bay or rent kayaks or canoes and spend the day paddling. Families will be happy to know the beach has a long, shallow entry, a designated area for pets, and entry mats for wheelchair and stroller accessibility.