The tradition of town twinning can be traced back to the 9th century, when Paderborn, Germany formalized a friendship with Le Mans in France. It wasn't until 1931 that a US city got in on the act, when Toledo, Ohio paired with its namesake in Spain. In fact, if you travel to that historic Spanish city today you'll find a street called Calle Toledo de Ohio just a stone's throw from its iconic 16th-century palace, the Alcázar.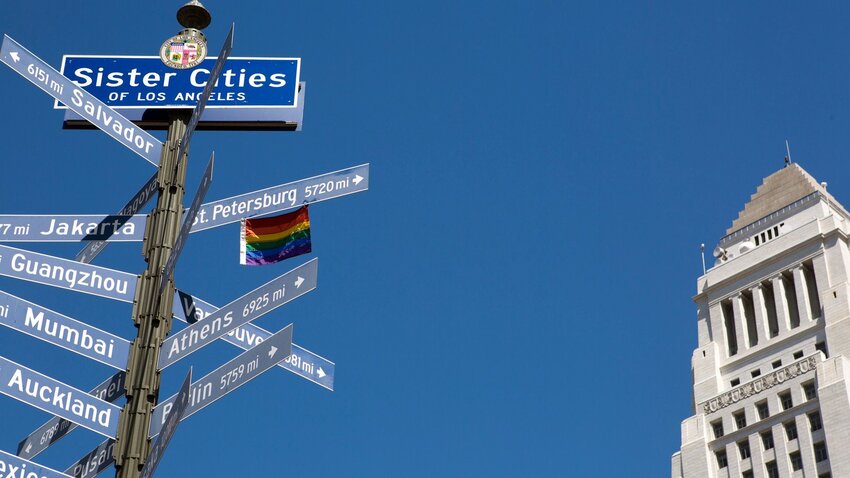 Over the years, many thousands of cities have followed suit. Some have similar interests – a shared love of horse racing explains the partnership between Lexington, Kentucky; and Newmarket, England, while both Los Angeles and Mumbai have thriving movie industries. Others do it for the publicity: why else would Boring, Oregon want to partner with Dull, Scotland and Bland, Australia?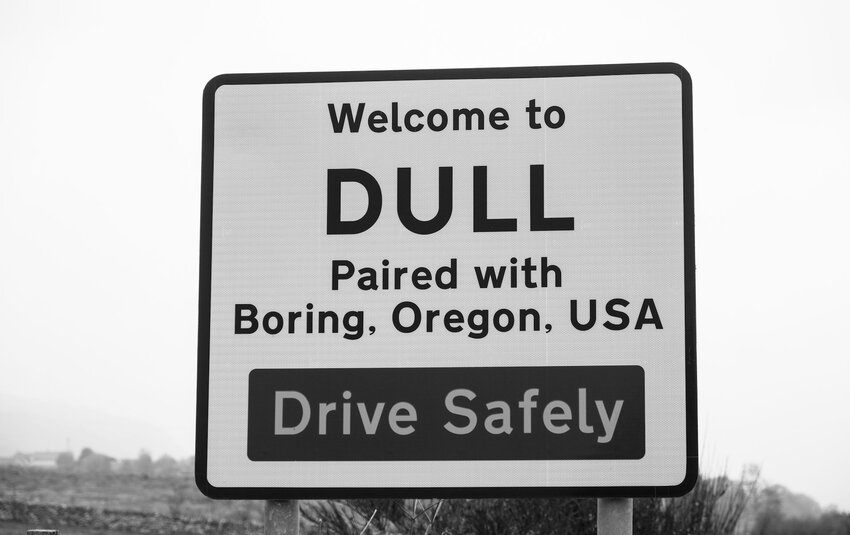 But there are plenty more, like the Toledos, who just want to find others who share their name – Cambridge, Massachusetts and Cambridge, England for instance; or Orange, California and Orange, Australia. In this respect, the 21 US cities, towns and unincorporated communities named Paris missed out.
In 1956, President Eisenhower chaired a White House summit on citizen diplomacy during which he launched the Sister City International initiative. The same year, Paris, France and Rome, Italy signed an exclusive twinning pact and made it official. When it comes to twin cities, they only have eyes for each other, although they do permit "friendship city" links, a kind of second-tier agreement that falls short of the full twin city package.
In general, such connections flourish, though occasionally disagreements over political decisions or unexpected actions can lead to diplomatic break-ups. Other times, relationships end because geographical boundaries get redrawn or unforeseen changes to governance crop up. Most twin cities, though, enjoy long and fruitful ties free of controversy.
But what of those outward-looking American cities who've partnered with like-minded settlements across the world? Here are the stories of some US cities and their twins.
Chicago and Warsaw, Poland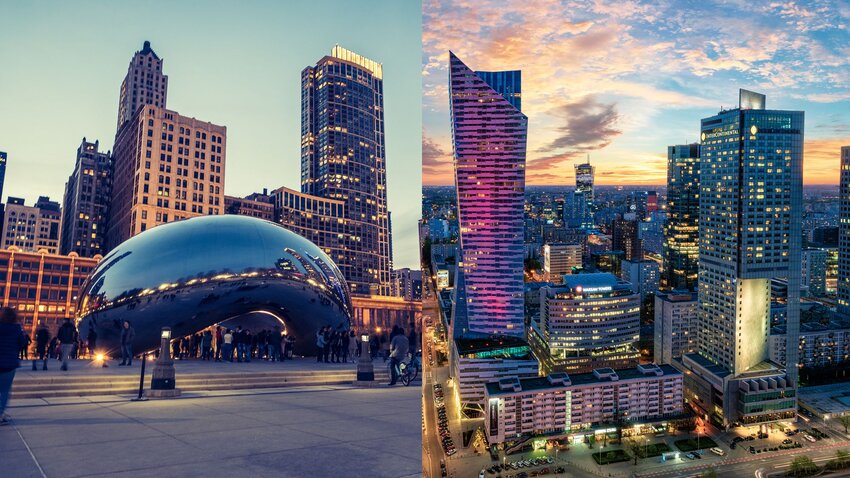 The presence of a significant Polish population in the Windy City can explain the twin city partnership of Chicago and Warsaw. It's often claimed that Chicago is the largest Polish city outside Poland, though depending on your definition of what constitutes a city, New York might actually have a better claim to that title. Nevertheless, signed in 1960 by Mayor Daley, the Warsaw town-twinning agreement was the first such pact for a city that would go on to embrace the sister city concept with enthusiasm. These days, Chicago maintains links with 28 sister cities from as far afield as Australia, Japan, and South Africa, plus a friendship deal with Paris.
Seattle and Tashkent, Uzbekistan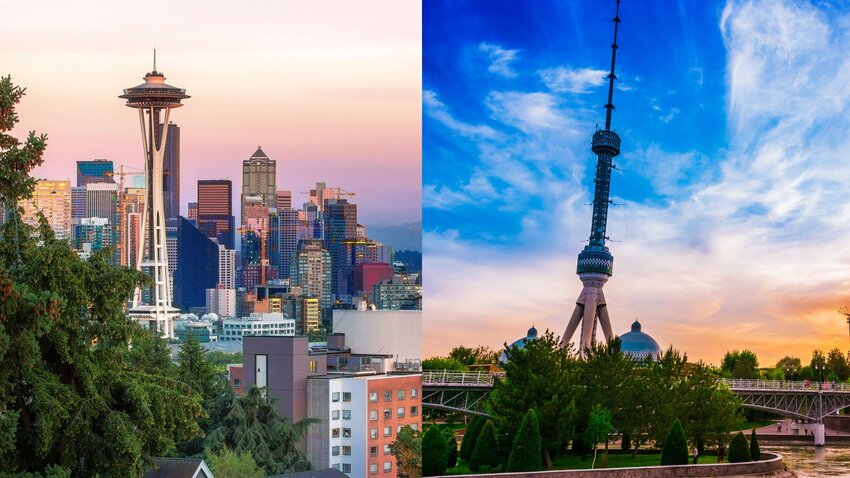 The connection between Seattle and Tashkent grew out of anti-Cold War sentiment. In an attempt to thaw the once chilly relations between the US and Russia, Wes Uhlman, then-Mayor of Seattle, came up with the idea of formally twinning with the Uzbek capital, then part of the Soviet Union. His counterpart, Mayor Husnitdin Asamov, was equally enthusiastic, and the pairing came into effect in 1973. As a consequence, there's now a Tashkent park in Seattle's Capitol Hill neighborhood, though the reciprocal Seattle Peace Park in Tashkent is in a poor state of repair. In all, Seattle maintains links with 20 sister cities, a diverse collection which includes Reykjavik, Iceland; Limbe, Cameroon; and Christchurch, New Zealand.
Houston and Baku, Azerbaijan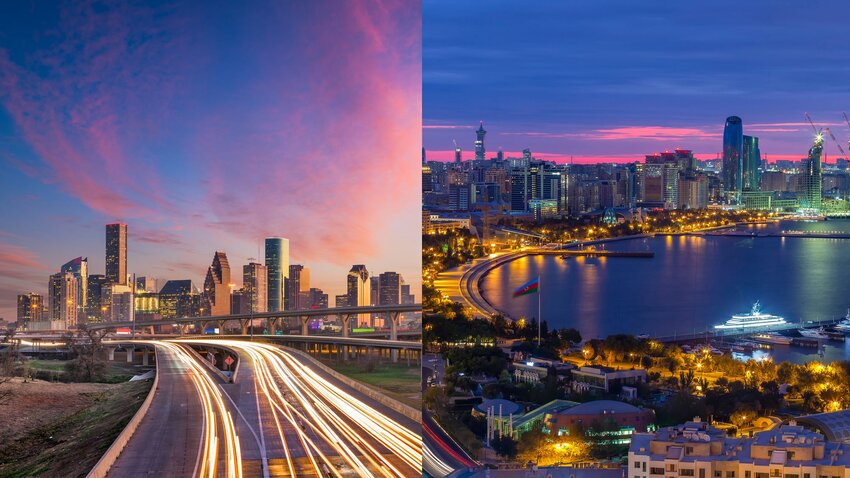 Two cities that are most associated with the energy business form our next pair of twin cities. Houston officially linked with the capital of Azerbaijan in 1976, making it the fifth of 18 such partnerships that exist today. For over 40 years, business relationships and cultural exchange programs have flourished. Mayor Louis Welch was keen on the idea of linking two oil-producing cities and Baku, a port like Houston, was an obvious fit. Later pairings Basra, Iraq; and Abu Dhabi, UAE were similarly suited.
Anchorage and Darwin, Australia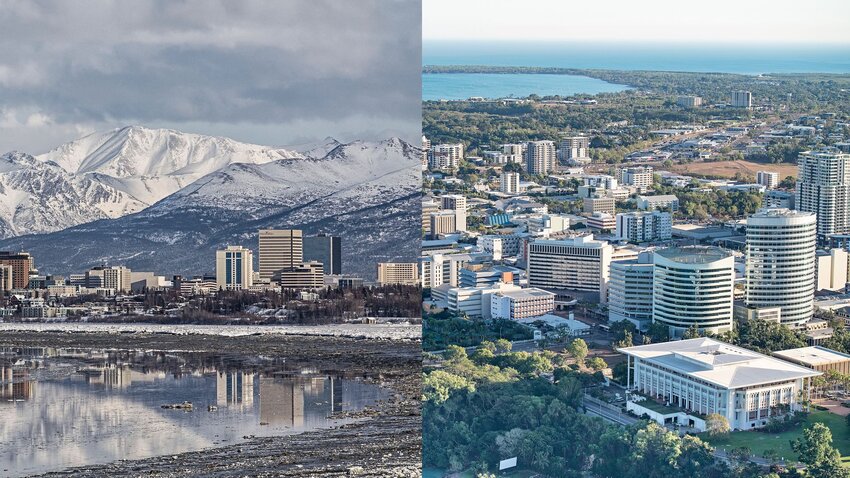 On the face of it, northerly Anchorage and tropical Darwin couldn't be more different. However, there are physical similarities; they each have close ties to the ocean, which also explains why Anchorage forged sister city agreements with Whitby, England; and Tromsø, Norway. Anchorage and Darwin also share exceptionally good fortune with regards to geography, with breathtaking national parks and wildlife viewing right on their doorstep. They initiated a link in 1976 after the former Darwin mayor Dr. Ella Stack paid a visit to the Alaskan city. In 1982, that relationship was formalized, and the unlikely duo hasn't looked back, despite being separated by a distance of around 6600 miles.
Boston and Belfast, Northern Ireland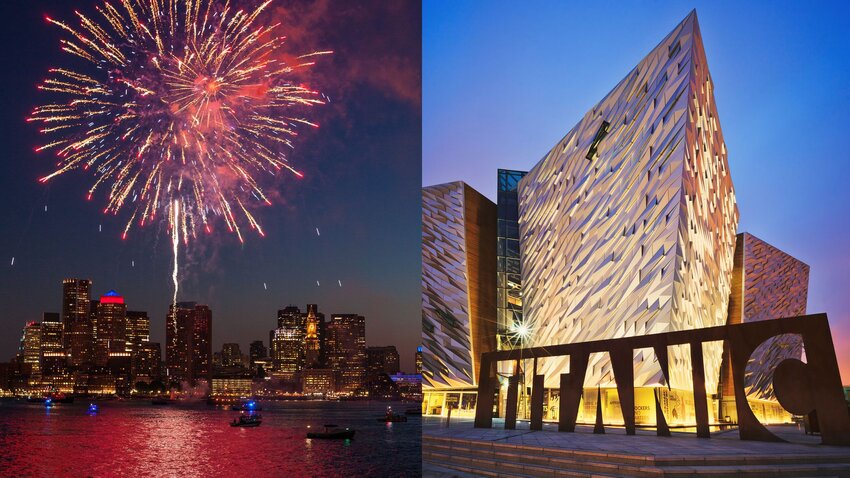 A rich maritime heritage is one of the ties that bind Massachusetts' largest city shares with its twin, Belfast. The ill-fated Titanic was built in Belfast's Harland and Wolff shipyard over a century ago, cementing its place in the history books. Likewise, the events of the Boston Tea Party forever ensure Boston Harbor will be remembered by history. But the 2014 sister city arrangement looks more to the future, while at the same time celebrating the importance of the Irish community in Boston. Twinning brought an opportunity to forge a mutually beneficial relationship, just as Boston did with its 10 other partner cities.
Big Island, Hawaii and Réunion, France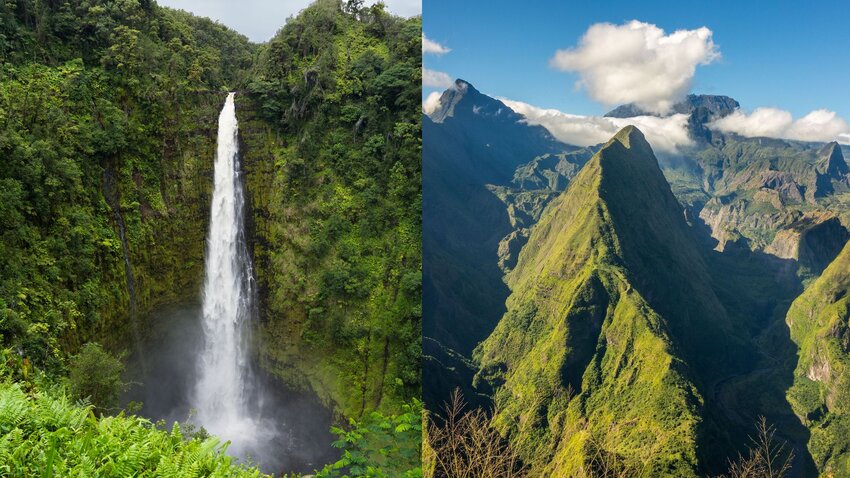 If you thought twinning was just for cities, then you'd be wrong. Sometimes partnerships can involve islands, as in the case of Hawaii and Réunion, an Indian Ocean island that's also a French overseas region. They're both volcanic in origin, sitting above volcanic hotspots. Réunion's active peak, Piton de la Fournaise, is a shield volcano just like Kilauea. The two islands also share a reliance on tourism as one of their main money earners. The twinning event in 2012, fifty years after the first agreement Hawaii signed with Oshima Island in Japan, came as no surprise, except perhaps to wonder what took them so long?