Treehouses were all the rage as a kid, and if you ever dreamed of having your own hidden castle high among the leaves, then now's your chance. Around the world, discover the joys of treehouse living in stunning treetop hotels. These treehouses are bringing the luxury of modern resorts to the branches, making you feel like a kid (albeit a pampered kid) again.
Post Ranch Inn, USA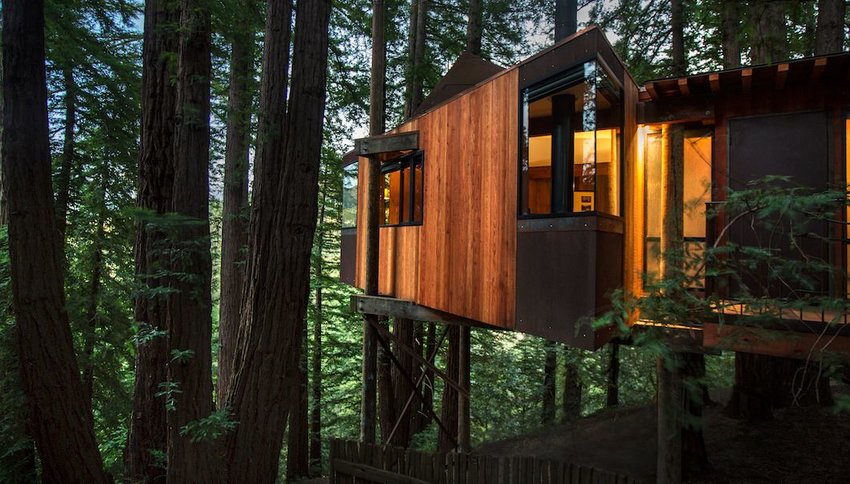 Post Ranch Inn on the coast of northern California has long been recognized as one of the best hotels in the world. And for good reason. From its sleek architecture to its stunning coastal views and incredible amenities (including one of the best restaurants in Big Sur) it draws visitors from around the world. But did you know this resort had treetop accommodation as well? These free-standing rooms are built on nine-foot stilts among the property's towering trees. Luxurious and private, these spaces are wonderfully romantic and perfect for guests looking for a secret getaway.
Hapuku Lodge + Tree Houses, New Zealand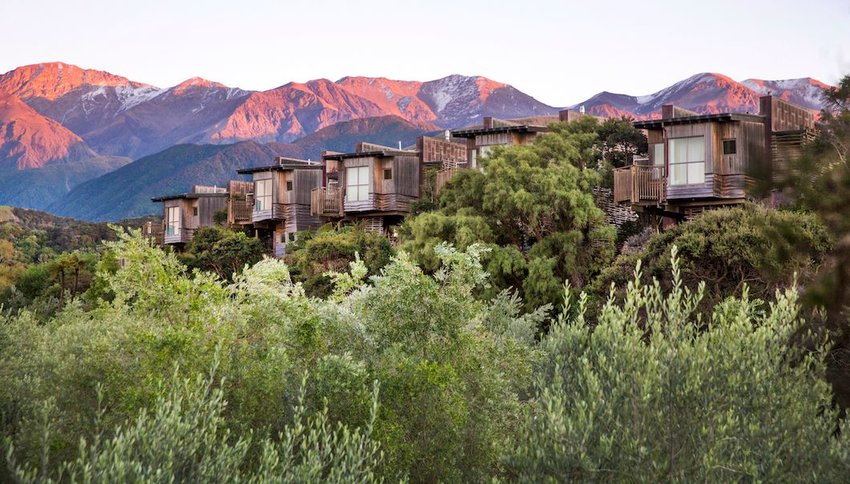 New Zealand is famous for being unique and thrilling, so it's no surprise that you can find these treehouse accommodations in kiwiland. Located on a deer farm on the South Island, Hapuku Lodge's five treehouse options nest 10 meters above the ground in the canopy of a grove of Kanuka trees. Guests enjoy stunning views of dramatic mountain peaks and the sparkling Pacific Ocean from the comfort of their rooms, and with wood-burning fireplaces and en suite jacuzzis, you won't want to leave your treetop nest.
Lions Sands Game Reserve, South Africa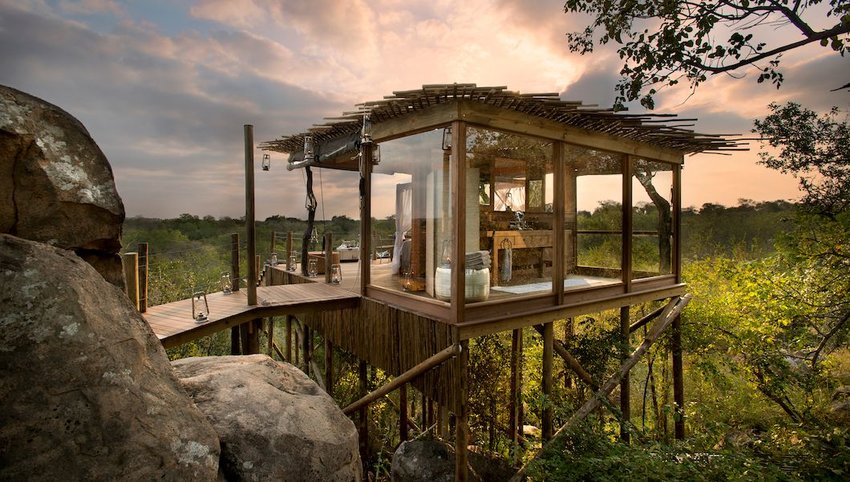 Became part of the wild landscape of South Africa's Kruger National Park at the Lions Sands Game Reserve. Multiple lodges and resorts within the reserve maintain their own treehouses, varying from enclosed rooms to exposed elevated platforms. Unobstructed views of the African plains make these open treehouses places for quiet reflection, intimate connection with nature, and vivid sunsets. Whether you opt to enjoy a candlelit picnic or sleep in a plush bed under a canopy of stars, you'll be a part of nature in this truly unmatched experience. Oh, and don't worry about animals, as the treehouses have been built safely away from any habitats.
Playa Viva, Mexico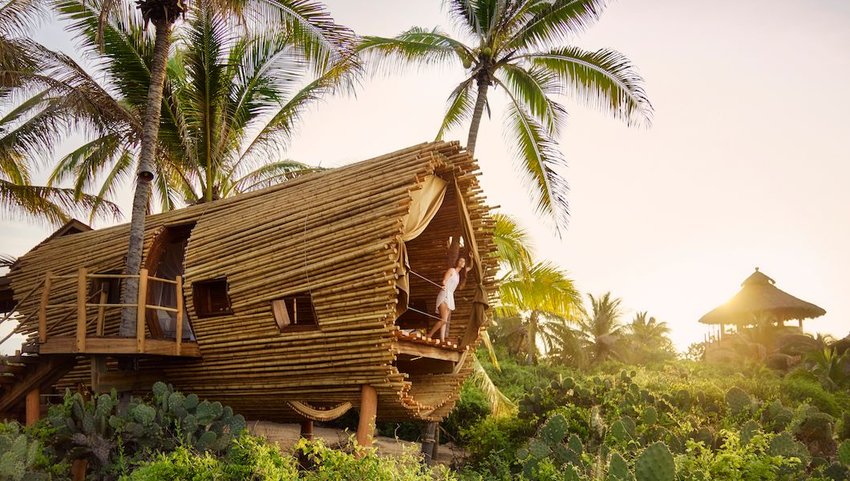 A treehouse by the ocean? Sign us up! Eco-friendly and gorgeous, Playa Viva hotel lets you enjoy the natural marvels of Mexico from your own canopy perch. The treehouse rooms, made with materials from the surrounding environment, are flanked by swaying palm trees and native cacti. Fall asleep to the sound of ocean waves and wake up with the sunrise for morning yoga practice. Spend your days volunteering in the onsite turtle sanctuary or relaxing in the hammock that comes in your treehouse room.
Arctic TreeHouse Hotel, Finland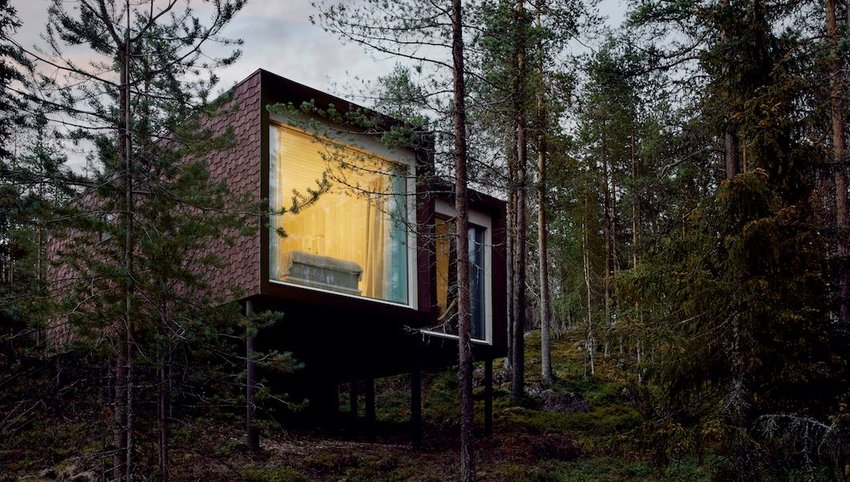 Up in the Arctic Circle you'll find a different kind of treehouse. Set in the tranquil forest of Finland, the Arctic TreeHouse Hotel is for those looking to escape into a magical winter wonderland. These are not your next door neighbor's treehouses. Bringing local Lappish traditions and modern Scandinavian design to a stunning natural scenery, this hotel is perfect for those who really want to get away. Watch the northern lights and midnight sun from the comfort of your bed, dip into a sauna for the afternoon, and indulge in the onsite restaurant.
Acre Baja, Mexico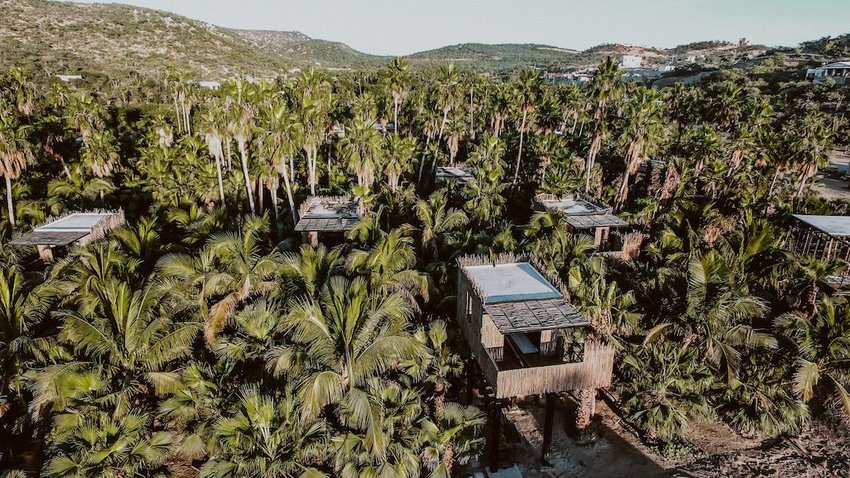 Get off the grid and discover a jungle oasis in the foothills of San Jose del Cabo at Acre Baja, a boutique hotel set on 25 acres of lush greenery.  A stay in one of the 12 thatched treehouses places your temporary home among palm fronds that dance in the evening breeze. With gorgeous decor from local artists and all the amenities you need, you'll be immersed in total relaxation from the moment you arrive. Sip cocktails by the pool, eat produce from the onsite organic farm, and feel complete bliss wherever you wander.
The Hideout, Thailand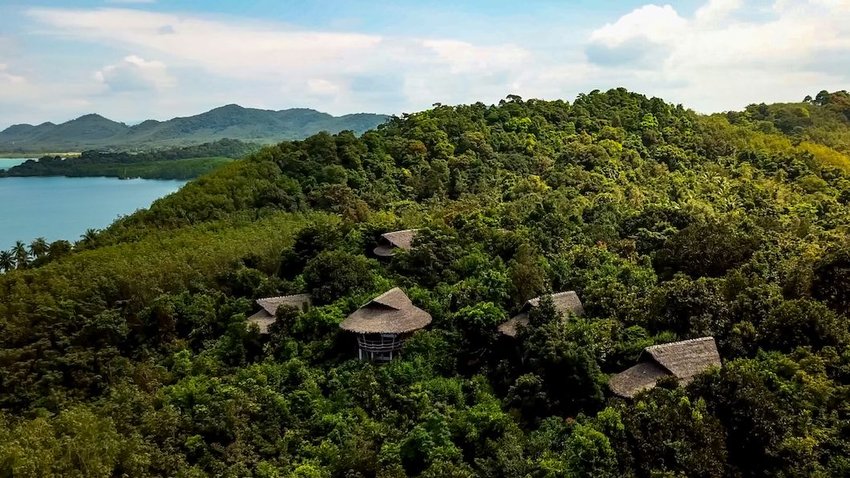 Escape into a true off-the-grid hideaway. The aptly-named Hideout on Thailand's Koh Yao, is tucked into a dense tropical forest, with views of sparkling water on the horizon. Free of internet, electricity, and even plastic, this green return to nautre truly puts economic responsibility first without neglecting the luxuries guests desire. Sleep under palm leaf roofs and bathe in cold water rain showers. Embrace simple living, even if just for a few days.