For centuries, lighthouses have guided sailors through rough seas and treacherous stretches of coastline. Yet, with advances in technology, the need for the traditional lighthouse is dwindling and many have been decommissioned. While some have been turned into museums and observation decks, others are reinventing themselves as chic accommodations. They offer the chance to live the life of a lightkeeper, spend the night inside historic light-emitting towers, and wake up to undisturbed ocean views. Here's seven of the coolest lighthouses across the USA that you can stay in.
Big Bay Point Lighthouse
Big Bay, Michigan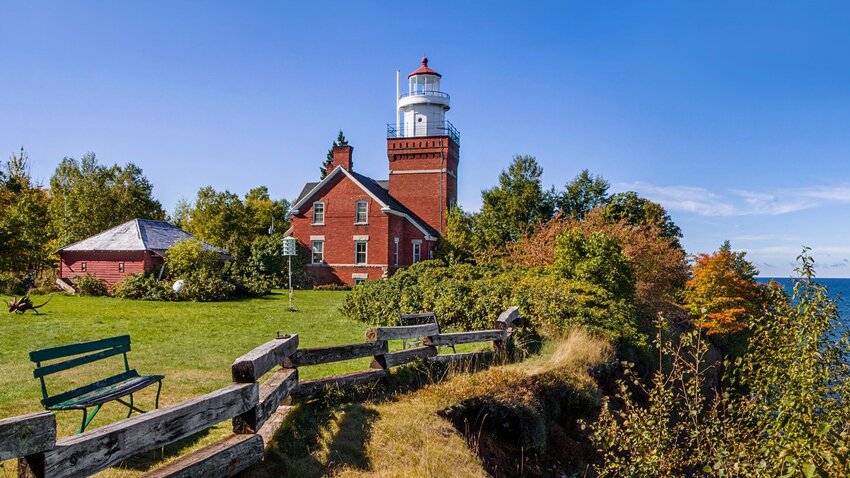 Set on a clifftop above the southern shores of Lake Superior is the Big Bay Point Lighthouse Bed and Breakfast. It's an active lighthouse, although guests needn't worry about being asked to carry out chores. Instead they can relax in the seven homely rooms, five of which have lake, sunrise, or sunset views. By day there's opportunities to visit nearby waterfalls, spot birdlife, and observe the work of the coast guards. There's also a secluded massage hut for indulging in therapeutic spa treatments. It's not uncommon for the Northern Lights to make an appearance over the lake, either.
East Brother Light Station
Point Richmond, California
At this Victorian treasure you get the combined joy of sleeping in a lighthouse and visiting an island in San Francisco Bay. With a cream facade set against a backdrop of verdant mountains, East Brother Light House is as postcard-perfect as it comes. Opened in 1873, the beacon became automated in 1969, and plans were made to destroy all but the light tower. A non-profit group thwarted the plan and the keeper's house is now a quaint 5-room guesthouse. Hors d'oveurs and champagne await upon arrival, and there are homemade meals on offer, too. All of this with views of the bay and San Francisco skyline? Yes, please.
Haig Point Lighthouse
Daufuskie Island, South Carolina
Back in the 1870s Haig Point Lighthouse was built to create a safe passage for boats traveling to and from the Calibogue Sound. Today, this whitewashed landmark is among the most notable sights on Daufuskie Island, an upmarket community accessible only by ferry. The two guest rooms are favorites with golfers that make reservations to tee off at the nearby Haig Point Golf Course. Others delight in the simplicity of sipping beers on the porch while gazing over the water. Be alert, though, because legend states that the first light keeper's brokenhearted daughter spooks visitors with her ghostly presence.
Heceta Head Lighthouse, Florence, Oregon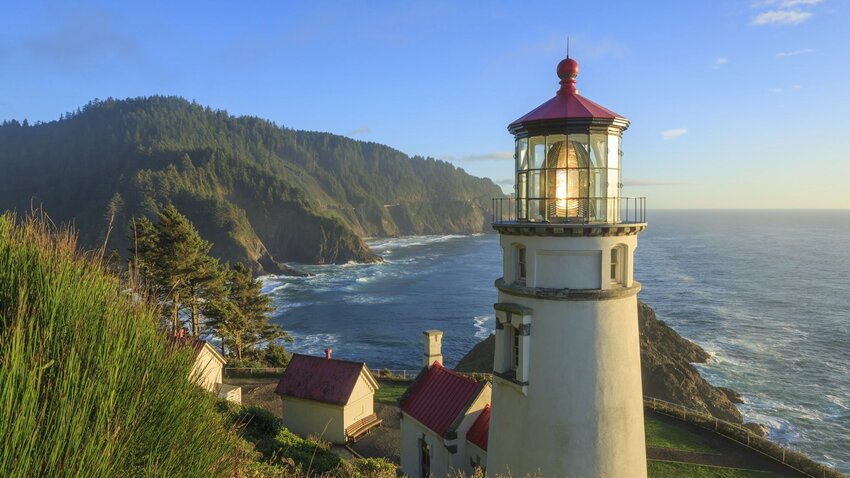 Often far-removed from urbanization, the task of manning a lighthouse is a lonesome one. For this reason many lighthouses have a living quarters attached to them for the purpose of receiving guests. Heceta Head Lighthouse cuts a solemn figure above the dramatic shoreline of the Oregon Coast. Six intimate rooms have unique views that range from the Pacific Ocean to a manicured garden and Cape Creek Bridge. Join fellow guests for al fresco picnics, cheese and wine tasting, and a hearty 7-course breakfast. A sleep mask will come in handy at night, because this working lighthouse lays claims to Oregon's strongest light beam.
Little River Lighthouse, Cutler, Maine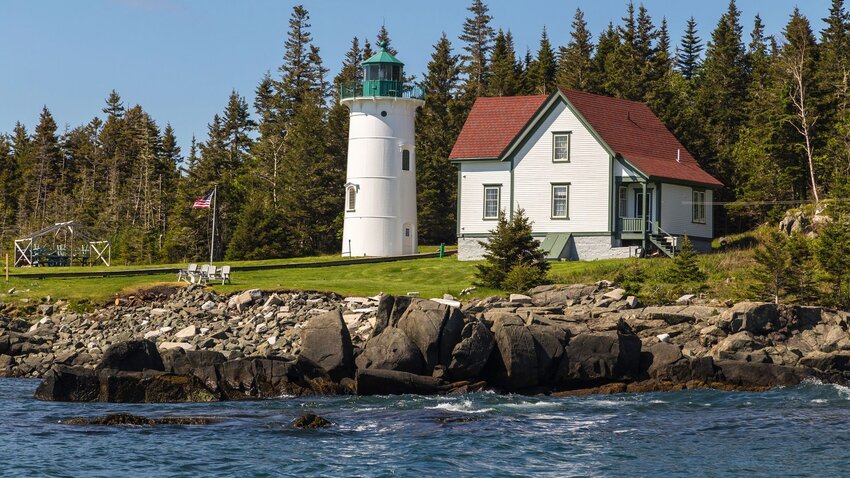 New England's coastal landscape is synonymous with lighthouses, with nearly 200 to boast of. One of these — Little River Lighthouse — is the country's easternmost light station. Just getting here is a mini adventure. Boats cross from the mainland to a jetty on Light River Island, where visitors must traverse a boardwalk to get the landmark. The thrill of staying in the Victorian-style quarters of a lightkeeper family is a big lure, but there are plenty of other temptations as well. A trail cuts through the island's 15-acre pine forest, sunsets are romantic, and stargazing is unhindered by city lights. Bald eagle, dolphin and whale sightings are common, too.
New Dungeness Lighthouse, Sequim, Washington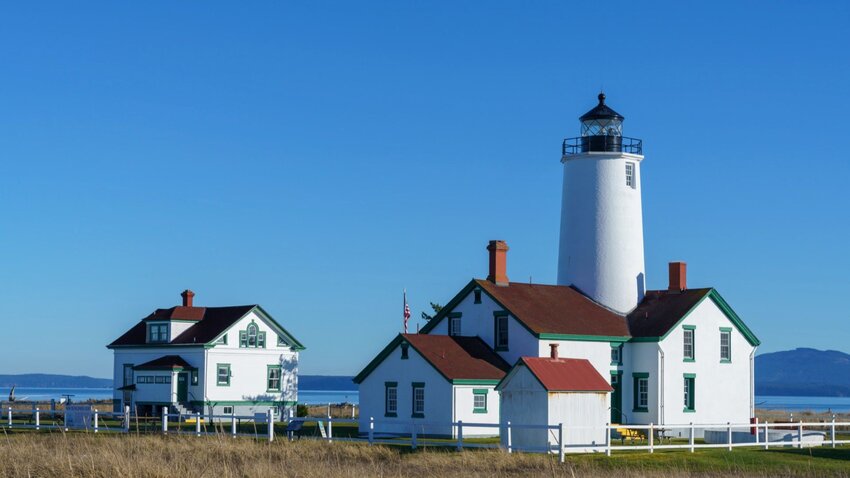 Those looking for a hands-on lighthouse experience will find one at the tip of a remote sand spit in Dungeness National Wildlife Refuge. The Keepers Program at New Dungeness Lighthouse is a week-long stay for up to eight guests. It requires visitors to carry out tasks such as raising and lowering the flag, mowing the lawn, polishing brass fittings, and picking up litter. But once the chores are done, the program allows for abundant relaxation and recreation as well. Views take in the Strait of Juan de Fuca and the Cascade and Olympic ranges. And the wildlife refuge is a bird-lovers paradise home to bald eagles, oystercatchers, Pacific loons and more.
Salmon River Lighthouse, Port Ontario, New York
Overlooking the eastern shores of Lake Ontario, Salmon River Lighthouse is listed in the U.S. Register of National Historic Places, and is one of only a few national lighthouses with a working birdcage-style lantern. Panoramic views from the beacon reach over the lake, Salmon River and sprawling green fields. Without the lantern, the stone landmark evokes the image of the cottages found in British countryside villages. Days are filled with fishing for trout and salmon, cruising the lake on drift boats and visiting pretty Salmon River Falls. Then it's back to the house to light up the barbecue on the private porch and picnic garden.