If you're planning a wine tasting vacation, skip the regular hotel and book your stay right in the center of all the action — at a winery! No matter which part of the world you're visiting, you can find multiple lodging options on property, including villas, refurbished barns, stately mansions, and even wine barrels.
Quinta da Pacheca, Portugal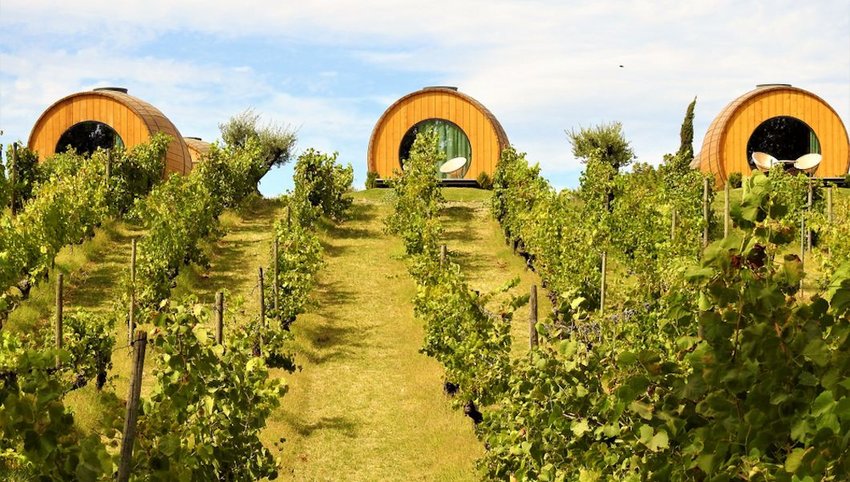 Portugal's Duoro River is renowned for both its wine and scenic landscape. Not too far outside the main town of Peso da Régua, is Quinta da Pacheca winery. The 140-acre estate has vines and olive groves dating back to the 16th century and several different accommodation options. Choose from a traditional suite in the 18th-century manor or splurge for a barrel room in the middle of the vines. Each wine barrel room features double beds, walk-in showers, skylights for stargazing, air-conditioning, WiFi, and a private terrace that overlooks the vineyard.
Rossell Boher Lodge, Argentina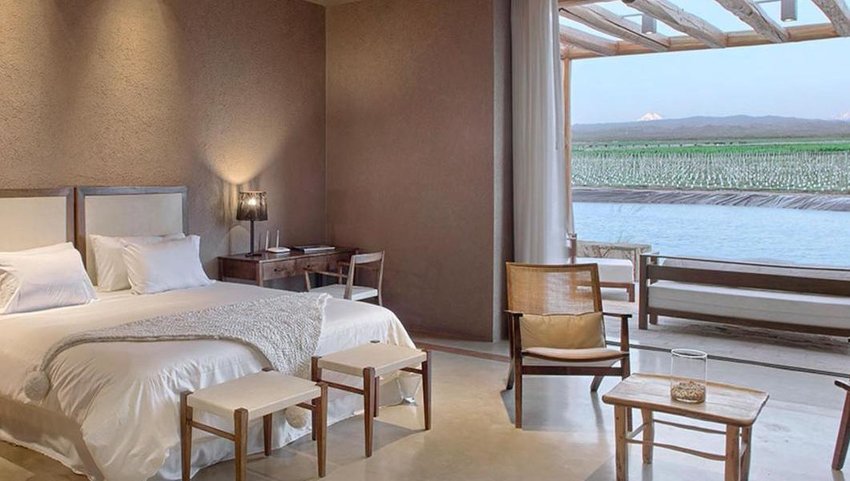 You'll find countless luxury lodging options in vineyards throughout Mendoza, Argentina's wine country including the newer Rossell Boher Lodge. While much of the region focuses on red wine production, Rossell Boher only produces French-style, traditional-method sparkling wines. Lodging options here include rooms in the large guest house and several individual villas — each with its own hot tub. Each adobe-style villa features sleek and warm accommodations that are perfect for a breezy night by the fire sipping wine under the stars.
Steenberg Hotel, South Africa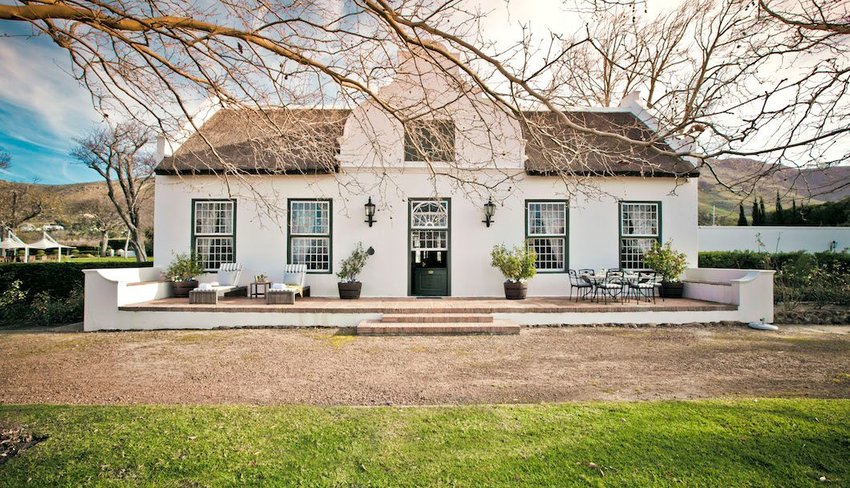 The Steenberg Hotel is located at the oldest registered farm in the Constantia Valley, where winemaking dates back to the mid-1600s. This hotel is ideal for both foodies and oenophiles since it has two restaurants onsite — one offering casual bistro fare and tapas and the other featuring signature contemporary cuisine. Steenberg Hotel has a variety of accommodation types including barn rooms and luxurious heritage suites. Pack your swimsuit for the pool and a spa, and if you're itching to hit the green, Steenberg has a private 18-hole golf course set against a backdrop of the Muizenberg Mountains.
Port Phillip Estate, Australia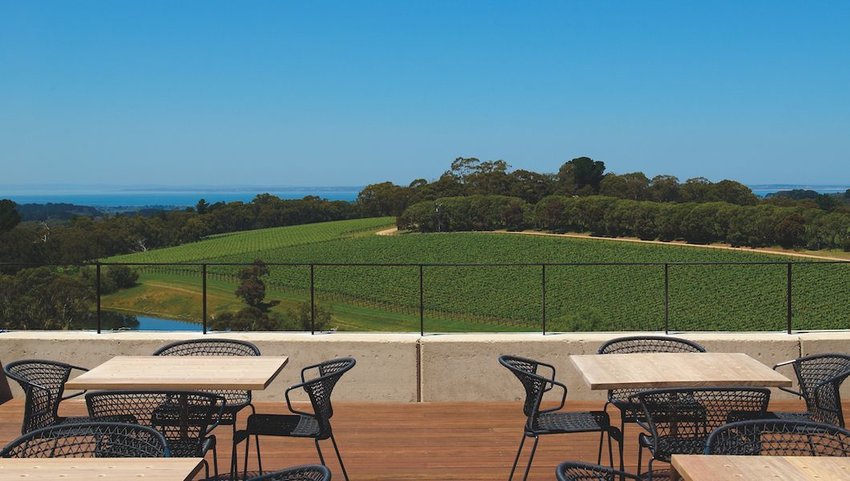 Around an hour's drive from Melbourne on the Mornington Peninsula, is Port Phillip Estate, a winery known for its biological farming. Six luxury apartments were added to the estate only a few years ago — all of which feature plush amenities like Missoni bathrobes and king-sized beds with leather headboards. Lounge on an outdoor terrace that overlooks the vineyards and bay. Privacy is a key element of these apartments, and you'll have discreet guest-only entry and private car parking.
Villa La Coste, France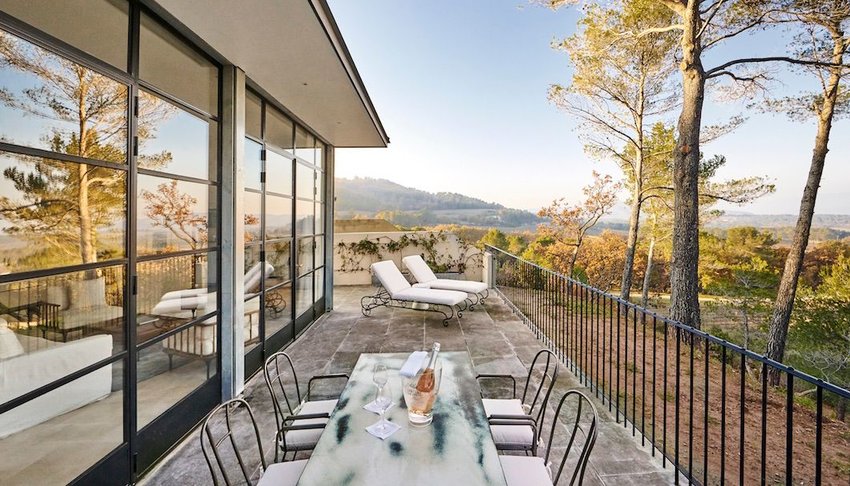 When it comes to vineyard hotels, France offers a dizzying number of options. Many opt for an elegant château in the famed Bordeaux region, but for those who want to go beyond the ordinary, head to the southern province Provence for this delightful design hotel set amidst a biodynamic vineyard. Villa la Coste features a classically elegant exterior, and modern and chic interior. Each room is emphasized by floor-to-ceiling windows letting in stunning natural light and views of the property's rolling vineyard.
Inn at Glenora Wine Cellars, United States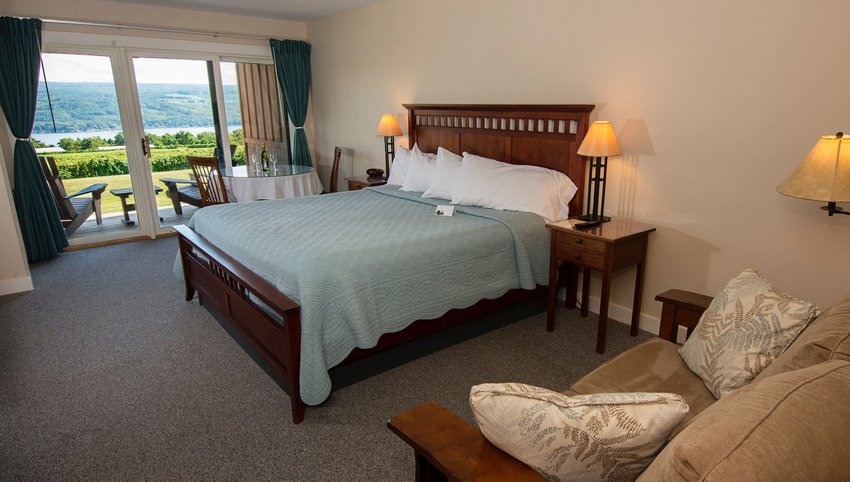 Local New Yorkers know the Finger Lakes region produces some stellar wines and word is finally getting out to the rest of the world. Visitors interested in exploring Finger Lakes wines have no shortage of vineyard accommodations to choose from including the Inn at Glenora Wine Cellars. Overlooking both vineyards and Seneca Lake, lodging here includes three different room types — each with its own private balcony or patio. In Vintner's Select Guestrooms, you'll even have a fireplace and whirlpool tub. Are you traveling with several couples? Consider the GSE Vineyard Cottage that has a fully-equipped kitchen and can comfortably accommodate up to six people.