There's no question that our National Parks are some of this country's greatest treasures, and it's also no question that 2020 was one of the toughest years that any of us have had to endure. Yet I chose to make it into a time of discovery and adventure for myself and my 9-year-old son, Zach. Last August, we embarked on a 3 ½ month journey to see 31 National Parks in our camper, with our two dogs in tow.
Making the Best of a Tough Year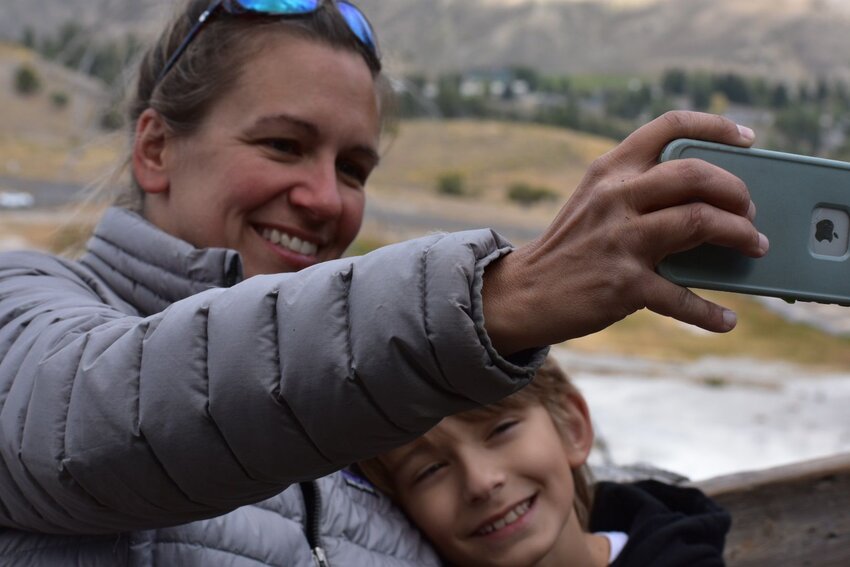 My original inspiration for this trip was my father, who I'd talked to at length about seeing the National Parks together before I lost him in May due to non-Covid related health issues. It was traumatic to say the least, and the walls of my house were starting to close in on me.  He had been to some of the national parks as a child, and had instilled a fascination in me that has yet to be extinguished. Now, I wanted to impart the same wanderlust in my son.
At the beginning of last summer, while we were both remote with his school and my full-time job, I started working primarily out of our camper at a nearby campground for a much-needed and safe change of scenery. One of the best things my dad ever taught me was to drive a truck and trailer and to back it up anywhere. Dad… I owe you one!
As soon as our school district offered a fully remote option for the fall, I jumped at the chance to fulfill this dream. I know the idea of a trip like this sounds daunting to some, but I couldn't let this opportunity slip through my fingertips. When would my son and I both be able to work and learn remotely while traveling together for months at a time?? Being self-contained in a camper has its travel advantages since most campgrounds have remote check-in, so I rarely encountered people. My biggest fear was having a travel restriction go into place that would prevent us from moving from state to state. I would check almost daily on the ever-changing restrictions and kept my whole plan flexible. I also packed enough food to allow us to  be self-sufficient for weeks if need be.
Heading West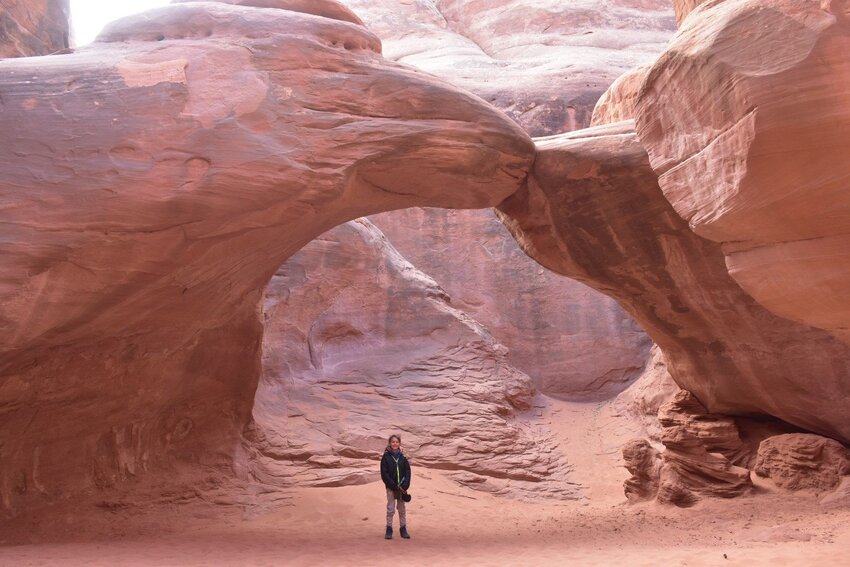 The first two months led us through the northern states and into the Northwest. We had seen about 10 parks by mid-October and I was in heaven – never wanting to come home. The beauty and vastness of the parks -- Yellowstone! Glacier! Badlands! -- had brought me and Zach at times to almost tears. I remember where he and I were holding hands at the edge of the Badlands National Park from one of the overlooks, in complete silence, and in awe at the beauty of our surroundings.
Each day presented its own challenges and adventures. I would sit on the couch on my laptop to work, and I set up a desk for Zach to log into school each day since his class was live. I could hear the teacher ask him each day "So, what state are you in now, Zach?" and a smile would appear on both of our faces knowing that we made it just that much further into our adventure. He had a map of the US taped up next to him on the wall where he would draw out the route that we just completed when we arrived at a new park. What a way to teach your child geography! I remember hearing them talk about the Continental Divide, and he was so excited and shouted to his class "I was just there yesterday!". We had driven over it the day before in Montana.
Home School Hiccups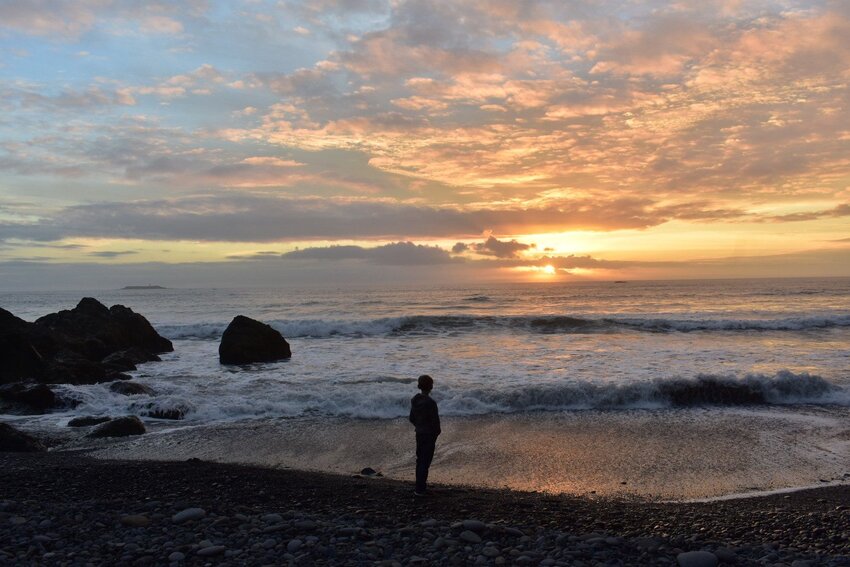 By November, we had visited about 20 parks and each one presented its own storybook. The California parks were as special as one could imagine. As I took in each one and saw the raw excitement in Zach's eyes when we reached the next park, we shared a sense of accomplishment and closeness unlike anything I've ever experienced. Sure, there were times that were difficult, but we persevered by being creative in our solutions. Especially when it came to Wi-Fi – the one thing that connected us daily back to our "real world." I always had multiple back-up plans– four to be exact. I had a personal Wi-Fi unit in our camper, my phone as a hot spot, my truck's Wi-Fi, and each campground offered it as well.  We would each bounce around on each one until we found the best connection for that location.  And at times, that would include me yelling at my computer "JUST CONNECT FOR THE LOVE OF GOD!"  I look back now and laugh.
Working Our Way Home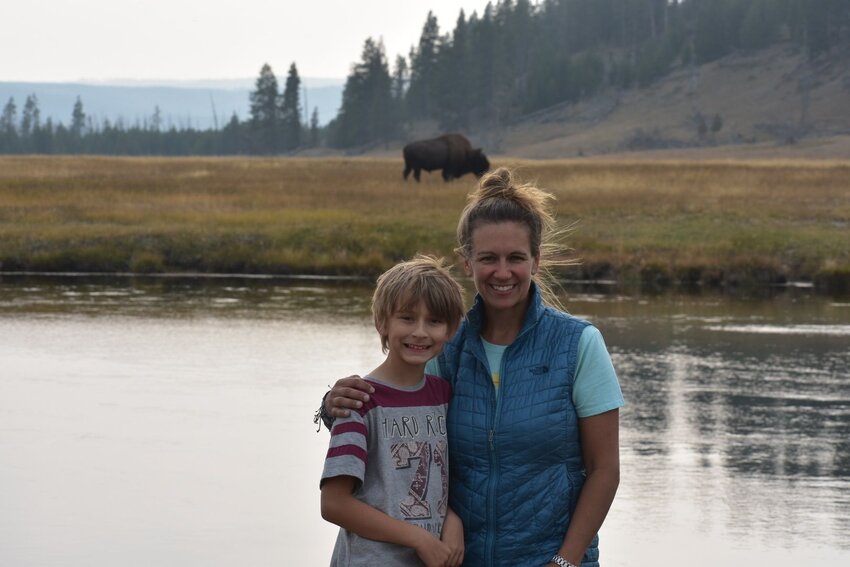 Driving through Arizona, the Mighty 5 in Utah, Colorado, and then slowly working our way back home to the Northeast seemed timeless and surreal. I felt like I was connected to the parks, and even though he wasn't there, I felt like I was sharing the journey with my Dad. By the beginning of December, we had explored 31 parks and were headed home to celebrate Christmas in a more traditional manner than would have been possible in the camper. Trying to explain how Santa would find us at a campground was not a conversation that I particularly wanted to have!
There were too many inspiring moments to count. Driving on the Going-To-The-Sun Road in Glacier National Park, seeing Old Faithful erupt time and time again, watching big game in its natural wonder, feeling miniscule at the Grand Canyon, and taking in the full spectrum of colors during countless sunsets just scratch the surface of what our National Parks have to offer. Each of the parks deserves its own novel to its own unique stories.
I swear that seeing all the parks, going on this trip, and sharing it together changed us by giving us a sense of peace and closeness bonded by strength and determination. The day after we got back home, Zach said to me, "I'm really proud of myself for doing this trip! I feel different…better… stronger." I couldn't ask for anything more.  He's now made a list of places he wants to visit in the world, and I couldn't be more excited to try to make that list a reality for him.
I encourage each of you to explore these national wonders you have in your own back yard, whether it be a national park, state park, or city park. Make the most of this moment, and go explore.
Top photo by RV Talk