Summertime in Europe often sees cultural events move outdoors, with movie screenings and theater performances among them. There's an excitement to meeting up with friends on a balmy evening to watch classic movies beneath the stars in jaw-dropping locations, and that's especially true in 2020, when indoor theaters are largely closed around the world.
The history of outdoor cinemas dates back to 1916, when the first one opened in Broome, Australia. Drive-in cinemas later took off in the United States and became an iconic institution of the 1950s and 60s. Open-air moviegoing and theater remains a worldwide trend and you'll find venues everywhere from grandiose plazas to clifftops.
To get you in the mood, here's seven of the best outdoor theaters to visit in Europe. If you can't get to them this summer then put them on the bucket list for next year. And in the meantime, there's many great ways to create the cinema experience in your own backyard.
Amante Movie Nights
Ibiza, Spain
A clifftop setting, a gentle sea breeze and the soothing sound of the rippling Balearic Sea create the ultimate romantic scene at Ibiza's Amante resort. Come the summer nights, the rocks are illuminated and full length bean bags are set up for the Amante Movie Nights. Waiters bring glasses of cava and unlimited bags of fresh popcorn as you get comfortable beneath the starry Mediterranean sky. Screenings are weekly between July and September and feature classic such as Carlitos Way and Point Break.
Autocine Madrid RACE
Madrid, Spain
Staying in Spain, Autocine Madrid RACE is Europe's largest permanent drive-in cinema. This is the place to live out those vintage American drive-in movie images. Pull up in your car, order burgers and milkshakes, and then sit back and watch Hollywood blockbusters. Enjoy the experience in true John Travolta and Olivia Newton-John Grease style by renting a 1950s Cadillac. Tune the radio into the cinema's frequency to have the sound transmitted direct to your wheels. And don't worry if it rains because a wiper service will keep your windscreen clean for optimum visibility.
Cine Kamari
Santorini, Greece
Open-air theaters have been part of Greek culture since ancient times and on the exquisite, whitewashed island of Santorini is one that oozes charm. Open from May to September, Cine Kamari sits inland from the island's village resort of Kamari. It has a pretty fairytale-like garden setting and amphitheater-style seating combined with a state-of-the-art sound and projection system. New and classic movies feature highly on the agenda and it's also a venue for art exhibitions, concerts and plays. Order cocktails, local beers, wines and snacks from the bar before taking your seat.
Gradina cu Filme
Bucharest, Romania
In the heart of Bucharest is a lively setting for cultural events initiated by the Creart arts center. Gradina cu Filme occupies the cozy courtyard of the center, which resembles a café terrace-cum-beer garden. Throughout the summer it's a popular social gathering point among fans of live music, stand-up comedy and theater. Movies run the gamut from independent Romanian productions to international releases. Adding to the artistic ambience is a huge mural by the Sweet Damage Crew.
Locarno Film Festival
Locarno, Switzerland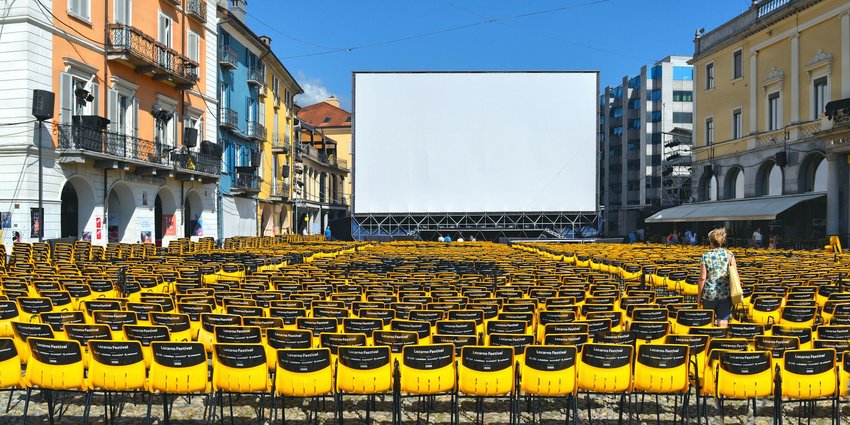 Alfresco film festivals are popular in all corners of Europe during the summer months. One of the most impressive is the Locarno Festival, in the Swiss-Italian lakeside city of Locarno. Every August a huge screen and 8,000 seats take over the cobblestone square to create the continent's biggest outdoor cinema. Filmgoers arrive to watch movies by established and emerging international directors. There's few places in the world that can match the backdrop of colorful Lombard-style palaces and the Swiss Alps.
Minack Theatre
Cornwall, England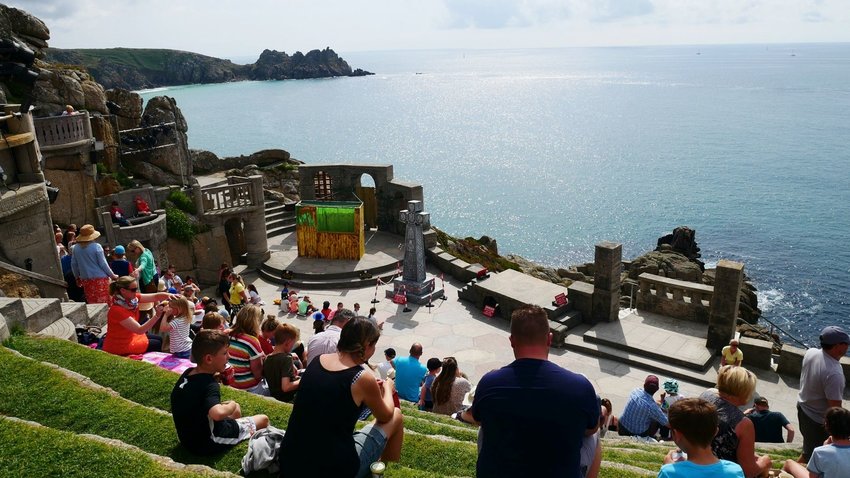 Gazing over deep-blue waters from a clifftop on England's southwest coastline is the magnificent Minack Theatre. The theater began in 1932, when art lover Rowena Cade offered her cliff garden for a performance of Shakespeare's The Tempest. Cade then gathered a team to carve the remarkable terraced seating by hand; many seats are engraved with the names of past performances. Today the amphitheater looks down on a stage for plays and storytelling. Seagulls fly above and Atlantic waves roll by in the background. If you can't make a show, they offer daytime tours and an exhibition center.
Rathausplatz Film Festival
Vienna, Austria
Another cinema that takes over a regal square in summertime happens at Vienna's Rathausplatz (Town Hall Square). Rathausplatz Film Festival puts on free screenings of ballet, contemporary dance and music performances. The music offerings range from pop and jazz concerts to operas such as Verdi's La Traviata and Puccini's La Bohème. Complementing the shows are gourmet food stands that serve up traditional Austrian, Viennese, Mediterranean and Asian fare. The only thing that might distract you is the breathtaking neo-Gothic facade of the Vienna City Hall.