If you're going to get together with friends from outside of your household this summer, experts recommend that you remain outdoors and well spaced out, to the extent possible. A novel way to spend those outdoor evenings is by hosting outdoor movie nights, and with the advent of portable smart projectors, it's easier than ever to set up a proper cinema in your own yard.
Projector
You could probably wheel a TV out into your yard if you were determined, but setting up a portable projector will be a lot easier. Plus, part of the magic of a communal movie night is watching something together on a larger-than-life screen.
For my personal outdoor movie nights, I've been using Anker's Nebula Capsule II portable projector. Its 720p picture is plenty sharp, and its 200 ANSI lumen lamp, while unusable in daylight, is plenty bright once the sun goes down, even when projecting a picture of roughly 85". Here's how it looked during one of my recent movie nights, even with a bright street lamp illuminating the yard: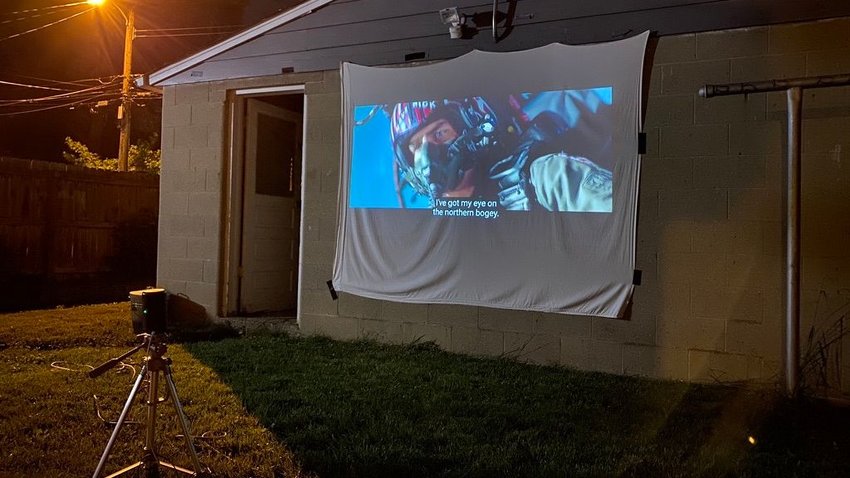 Its built-in battery lasts a couple of hours on a charge, so you could probably white knuckle your way through full movie. But since it charges over USB-C, it's easy to drastically extend its life with a USB-C portable battery pack, no extension cord required. Most importantly, its built-in Android TV software means it has easy access to all of the major streaming apps, so you can spend less time fiddling with streaming boxes, and more time enjoying your summer movie.
Anker also sells a less expensive version of the Capsule II called the Capsule Max, which has more rudimentary built-in software and requires an AC outlet to charge, but it has identical picture quality to the Capsule II.
And for roughly the same price as the Capsule II, you could also opt for the Nebula Mars II Pro, which is significantly brighter at 500 ANSI lumens, but also much less portable. If you're going to be using it primarily around your own house, and don't need a projector that can easily fit into a bag, this might be the best buy.
Streaming Dongle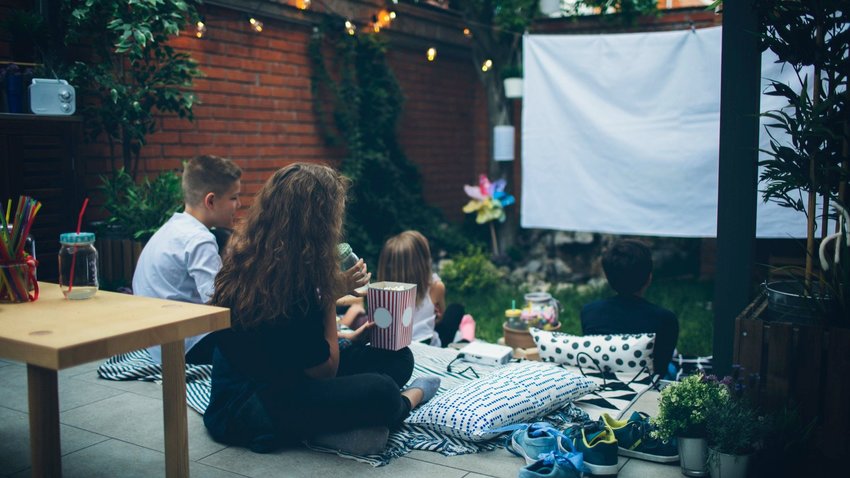 The Nebula Capsule II has access to just about every major streaming app, but most other projectors (including the Mars II Pro) feature only limited streaming capabilities. Chances are, you already have a streaming dongle like a Roku Streaming Stick or a Fire TV Stick plugged into one of your TVs, and you can plug them straight into the projector to act as its "brain."
Just be wary that this will drain your projector's battery slightly faster, so be ready to run an extension cord or plug in your external battery.
Screen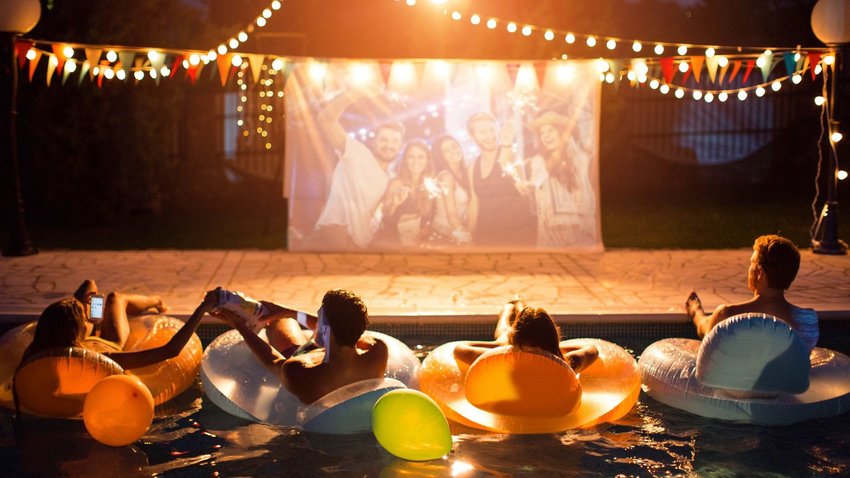 Honestly, a flat white wall or a white sheet hung on a wall is all you need for a casual outdoor movie night. If you were setting up a permanent indoor projection room, it would be worth investing in a professional screen. But for a pop-up outdoor theater, it's not really worth the expense or the hassle.
If you're dead set on getting slightly better contrast and slightly more vivid colors than you'd get with a white sheet, Elite Screens makes a 100" screen that would be suitable for outdoor use. If you don't have anywhere to hang it, your best bet would probably be an inflatable screen that can stand up anywhere in your yard.  

Audio
The Nebula Capsule Max has an 8 watt speaker built in, and the Mars II bumps that up to dual 10 watt speakers. Either will allow a small group to easily hear a movie as long as it's otherwise quiet outside, but it's not a bad idea to plug in or connect a larger, louder speaker over Bluetooth or with an AUX cable for higher quality audio.
The 30 watt Anker Soundcore Motion+ is basically a tiny portable sound bar that can project sound towards an audience, while the 36 watt UE Megaboom outputs sound in 360 degrees, meaning you could place it in the middle of the crowd. Both, needless to say, are also awesome Bluetooth speakers for all of your summer outings, with great battery life and laudable water resistance for use by the pool.
Seating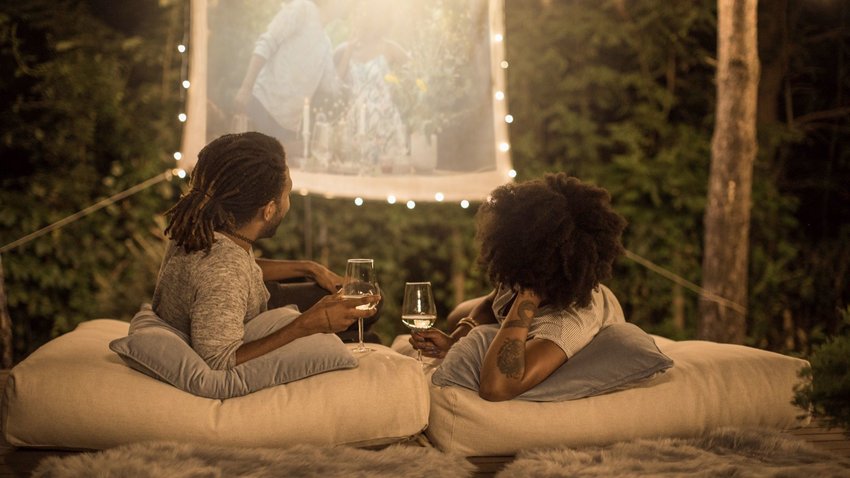 Just as movie theaters across the nation have retrofitted screening rooms with recliners, so too should you provide your guests with a way to lean back and enjoy the show.
The NEMO Stargaze Luxury Recliner is the most comfortable camping chair I've ever sat in, and frankly, there's not a close second. More a chair-shaped hammock than a traditional camping chair, it's like sitting in zero gravity, allowing you to sit up to grab popcorn, and then lean back with ease.
If you're looking for a less expensive option, shoot for a low-to-the-ground chair like the REI Camp Stowaway, which will ensure that people sitting in the back will be able to see the screen over the people in front of them. It won't rock back and forth like the NEMO Stargaze, but it's naturally reclined for a comfortable viewing experience.
Putting down some camping blankets for people to lay on is another option, particularly if your yard requires your screen to be low to the ground. Rumpl makes packable, outdoor-friendly blankets in all shapes, sizes, and colors, but we really like Gravel's Layover travel blanket, which will prove useful whenever you get on an airplane again.
Snacks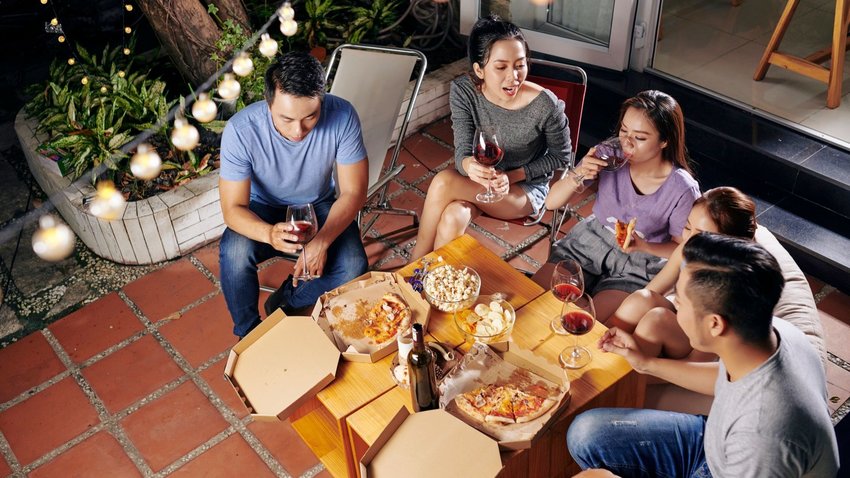 If your movie night consists entirely of people in your household, then obviously, you should share a big bowl of popcorn. Our friends at Trivia Genius have some tips on how to make your homemade popcorn taste just like the stuff at the movie theater (spoiler alert: it's coconut oil).
But if you're having friends come to watch while sitting six feet apart, you'll want to provide some prepackaged, single serve snacks that people won't have to share. Check out our ranking of travel snacks which would be perfect for the occasion, or splurge on a few packs of South African biltong, which is like beef jerky, but better.
Movies to Watch
In this time of limited mobility and travel, movies are a great way to transport yourself to another part of the world, especially when they're projected onto the side of your house. We've rounded up lists of some of our favorite nature documentaries and travel documentaries to help narrow down your search. Netflix, Hulu, and Amazon Prime also have sections dedicated to foreign films that can expand your perspectives beyond the latest Hollywood releases.