The Coachella Valley in Southern California is best known for the musical extravaganza known by most as simply Coachella (but which is actually the Coachella Valley Music and Arts Festival), a bucket-list experience for those who live for sprawling music festivals. But, a somewhat less intense experience--though no less magical--awaits in the desert. The low desert towns of Palm Springs, Palm Desert, and Desert Hot Springs beckon with restaurants, shopping, spas, swimming, hiking, golf, and tennis, while the high desert offers more hiking and rock climbing in the surreal landscape of Joshua Tree National Park, near the eclectic town of Twentynine Palms. Enjoy sophisticated pleasures, singular museums, excellent food, and wide-open spaces in this wholly unique desert wonderland.
Palm Springs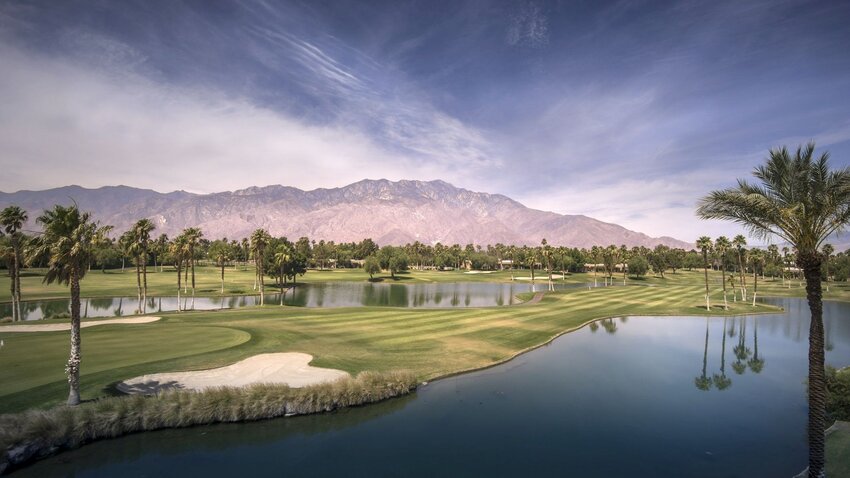 The very name of this town conjures images of chic Los Angelenos reclining poolside in the radiant heat, sipping cocktails, reading Variety, and preserving their anonymity behind huge sunglasses. Yet, Palm Springs offers up lures of every type. For the active traveler, tennis, swimming, and golf are the obvious pastimes. Every hotel and club has its pool and courts, and excellent rounds of golf can be had if one tees off at the Indian Canyons Golf Resort or at the Escena Golf Club's course, designed by Jack Nicklaus. Follow your round on the links with a tour through downtown, where world-class shopping awaits on Palm Canyon Drive, and then dine at Workshop Kitchen + Bar (book ahead) or Rooster and the Pig, offering creative Vietnamese-inspired fare.
Less known to many is the hiking in and around Palm Springs. Enjoy spectacular views on the Palm Springs Aerial Tramway, a 10-minute gondola ride to Mount San Jacinto State Park at over 8,000 feet of elevation, where 54 miles of hiking trails await. Or, stay in the valley and try the Andreas Canyon trail, where an adjacent stream gives rise to unexpectedly abundant vegetation. Don't miss the sleek modernism of the Palm Springs Art Museum or its two-mile loop hike to a perfect picnic spot overlooking the valley.
Palm Desert
If you're new to the area, it can be difficult to understand the different vibes between Palm Springs and Palm Desert, yet many consider Palm Desert to be Palm Springs's laid-back cousin. Don't be fooled. Palm Desert offers just as much in the way of high-end shopping and fine dining, and its accommodations range from five-star resorts to rustic camping.
Its golf courses are some of the best, including Desert Willow Golf Resort, Marriot's Shadow Ridge Golf Club, and Arnold Palmer-designed championship Classic Club. After golf, treat yourself at the El Paseo Shopping District, known as the Rodeo Drive of the Desert, which will delight with posh shops, restaurants, and galleries. Sup at T&T Innovation Kitchen at the Marriott, or try MI Cultura Peruvian Colombian Cuisine.
Desert Hot Springs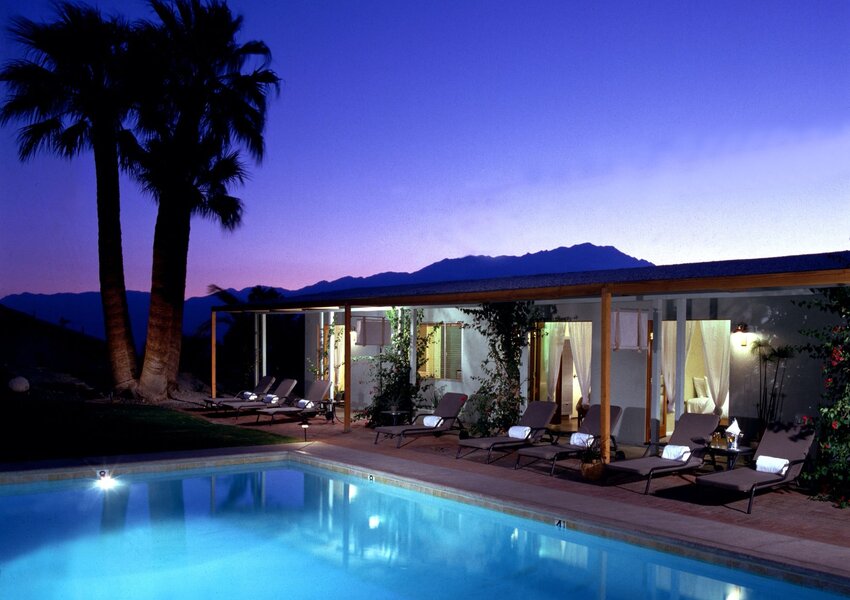 What luck to find abundant hot springs in this part of the desert! This town boasts one of the world's finest naturally occurring hot mineral springs, and several hotels and spas take advantage of this geothermal bounty. The Desert Hot Springs Spa Hotel offers eight natural hot mineral spring pools that are open around the clock. The Spring Resort and Spa offers a decadent spa, mineral pools, and detox treatments. Or, for a boutique experience, try Two Bunch Palms, a hotel/resort/spa also offering fine dining at Essence, and available for romantic, bohemian-style wedding packages.  The Lautner Compound is a must for those who appreciate sleek, upscale mid-century digs in the desert.
Golfers will enjoy the Desert Dunes Golf Club, which hosts U.S. Open and PGA-tour qualifying events. You might also like to try your skill at Mission Lakes Country Club, said to have the toughest finishing holes in the desert. For a cultural experience, try Cabot's Pueblo Museum, a four-story pueblo homestead built in the early 1900s to house Cabot Yerxa's art, treasures, and artifacts from his world travels. Also well worth a visit are The Living Desert Zoo and Gardens, and Agua Caliente Cultural Museum.
Outdoors enthusiasts will want to try a morning of hiking at the Desert Hot Springs Loop, the quirkily named Bump and Grind Trail, the Mission Creek Preserve, or, if you're in need of a water feature after too much sand and heat, head to Whitewater Preserve, where you'll be treated to a gorgeous desert creek ecosystem. Dine out at Fresh Agave Mexican Bar and Grill or Zapopan for south-of-the-border fare. Try The Gray Cafe for vegetarian and vegan options, or indulge in a great breakfast at The Shop Cafe.
Joshua Tree National Park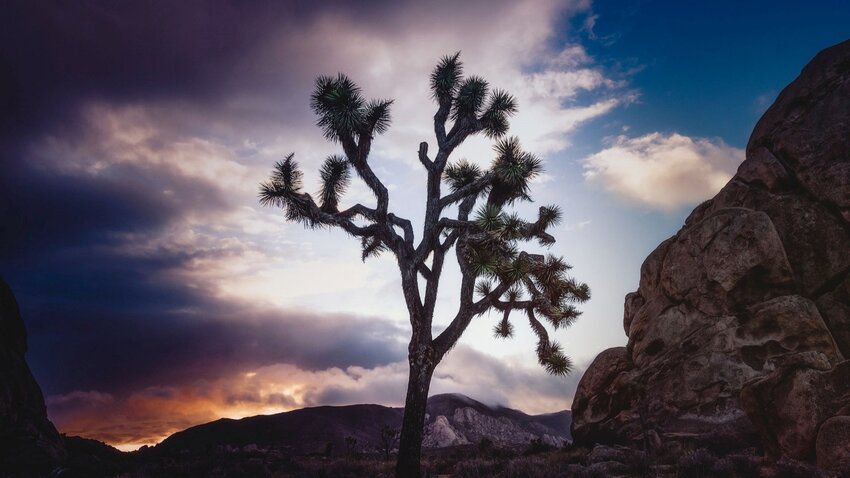 This 1,250-square-mile park is the crown jewel of the high desert in Southern California. Appearing both surreal and like something out of a Dr. Seuss story, the Joshua Tree itself is found only in a very specific microclimate in a few locations on Earth, and is imminently threatened by climate change. The spiky green leaves and twisted limbs of the Joshua Trees are set off by bulbous red rock formations that create ornate sculptures throughout the landscape. Rock climbers travel from around the world to challenge themselves on the sheer faces.
Favorite hikes in the Forest include the 3.3-mile loop to the Fortynine Palms Oasis, where if you're very lucky (I was!), you might see the elusive gray fox; the Lost Horse Mine Trail to an old gold mining site—lengthen with the strenuous Lost Horse Loop; or, take the short and well-traveled Barker Dam Nature Trail to view Barker Lake. If you are lucky enough to see it on a still day, the water appears like a mirror in the sand, and the rocks and clouds reflected in its surface take on an otherworldly aspect. Be sure to time your visit so that you are still in the park to enjoy one of the jaw-dropping sunsets. Better yet, stay overnight to bask in the star-shine (without any ambient light) of glittering otherworldly bodies stretching overhead in a seemingly endless arc. Remote camping sites are available within Joshua Tree National Park, but be sure to book ahead.
Twentynine Palms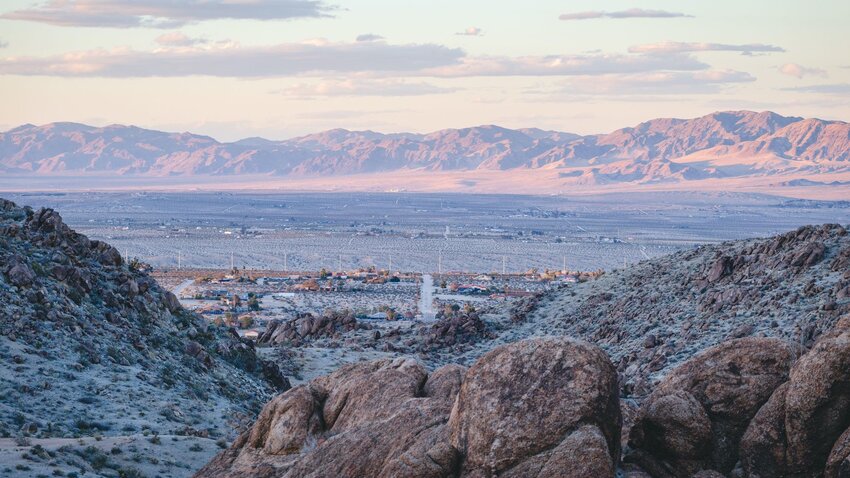 End your tour through Joshua Tree in Twentynine Palms, a small town perched right on the northern border of the Park. Walk the downtown to view a charming and eclectic group of murals, especially the dumbfounding perspective of one titled "Valentine's Day" that appears unfinished but for the life-size and very realistic bull (named Valentine) in the foreground.
For terrific food in a quirky setting, head to the 29 Palms Inn, which offers a cozy, unpretentious setting that is the perfect antidote to a day spent hiking. (The pandemic has limited the restaurant to patio dining and a very casual menu for now—post-pandemic dinners are worth waiting for.) Don't let the sand parking lot or the walk along the Inn's pool deck fool you. Live music is often on tap, and the dinners more than satisfy. During daylight hours, visit The Oasis of Mara, which sits at the heart of the property. If you need a place to stay, book a one-of-a-kind adobe bungalow or wood-framed cabin, all of which are singular in style and embellishments, and guests can enjoy a late-evening float in the pool while viewing the star-packed desert sky above. Or, if a traditional bed and breakfast is more to taste, try the Campbell House for old-world charm and comfort.
For more interesting desert experiences, try Sky's The Limit Observatory and Nature Center, and stop in at The Glass Outhouse Art Gallery. Dine at Kitchen in the Desert Café or The Rib Co.