Although it's tempting to take the train, nothing beats an Italian road trip. Driving yourself opens up new possibilities, like staying the night in isolated farms and hilltop villas. It affords you the freedom to take backroads and spur-of-the-moment diversions to discover a more authentic Italy than if you simply hopped from city to city. If you need to get somewhere fast, the autostradas are just the ticket, but there's much more pleasure in cruising down country lanes at a leisurely pace. Whether you have a day, a long weekend or a couple of weeks to spare, there's an Italian road trip with your name on it. Here are a few of our favorites.
Tuscany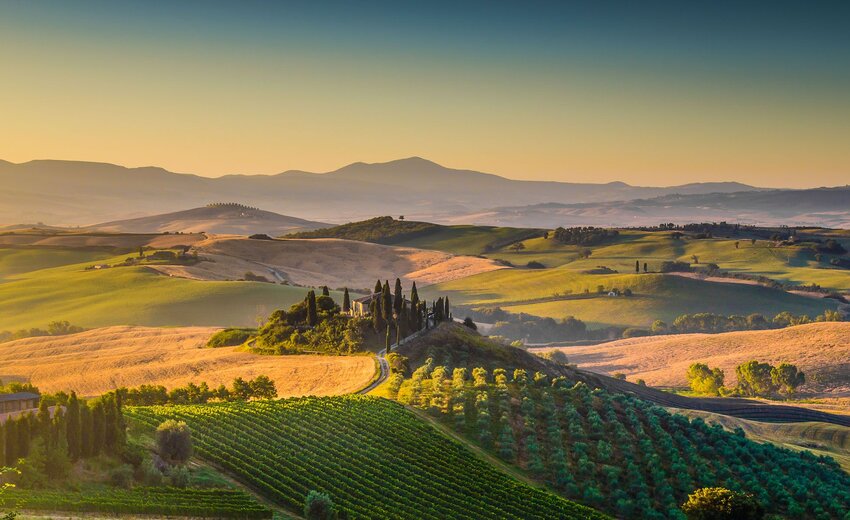 The rolling hills of Tuscany with their sentinel-like cypresses, olive groves, and neat rows of grapevines lend themselves to a road trip like nowhere else in the country. Tuscany's big sights — Pisa, Siena, San Gimignano, Lucca and Florence — are all relatively close to each other so you can explore all of them without feeling hurried. To start your trip, pick up a rental car in the riverside university town Pisa, where there's plenty to see beyond its famous Leaning Tower. For your next stop, go to Lucca and walk past its historic walls and wander along its cobblestone streets. After that, set your sights on Florence's fabulous art and history, with a diversion south to sample San Miniato's famous truffles. After you've ticked off the Duomo and the Uffizi, drive to San Gimignano, best known for its iconic medieval towers. Finally, make a stop in Siena. For the ultimate food experience, grab a table in one of the cafés that line the fan-shaped Piazza del Campo, and watch the world go by in the warm Italian sunshine.
The total trip is around 250 miles and will take 5-7 days.
The Amalfi Coast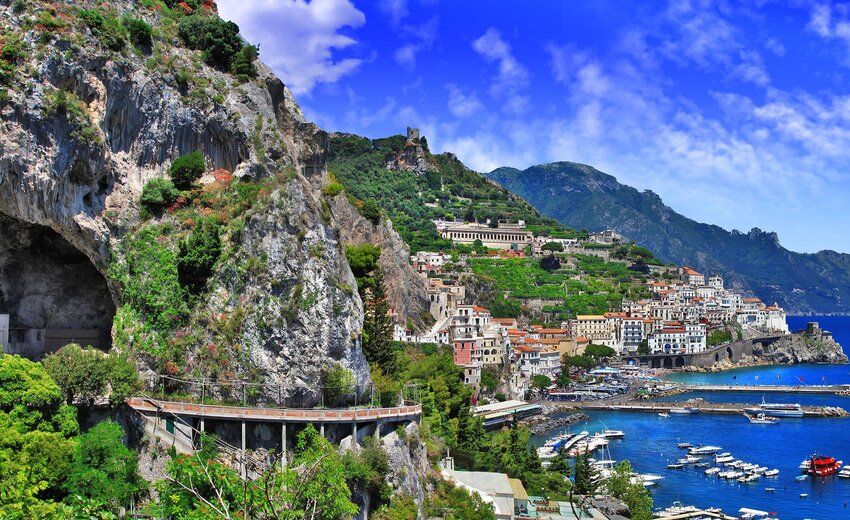 Though the narrow, winding roads of Amalfi are a challenge to drive, cruising along the coastline is definitely worth it for the view. A word of caution, though; in the summer the hairpin turns and zigzags of this coastal highway are cluttered with bumper-to-bumper traffic, so opt to travel in spring or fall instead when you're more likely to be able to find space to park and enjoy the views. Another tip? Travel northbound through Amalfi into Sorrento and you'll be on the inland side away from those scary, vertiginous cliffs.
When you get to Amalfi, check out the dazzling cathedral featuring a striped façade adorned with gilded mosaics. Before you head north, detour inland through the Valle del Dragone to the pretty seaside town of Ravello. When you head back to the coast road, pass the Grotto dello Smeraldo, named after the emerald green waters that lap the cave for a breathtaking photo opp. After that, be sure to stop in Positano, where tightly packed buildings the color of gelato cling impossibly to the steep cliff leading down to the harbor. And don't miss Sorrento, especially in the spring when the scent of lemon hangs in the air. It's also worth it to make a stop in Pompeii and Herculaneum in the shadow of Mount Vesuvius, not to mention make a side trip by boat to the island of Capri across the Bay of Naples.
The total trip is 30 miles and will take 1-2 days.
Puglia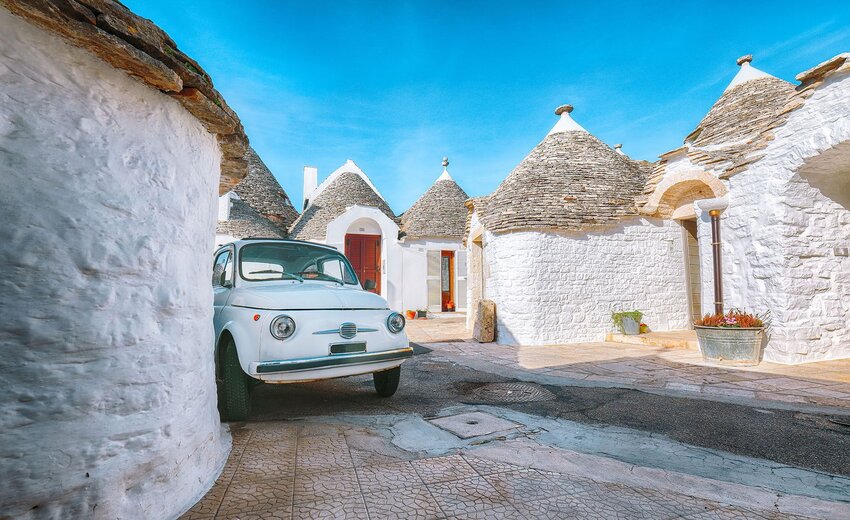 In a region where buses can take frustratingly circuitous routes, having a car in Puglia is essential if you want  to see everything. Fly into Bari airport, rent a car and head south to the pretty seaside town of Polignano a Mare, famous for its cliff divers. From there, take a trip inland to see Ostuni, a spectacular whitewashed old town. Next visit Lecce, nicknamed the Florence of the South for its Baroque architecture, along with the colorful port of Santa Maria di Leuca, Puglia's southernmost point. Double back to explore the centro storico of Gallipoli on foot and Taranto, with its imposing Aragonese castle. Then drive farther inland to marvel at the quirky trulli of uber-quaint Alberobello and idle away an afternoon or longer. Finally, detour into neighboring Basilicata to visit the Sassi di Matera, where rock-hewn caves overlook a dramatic canyon.
The total trip is 400 miles and will take 4-6 days.
Emilia-Romagna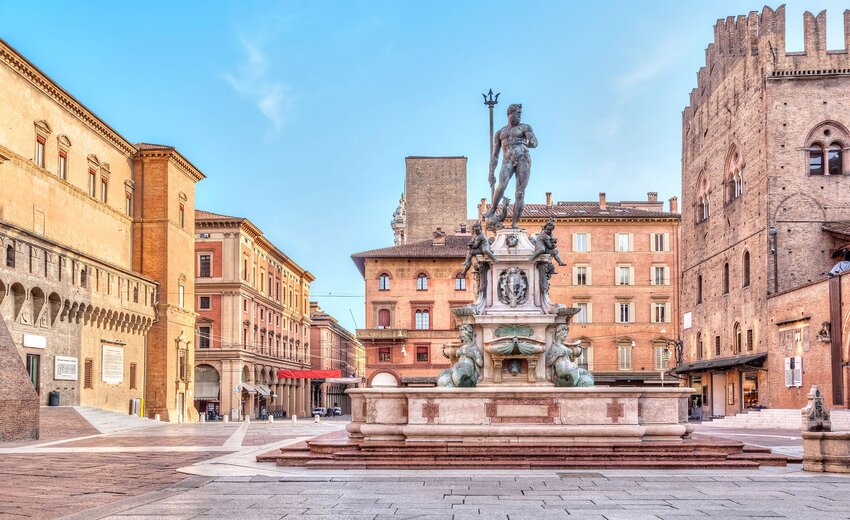 Car lovers and foodies will find it hard to resist Motor Valley. To travel like a local, kick off your trip riding a motorcycle in delightful Bologna, where Ducati welcomes visitors to tour its motorcycle factory. In the city center, you can then climb medieval Torre Asinelli to work up an appetite for the city's legendary pasta. From there, it's an easy run to Parma, famous for its ham and cheese. When you're back on the road, program your GPS for the Ferrari factory in Maranello. When you get there, test your skills on a driving simulator, make a circuit of the race track, or complete a hurried Formula One pit stop tire change. You can also learn about Ferrari's history at the nearby Museo Enzo Ferrari in the historic city of Modena. The city is another gastronomic hub specializing in balsamic vinegar. Later, take a tour of the Maserati, but don't pass up the chance to view Umberto Panini's unrivaled private collection of vintage models as well. Round off the trip by drooling over Lamborghini supercars at MUDETEC, the Museo Delle Tecnologie in nearby Sant'Agata Bolognese.
The total trip is 150 miles and will take 2-3 days.
The Dolomites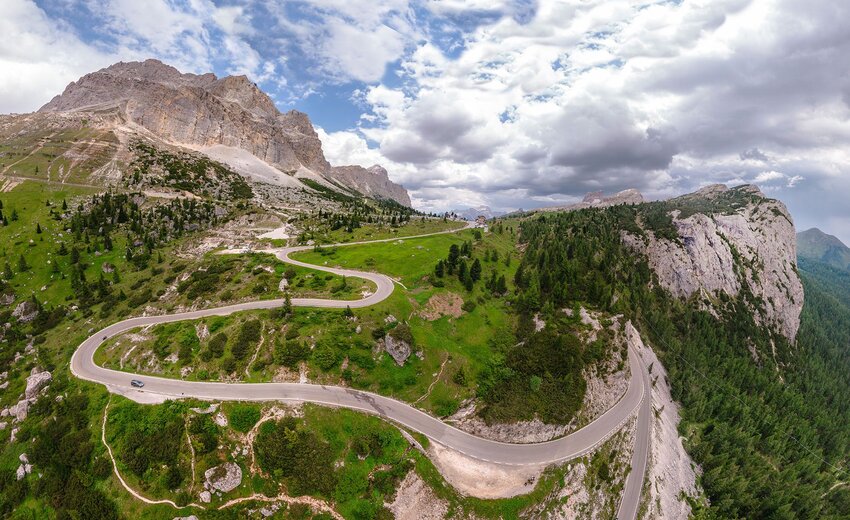 One of the most dramatic roads in the country is the Grande Strada delle Dolomiti which connects Bolzano in the South Tirol to Cortina d'Ampezzo in Belluno. Before you set off, pay your respects to Ötzi the Iceman, a 5,000-year-old glacier mummy discovered in 1991. The narrow road has frighteningly steep gradients in places but plenty of panoramic viewpoints where you can pull off the road and take some deep breaths of mountain air. Some of the many highlights include the view of the Catinaccio massif from Nova Levante, the mountain views of the Marmolada (the Dolomites' highest peak), Sass Pordoi, and Sassolungo from the Pordoi Pass. Grab lunch in Canazei before continuing on to Cortina d'Ampezzo, one of Italy's top ski resorts. It hosted the Winter Olympics in 1956 and is lined up to co-host the 2026 Games with Milan.
The total trip is 75 miles and will take about a day.
Main photo by Jarek Pawlak/Shutterstock.