America's legendary mountain ranges are home to endless natural beauty and unbeatable scenery. But if you're not into backcountry camping or roughing it, accessing the towering terrain can be puzzling. Lucky for you, there are plenty of mountain towns full of character and class that make visiting some of the United States' most stunning regions a breeze.
From the obvious to the underrated, these are the best mountain towns in America.
Telluride, Colorado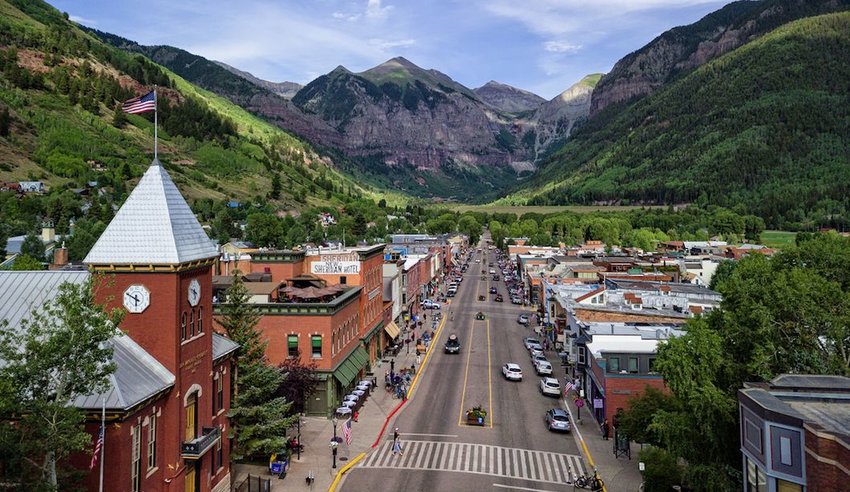 With world-class ski slopes sprawling across more than 2,000 acres, it's no wonder Telluride and its ski resort top our list of best mountain towns in America. It was also ranked as the number one Best Small Town to Visit, according to U.S. News and World Report. The town of roughly 2,500 residents is situated in a steep valley dominated by the San Juan Mountains. Come in winter and choose from nearly 150 uncrowded ski trails, or visit in summer and the same terrain becomes an epic hiking range. History fans will enjoy poking around this former gold mining outpost and visiting the Telluride Historical Museum, and even non-skiers will love checking out all the shops, bars, and restaurants in town.
McCall, Idaho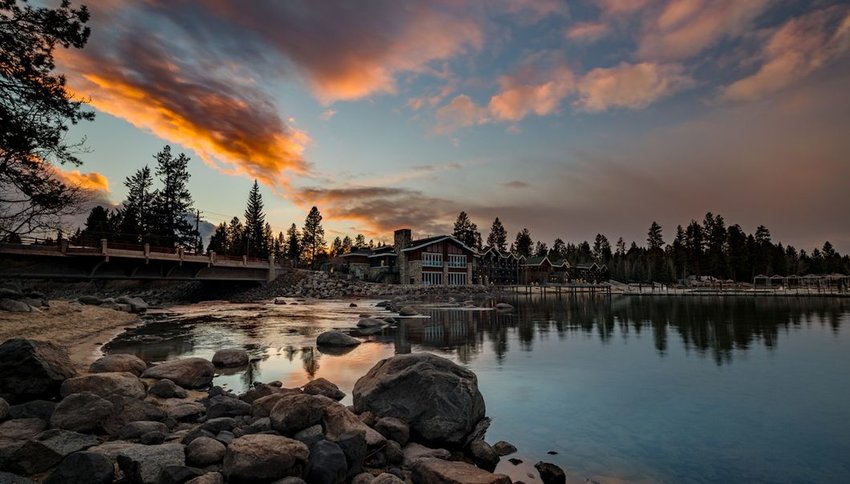 Lesser known, but no less enticing, McCall is a perfectly-situated resort town offering a host of activities in every season. Payette Lake, a glassy glacier lake framed by the snow-dusted peaks of the Payette National Forest, booms in the summertime. Brundage Mountain's mixture of groomed trails and backcountry terrain draws skiers and snowboarders throughout the long winters. Top off a chilly day on the slope with a dip in the Gold Fork Hot Springs, just 30 miles south of town. And if you visit in winter, the renowned McCall Winter Carnival is a must.
Taos, New Mexico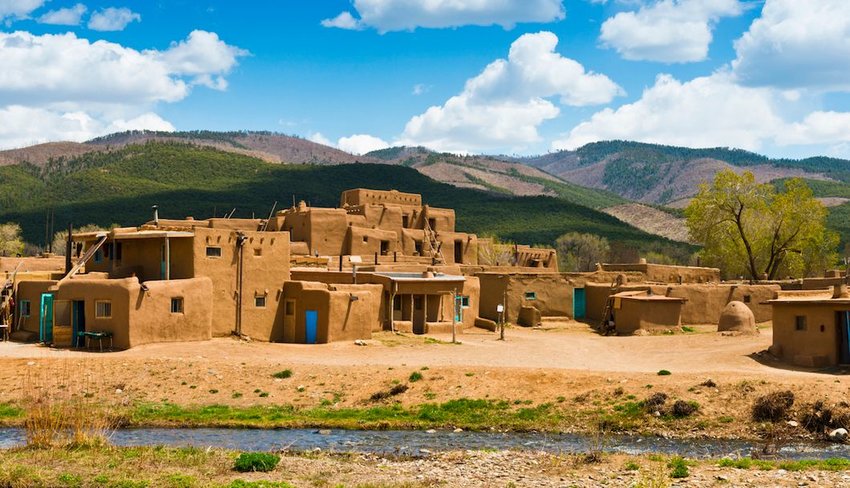 It's usually deserts, not mountains, that come to mind when you think of the American Southwest. But you can find the best of both worlds in Taos, a spirited town full of culture and tradition that also happens to be wrapped in the Sangre de Cristo Mountains. Taos is best known for Taos Ski Valley, a rugged and untamed resort with beginner to advanced trails. But the town also houses the only Native American community that's designated as both a UNESCO site and National Historic Landmark – Taos Pueblo showcases 1,000 years of history in its iconic mud and straw dwellings. Combine the slopes and the deep-rooted history with the town's natural beauty and its appeal becomes undeniably clear.
Helen, Georgia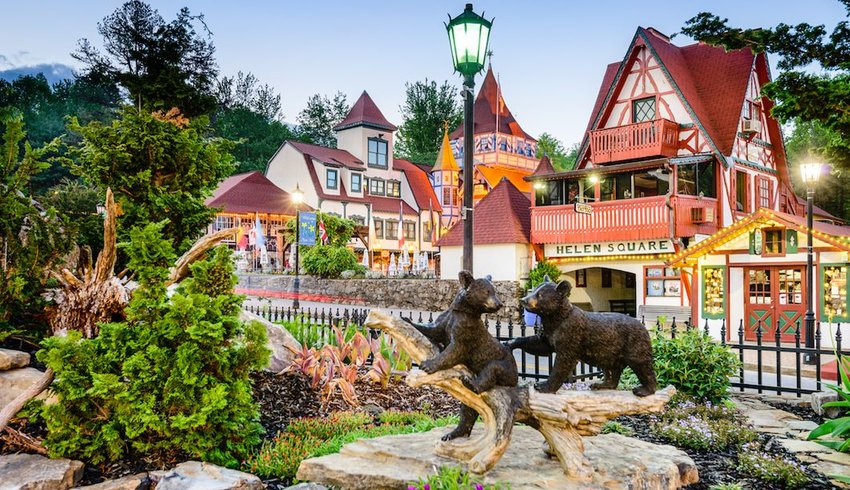 Sitting on the cusp of the Blue Ridge Mountains in northeast Georgia, Helen is full of charm. With cobblestone streets, mountain cabins, and painted buildings, you'll feel like you stepped out of Georgia and into a European alpine village, and its location makes it a desirable year-round destination. The Chattahoochee National Forest flows right into Helen's state parks, veiling numerous waterfalls, hundreds of miles of hiking trails, multiple beaches, and countless fishing spots. Designated as Georgia's Outdoor Adventure Destination, Helen also offers tubing in the Chattahoochee River, camping, mountain biking, and kayaking. In between adventures, dive into the dozens of specialty shops packed into the town's two square miles.
Jackson, Wyoming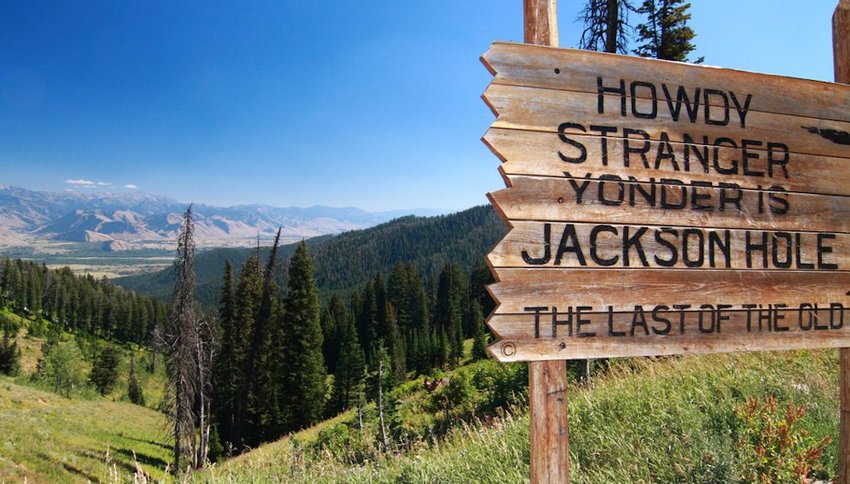 Located on the southern border of two heavy-hitting national parks and surrounded by the almighty Tetons, Jackson is far from an unknown mountain town. Its claim to fame is undoubtedly the world-renowned Jackson Hole Mountain Resort, which is more like its own self-operating village. Hotels and restaurants pepper Rendezvous Mountain, but it's the world-class ski slopes spread over 2,500 acres and the 400 inches of annual snowfall that make the resort a destination in itself. Besides all of the snow-based activities, there are still plenty of other things to enjoy, like exploring Grand Teton National Park, catching a show at the historic Jackson Hole Playhouse, and taking a dip in the exquisite Granite Hot Springs.
Asheville, North Carolina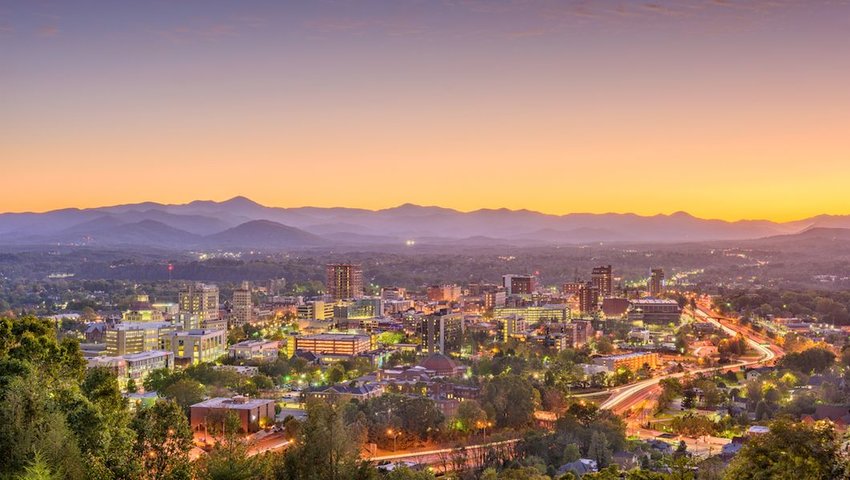 Asheville marches to the beat of its own drum (literally) and offers no apologies. Home to endless breweries, fun restaurants, and live music venues, Asheville is a quirky mountain town unlike anywhere else in the country. Located in the Blue Ridge Mountains, Asheville sits just a mere 130 miles northeast of another one of you favorites, Helen, Georgia, but embodies its own drastically-different character. Scenic drives, hiking, and picnicking top our list of favorite pastimes in Asheville. But when it's time to let loose, hit up the downtown for a generous helping of live music, great food, and craft beer.