A resort's pool is often the heart of the property. It's where guests relax, mingle, and enjoy views of the destination they're visiting. Resorts continue to step up their game by designing one-of-a-kind pools. You'll even find some luxury resorts incorporating these designs into private villa and casita settings that are just as inviting as the main resort pool. If you're keen to lounge by some of the coolest pools on your vacation, we've picked some of the best resort pools around the world.
St. Regis Lhasa, Tibet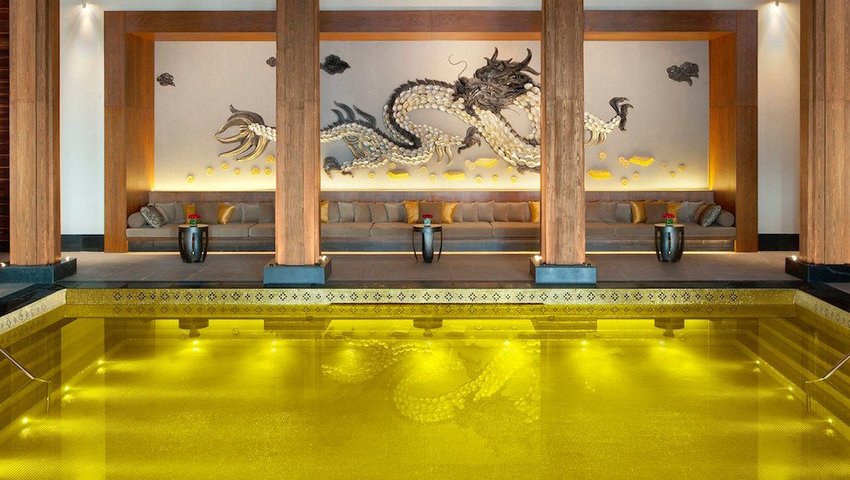 Don't be surprised when you first see the indoor pool at St. Regis Lhasa. That bright yellow color isn't a mistake. This indoor pool is called the "Golden Energy Pool," a name it earned thanks to the thousands of gold-plated tiles that line the base. Beyond the pool, indulge in healing Tibetan treatments in the Iridium Spa and marvel at the lights reflecting off the manmade lake that surrounds many of the main buildings.
Chablé Resort, Mexico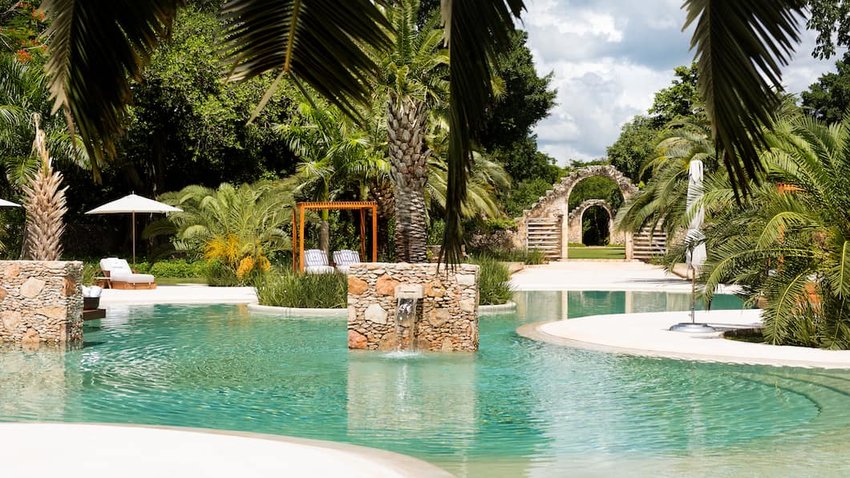 If you're traveling to Mexico's beloved Yucatán region, don't miss Chablé Resort near Mérida. Its main pool is impressive, with natural curves and a stone waterfall, but you'll also likely have a private pool in one of the 38 chic casitas or two villas that sit on the 19th-century hacienda grounds. The pool in the Villa Royal is a real stunner as it stretches under remnants of the property's original colonial walls. If that's not enough to drool over, book a treatment at the resort's spa, which surrounds a natural cenote.
Marina Bay Sands, Singapore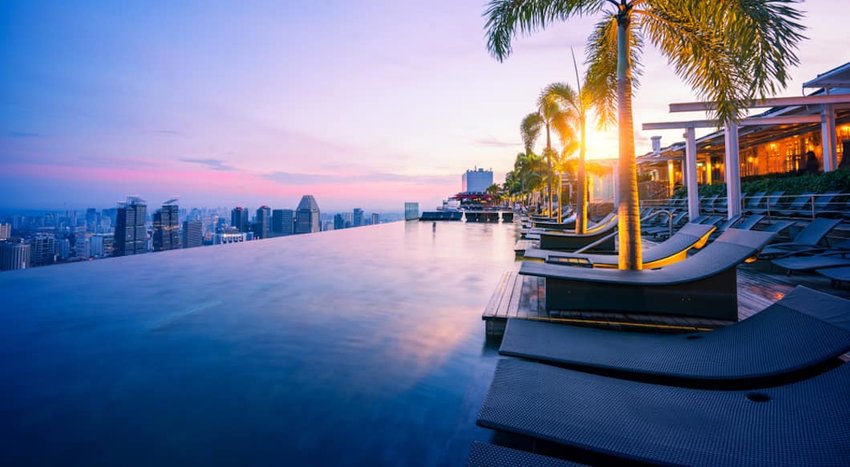 For the ultimate in rooftop infinity pool experiences, it's hard to beat the Marina Bay Sands Resort in Singapore. Overlook the Singapore skyline from 57 floors up in this 150-meter-long pool, said to be the world's longest elevated pool. Even if you aren't a guest at the resort, you might want to find your way to the bar for drinks and a killer sunset.
Hilton Molino Stucky, Venice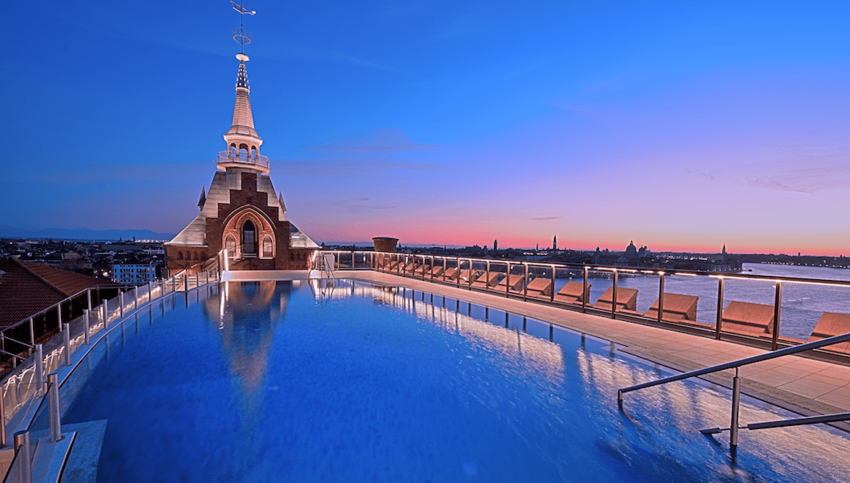 Book a room at the Hilton Molino Stucky Venice and enjoy some stunning views of Venice from the hotel's rooftop pool. This is Venice's first rooftop pool, and it's also the highest pool in Venice, offering vistas of the Grand Canal. Be sure to book during its open season, mid-May to the end of September, otherwise you'll miss out on this stunning pool and rooftop deck.
Four Seasons Safari Lodge Serengeti, Tanzania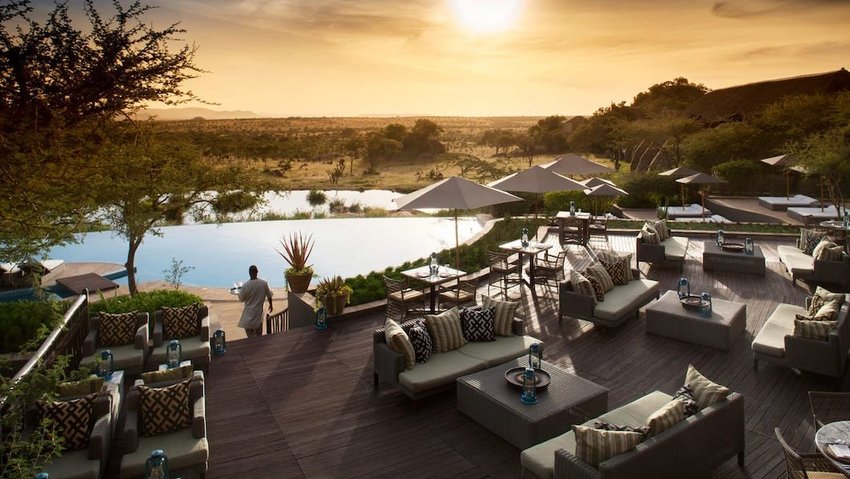 Imagine seeing some of the Big Five wildlife right from your resort pool. At the Four Seasons Safari Lodge in Tanzania, you could luck out and see elephants, buffalo, leopards, lions, and rhinoceros while taking an afternoon dip. The hotel's stunning infinity-edge pool is situated right next to a main Serengeti watering hole.
Glenwood Hot Springs Resort, Colorado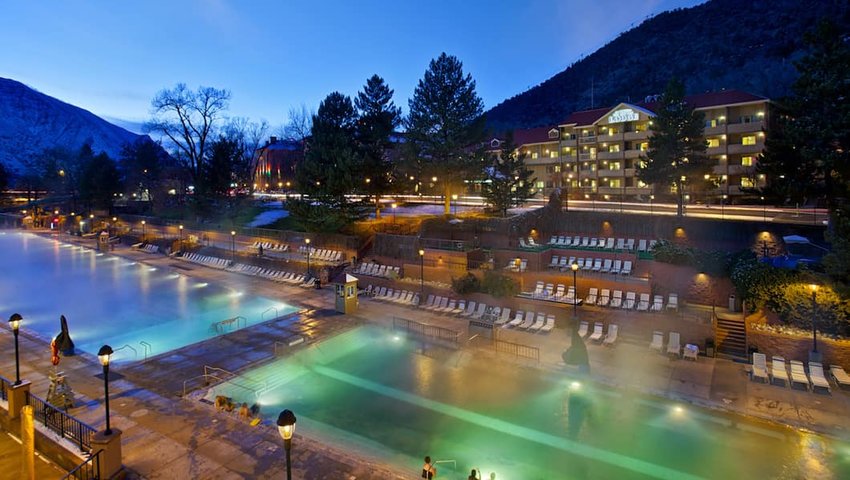 Glenwood Hot Springs Resort is home to the world's largest hot springs pool, with 15 different minerals to help refresh and energize tired muscles. The main pool has lap lanes that are open year-round, and you can rent cabanas during the summer.
Andronis Luxury Suites, Santorini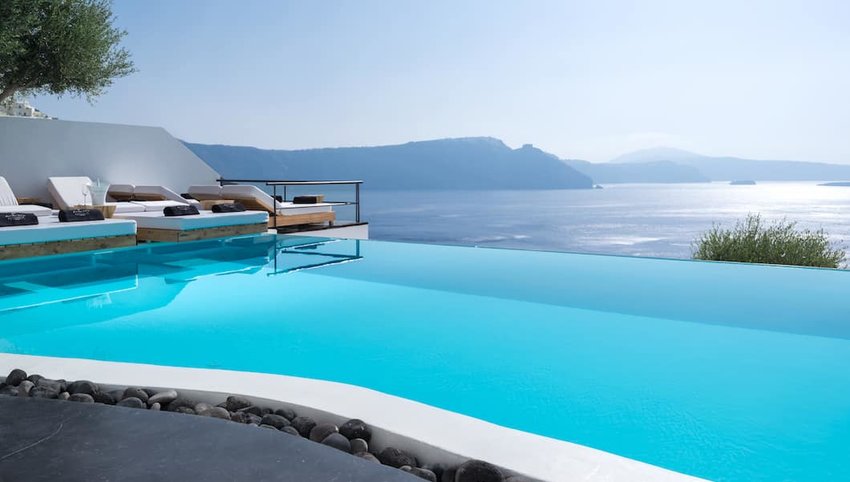 Iconic Oia sunset? Check. Beautiful infinity-edge pool? Check. Oia is one of the most photographed spots in the Greek Islands, famous for its blue-domed churches and Cycladic-style white houses. Why not stay at a resort that gives you a front-row sunset view from a gorgeous pool? Enter Andronis Luxury Suites. The options are endless at this resort. Work on your tan next to the pristine infinity pool, which seems to fall straight into the Aegean sea. Or enjoy the private dip pools and indoor-outdoor cave pools that come with individual private suites.