You've seen them at the movie theater and binge watched them at home. But if you know where to look, you can practically live inside your favorite movies and TV shows, if only temporarily. From sleeping in the cockpit of the Millennium Falcon to feasting on bowls of retro cereal in The Max diner from Saved by the Bell, these are the funkiest pop culture-themed Airbnbs in the U.S. (plus a bonus option in Canada).
Toy Story Experience
El Paso, Texas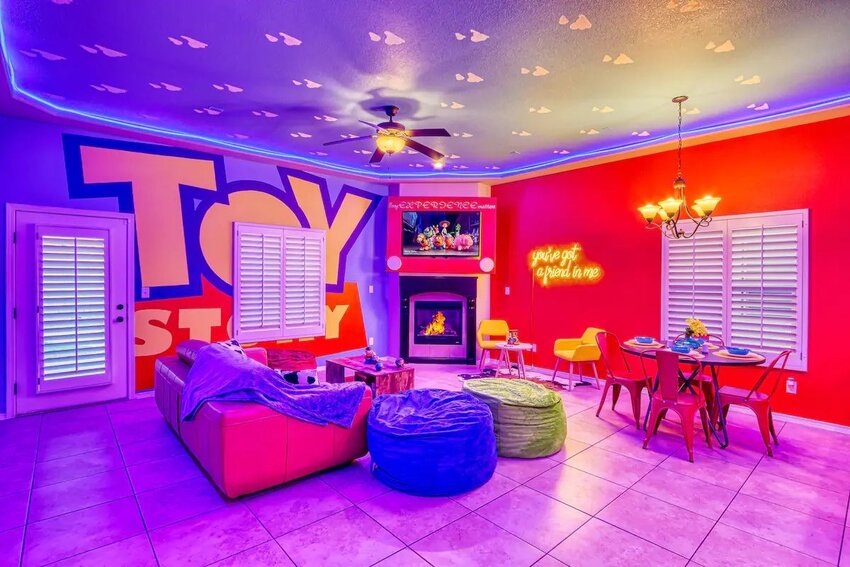 Reach for the sky, because in El Paso, you can go to infinity and beyond at this house inspired by the Disney Pixar classic. Every room is a riot of color with walls decorated with murals and pictures of Woody, Jessie, Forky and other  beloved characters. With three bedrooms and room for eight guests, it's ideal for a trip with the family or fellow Toy Story fanatics. Sleep surrounded by cowboy paraphernalia in the Woody room, complete with cloud-themed wallpaper. In the open-plan living, dining, and kitchen area are original Buzz Lightyear and Mr. Potato Head toys, plus a funky Etch A Sketch-style television.
Take a look inside: Toy Story Experience
Underground Hygge
Orondo, Washington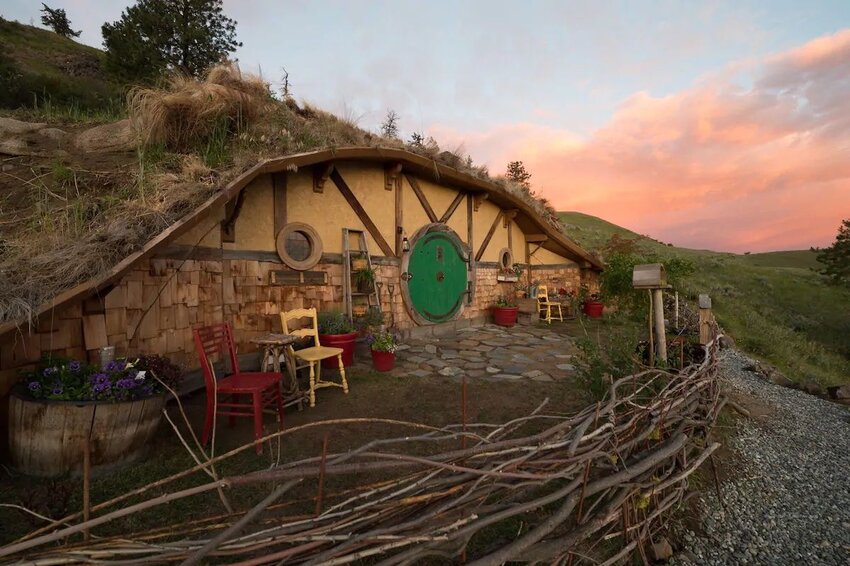 Perched on a hillside in the Pacific Northwest mountains is a dream for Tolkien fans. This Hobbit house promises an adventure up the pathway, tucked into the earth. You'll feel like Bilbo Baggins as you step through the house's archetypal round hobbit door. From the wattle fence and gate to a custom-made whittling bench and driftwood bathroom sink, both inside and out oozes charm and enchantment. Enjoy river and mountain views through the round bedroom window or from the quaint front garden, while birds and butterflies flutter overhead. There's room for two guests only — cozy, just as a hobbit would want it to be.
Take a look inside: Underground Hygge
The McFly
Dallas, Texas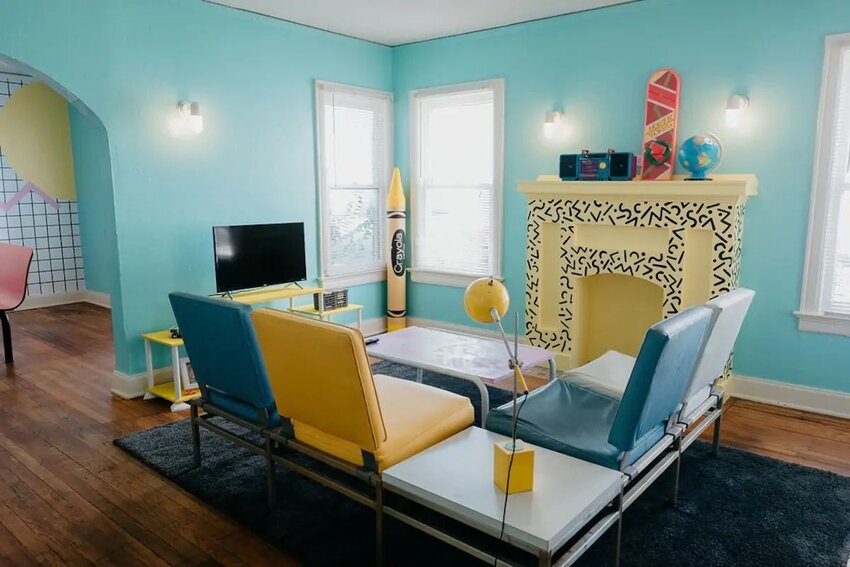 A radical dose of 1980s nostalgia awaits at this Dallas home for five named after one of the decade's ultimate icons, Marty McFly. Pastel and neon colorways reign supreme throughout and each room is packed with nods to the 80s. A Back to the Future hoverboard,  a ghetto blaster, Trapper Keeper, and vintage phone booth are some of the authentic memorabilia. Enjoy some downtime while playing on an original Teenage Mutant Ninja Turtles arcade cabinet and a selection of Nintendo Entertainment System games. For breakfast, there's a choice of childhood cereals such as Cap'n Crunch, Froot Loops and Pop Tarts.
Take a look inside: The McFly
Saved by the 90s The Slater
Dallas, Texas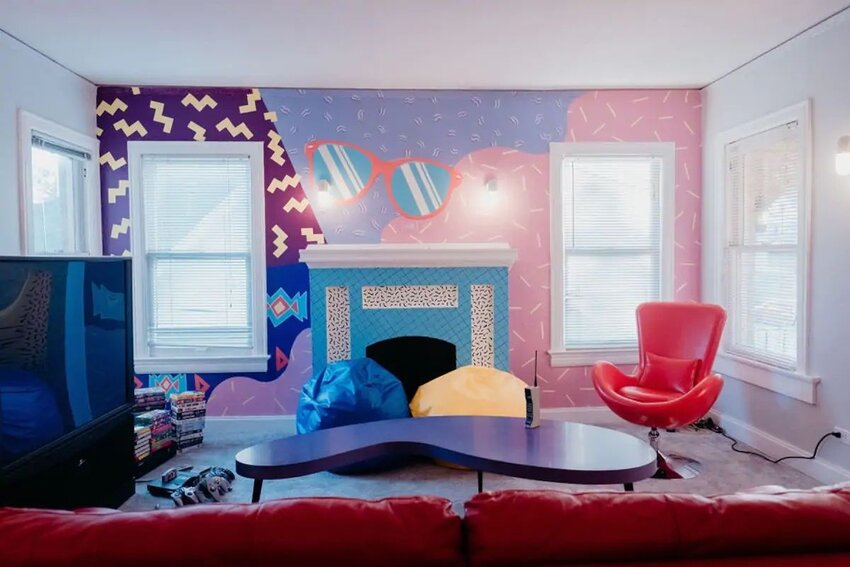 If the 80s aren't your era of choice, then rent the upstairs of the same Dallas home to journey back to the 90s. This is for anyone with a penchant for Blockbuster, Mario Kart and New Kids on the Block. While away hours beating your top score on Super Nintendo and Nintendo 64 games. Lounge on beanbags and watch VHS versions of Ace Ventura and Forrest Gump. Those that daydreamed about mingling with Zack, Kelly, Slater and the rest of the Saved by the Bell gang can live out the dream at the mock The Mak diner. Grab a bowl of Lucky Charms and binge-watch the series on VHS with original commercials for extra 90s awesomeness.
Take a look inside: Saved by the 90s
Great Escape Lakeside
Clermont, Florida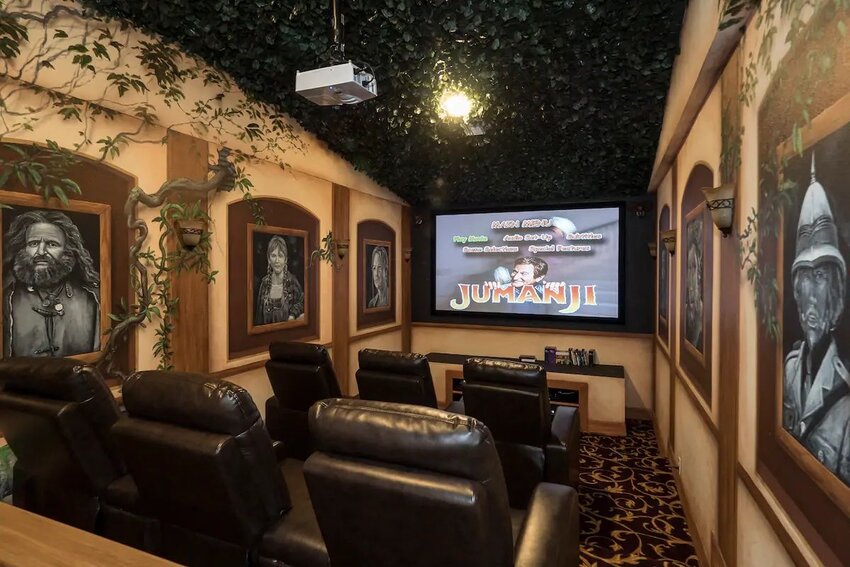 Boredom is out of the question at this 43-acre lakeside property, where up to 43 guests can bask in limitless retro fun and water-based adventures. Bedrooms have unique themes, which range from Dungeons and Dragons to Monopoly, to Pac-Man, to Scrabble. Around the house are arcade games, a giant Lite Brite, a game show studio (yes, a game show studio) and a 7-foot piano, for you to dance on like Tom Hanks in Big. The place is so cool that it's been featured in the Guinness Book of Records for the World's Largest Word Search. If that's not enough, then outside, you can float down a lazy river, go kayaking and play giant chess and human versions of bowling and foosball.
Take a look inside: Great Escape
Twelve Parsecs
Orlando, Florida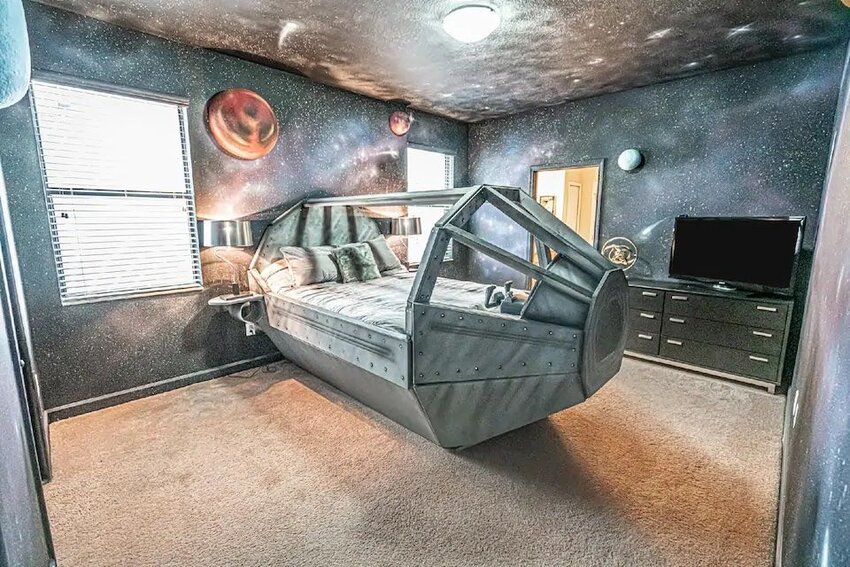 This Florida villa isn't in a galaxy far, far away, but it offers Star Wars enthusiasts a completely unforgettable experience. Hallways resemble the Millennium Falcon, Han Solo's fabled ship that made the Kessel Run in 12 parsecs (there's a hint to the villa's name here). Choose between bedrooms decorated to depict the Millennium Falcon's cockpit, Bespin's Cloud City, an Ewok hut, the swamps of Dagobah and other emblematic Star Wars locations. The property is only a 20-minute drive from Disney's Galaxy's Edge theme park, making it the perfect stopover for Jedis and Stormtroopers alike.
Take a look inside: Twelve Parsecs
Wes Anderson Film-Themed Century Home
Picton, Canada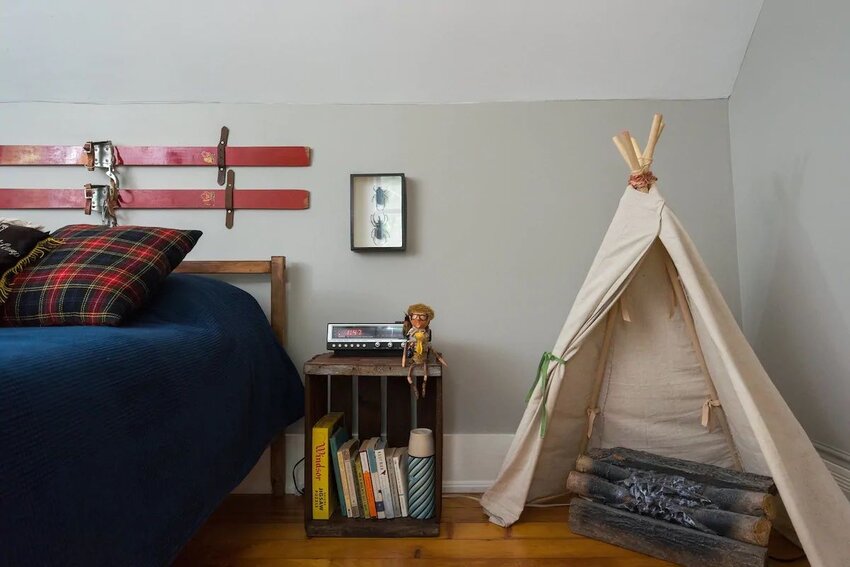 Wes Anderson is one of the movie industry's finest modern-day auteurs, and is revered for his offbeat style. Admirers of his work should head to Ontario's Prince Edward County for an overnight stay that's absolutely steeped in his eccentricity. The house's two bedrooms are decorated to portray Cape Ivanhoe in Moonrise Kingdom and Margot's room from The Royal Tenenbaums. Sitting in the living room will feel like being onboard the SS Belafonte from The Life Aquatic. Meanwhile, the kitchen invokes a tea room from The Darjeeling Limited and the office is inspired by Rushmore. You'll leave feeling as whimsical as Anderson himself.
Take a look inside: Wes Anderson Film-Themed Century Home