Desert regions might conjure up images of soaring temperatures, rolling sand dunes, and prickly cacti. And while these places can be excruciatingly hot during the summer, they transform in the winter, with falling temperatures, serene landscapes, and even, on occasion, powdery snow.  
One benefit of winter travel to the desert is you'll usually experience fewer crowds. Winter light can be harsh for photography, but it can also create incredible shadows and sunrises and sunsets you just don't find during the summer months. Depending on the rainfall and temperatures, the latter part of winter may signal impressive spring blooms that start showing their colors before the winter snowfall officially melts away.
If you're considering a trip into the wild this winter, here are five U.S. deserts that should be on your list.
Death Valley, California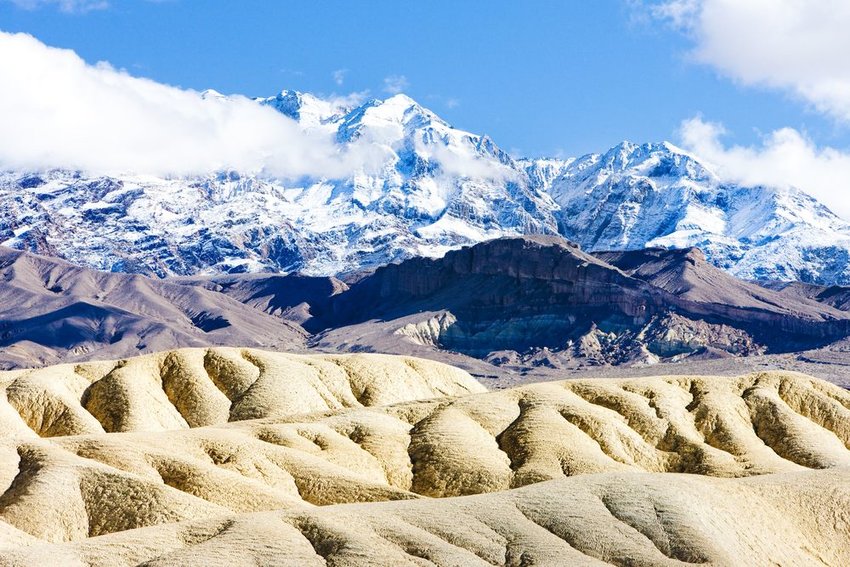 Yes, Death Valley is one of the hottest places on the planet. But winter in Death Valley doesn't mean triple-digit temperatures. In fact, the weather is perfect for hiking along some of Death Valley's lower canyons and appreciating the heavens at night. Consider less-explored treks like Desolation Canyon, an easy-to-traverse route that includes a colorful canyon.
Swimming in an outdoor pool and golfing might not be two activities you pack for when you think winter travel, but that's part of what makes Death Valley so special in the winter. Play a round of golf or swim at a pool that's 80 degrees thanks to natural springs. Be sure to pack your tripod as winter provides optimal conditions for nighttime photography.
Painted Desert, Arizona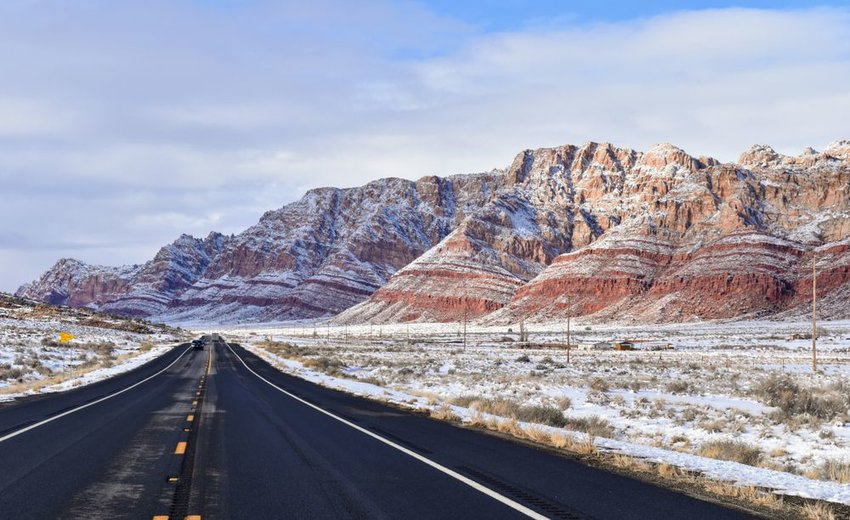 The Painted Desert in Arizona's Petrified National Forest is another ideal spot for winter travel. There is a higher chance of snow and rain starting as early as October. However, cold and crisp winter days make for excellent visibility, sometimes a hundred miles in all directions. If it does snow, it usually melts quickly, leaving the Painted Desert colors even more vibrant than they are other times of the year.
Sedona Desert, Arizona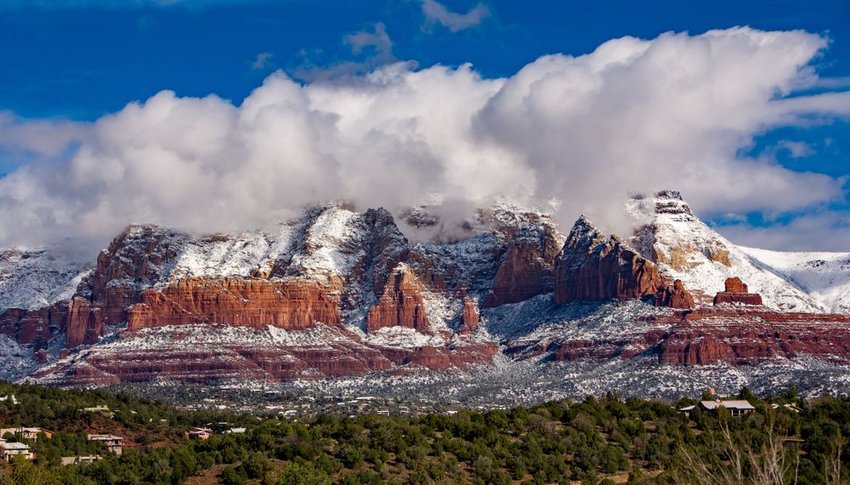 Sedona is stunning no matter what time of year you visit, but winter is a little extra special when there is snow on the ground. It's far less crowded than the peak months of March through May, which also can translate to getting a deal on some of the more sought-after resorts that are full at other times of the year. Don't expect warmer weather here, as this town sees temperatures dropping to the 30s. But there's something truly special about bundling up and taking a hike to admire snow-covered red rocks.
You'll also be able to get your preferred tee time on one of the nearby world-class golf courses. Look for scheduled events in the area as well, including holiday festivities like the Red Rock Festival of Lights.
Joshua Tree, California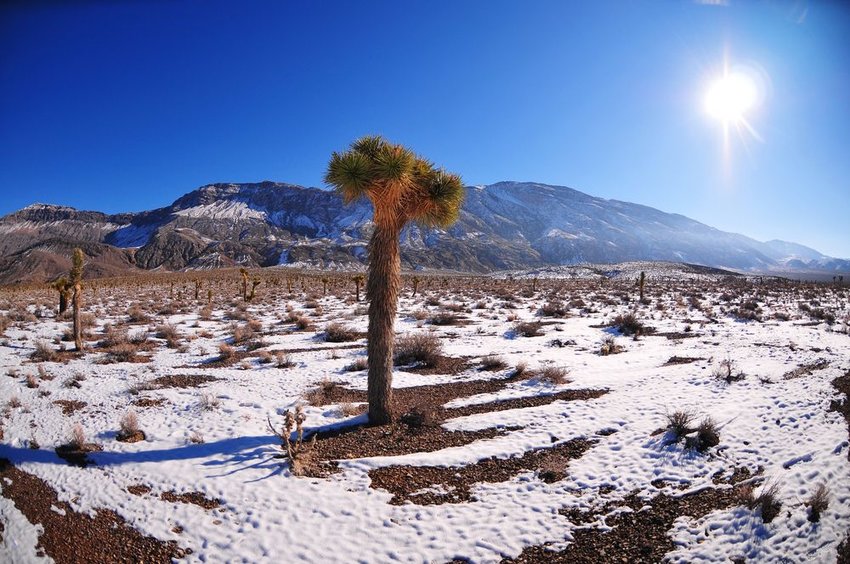 Joshua Tree is a popular desert destination for countless travelers who live in California, especially on the weekends. Spring wildflower season is one of the busiest times at Joshua Tree, and top-rated campgrounds are booked months in advance. So beat the crowds and get there a little earlier. You'll find more moderate temperatures here during the day, typically around 60F. It still gets quite chilly at night, so be sure to pack plenty of layers.
There is no shortage of things to see and do in the wintertime as well. Joshua Tree is home to a wide variety of birds, over 50 species of mammals, including desert bighorn sheep if you're lucky enough to spot one. Don't miss other highlights of Joshua Tree, including the fan palms (Washingtonia filifera). There are less than 160 desert fan palm oases on this continent. These trees are some of the tallest palms native to North America and can live around 80 or 90 years.
Anza-Borrego, California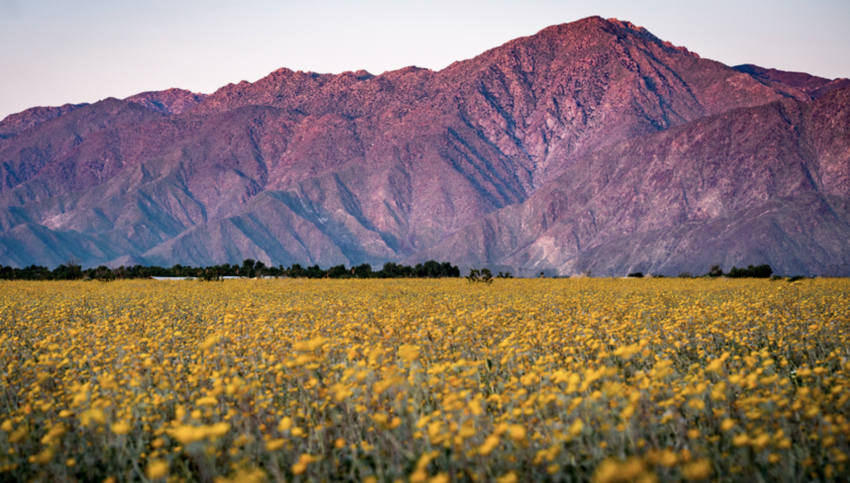 Anza-Borrego is the largest state park in California, with just over 640,000 acres. There are over 10,000 years of human history recorded here, including Native American petroglyphs and pictographs. Winter is a popular time for people to visit Borrego Valley, as it's sunny and warm compared to the wetter California coast. When you have a rainy winter, spring wildflowers could start to show as early as February.
Winter also sees the visitor center open daily versus weekends only in the summer. The visitor center is an experience in itself as it was built with the environment in mind. It was built underground, and it has a landscaped roof topped with plants, native soil, and rocks. Construction took place in a natural hollow which minimized the earth mound's height. Inside the center, you'll find fascinating displays, including ones of prehistoric animals that once roamed the Borrego Valley.