As much as I loved cooking in the past, being home consistently for close to a year now has made me despise it. Even though food is my ultimate comfort and the only window into the rest of the world that I have while not traveling, I am continuously guilty of relying on take out, even when it's not the most healthy or economic option.
At the beginning of my quarantine boredom, I experimented with a few basic recipes from around the world to give me something to do. That lasted all of a few months before cooking became a chore I no longer had the energy or motivation to do.  It didn't help that I was working with a mishmash set of half hand-me-down pots and pans I bought for cheap on Amazon, getting by with unevenly cooked meals and burnt cheese stuck to the bottom of pans that never fully washed off.
I had my eye on Caraway cookware for a while. The variety of boldly colored pots and pans in a manageable set of four would look stunning in my cabinets without crowding them, but I had never cooked with ceramic cookware before and I was a bit nervous. I also wasn't completely sure I could find it in me to break my take out habit, but I decided trying sophisticated new cookware couldn't hurt.
Why Caraway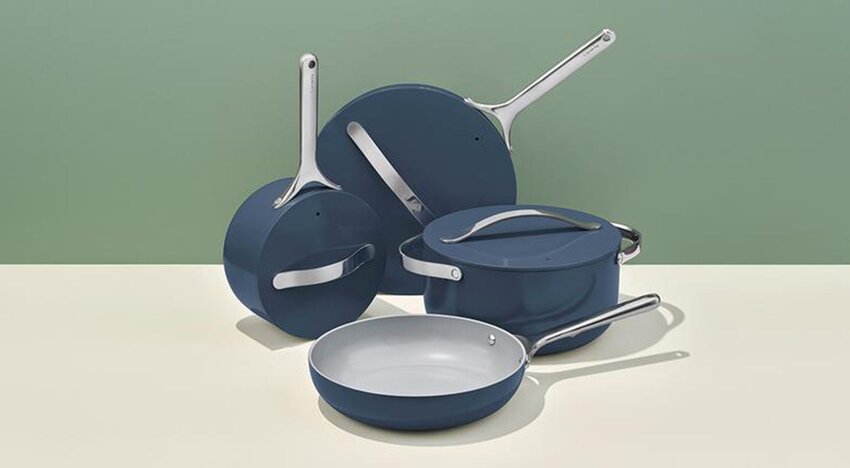 Other than being perfectly photogenic, Caraway cookware sets are made with a non-toxic, mineral-based coating so they're non-stick. This coating releases up to 60% less CO2 than other protective coatings like teflon and it allows you to use less butter or oil when you're cooking. The ceramic material also helps heat spread evenly throughout the pot or pan so you're less likely to burn or undercook your food. Most importantly, Caraway cookware works on any cooktop – though reviewers note that they don't perform very well on induction stoves – and you can even then throw the pan in the oven to roast without damaging it.
Putting the cookware in the dishwasher isn't advised, but the pans are so easy to clean, you can swipe a wet paper towel over them if you're truly feeling lazy and that'll completely suffice. A quick wash in warm water with a non-abrasive sponge will also do the trick — the non-stick surface means food will easily slip off, no scrubbing required.
It's Got Everything You'll Need in a Cookware Set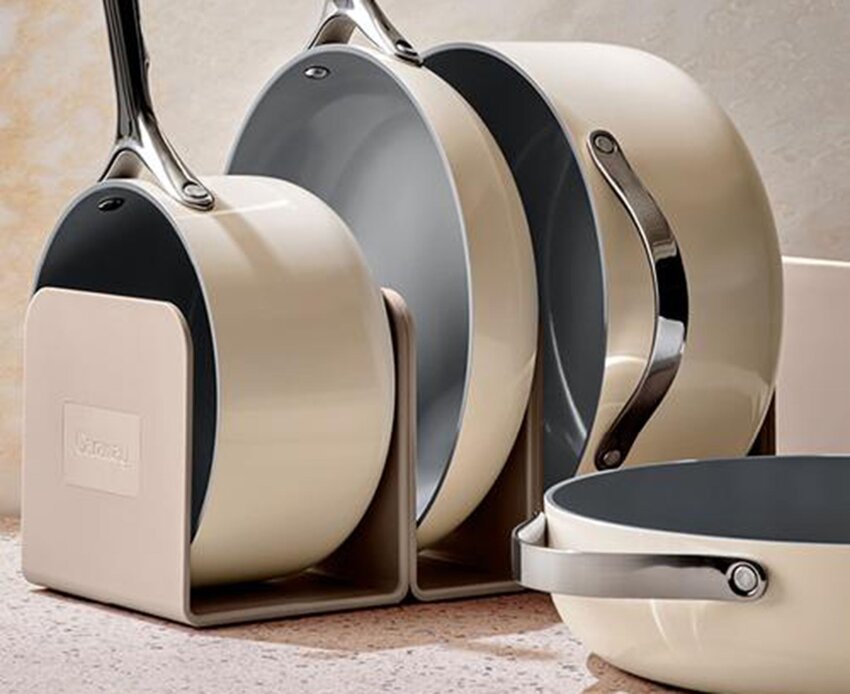 Unless you need something extremely specific like a tagine dish, the Caraway cookware set has all the essentials for making a good meal. The four-piece set includes a 10.5 inch fry pan, a 3 quart saucepan with a lid, a 4.5 quart saute pan with a lid, and a 6.5 quart Dutch oven with a lid. As someone who is used to making a massive pot of tomato sauce every weekend, I was a bit skeptical that the sauce pot wouldn't be large enough, but all four pieces are a great size and could easily make a meal for a family of four.
To accompany the actual cookware, Caraway also provides you with storage solutions, so you'll never have to hunt down the correct pot and matching lid again. The canvas lid holder fits all three lids comfortably and can be hung inside of your cabinet door to free up space (Caraway provides you with easy-to-stick hooks). All four pieces also have corresponding racks that are magnetic so they also save space and make it easy to access your pot when you're ready to start cooking. For me, having to clank through stacks of pots and pans just to find what I'm looking for was enough to deter me from cooking altogether, so I really appreciated how Caraway solved that problem too.
Cooking My Favorite International Recipes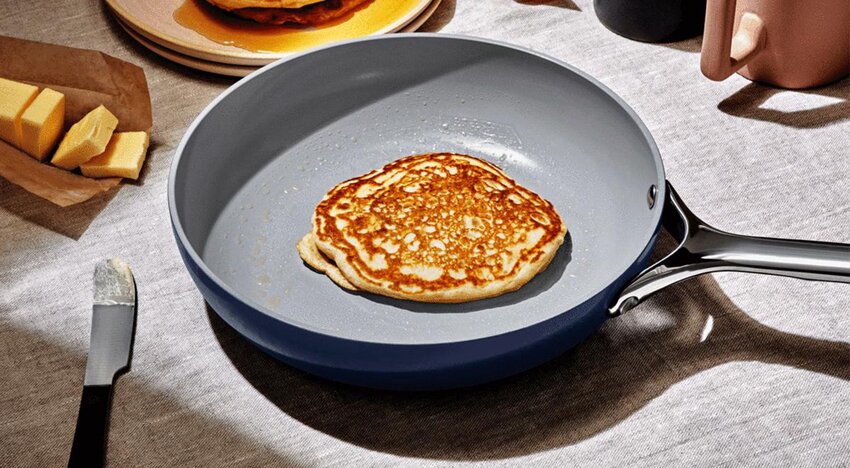 Since I've been spending most of my time at home, I've started to learn new recipes from around the world to help fill the travel gap in my life. I decided testing some of these recipes with my new Caraway cookware set would be a good place to start.
First, I kept it very basic and made pancakes in the 10.5 inch fry pan. Right away I noticed that you really don't need that much butter — the more you use, the more it pools up in beads because you don't actually need it to coat the pan. A little for added flavor is sufficient, but using a tablespoon or more definitely isn't necessary. The pan itself takes a few minutes to heat up, but once it was hot, it was consistently hot throughout. I don't think I've ever made pancakes that were all consistently golden brown before. Flipping them was incredibly easy — my silicone spatula slid right underneath and turned them over without any resistance, allowing them to keep a nice, round shape. It was like cooking on autopilot. Half the work I typically did with monitoring my food and scraping it off the bottom of the pan to make sure it'd cook evenly was no longer necessary. The Caraway pan fought those battles for me so I could make my coffee and chill out until my perfect pancake stack was ready.
Kicking it up a notch, I also made a lime and sage chicken with mascarpone cheese from an Italian cookbook I own. For that recipe, I had to bake the chicken in the oven, then prepare the sauce on the stove, which also went off without a hitch. After baking for 25 minutes inside the oven at 400 degrees F, the saute pan easily transitioned back onto the stove top so I could finish cooking the meal. The chicken came out tender and the sauce didn't burn, even after baking it and then sautéing it.
The big test was making coq au vin in the Dutch oven. I was curious to see how well the Caraway compared to my hand-me-down Le Creuset. The non-stick interior was incredibly helpful when preparing the chicken because the bacon fat and olive oil didn't burn and get stuck to the sides of the pot. As a result, everything I cooked in it thereafter didn't stick or burn more quickly either. When it came time to put the pot in the oven, it was a lot easier to carry because it didn't weigh as much as my Le Creuset, which ultimately made an arduous cooking process a lot easier.
Worth the Price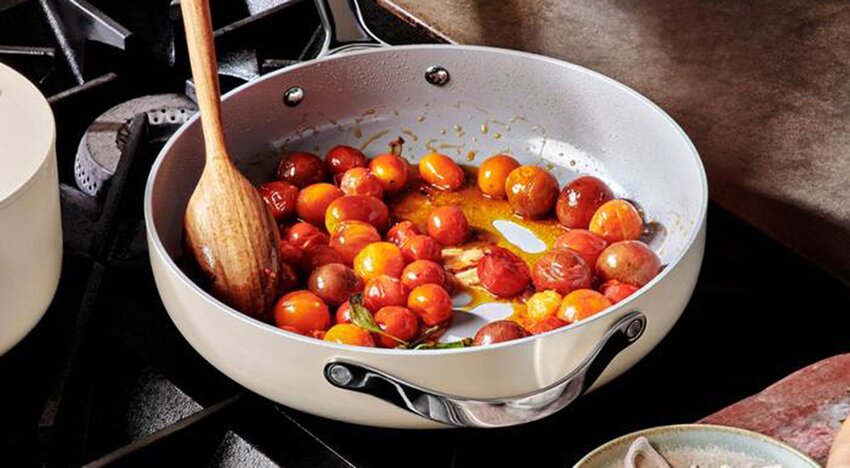 All in all, my Caraway set has elevated my cooking to a whole new level. Because I no longer have to worry about food sticking or cooking unevenly, I feel like I can be a bit more daring in the recipes I choose to make. What's more, I actually get excited to cook. Because I know clean-up will be easy and I have no issue finding my pots in my cabinet, the whole process has become a lot less stressful.
Though the Caraway set is pricey — it's typically $495 but occasionally goes on sale — I'd argue it's definitely worth the investment. Even if you're not in the market for a new set, Caraway gives you the option to buy each item individually. The quality of this set is definitely built to last, and if it gets you to cook more often like it has for me, it's worth it just to save on take out.
Main photo by Dane Deaner/Unsplash.