Traveling from New York to Asia is no small feat. Depending on how many layovers you have and that huge time change, it does a number on the body. After one extremely long flight to Japan in March 2017, with a brief layover in Toronto, I arrived in Tokyo. Narita Airport was completely packed with travelers trying to figure out their way around, as I stood on a chair — a huge no-no in a country that puts respect above all else — desperately trying to get enough reception to get an Uber. I had plans to meet friends at the Park Hyatt Tokyo (yes, the Lost in Translation Hyatt) for dinner, and due to some major turbulence over the Bering Sea, I was delayed. My eyes ached, my head was pounding from lack of sleep, and my lower back just wanted to lay on the floor and stay there, but there was no way I was going to miss that dinner.
I needed something to help me relax and feel like myself again. Then, I remembered my Japanese friend told me that conbini — what we call bodegas in NYC are perfect for getting high-quality Japanese products. As I waited for my Uber outside of the airport, I bought a Kao MEGURISM Warm Eye Mask, which cost less than $1, for my swollen and exhausted eyes. Though I can't read Japanese, the mask looked like something I needed at the moment, so I gave it a try. I immediately put it on when I got in the car for my one-hour drive to Shinjuku, and the lavender scent of the mask had me out like a light in minutes. My Uber driver even had to wake me up when we arrived.
The Eye Mask Definitely Did the Trick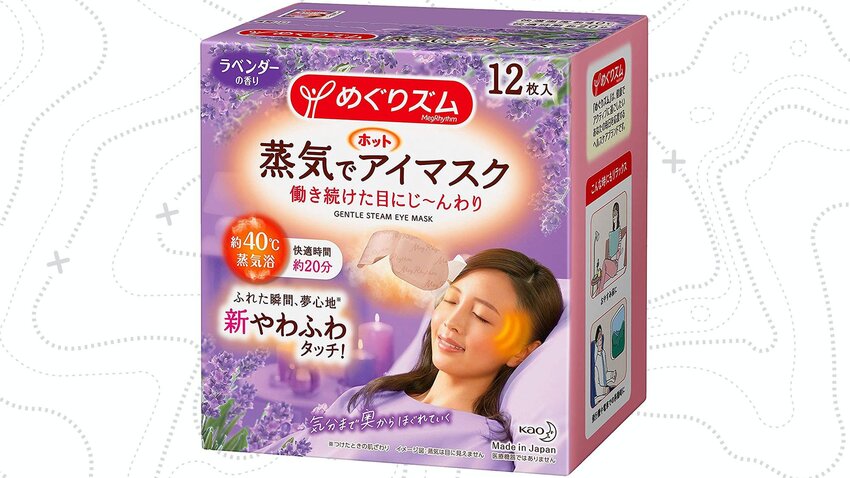 When I arrived at my ryokan (a traditional Japanese inn), the gentleman who greeted me said I looked very refreshed and at peace after such a long trip. I had yet to look in a mirror, so while I thanked him for the compliment, I didn't totally buy it. After he led me to my room, I immediately changed, and noticed when I looked in the mirror that eyes were no longer puffy. Not only that, but the whites of my eyes were no longer bloodshot. Sure, my eye mask didn't cure the exhaustion in my body, but at least I could pass for human in the face.
After a basic rundown from the concierge about polite words to use and what type of chopstick behavior is considered rude, I was on my way to the Hyatt — where my friends echoed the same sentiment: You look amazing after such a long flight!
Kao Warm Eye Masks Immediately Became a Routine Staple While I Was in Japan
No matter where I travel in the world or how exhausted I am, I get on the area's sleep schedule right away. I don't want to miss out, and it's just better to get acclimated as soon as possible — especially when you're going to be spending a few weeks in the same time zone. The next morning, on my way to Shinjuku Gyoen National Garden, I bought a couple more Kao eye masks. After I left and headed to the Imperial Palace East Garden (it was Sakura season, after all), I popped into another store to buy a few more eye masks and a couple hydrating masks that I knew I wouldn't be able to get in the States.
When I got to Kyoto, via the Shinkansen — a bullet train that moves so fast, when you get up to walk inside you can feel the pressure of gravity pushing against you — I continued to buy small quantities of the Kao eye mask all over town. I was hooked; they helped me sleep, nap before dinner, and when I had a little too much sake, they helped me tackle the next day. I'd say without the eye masks, I probably wouldn't have enjoyed all of what Kyoto has to offer, like the Philosopher's Path (Tetsugaku no michi), which is absolutely stunning during Sakura, as well as several temples and shrines like Kiyomizu-dera and Shimogamo Shrine where I actually got to witness a traditional Japanese wedding. And the food. I got to eat all the food without the annoyance of a pounding headache or enduring exhaustion of jet lag.
Now I Officially Can't Live Without My Kao Masks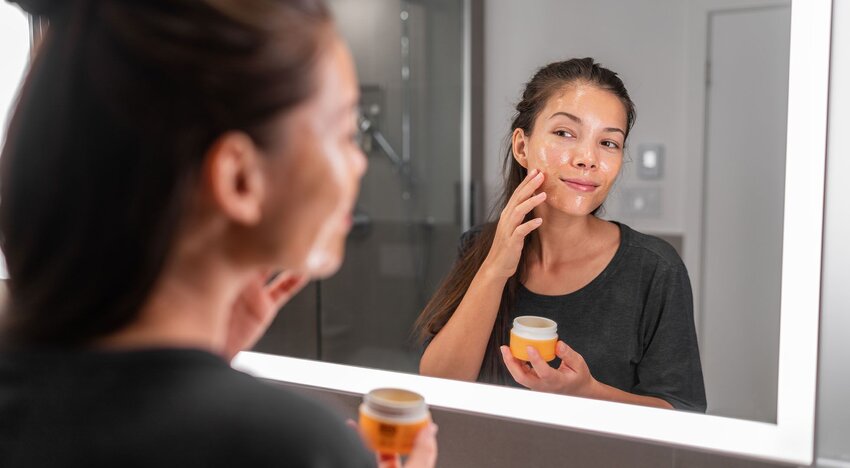 When I left Japan, I flew to Vietnam where I spent time in Hanoi and Hạ Long Bay (Vịnh Hạ Long). It was there that I got a vicious sunburn, unaware that even cloudy skies can do a number on my pale skin. I was riddled with mosquito bites and a sunburn that left me out of commission for a full day, so the Vietnamese women on the teak boat I was staying on covered my mosquito bites in Tiger Balm and gave me a warming eye mask for before sending me to my room. The mask was just like the masks I'd been buying all over Japan. You wouldn't think that a warming mask would be suitable for a sunburned face, but it was perfect; far more comforting than a cold cloth could have ever been.
I returned to the States with far too many packs of Kao MEGURISM Warm Eye Masks. I gave a few away to my closest friends and introduced them as a cure-all for eye issues. When I showed them to my Japanese friend and begged her to bring them back for me when she went to Japan that summer, she rolled her eyes and said, "You can find these on Amazon! You didn't need to buy out half the country's supply of them!"
Lo and behold, she was right, and they're $16 for 12 masks. Now, every Christmas, my mother buys a bunch of boxes of the masks on Amazon and stuffs them in my stocking. They usually last me a few months, depending where I'm traveling or how I'm feeling in general. Once I run out I buy more boxes to tide me over until Christmas.
Although my Kao Warm Eye Masks haven't cured my jet lagged eyes or sunburns in the past year because I haven't been traveling, I still use them regularly. I love to use them when I'm cold, when I have a stress headache, when I haven't slept, or if I want to lay on the couch and daydream about being somewhere else. More than anything, the masks remind me of that first night in Japan and how unbelievably happy I was. That night goes in my top ten favorite moments of my life — and the mask, in my top three favorite products.
Photo Credit: petrenkod/ iStock