Although Japan isn't the only place where you can experience Sakura — the blossoming of the cherry trees every spring — it truly is the best place to do so. For centuries, the Japanese have gathered to celebrate the Sakura season, which lasts less than a month, with only a very short week in full bloom. In Japanese culture, cherry blossoms symbolize life, renewal, and transience. All life, whether it be human, animal, or plant, is fleeting; everything will eventually die, and Sakura is about celebrating and respecting that part of life.
Long before I had the opportunity to experience Sakura in Japan, I came across a quote from the 2003 movie The Last Samurai. In one scene, the character Katsumoto (Ken Watanabe) tells protagonist Nathan (Tom Cruise), "The perfect blossom is a rare thing. You could spend your life looking for one, and it would not be a wasted life." The deeper meaning of enjoying the profound beauty which we're sometimes lucky enough to experience, ever so briefly, speaks volumes about not just the cherry blossom, but its impact on Japanese culture as a whole: life is finite and, like the cherry blossom, fragile. It can also be astoundingly beautiful, if only we pause long enough to appreciate the little things.
I learned this at a traditional Japanese tea ceremony in Kyoto. I was told to appreciate the mat beneath me, appreciate the cup in which my tea was served, appreciate each sip — things that I had never taken the time to appreciate in my life. As a Japanese friend joked, "You think we eat with chopsticks because it looks cool? We eat with them because it slows down the process and makes us appreciate what we have in this very short life."
If you're unable to celebrate Sakura this year in Japan, you don't have to skip it entirely. Cherry blossom trees are found across the US in places like from Boston, Brooklyn, D.C., San Francisco, Portland, and Hawaii, along with a boatload of other cities and towns you can find here. However, if you haven't put Sakura in Japan on your travel bucket list yet, do that as soon as you can.
Here are six ways to celebrate Sakura locally this year if you can't make it over to Japan.
Host a Hanami at a Local Garden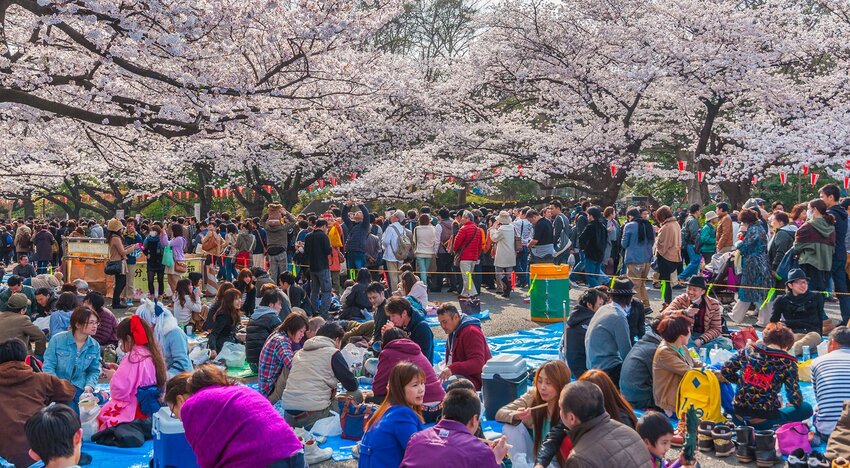 A hanami is an afternoon flower-watching picnic. Gather up your friends and family, food boxes (hanami bento), sake, a blanket or foldable chairs, and find a cherry blossom tree under which you can all sit, catch up, and celebrate the end of winter and beginning of spring. Even if you don't have cherry blossom trees in your yard (and how many of us do?), many public gardens and botanic gardens are home to a plethora of cherry blossom trees. For example, The National Cherry Blossom Festival in D.C. will run from March 20 to April 11 this year and The Brooklyn Botanical Garden will also be having events, but their trees have yet to blossom so no dates have been set at the moment.
No matter what garden you choose to celebrate Sakura, make sure you check blooming dates before you plan your hanami; you don't want to be too early or too late. Also check the local website about times and what's allowed as far as picnics and gatherings into the night. Yozakura — the nightly celebration of the cherry blossoms which also involves hanami — is another way you can celebrate if your local garden permits it.
Prepare Hanami Bento Boxes With a Sakura Theme for Local Picnics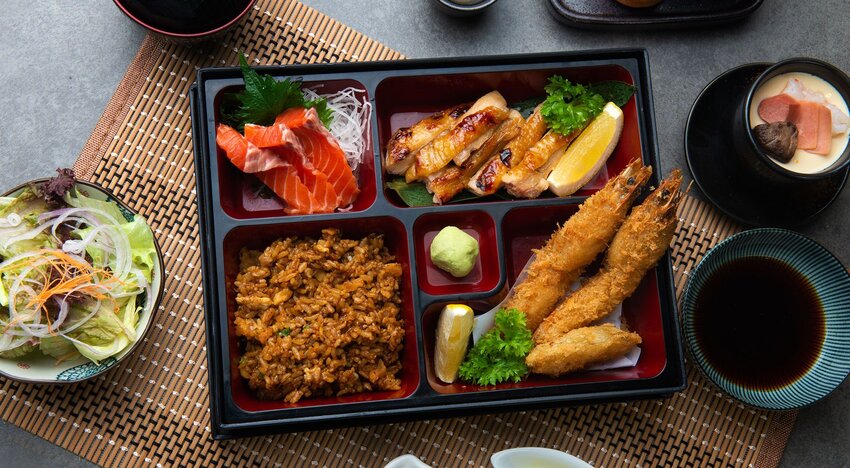 Although hanamis often involve a potluck, if you're hosting the hanami at a local garden with cherry blossoms, or just having your own solo hanami, preparing a bento box, the Japanese version of a lunch box, is a great addition to your event. The easiest way to give a traditional bento box of rice, fish or chicken, vegetables, and Japanese potato salad a Sakura theme is by adding Sakura denbu. This condiment is made from seasoned codfish that has been pulverized into flakes and sweetened. Sprinkle it on top of the rice in a bento box and — voilà — you have a Sakura-themed bento box. Of course, you can also buy a bento box to-go from your favorite Japanese restaurant, but for DIY-types, making it is half the fun of Sakura.
Make Sakura Mochi to Bring With You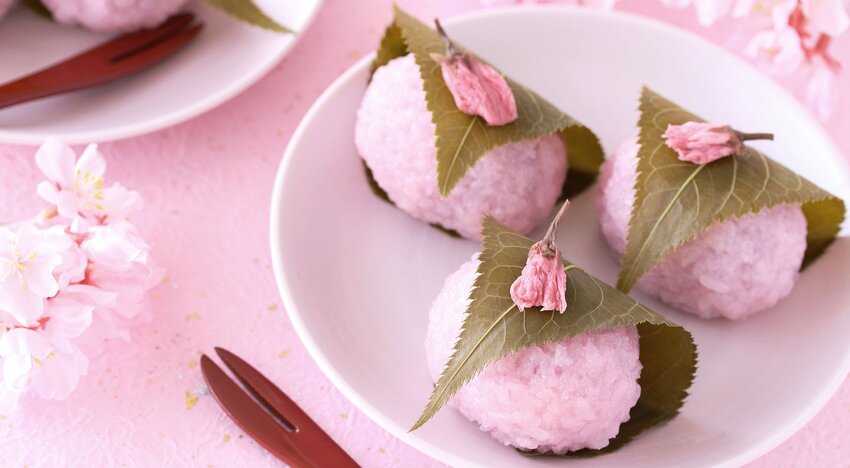 Mochi is a rice cake made of mochigome, a glutinous short-grain rice. The rice is made into a paste with water, sugar, and sometimes cornstarch, then rolled into whatever shape the baker wants. Usually mochi is rolled into round or oval bite-sized snacks but because of its texture, it can be shaped into almost anything. In Japan, making mochi is steeped in tradition with a special ceremony known as mochitsuki. Naturally, mochi plays a part in Sakura celebrations too with cherry blossom-themed mochi.
If you've ever had mochi, you might think it's a difficult thing to make, but as long as you can locate the ingredients, it's an easy sweet treat to pull off. Sakura mochi is made similarly to traditional mochi, but food coloring is added to give it its pink cherry blossom-like color. Once it's finished, the oval-shaped ball is wrapped in pickled Sakura leaves — which you can actually buy on Amazon.
Play Traditional Japanese Games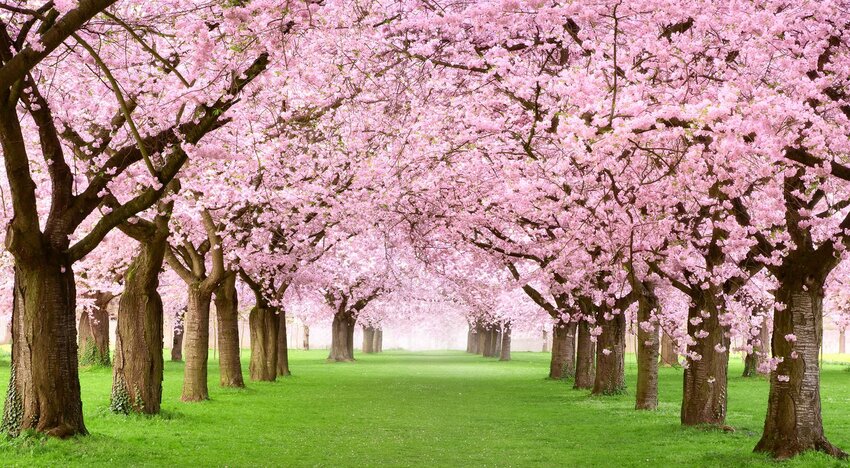 While you can show up to a hanami with a football to kick around, if you want to keep with the theme, then Japanese games are the way to go. For example, daruma otoshi, which is similar to Jenga, is a good game for a group of people, as is kendama. Kendama consists of a wooden sword and a wooden ball with a hole in it that's ultimately supposed to be caught on the sword. It requires a lot of practice and concentration, so it's probably best to play before all the wine and sake kicks in.
Clean Up After Yourselves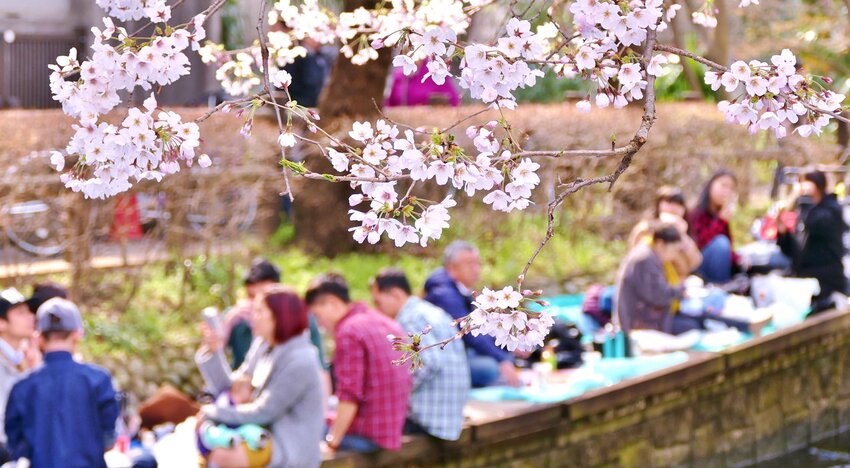 Because Sakura is all about respecting nature and the environment around us, if you have your hanami or yozakura in a public garden, it's an absolute must that you leave the garden just as you found it. To skip this step in your hanami is a massive disrespect to Sakura.
While Sakura is usually in April, depending on the weather and, of course, climate change, cherry blossoms can reach full bloom as early as mid-March in some parts of Japan and not reach full bloom until early May in other parts. The same can be said for other countries and their cherry blossom trees as well. Either way, Sakura isn't just a beautiful tradition, but an extraordinary event that allows all those who participate to pause and remember just how fleeting all life around us really is. It reminds us we should live in the moment and appreciate life while we're experiencing it, as opposed to looking back at it and realizing what we might have missed.
Main image by Sean Pavone/Shutterstock.