The Japanese have a word that perfectly explains our non-stop snacking during this quarantine period—"kuchisabishii," which translates to "lonely mouth." Personally, I've been gorging on Japanese Kit Kats since the pandemic began, which is one of my favorite snacks to bring home whenever I visit Japan. In addition to the permanent flavors of matcha and dark chocolate, the aisles of the Japanese supermarkets and department stores are stocked with dozens of rotating flavors, which range from sake to citrus mint and apple pie, depending on the time of year. As leaves transform into a vibrant red during fall, some staple flavors include chestnut, sweet potato, and hojicha. Thankfully, these unique Kit Kat flavors are accessible online from many parts of the world.
American vs. Japanese Kit Kats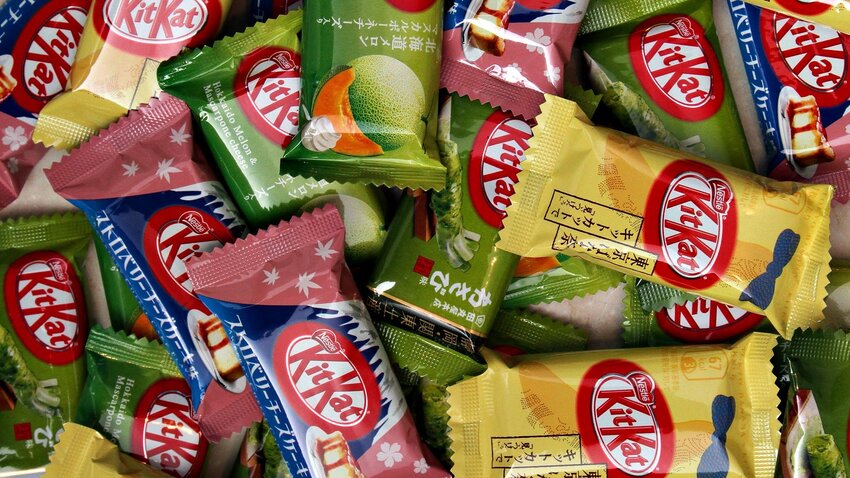 While Hershey distributes American Kit Kats, the Japanese version is owned by Nestlé. And in an effort to boost sales, Nestlé Japan experimented with a series of flavors, which proved to be successful. These days, there are a few dozen flavors in rotation throughout Japan at any given time. Some, like sakura mochi, were limited edition, while others, like Nagoya's azuki bean sandwich, were regionally exclusive. Originally a British sweet, Kit Kats in Japan have proven to be far more than just drugstore chocolate. The most popular form of Kit Kat bars in Japan is the mini size, bite-sized duos that come in packages of 11 or 12.
Sweet Potato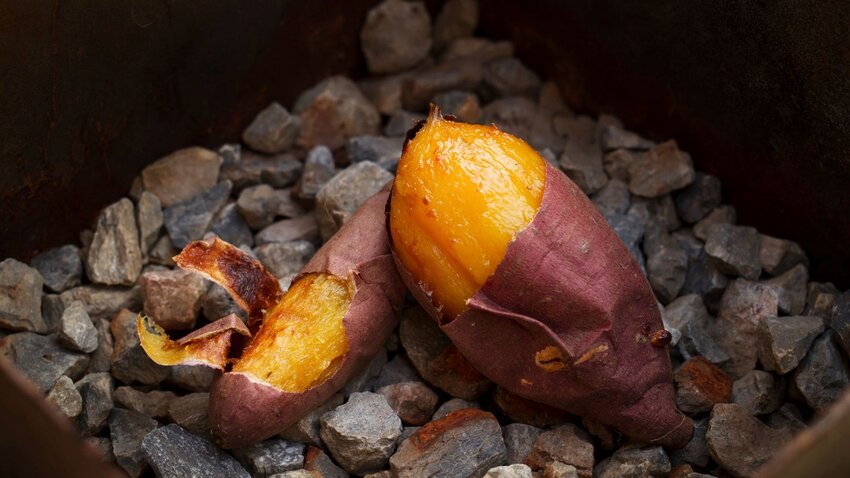 The sweet potato evokes feelings of warmth in Japan as the sticky summer heat subsides and the chilly fall air arrives. In the country's unassuming side streets, you can often spot food carts filled with sweet potatoes that are baked slowly on hot stones for maximum flavor. This is by far Japan's favourite and most traditional way to enjoy sweet potatoes. This Kit Kat presents spot on flavoring, down to the cream sandwiched between the wafers of this white chocolate bar. Plus, its smoky aroma wafts into the air as soon as you rip open the plastic packaging. Despite it being a sweet potato Kit Kat, the treat isn't overly sweet.
Chestnut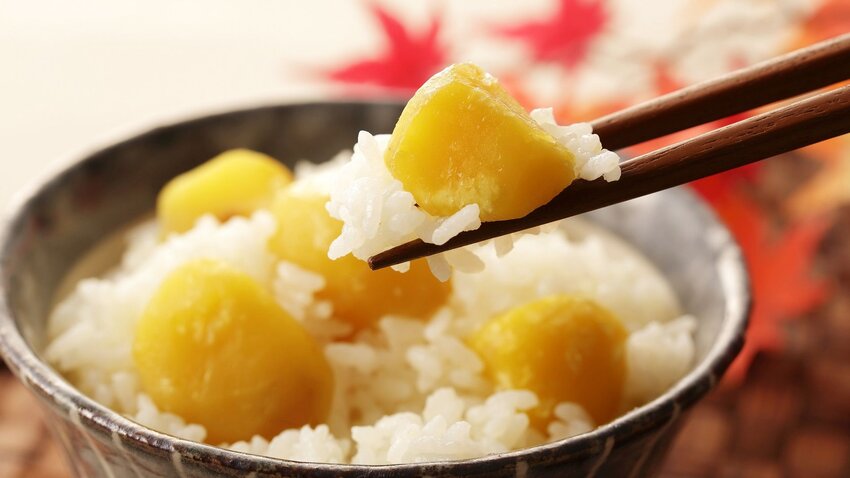 In the same way that America kicks off fall with pumpkin spice flavored lattes, Oreos, and Cheerios, Japan welcomes the season with chestnut flavored Kit Kats, biscuits, and even Häagen-Dazs ice cream. A simple cozy fall dinner in Japan often consists of diced chestnuts in a bowl of sake-infused rice. A sprinkling of black sesame seeds garnishes the dish. The soft flavors of the chestnut translate well into the white chocolate covered wafers of this Kit Kat.
Hojicha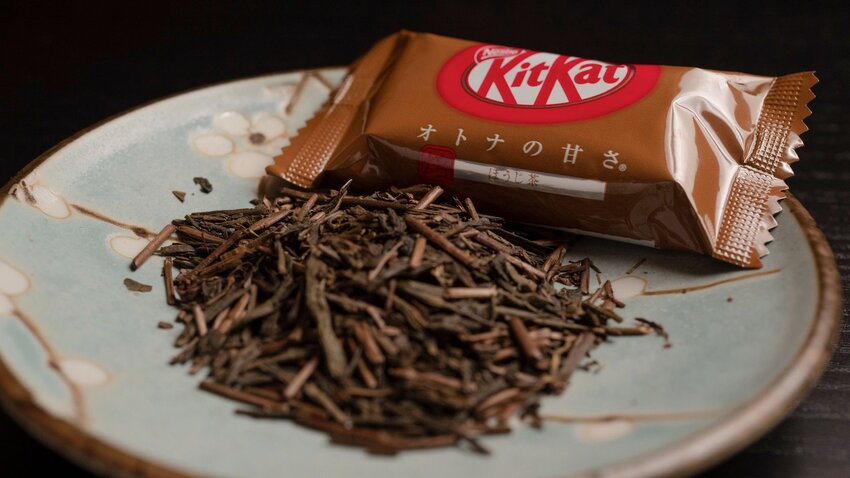 Hojicha is my favorite fall flavor in this lineup of Kit Kats and is a roasted Japanese green tea that originated in Kyoto in the 1920s. Its tea leaves are roasted in a special porcelain pot after they're steamed, which gives them a reddish-brown color and naturally sweet flavor when brewed. The roasting process also lowers the amount of caffeine in hojicha compared to matcha.
Hojicha can be had after a meal to help with digestion, or in the form of a latte with milk. The flavor of this popular tea variety has also found its way into frozen desserts like parfaits and shaved ice, and even paved its way into the Starbucks menu in Japan as a limited time offer cream-based frappucino. When the hojicha flavored Kit Kat was first developed, it was exclusive to Kyoto, but has since traveled all over Japan. The earthy and nutty tones combined with the sweet and creamy chocolate make hojicha one of my favorite Kit Kat flavors.
Momiji Manju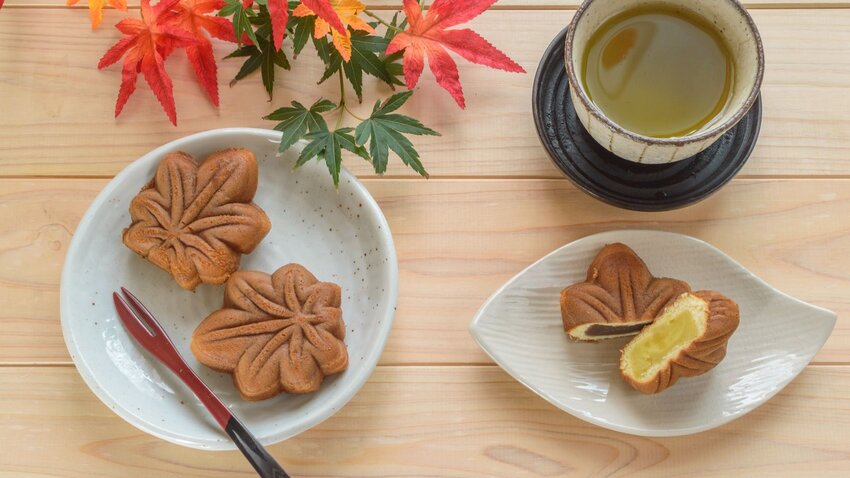 Manju is a classic Japanese sweet treat that was brought over from China in 1341, and is a steamed wheat flour bun filled with a sweet red bean paste. It's a fast and cheap treat commonly sold by street vendors.
Throughout Japan, there are numerous varieties of manju, but the momiji is by far one of the most popular. The creation of the momiji manju in 1906 is credited to Takatsudo, a long-running family-owned business in Hiroshima, making this maple leaf-shaped treat unique to the region. Though the momiji manju is traditionally filled with a red bean paste, you'll find that modern-day modifications include custard, cream cheese, and a green tea filling.
This regional Kit Kat captures the essence of the treat. The creamy white chocolate tastes of the sweet bun and the flavors of the thick red bean paste can be found in between the chocolate bar's crunchy wafers.