Despite being a frequent traveler, I've never really understood the idea of business class. To me, first class was the height of luxury while business class, by virtue of its name, seemed like a sad middle group, not quite reaching the pinnacle of first class and mostly occupied by travelers in suits.
But I recently had the chance to take my own business class seat on a trans-Pacific flight from LAX to Hong Kong with Cathay Pacific. Thanks to my husband's frequent flier miles, we were able to secure the tickets at a price that didn't completely destroy our savings. I boarded the flight expecting simply roomier seats and maybe a glass of complimentary champagne, but when I stepped on the plan and reached the seat with my number on it after just a few rows, I did a double-take. Had we actually bought first-class tickets?
I inquired and a flight attendant assured me I was in the right spot. I learned later that first class was hidden behind a curtain, and was so isolated they didn't even let the boarding passengers pass through it on their way to the back.
This wouldn't be my only surprise on the 10+ hour flight. While business class experiences vary across plane models, flight routes, and airlines, here are a few key things that surprised me my first time flying business class.
It's Not So Different From First Class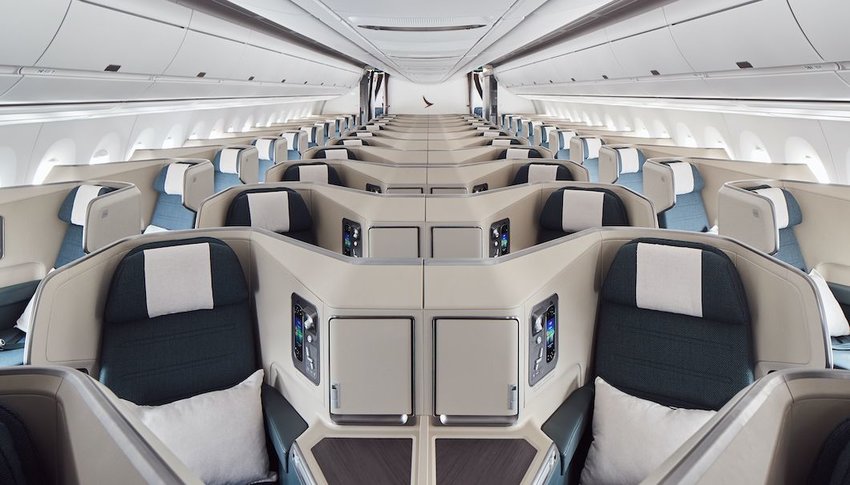 Of course, business class and first class vary from plane to plane, airline to airline, so it is tricky to know what to expect. Some first classes feature private suites with a queen-sized bed. I fly mostly domestic where first class means roomier seats and business class is usually just a boarding group.
But this business class was different, and I felt like one of the luxurious fliers I'd envied my whole life. We had our own section of the plane, our own bathrooms, and our own cubby-like seats. It really felt like we were in first class, and later, when I got my first peek of the first class section, I couldn't see a noticeable difference except the seats had slightly more privacy (which was probably necessary, as I later learned actor Jason Statham was on our flight). But I didn't mind that I had a window to my seat partner (it was my husband, after all) and overall, I enjoyed many of the same amenities, had an equally comfortable seat, and the same attentive flight attendants.
SWAG (Stuff We All Get)
Some of those amenities included the freebies. In economy seats past, I'd received a stiff blanket and a pillow, maybe a set of cheap headphones and that's it. On this flight, I received those same items but at a clear upgrade. The blanket was thicker, the pillow fluffier, and placed neatly on top was a full amenity kit that included lotion, a cotton eyemask, and a soothing spray. Normally, I would disregard such gifts — I'd survived flights without needing mouthwash before. But in this case, they were a nice extra touch that helped me feel fresh during the long hours.  
All the Extra Storage Space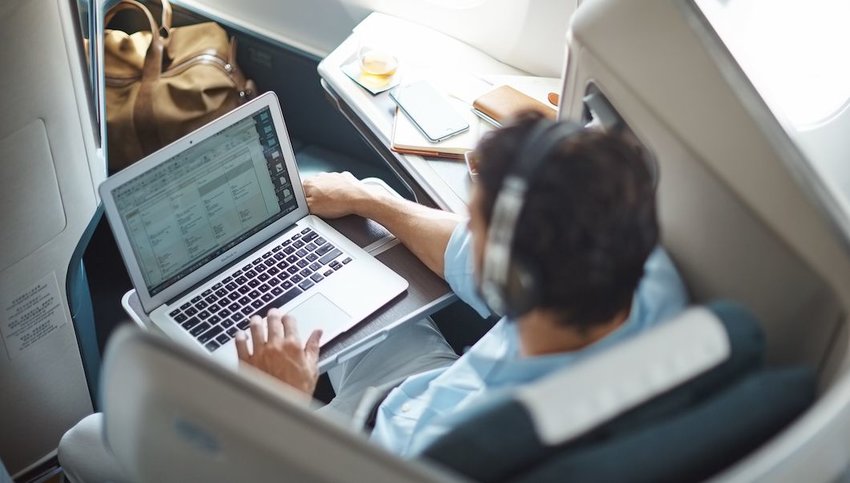 Seriously, the extra space. And it wasn't just about the seat, though that was plush and wide, with a padded headrest that cocooned my head. For me, the real joy was being able to move without worrying about my elbow striking my neighbor. There was a roomy compartment to the left of my feet where I stowed my book, travel kit, headphones, and charger when I wasn't using them. A foldout tray was easily found, and large enough that I didn't have to compromise between using it for a drink or food or book.
Plus, there was a small bench across from me that on second glance I realized was a footrest. Of course, I couldn't reach it with my seat in the upright position, but once we were airborne and I reclined, that footrest became the end of a heavenly bed.
Drinks Whenever You Want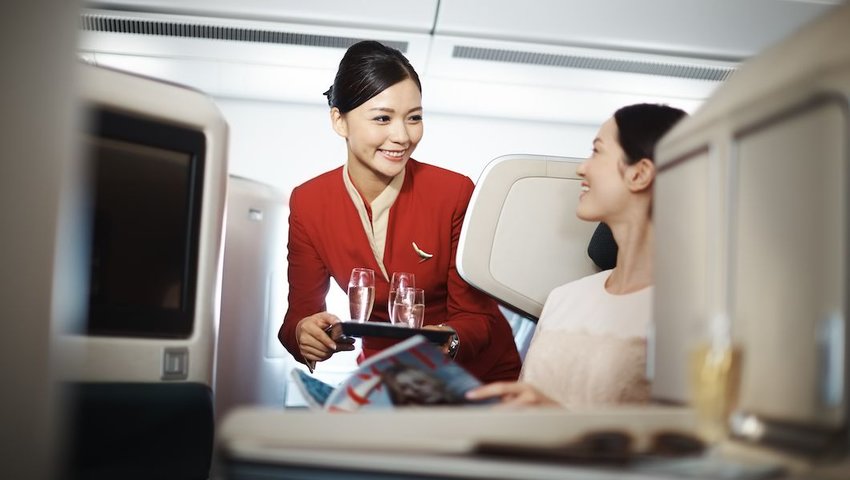 I knew I would be greeted with drinks upon arrival (I had eyed those luxuries as I boarded flights in the past) but there was also a menu waiting as well. I ordered champagne because, why wouldn't you, and learned that I could continue requesting refills or other drinks at any time during the flight for free, not just when the drink cart went by. And while I can't recall exactly the food that I ordered, I remember it being far superior to the little tray meals sealed in plastic I knew were being served in economy.  
The Reclining Makes a Difference
If you're a frequent economy traveler, you learn to sleep sitting upright with your elbows tucked in. Whether you rely on melatonin or an eye mask or soothing music, you find a way. I'm not much of a recliner in general, but I especially avoid it on long flights. Inconveniencing the person behind you feels like a rude thing to do when all you get is a couple of measly extra inches.
So, I didn't give much thought to reclining in business class, and wasn't sure I would even use the feature when I could sleep sitting upright just fine.
But let me tell you, being able to recline my seat made a HUGE difference on the flight. The minute I put that seat back I forgot I was even on a plane. As far as I could tell, it felt perfectly flat (though I'm sure it was still raised at a slight angle). My feet finally reached the footrest and I swung my screen closer to my face and enjoyed movie after movie until I finally fell asleep.