As the name implies, Bangkok: Recipes and Stories from the Heart of Thailand (also available from Amazon) is not your average Thai food cookbook. Rather, it's a very specifically Bangkokian cookbook, as the recipes and anecdotes are all derived from Thailand's capital and cultural heart.
The book's author, Leela Punyaratabandhu, grew up in Bangkok, and spent most of her childhood at her grandparents' house within city limits. In this home, she spent many hours learning how to cook in the kitchen, which was an open-air space with no walls and two stoves, both made of clay. There were also clay jars for collecting rainwater, which was used to make flower-scented water (an ingredient employed in many Thai desserts), and a garden filled with basil bushes, banana trees, and mangos.
It was anecdotes like this, as well as the book's glossy photos of authentic city life, that captured my heart. But it was Punyaratabandhu's recipes--the bright, spicy, and authentic flavors of Thailand--that kept me coming back.
I will admit that some of the ingredients seemed daunting to find at first, but with a little effort, I was able to procure most everything at my local Asian grocery store or online. It should also be noted that some big-box stores like Whole Foods often carry simple Thai ingredients like lemongrass and galangal. Either way, if you're ready to dive into the life and food of Bangkok, here are five recipes you should try.
Beef Green Curry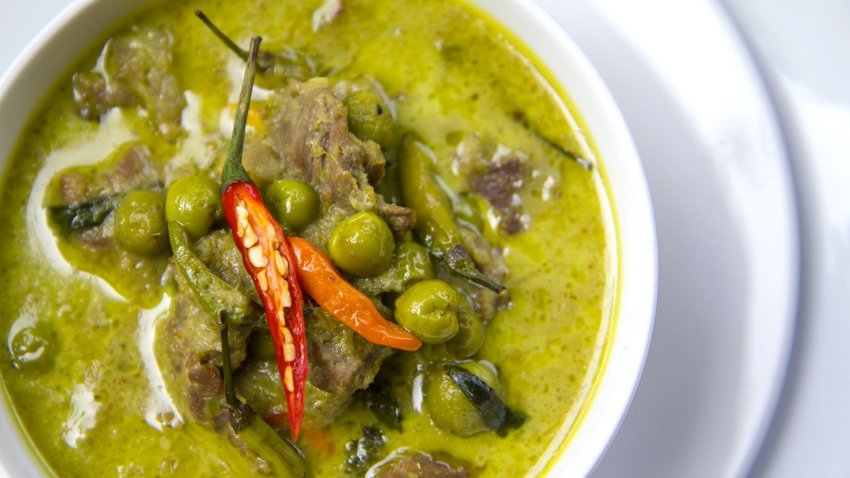 Visit any Thai restaurant in the U.S., and beef will surely be on the menu. In traditional Thai culture, however, this wasn't always so. Punyaratabandhu writes that beef wasn't a staple in Bangkok cuisine because killing cows was frowned upon, particularly because these animals "were useful in rice farming and therefore deserved our gratitude and protection." Over time this tradition became antiquated and most Bangkokians, and Thai people in general, embraced using beef in dishes like Beef Green Curry. It takes extra effort, but the secret to this flavorful dish is eschewing storebought curry paste in favor of making your own. With a few kitchen spices, some hot peppers, lemongrass, and limes, the flavors of the curry paste make this dish both satisfying and memorable.
Grilled Pork Skewers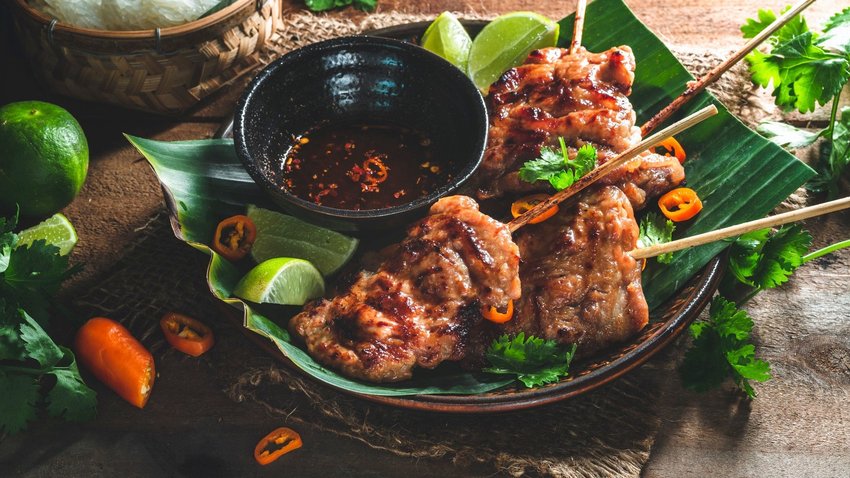 One of my favorite restaurants in Portland, Maine is called Boda, and it focuses specifically on Thai street food. The pad thai at Boda arrives at the table wrapped in an egg omelet (which, interestingly enough, is also how Punyaratabandhu prepares the dish in Bangkok) and there's an entire section of the menu dedicated to meat and veggie skewers. Oh, how I love those skewers, which always provide an explosion of flavor in one single bite. With high hopes, I decided to try Bangkok's recipe for Grilled Pork Skewers and I was delighted with the results. Marinated and then grilled, the skewers turned out delectable and tender, perfect when accompanied by the spicy dipping sauce. Plus, I liked how the ingredients to this recipe were easy to find with the exception of tamarind paste, which I bought online.
Braised Chicken in Coconut-Galangal Cream Sauce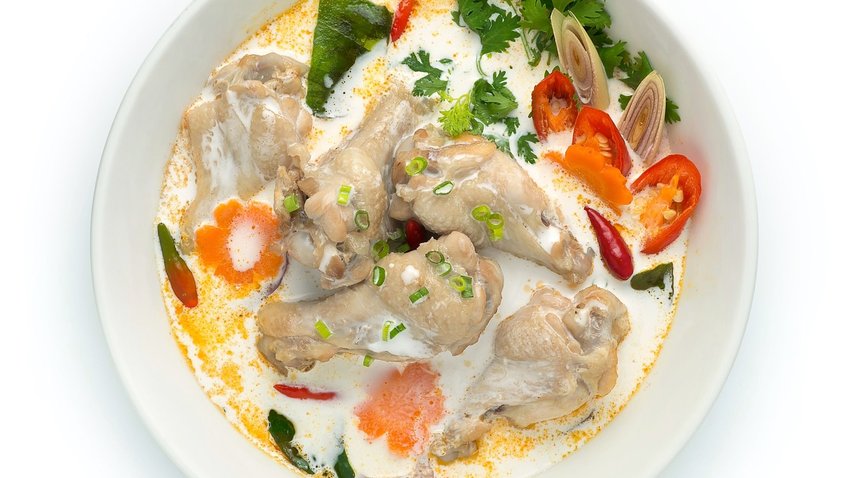 If you're a fan of Tom Kha Gai, the creamy chicken soup found at most Thai restaurants, then this recipe is sure to be a hit. Braised Chicken in Coconut-Galangal Cream Sauce is Punyaratabandhu's variation of the Thai classic. Using the same ingredients and a different cooking style, the best equipment for this dish is a doufeu style pot, which works like a double broiler. The chicken is braised in fish sauce, galangal, and lemongrass in the bottom of the pot, while the top broiler contains melting ice. It sounds strange, but the method allows for the chicken to cook slowly at a low temperature, which results in a richly basted and super tender dish filled with Thai flavors.
Train Fried Rice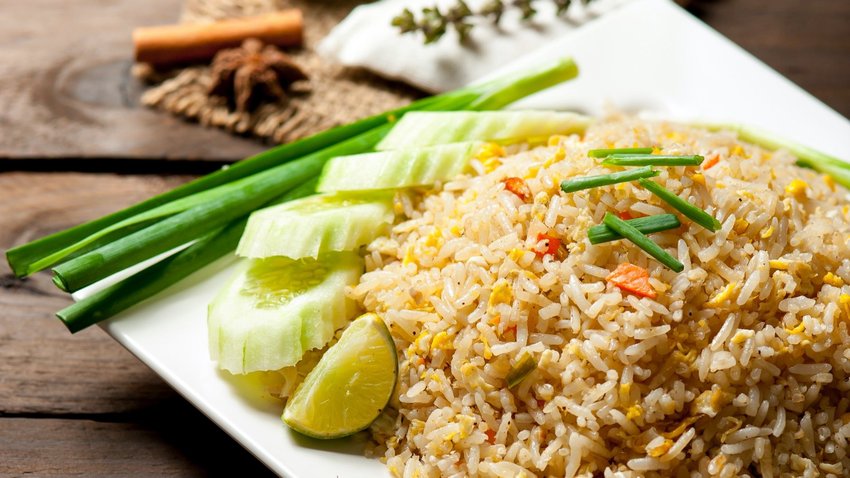 The recipe for Train Fried Rice is built around one of Punyaratabandhu's patented anecdotes, in addition to one unique ingredient: ketchup. When this recipe first caught my eye, I thought ketchup was an odd ingredient to use in fried rice, but after reading the recipe's story, it all made sense. It turns out that fried rice was often served to railway passengers, which was once considered the most luxurious way to travel to and from Bangkok. The train chefs often used prized Western staples like butter, peas, sausages, and ketchup, adding these ingredients to local dishes like fried rice. In this recipe, both ketchup and liquid from red tofu are combined with soy sauce, which gives the dish a rosy hue and a winning combination of salty and sweet flavors.
Creamy Tom Yam Noodle With Shrimp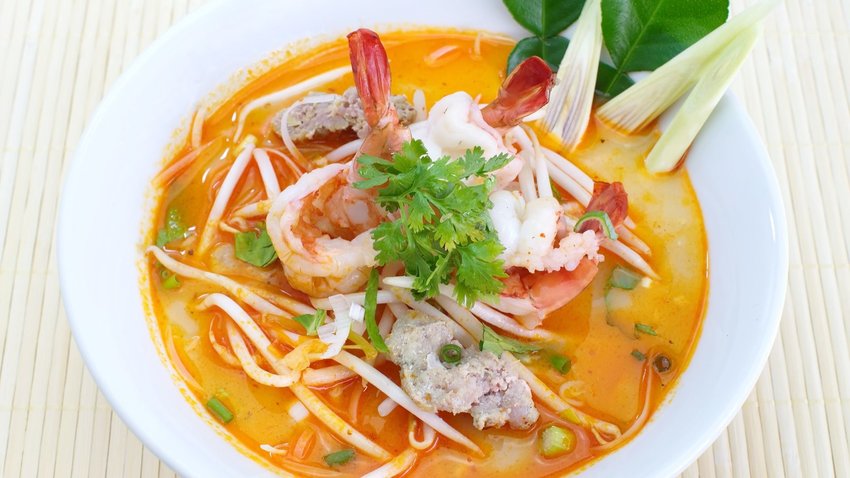 Punyaratabandhu reveals that the history of Bangkok's evolving food scene lies within its specific location on the Choa Praya River. This particular geography made river prawns a staple in Bangkokian cuisine, which explains why shrimp is employed in many of Punyaratabandhu's recipes. Shrimp tomalley, a shrimp paste made from the digestive organs found in prawn shells, is also used in many recipes, and although it is supposed to add fantastic flavor, it can be considered optional. Since it's difficult to find this ingredient in stores, Punyaratabandhu provides a recipe for "Faux River Prawn Tomalley." Full disclosure: when I tried this recipe for Creamy Tom Yam Noodle with Shrimp, I substituted store-bought shrimp paste, and it still turned out delicious. It's like a decadent version of ramen soup, creamy and filled with succulent shrimp, and definitely a treat to make at home.