Travelers often refer to Paris as the city of love. When Haussmann modernized the grotty medieval city and dragged it kicking and screaming into the 19th century, he did so in draconian fashion. Building heights were limited, their façades strictly regulated so they worked in harmony with each other, and boulevards were widened. The banks of the River Seine, together with its bridges and surrounding architecture, have also been protected since 1991; for that we have UNESCO to thank.
But why is this relevant to affairs of the heart? It has a lot to do with romantic strolls – Francophiles will argue that simply being in a beautiful setting helps when it comes to love. That's not all: the language is enchanting, the locals love to flirt, and you'll even find a Museum of Romantic Life at the foot of the hill in Montmartre. So if you're keen to inject a little Parisian ooh la la into your Valentine's Day this year -- while a visit to France is still off the table -- here's what you need to do.
Turn a Blank Wall Into a Parisian Backdrop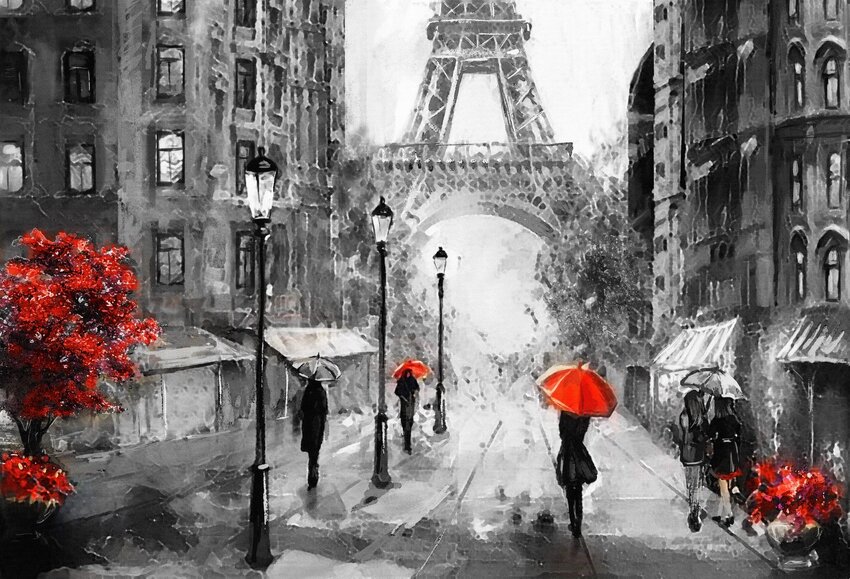 Set the scene and transform a blank wall in your home and apartment with some Paris-themed wall art. It's designed to make a statement – you could say it's the next best thing to actually being there for real. You'll have no trouble sourcing art featuring images of the French capital, such as a Parisian vintage travel poster, or an iconic framed print of Le Chat Noir. Alternatively, opt for an oversized mural. This bold design featuring Paris by night from Wallsauce definitely has the wow-factor.
Add Some Parisian Charm With Clever Lighting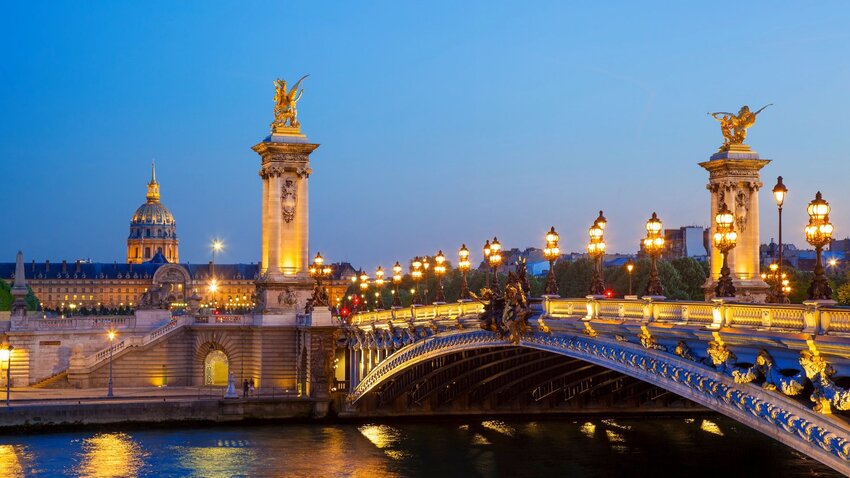 Paris isn't just the City of Love; it's also the City of Lights. The Eiffel Tower famously puts on a dazzling light show and sparkles for five minutes on the hour every hour. Nearly as picturesque are the lanterns on the Pont Alexandre III bridge. The exuberant Art Nouveau lamps which span the bridge reflect in the water of the River Seine, making this one of the prettiest spots in the city. Inject a little magic into your own back yard by stringing up some globe style string lights or light a bunch of candles to set the mood for a romantic encounter. Alternatively, Anthropologie has a good selection of indoor lighting that channels an Art Nouveau vibe, such as this tasteful Verdure table lamp.
Hang a Lovelock In Your Own Yard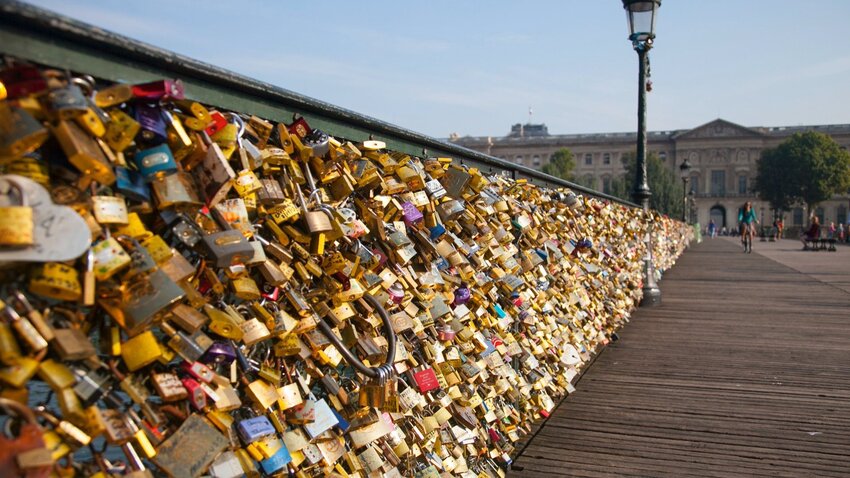 Although the lovelock tradition is actually thought to have started in Eastern Europe, couples have descended in droves to fix a padlock to Parisian bridges such as the Passerelle Léopold-Sédar-Senghor, the Pont des Arts and the Pont de l'Archevêché. As early as a decade ago, there were concerns over the damage this custom was doing to the city's architectural heritage. However, having a decorative padlock engraved to commemorate your relationship and attaching it to something in your own garden creates no such problem. Nowhere to hang it? You can always upload a virtual lovelock via a website such as Eternal Lovelocks.
Download a Language App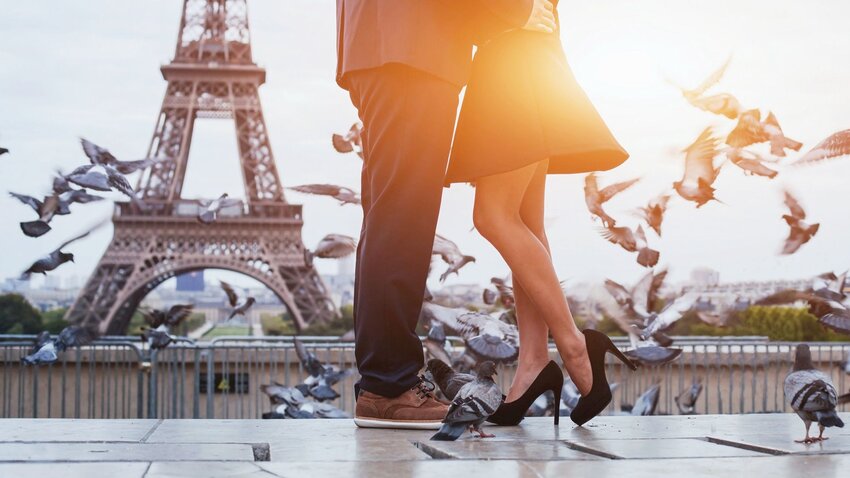 Many consider French to be one of the world's most romantic languages. So why not use Valentine's Day as an excuse to brush up your vocabulary and learn some suitable phrases to impress your special someone. Je t'aime is as good a starting point as any; it means I love you. Websites such as Talk in French or Fluent in 3 Months can get you a little further, or you could try an app such as Babbel to build up a more solid foundation for your linguistic endeavors. But don't worry too much if you're not a natural polyglot. According to the results of a Time Out survey carried out in 2020, the hottest accent right now is British. So start listening to Keira Knightley or Hugh Grant as they spout their lines and mimic them instead. After all, no one said you couldn't be a virtual tourist, did they?
Dine à Deux on French Food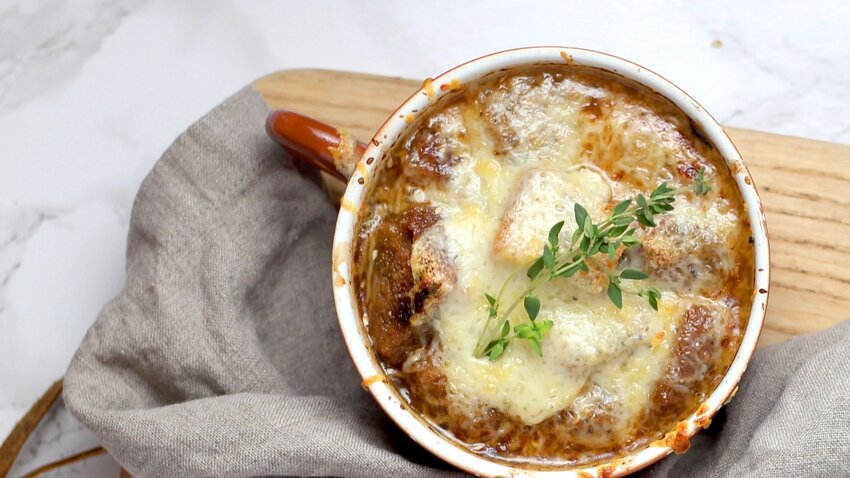 Next: food. If you're making a day of it then breakfast's super easy. Grab a packet of croissants or some slices of crusty bread. Dunk them in large bowls of milky hot chocolate or café au lait. But the best meal of the day if you're Parisian is dinner, and there are plenty of options if you want to add a Gallic spin to your evening meal. French onion soup is a classic that's been knocking around for three centuries. Bistro-favorite steak tartare might not be to everyone's taste, but you'll be pleased to know that steak frites are just popular in the French capital. If you're eating out, you might wish to try escargots; the import of fresh snails isn't permitted, but there's now a farm on Long Island, NY that raises its own. Smothered in garlic, they're a lot tastier than you might imagine.
Put On a Movie and Snuggle Up On the Couch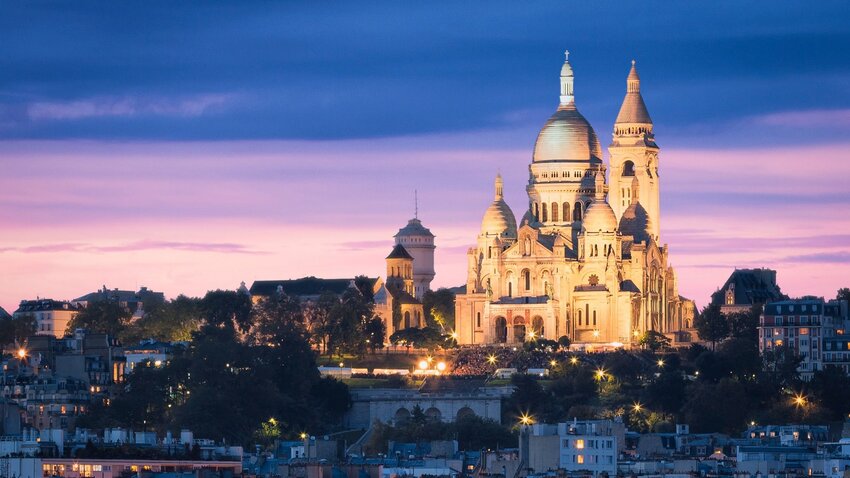 Rounding off a Parisian-inspired Valentine's Day with a movie is a cinch. The top contender is surely the delightful Amélie. Set in Montmartre, the film is a joyously whimsical affair as we watch the titular character bring a little cheer to those she knows. Another shoe-in is the spectacular Baz Luhrmann musical Moulin Rouge. It's another Montmartre gem, this time a theatrical, Oscar-winning love story bringing a penniless writer and cabaret actress together. The Audrey Hepburn and Fred Astaire classic Funny Face or the 1951 Academy Award winner An American in Paris starring Gene Kelly will suit vintage fans. Before Sunset will appeal to sentimental hopeless romantics, but if you really can't bear saccharine-sweet stuff even for one night, there's always that fabulous car chase in Ronin. It's still Paris, after all.