Fall asleep on a deluxe king bed to the calming tranquility of the sea. Underwater hotels in exotic destinations across the globe are offering affluent adventurers subaquatic experiences that fall nothing short of glamorous and unique. Marine-loving guests can spend their time in underwater hotel rooms, while reveling in serenity and observing the colorful undersea life up close. Maintaining five-star amenities and unparalleled levels of comfort, these five underwater hotels are ones you need to see to believe.
The Manta Resort, Tanzania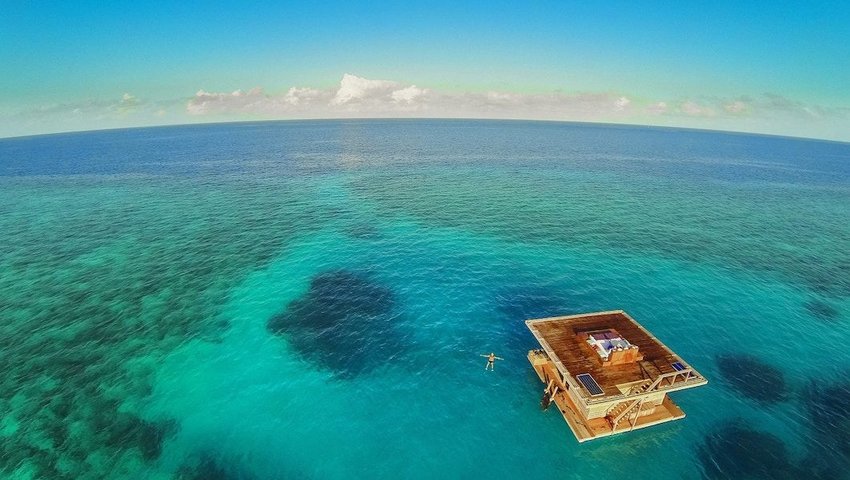 Submerged 13 feet below the surface of the Indian Ocean, The Manta Resort, which is situated on the northern tip of Tanzania's Pemba Island, offers guests of the Underwater Room an exclusive experience. This submerged suite is only a short boat ride from the shore and is where you'll be enveloped by turquoise waters. As a three-story accommodation, the sea-level landing deck houses the lounge, where a ladder leads to the rooftop for basking in the sun by day and stargazing in intense darkness by night. The lower level of this Swedish-designed accommodation is fitted with windows that allow for 360-degree views of the surrounding marine wildlife, while the suite's underwater spotlights attract unique varieties of octopi and squid at night. The Underwater Room comes equipped with a kayak, snorkels, and fins that encourage guests to discover their idyllic surroundings. With meals served in-room at prearranged times, a stay at the Manta Resort feels like a private island getaway.
Atlantis The Palm, United Arab Emirates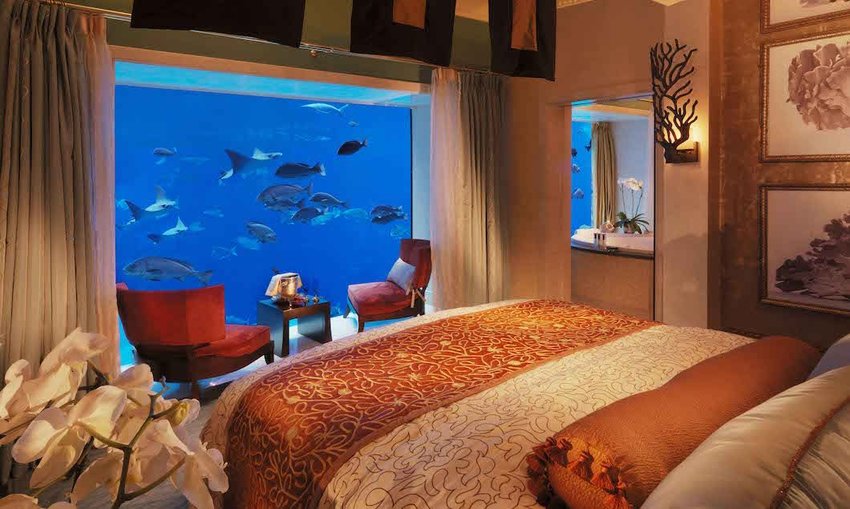 Situated on Dubai's glitzy man-made island of Palm Jumeirah, guests at Atlantis The Palm's cleverly nicknamed Poseidon and Neptune Underwater Suites can enjoy uninterrupted views of Ambassador Lagoon — the resort's aquarium where 65,000 marine animals take residence. Sunbathe on the private sandy beach on resort grounds and swim in the shimmering turquoise waters of the Arabian Gulf before spending your evening gazing into the Ambassador Lagoon as you soak in your marble jacuzzi. Bask in tranquility and fall asleep as zebra sharks, jellyfish, and stingrays glide effortlessly past your window. With your stay comes 24-hour private butler service, complimentary access to the Lost Chambers Aquarium, and the pulse-racing waterslides of Aquaventure Water Park for a complete experience.
InterContinental Shanghai Wonderland, China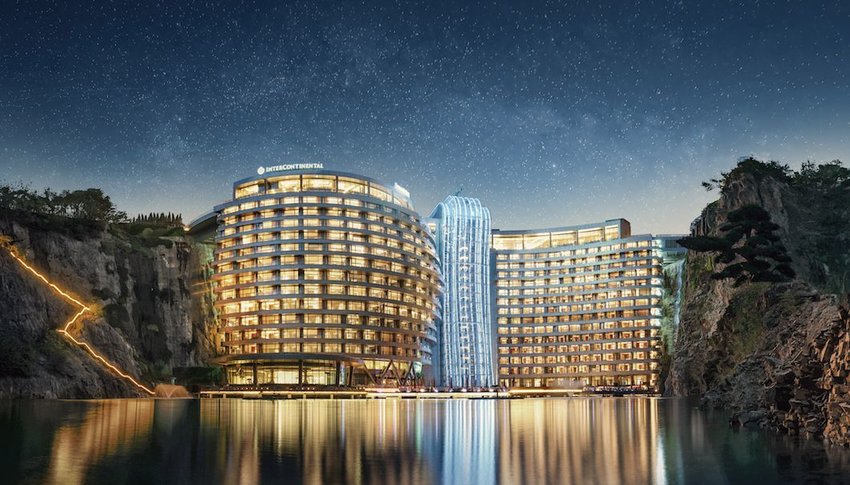 Shanghai's InterContinental Shanghai Wonderland takes residence on an abandoned quarry roughly 20 miles from the city center in the Songjiang district. Arranged over 18 floors, two of them are underwater, with underwater swimming pools. This $300 million property furnished each of its six underwater suites with an aquarium and balcony for private views of the nightly water show. Guests at this ritzy address can indulge in a variety of outdoor activities by rock climbing and scaling the heights of the rugged cliff face in which this hotel is masterfully built into. They can even kayak the placid waters of the quarry or zip-line across it for a thrilling experience.
Lovers Deep Submarine, St. Lucia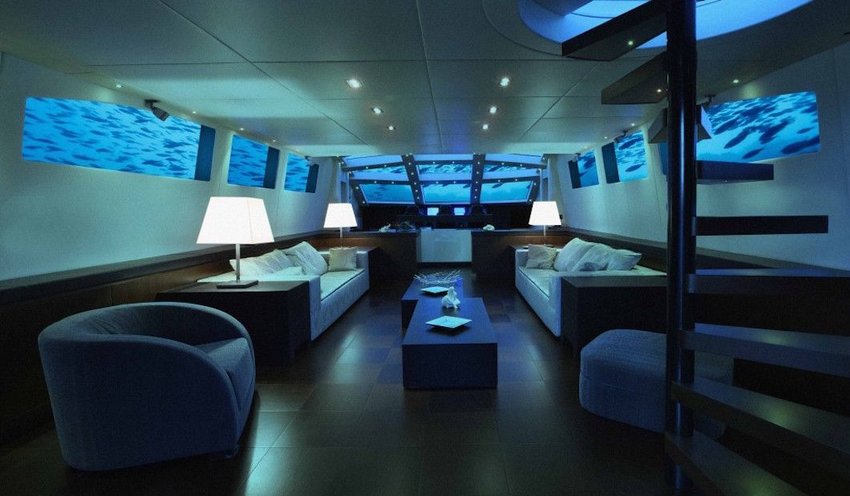 The British travel company, Oliver's Travel, created Lovers Deep Submarine for couples who lust after an incredibly romantic experience. Based in St. Lucia, the vessel is cared for by a dedicated staff consisting of the captain, chef, and butler, whose sleeping chambers are placed at the opposite end of the couple's for maximum privacy. This underwater journey is made even more unforgettable when guests get to choose where their submarine is moored. Spend the night beneath the waves off the coast of paradisiacal Martinique or among the striking coral reefs of Barbados. Private speedboat transfers come standard with a stay in this submarine, though for the ultimate high roller experience, ask for a helicopter beach landing.
Resort World Sentosa, Singapore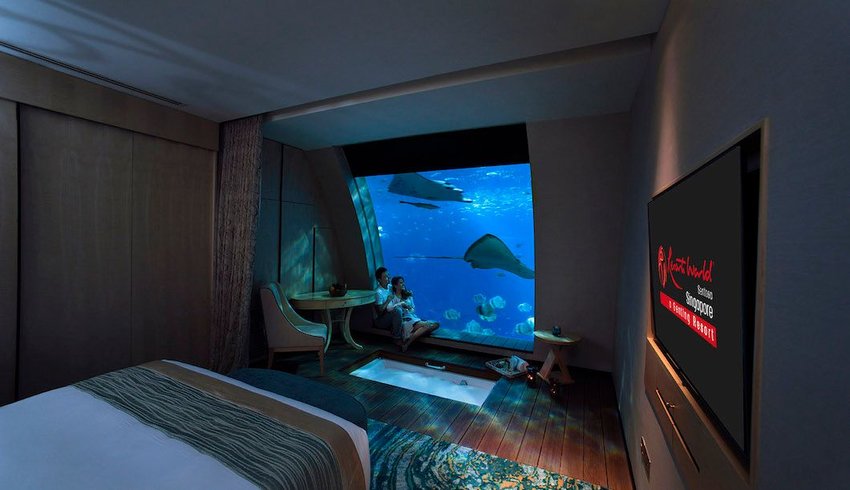 Offering 11 extraordinary two story suites, Singapore's Resort World Sentosa gives guests a special above-and-below water experience. While the upper level of this duplex suite boasts an outdoor patio and jacuzzi, the lower level offers unimpeded views of roughly 40,000 colorful fish swimming in the aquarium. Marvel at the sharks that swim past your viewing panel and observe divers through your glass window distributing food to schools of cownose rays during feeding time. With its romantic setting including five-star amenities, the Resort World Sentosa is complete with personalized 24/7 butler service.