Whether you're planning a fall camping trip or want to make good use of your home fire pit, cooking dinner around the campfire is a foolproof way to have a good time. There's something special about cooking in the great outdoors — it just makes food taste better.
If you're new to campfire cooking, then you should know that the best outdoor meals are also the most simple. With good ingredients, the right equipment, and a roaring fire, you can make five-star sandwiches and fantastic foil dinners without too much fuss. This leaves you more time to sit back, take in the scenery, and enjoy time spent outside.
Foil Dinners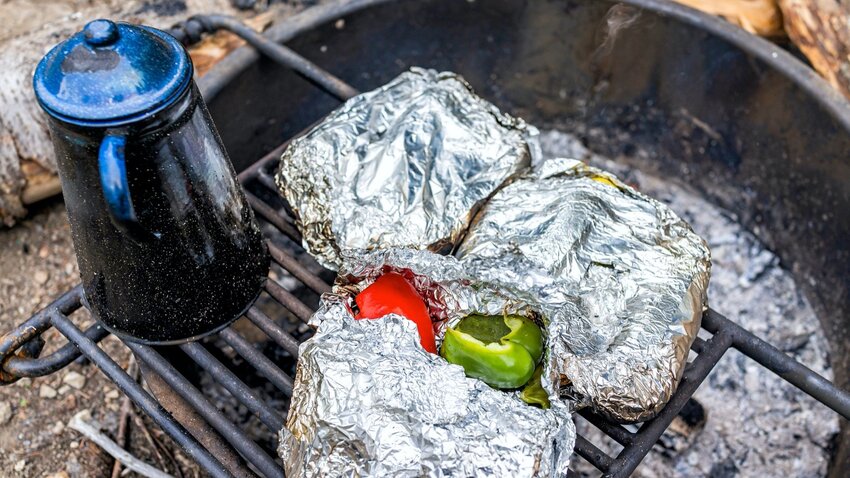 Foil dinners are a crowd-pleaser and for good reason — they are highly customizable. Each diner loads their food of choice onto two layered sheets of aluminum foil, before wrapping it up into a packet and tossing it into the fire. In 20-30 minutes, dinner is served. I usually chop a bunch of different vegetables (such as onions, potatoes, summer squash, and mushrooms), add some protein (pork/chicken sausage, ground beef, or shrimp), and then top it with sauces or spices (I love a good peanut sauce, like Annie Chun's, with a little bit of olive oil and garlic salt). This campfire meal never fails to disappoint.
Equipment Needed: A sturdy aluminum foil brand, like Reynold's Wrap, will ensure your dinner doesn't get destroyed by the fire.

Mussels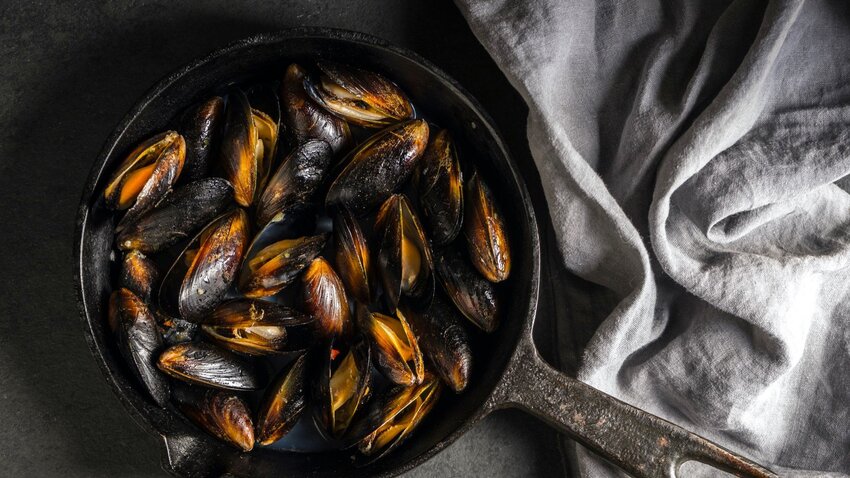 I love mussels, not only because they're delicious, but also because they're an affordable way to eat seafood. I used to think the only way to cook bivalves was doused in white wine on top of the stove, but after discovering Erin French's recipe for campfire mussels, I changed my ways. Cooking mussels over the campfire lends them a heady, smoky flavor that pairs perfectly with a loaf of crusty bread. And since no chopping is required, this uncomplicated meal takes very little effort. French's recipe for Skillet Mussels with Rosemary, Lavender, and Lime has five ingredients, takes under 10 minutes to cook, and can be eaten straight out of the pan.

Equipment Needed: If you don't already have a seasoned cast iron skillet, like this 12" skillet from Lodge, buy one immediately —  it's essential for campfire cooking.

Chili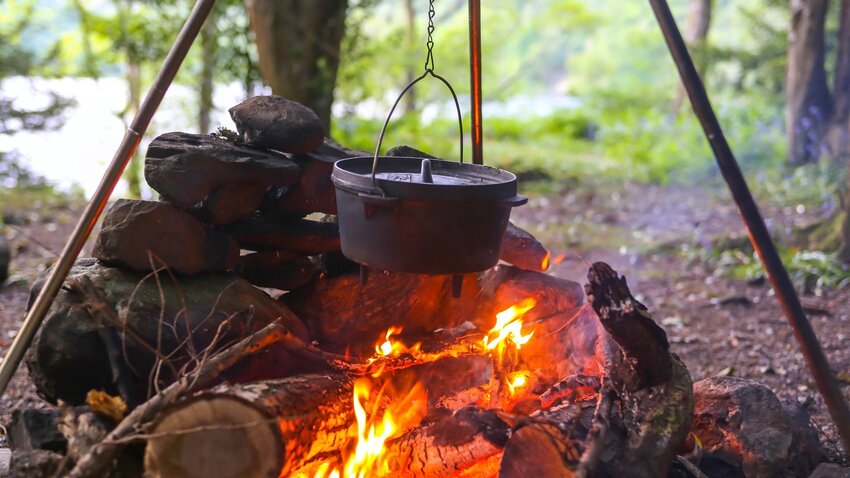 The arrival of autumn means three things: sweater weather, chili season, and ideal temperatures for campfires. So why not combine all three for the perfect fall evening? It's likely you already have a preferred way to make chili, so I won't mess with your recipe, but I will tell you this — you need a good quality dutch oven to cook chili over a campfire. In this instance, you'll want to leave your Le Creuset at home, and go for a durable, non-enameled cast iron that won't get destroyed during the cooking process.
Equipment Needed: Combining a sturdy dutch oven with a tripod to hang it over the fire will ensure your chili is perfection.

Lobster Bake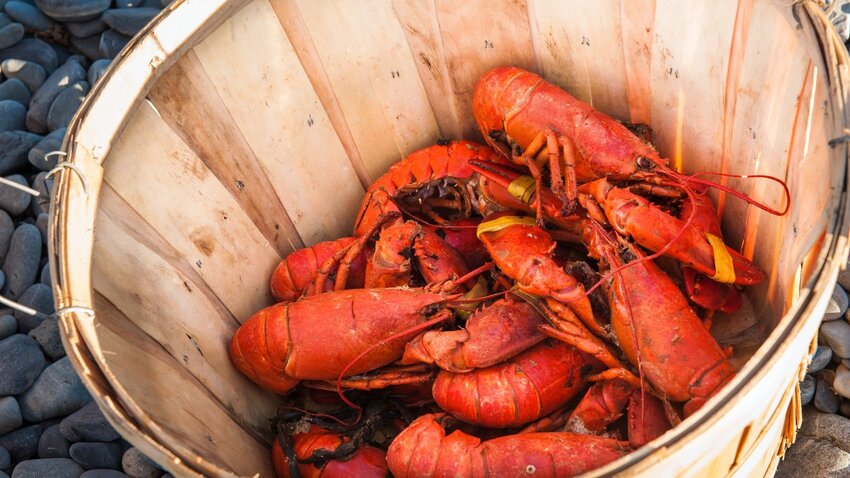 Is there anything more fun than a good old-fashioned lobster bake? I think not. It's a meal that is meant to happen outside, with high-quality food, minimal ingredients, and good friends. A traditional lobster bake in Maine is cooked in a galvanized tub over a campfire, with layers of seaweed separating the lobsters, corn, and clams. If you don't have access to seaweed, the same effect can be achieved in your backyard with a campfire, grilling grate, and a large pot. Serve with melted butter and lots of napkins, and you'll be sure to see smiles all around.
Equipment Needed: If you don't want to go the traditional route with a galvanized washtub, try this 19-quart steamer pot over the fire.

Grilled Cheese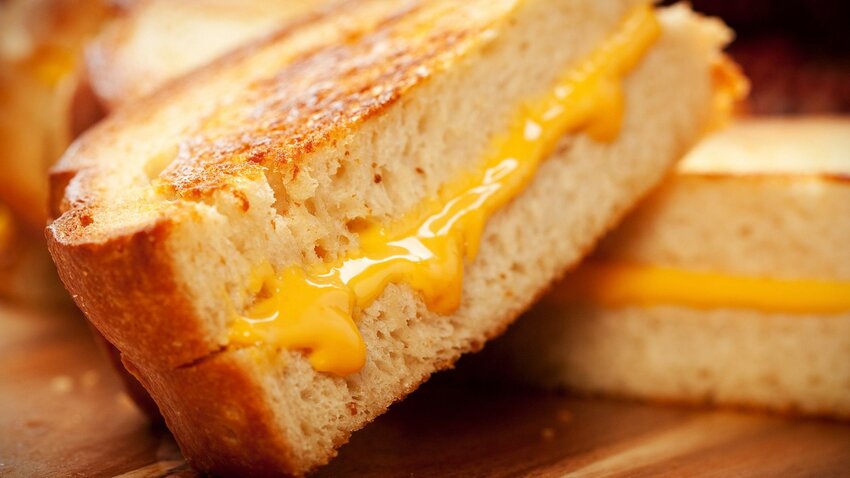 Grilled cheese is classic comfort food that happens to be so much better when it's made outside. In fact, my favorite way to make grilled cheese is with a pie iron; the small cast iron pan comes equipped with handles, allowing you to toast, bake, and cook your food directly in the fire. To make an outdoor grilled cheese, simply put the fixings of your choice (buttered bread and cheese are requisite; mayo or a slice of ham are optional) into the pie iron, snap it shut, and toast your meal in the fire. The result is a sandwich that is crisp on the outside, ooey-gooey on the inside, and perfect all-around.
Equipment Needed: Pie irons come in all shapes and sizes (circular, rectangular, and square), so choose one to fit your needs.

S'mores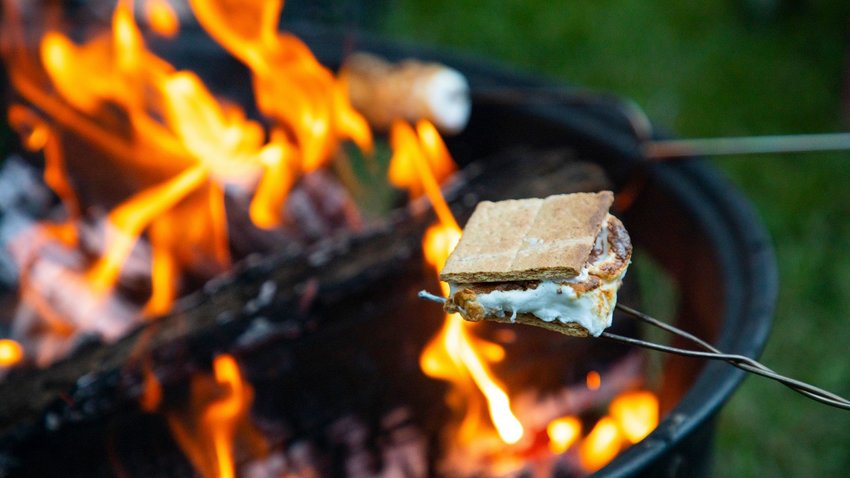 If you're having a campfire, s'mores are a non-negotiable item on the menu. The combination of toasted marshmallows and melting chocolate betwixt two crisp graham crackers is such a heavenly treat that it's difficult to have just one. (Hence, the name.) In addition to being a campfire tradition, s'mores are easy, fun, and beloved by campers of all ages. Instead of scouring the woods for the perfect marshmallow twig, purchasing a set of roaster sticks will save you time and trouble. Whether you like to burn your 'mallow to a crisp or prefer to tenderly toast it with love and care, these sticks will help you perfect your roasting technique.
Equipment Needed: For the ultimate s'mores experience, these extendable roaster sticks come in a set of five.