Largely considered as a summer activity, camping to many means afternoons of hiking under the warm sun, swimming in mirror-like lakes, and laying in hammocks in the depths of the forest while listening to a natural soundtrack of sing-song birds. But for those looking to make the most of what's left of this camping season, you might need to brave some cold rain. And though it sounds daunting and requires a little bit more planning and preparation, camping in the rain can be an unforgettable experience...in a good way!
Use Tarps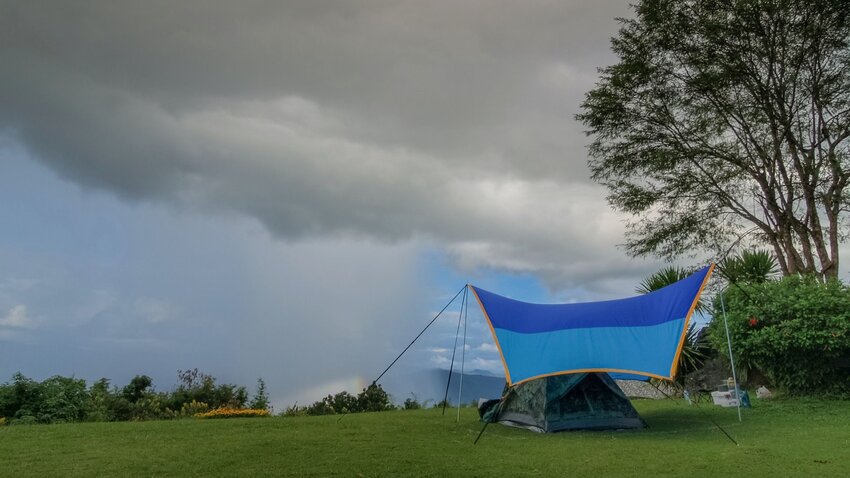 Though most tents come equipped with a rain fly, in a heavy downpour, you'll want to be ready with a tarp. Hang one above your tent by securing it with rope or paracord, and tying it tight to nearby tree trunks or adjustable tarp poles so you can move in and out of your tent while staying dry. By hanging the tarp on a slant with one end slightly lower than the other, rain can effortlessly run off instead of collecting in the center. A tarp above your tent can also protect you from falling branches that snap off of nearby trees during wind storms.
Consider hanging a tarp above your cooking station as well, so you have the option of eating your meal in a dry space outside, and aren't limited to hanging out by your tent. This sheltered area also gives you a place to set up your camping chairs and sip on a steaming cup of tea each morning. If you're planning on building a fire, make sure the tarp is high enough, at a minimum of seven or eight feet above the flames, so the tarp doesn't get damaged or catch on fire.
Have the Right Gear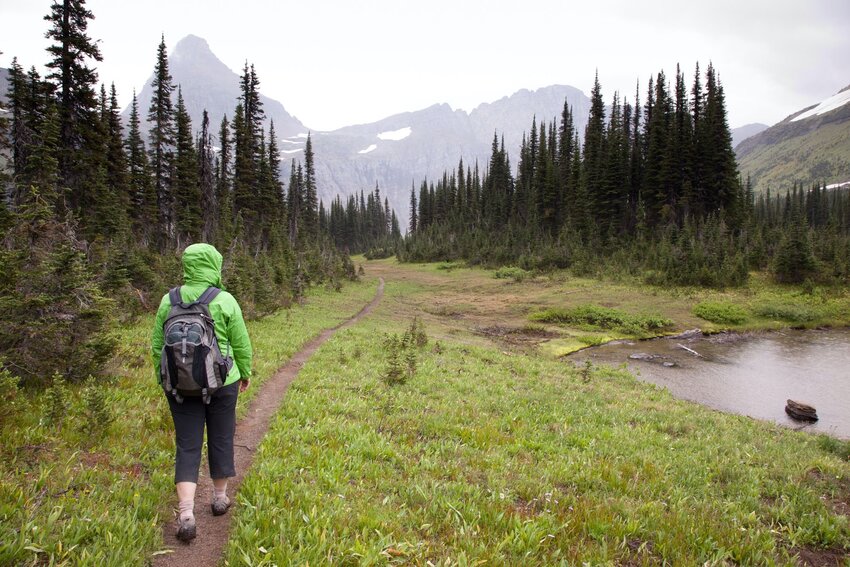 Being fully prepared for the rain can make camping in it feel enjoyable, rather than damp and miserable. If you're dusting off your raincoat for the first time this season, give it a refresh by waterproofing it and restoring its water repellency with a product like Nikwax.
Bring an emergency poncho as a backup and for quick jaunts between your tent, bathroom facilities, and cooking area so you don't have to run outside in the rain and come back soaked. Equip your tent with quick drying microfiber towels to clean off your feet and gear when you enter the tent.
Pack two pairs of shoes—a pair of Gore Tex boots like L.L. Bean's legendary Bean Boots for when you're out and about during the day, and a second pair of shoes for when you're hanging out at the campsite in the evenings so the first pair can dry off overnight. Between the rain and sweat from being outdoors and hiking, pack Merino wool base layers instead of cotton shirts so you can stay warm even when you get wet. You can also use Ziploc bags to keep a pair of emergency socks and underwear to ward off hypothermia when you lay down at night.
Set Yourself up for Success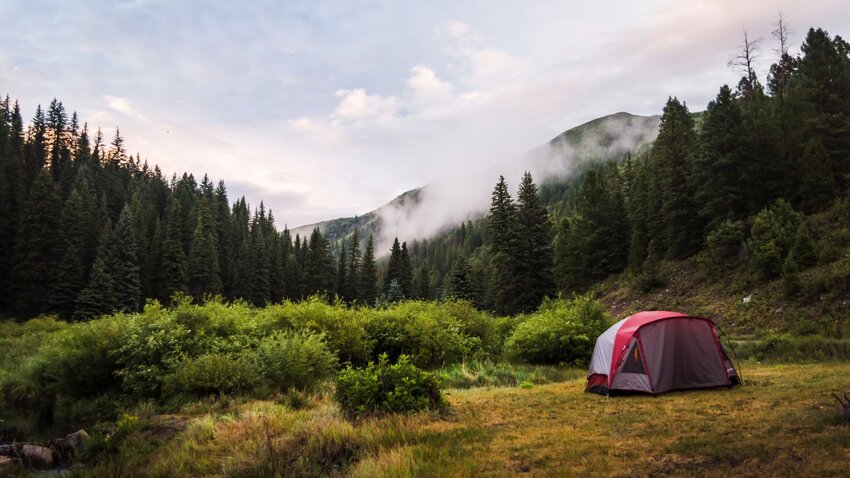 Where you set up your tent is important if you anticipate rain. Look for an area away from lakes and rivers since water levels can easily rise with torrential downpours, and settle where it's slightly elevated. To avoid collecting puddles beneath your tent, look for a site that slopes away on all sides so water drains away from your site. Though it may seem sensible to seek protection from the elements by setting up your tent under a tree, strong winds can knock down its branches, and rain drops will continue to drip off its leaves long after the rain stops, making sleeping directly beneath the trees a less-than-ideal situation.
Bring Fire Starters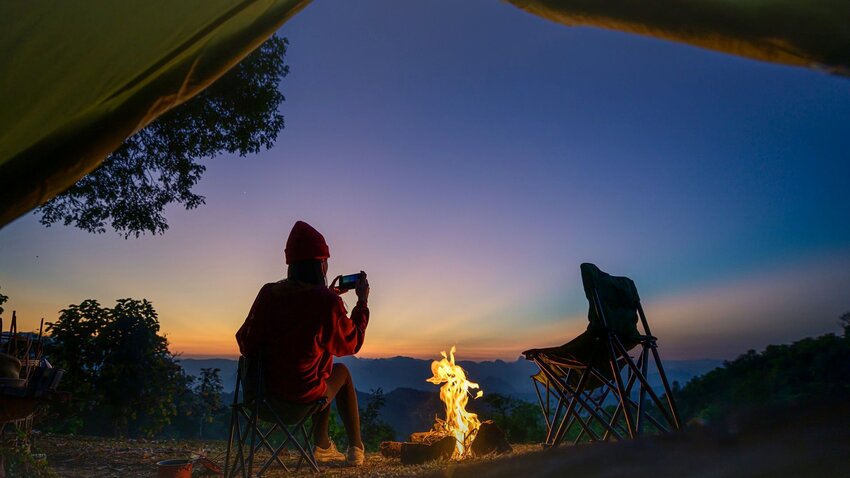 Listening to the soft pitter patter of rain while you're warm and toasty beneath a covering is undeniably soothing. While serviced campsites often provide firewood, they're usually left outside uncovered, which makes starting fires almost impossible in wet conditions. To guarantee a crackling campfire, bring your own starters like cotton balls coated in Vaseline, dryer lint, and fire starter cubes as an extra source of fuel, plus some stormproof matches to light them. In wet conditions, keep firewood dry by storing it in your car, or by wrapping it in tarp.
Keep Things Dry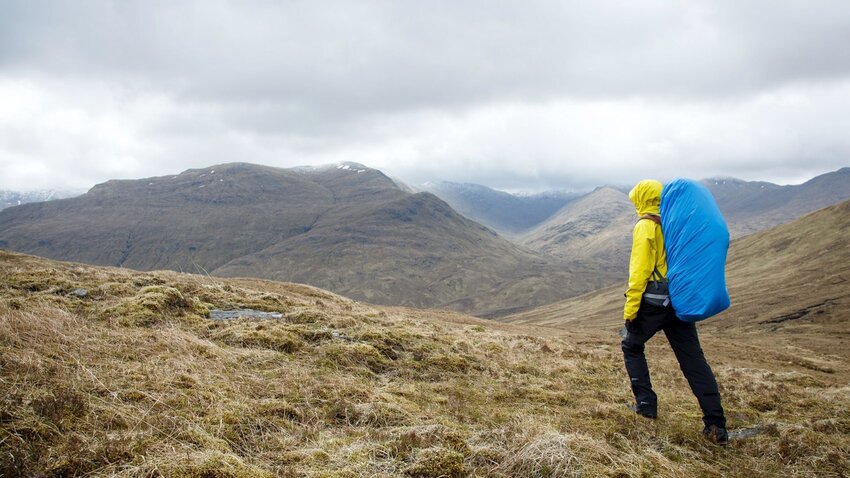 If you're backcountry camping, arriving at your campsite after a long hike only to find that all of the clothes you've packed are soaked is a major disappointment. This can easily be prevented by lining the inside of your backpack with a garbage bag. It's a quick and inexpensive solution, but for something more sustainable, consider a pack liner, which provide an extra waterproof compartment inside your backpack. If you're expecting truly torrential rain, give your backpack an extra layer of protection by stretching a pack cover over the outside of your backpack.