Standing in the crowded New Delhi airport, weighed down by carry-on luggage and fighting off yawns after a long flight, I was met with the familiar signs of the start of a trip. But exhaustion and excitement weren't the only things that met me when I landed in India. As I trudged out of customs and into the baggage claim, I was also met by a woman in a blue tunic holding a sign with my name on it.
She was a driver from Women on Wheels, one of the social enterprise projects supported by Planeterra, a non-profit organization that is a part of the travel syndicate G Adventures. And her presence in the airport was my first introduction to the purpose of the G for Good trip: to uncover how impactful the choices of a company such as G Adventures and its subsidiaries can be on a community.
Over the next few days, I would see firsthand G Adventures' impact on communities and their travelers, and develop a deeper understanding for sustainable, local-grown tourism. And it started right here, with a woman in a blue tunic leading me to her car.
Travel With a Cause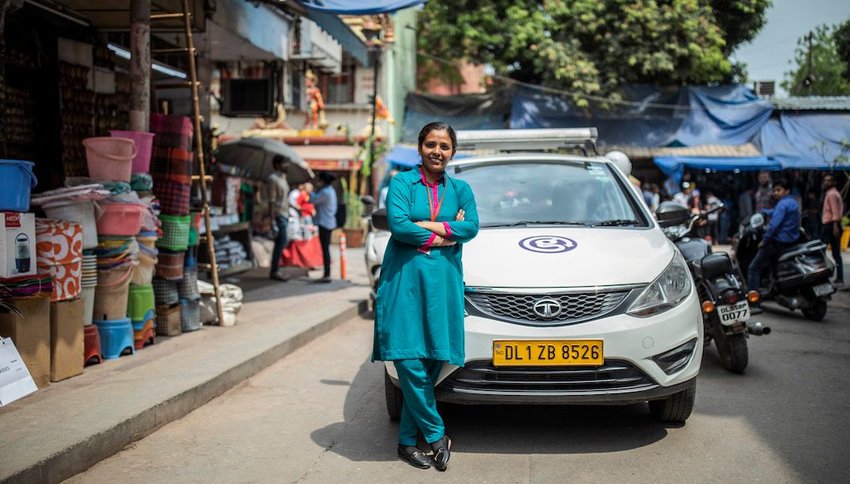 I had been invited to join our good friends G Adventures on a journey through India and Nepal for their annual G for Good trip hosted by founder Bruce Poon Tip. Over the course of the week, they walked us through how they support locally-owned businesses to keep as much capital within the community, empowering local people in expanding their own economies through tourism.
G Adventures' non-profit partner, Planeterra, believes that "tourism can be the greatest method of wealth distribution in the world…" and within the first 24 hours of the trip I could see that belief in practice.
At the welcome dinner our first night, we heard more stories from the women who are now employed by Women on Wheels. Shanti, a woman in an abusive relationship who nearly lost her life, said, "Women have come [to Women on Wheels] in search of dignity and safety – and in the process they can offer safety to travelers. [They can] change the destiny of their children and their families."
For many travelers, the project is about ensuring safety as you traverse from airport to hotel to tourist site. But for these women, it's a chance to rewrite their story and lift themselves out of harmful situations.
These were just the first of many stories we would hear over the next week, stories that detailed how the many facets of the travel industry can become sources of tremendous empowerment for local communities and marginalized groups around the world.
Walking the Walk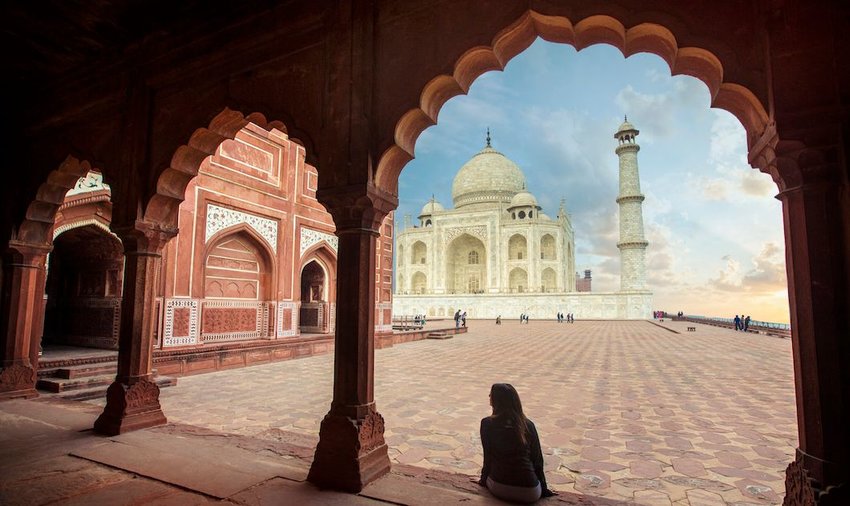 On the outside, we looked like regular tourists. We traveled through New Delhi then to Agra to see the Taj Mahal twice. We continued our journey in Kathmandu, Nepal and visited humbling ancient temples in cities established centuries ago. We navigated through bustling cities and calm villages, eating delicious food and laughing endlessly.
But in that one week, G Adventures showed us so much more than the tourist sites I'd dreamt of seeing my whole life. They demonstrated how they live up to their commitment to creating positive social impact by focusing their efforts on creating partnerships with local communities and bringing travelers to unique destinations.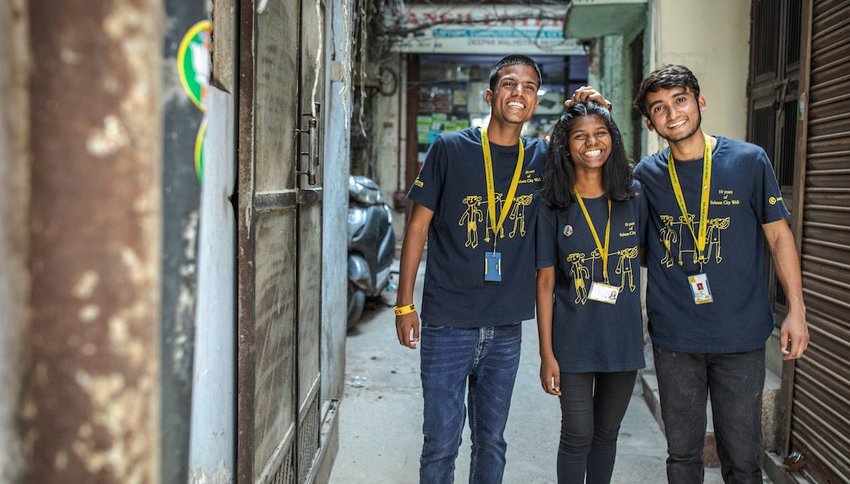 Not a moment went by that we weren't reminded of this social impact. In New Delhi we toured the city with Youth City Walk, a Planeterra project run in partnership with Salaam Baalak Trust. The organization feeds, educates and empowers a multitude of children. We listened to our guide Asif, a boy who found himself homeless at the age of eight, but through the support of Youth City Walk now had a safe home and job guiding visitors through the city.
Bypassing chain restaurants set up near tourist traps, we dined in local establishments like Kitchen With a Cause, a restaurant started by two former G Adventures tour group leaders, and Sheroes Cafe, which empowers acid attack victims and works to end violence against women in India.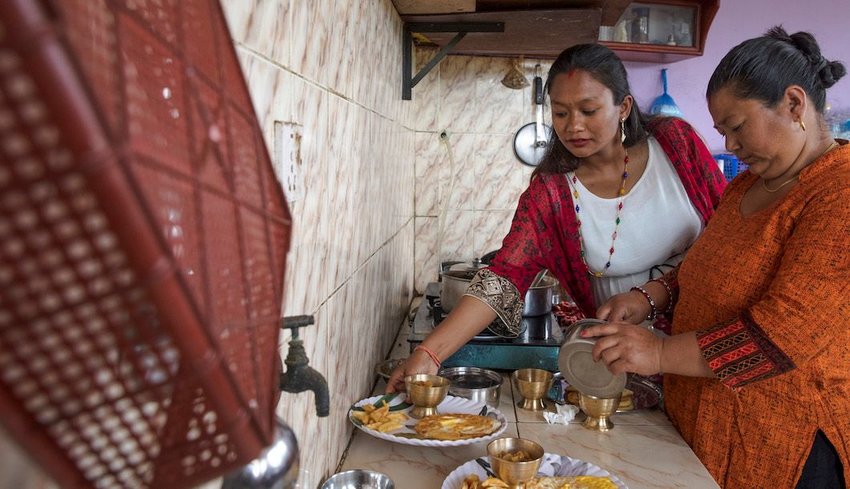 The stories kept flowing as we engaged in fascinating cultural experiences led by organizations designed to empower and support. In Nepal we made traditional momos with members of SASANE, a group that helps women survivors of sex trafficking by providing paralegal training to women who help police process victims at stations. While kneading dough, we learned that nearly 54 Nepalese women disappear every day. The organization was started by a group of three women who escaped a brothel and met a lawyer in Kathmandu. It now provides paralegal training to women who help police process victims at stations.
G Adventures supports these local businesses by giving them funding and training. CEO Bruce shared the impact G Adventures can have on local communities. He gave the example of how they raised over $200,000 in response to the 2015 earthquake that impacted hundreds of thousands of people. They were able to create a conversation with their customers that transcended travel; it engaged them in a much higher purpose.
Moving Mountains One Tour at a Time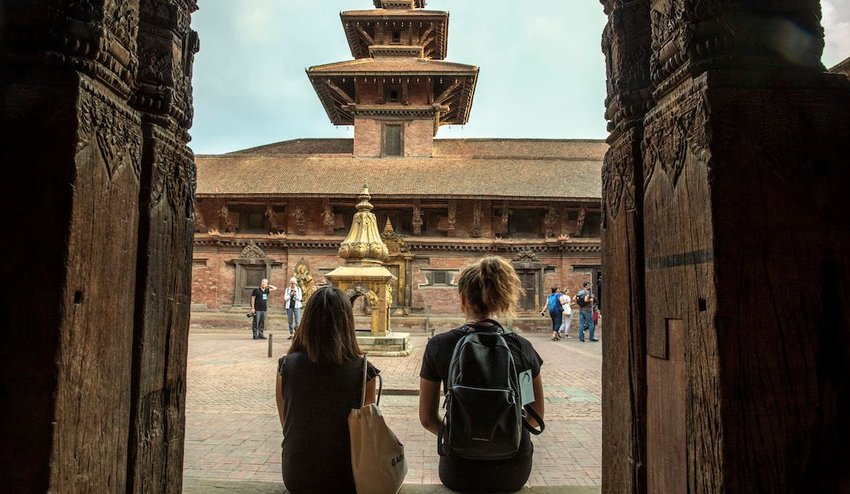 On our last full day in Nepal, we visited the ancient city of Bhaktapur with Royal Mountain Travel, a key partner of G Adventures in Nepal. As we wandered breathtaking temples and bustling city squares, we learned more about what Royal Mountain Travel is doing to create more opportunities for sustainability in their tourism business.
Nepal is a place of strong tradition, and yet, there are people like Shiva Dhakal, the founder of Royal Mountain Travel, who are fostering sustainability, empowering women and connecting global communities.
Royal Mountain Travel was born when G Adventures came to Nepal in 2005. It now has more than 300 employees. Shiva and RMT are committed to changing lives through tourism. They support local communities and their indigineous people through the Community Homestay Project, and they create new opportunities for all types of vendors by establishing restaurants and hotels that source locally.
As Shiva said on our last day, "Travel gives us the power to employ, to educate, to train the next generation and to build. Travel gives us the big picture of the world that many people don't have the opportunity to see."
How Your Travel Can Create Change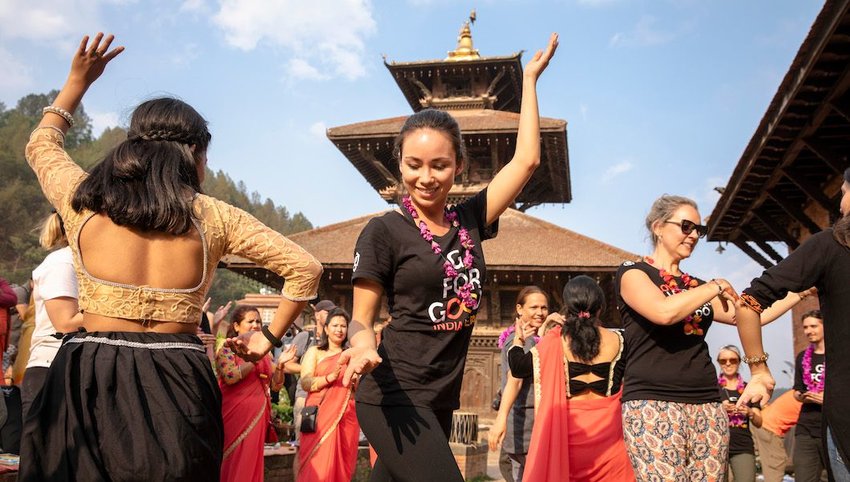 As an avid traveler for most of my life, I already knew that travel could change lives and broaden minds. But I never understood the depths to which it could transform local communities. My most important takeaway was that the fun vacations and exciting trips I take each year could be a way of giving back to the destinations I visit.
Your travel can be a true positive force in the world without deviating from your plans for a dream vacation. Whether it's staying in a local homestay, dining in establishments that support community growing, or hiring locally-owned tour groups to guide you, your travel plans can become a force for good.
And of course, if you're looking for a company who already has these impactful partnerships in place, G Adventures has a wide variety of small group trips around the world. If you'd like to experience a trip similar to mine, check out the Delhi to Kathmandu Adventure, Delhi to Kathmandu on a Shoestring trip or the India and Nepal National Geographic Journey.