It wasn't the first time we'd shown up to an empty dining room. For one thing, it was late spring, the clear off-season in the alpine town of Wengen, Switzerland. The skiers had left and the smaller yet substantial summer crowds had yet to arrive. We hadn't encountered many other visitors in the few days we'd been there, save for the tour groups that passed through the tiny train station on their way to the summit of nearby Jungfrau peak.
My American family was also used to being the first to arrive at most restaurants in Europe — our dining times fell in the quite normal 6pm range as opposed to the European-favored 8 or 9pm.  
But when we saw the closed sign on the restaurant door, we started to feel a bit apprehensive. We had reservations, after all, and the fact that there wasn't a server in sight had us worried.
We'd booked a fondue dinner at the Sunstar Hotel, one of the few shared objectives on this family trip. Traveling with six adults meant conflicting opinions on most activities, but food was the rare topic on which we aligned. We were in Switzerland, the land of cheese and chocolate, and fondue was a must.
When we inquired with the hotel front desk, we were directed back outside the way we came. Confused, but not unwilling, we followed a hotel representative around the back of the building, out into the tall grass and down a slope, stopping in front of a round, wooden hut, with a low sloping roof and small windows.
"Your dining guide will be with you shortly," the woman from the front desk explained, before she left us waiting outside the squat structure that looked barely big enough to fit two people, let alone six tall Americans
Giddy, we grinned at each other. It seemed this dining experience was going to be one we wouldn't soon forget.
The Best Place to Be a Cow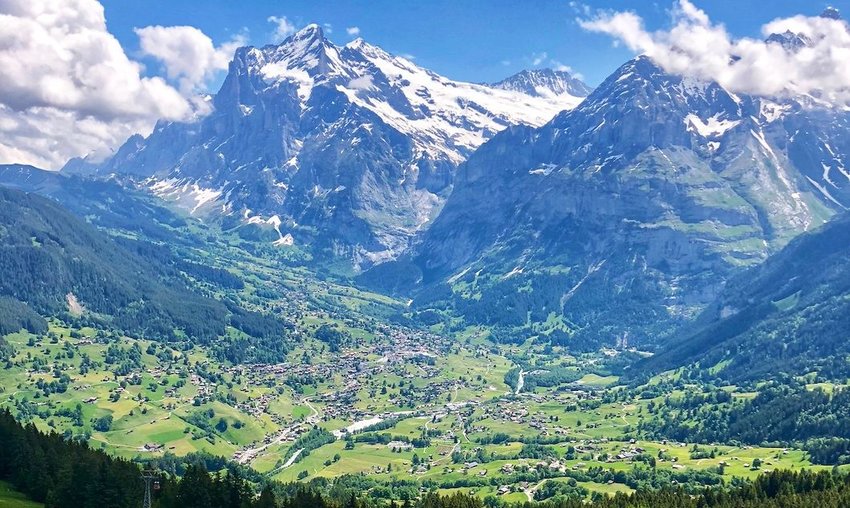 Here in the Berner Oberland region, tourism and traditional dairy farming dominate the local economy. Cheese production is almost an art form, with traditions perfected and passed down through generations.
We'd experienced a taste of this tradition the day before as we walked through the steep town streets on our way to a hiking trail. We passed picturesque Swiss homes painted a uniform chocolate-brown color with perfect triangle roofs and windows framed with cheerful flower boxes. Each home was surrounded by green pastures filled with wildflowers, which grew larger the farther we strayed from the town's center. Along the way we saw little in the way of people or animals except for a herd of particularly-chatty goats.
As we rounded a steep corner, however, we heard the jingle of bells and the clip-clop of hooves, and suddenly found ourselves sharing the road with two plump and unhurried cows. According to their owner, a friendly woman who was relaxedly guiding the cows down the hill, these two were just in town for a quick checkup, and would be returning to their herd, which was stationed at a lower elevation for a few more weeks until the weather was warm enough for them to return to Wengen.
This practice of moving cows between pastures throughout the region is just part of the cheese-making dance. Watching the cows saunter through the village, I couldn't help but feel these were some of the happiest cows in the world. With ever-greener alpine pastures, attentive families, and a relaxed pace of life, Wengen is a good place to be a cow. All that care pays off, too, as this region of Switzerland is famed for its Alp cheese (alpkäse).
Fondue Fun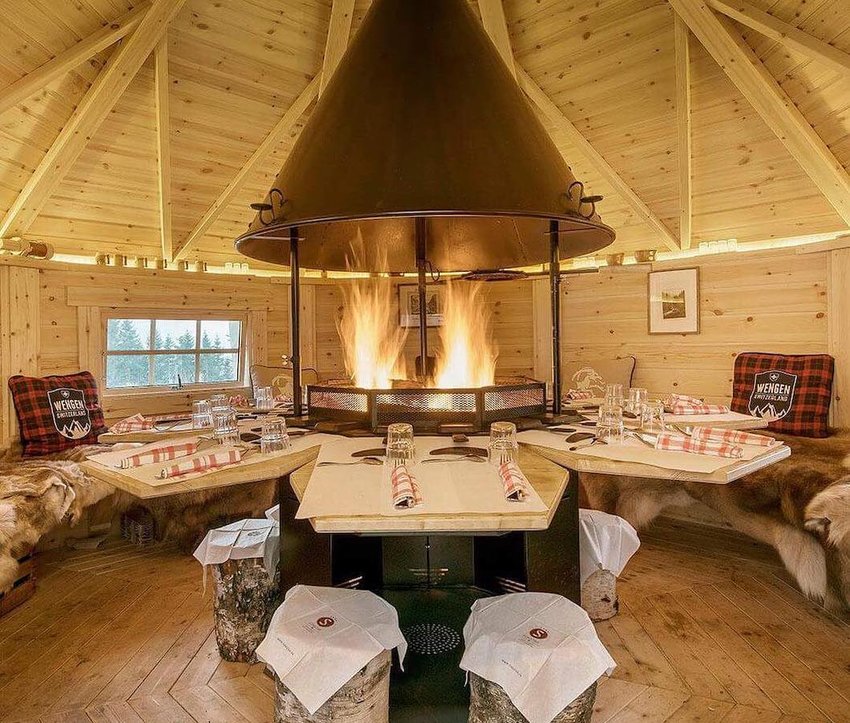 By the time our dining guide, hotel manager Oliver, arrived, our family of six had been joined by a British couple and a solo female traveler from Denver. Oliver cheerfully greeted us, unlocking the wooden hut and motioning us to enter. Though the structure had seemed small on the outside, the interior was far from cramped. We slid into wooden benches backed with pillows and soft faux fur blankets around a roaring open fire. Fondue forks lay before us, and there was ample room for elbows and knees as we took our places.
"I was traveling with a friend," Sharon, the woman from Denver explained as we introduced ourselves. "We split up in Munich and I came ahead to Wengen. It's my 40th birthday, and I wanted to do a trip on my own. I came here for the hiking and only found out about this meal this morning."
Sunstar Grillkota (grill cabin) only operates if enough interest is shown, and in these quiet off-season months, we're told it's rare to have enough visitors to fill a full meal.
"We're much busier in the winter," Oliver explained. And I wasn't surprised. I could just picture snow piled up around the hut, frozen fingers delighting in the roaring fire and warm fare. This early summer experience wasn't lesser for the warmer temperatures, but it does feel like the night was missing something.
Oliver, a cheerful individual with an unfettered passion for Switzerland, guided us through courses of gooey cheese fondue served with generous amounts of bread, warm potatoes, and apples. On alternating nights the fondue dinner is replaced with a raclette dinner, which features the namesake hard alpine cheese warmed over a grill with vegetables and meat you prepare yourself. Our dinner, however, took the more traditional fondue route, with individual fondue pots full of bubbling cheese set before us. We laden fondue forks with various vegetables, breads, and meats, dunking them in cheese until they were appropriately coated, and barely waiting for them to warm before devouring the finished bite.
While the dinner format was familiar to anyone who knows their way around fondue, the atmosphere and fresh cheese itself made this experience particularly standout. The fire crackled, stories were shared, and Oliver carefully explained the origins of each locally-sourced ingredient set before us.
The night ended as the food was taken away, and we were almost ready to say our goodbyes when Oliver pulled out one last surprise. From a hidden cupboard in the wall behind him, he produced several bottles of various liqueurs and insisted we toast to an evening of good food and new friends. "It's tradition," he added, holding up a bottle for all to see.
There was flavored vodkas and gins, schnapps and whiskies, as well as several bottles of Jägermeister, including one flavor only available in Germany that Oliver drove across the border himself.
I selected the rare Jäger (when in Europe, after all) and we lifted our glasses to toast a night I'll never forget.