We're all stuck at home at the moment, but that doesn't mean you need to eat every meal at your kitchen counter or on your living room couch. You probably haven't been on a real picnic in a while, so why not take this current opportunity to head outside for some fresh air and a change of scenery? You can eat just about anything outside and call it a picnic, but an outstanding picnic is something else entirely — it's a memorable celebration of savory food and appealing surroundings. Here are some tips to help you plan your picnic, from gear recommendations to menus inspired by destinations from around the world.
Choose Your Time of Day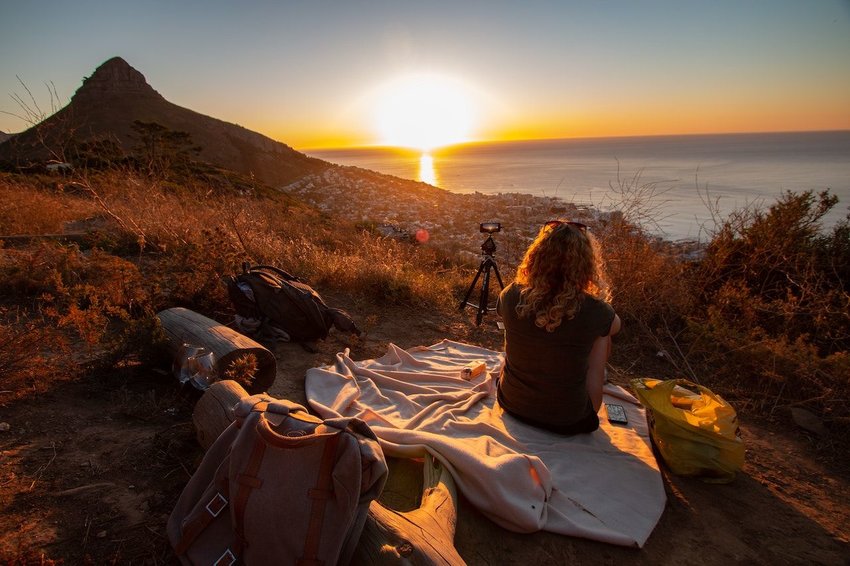 Picnics don't have to occur only at lunchtime. You can head outdoors to somewhere aesthetically pleasing for any meal. Instead of eating a bagel with a schmear for breakfast at home, enjoy that bagel outdoors as you watch the sunrise. You can also enjoy an afternoon snack, an early evening happy hour, or a full dinner under the stars.
Choose Your Location
Many public parks and outdoor recreation areas are currently off-limits, so you might need to get a little creative in coming up with an ideal outdoor location. Think about places around your neighborhood or town that would work, such as small green spaces, a hiking or biking trail, or near an appealing body of water — it doesn't have to be an official park. Many commercial properties and office buildings have picnic-friendly, landscaped areas that may be empty if the business is currently closed or all the employees are working remotely. Just be sure to observe your local social distancing guidelines! You can always head out to your apartment balcony, roof, or backyard. Even your kids' treehouse can become an innovative picnic spot.
Consider What Gear You Might Need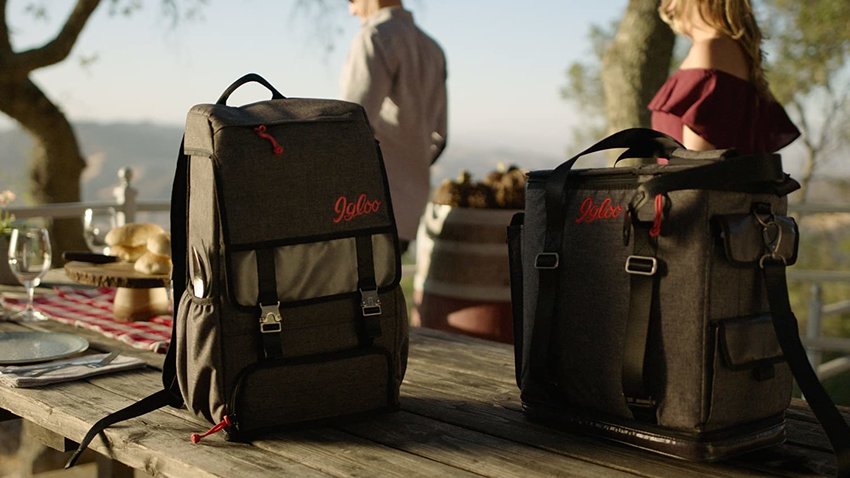 You could throw an old sheet on the ground for your picnic, but remember, you're trying to have a memorable picnic experience. You'll be far more comfortable and stay dry with a waterproof Yeti Lowlands blanket, or you could draft Gravel's excellent Layover Travel Blanket into temporary picnic duty. If you're not a fan of sitting on the ground, check out this four person portable picnic table set; it even has a 1-inch hole for an umbrella. If you already have portable camping chairs, use those, or buy deluxe ones like these from Helinox that are super lightweight and comfortable. Now you won't need much gear other than something to tote your picnic meal and beverages.
Any type of cooler will work as long as you can easily carry it. But you can up the ante with this Igloo Daytripper Tote that comes with a foldable mini table, a cutting board, a bottle opener, two compartments for wine bottles, and plenty of pockets. No celebration is complete without music! Listening to your favorite tunes as you relish the fresh air will enhance your picnic experience. Portable outdoor Bluetooth speakers such as this water-resistant Anker SoundCore 2 work great.
If you're more of an outdoor grilling person and your picnic spot lacks a grill, consider getting a portable one. This smokeless Biolite FirePit is the mack daddy of all portable grills. It has a rechargeable powerpack that powers internal convection fans, resulting in a roaring flame with minimal smoke. The top of the FirePit can act as an 18-inch by 7.25-inch grilling surface — and you can transform it into a wood-burning stove or a charcoal hibachi-style grill. Whichever grill you use, just be sure to have adequate tools to safely handle and serve food, which can be a challenge when cooking raw food outdoors.
Choose a Theme
This is when it gets fun! Instead of smearing peanut butter and jelly on some bread and packing them into a bag along with some ho-hum chips, and soft drinks, now is the time to get creative. If you've ever wanted to visit a country or sample international cuisine, factor that into creating your exceptional picnic. Here's how to jazz things up by choosing a theme like one of these for your picnic:
Romantic Picnic for Two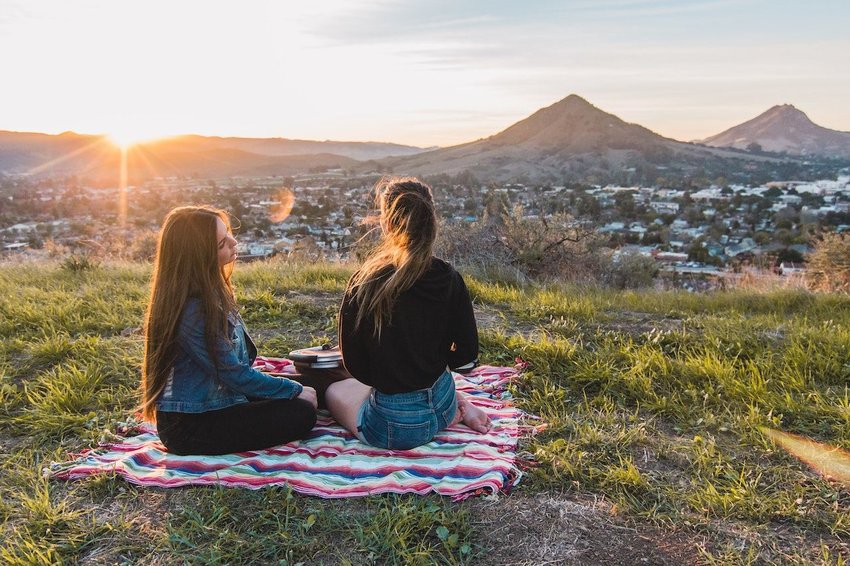 A bottle or two of wine, a fresh baguette, and a charcuterie-type selection of meats, cheeses, olives, fruit, and nuts are the perfect combinations for a romantic picnic for two. Don't forget to bring something delectable for dessert, such as a bar of imported chocolate or chocolate truffles. Instead of dumping everything into a cooler or grocery tote, this insulated Igloo Daytripper Backpack holds two wine bottles. This nifty pack includes a cutting board, four stainless steel cheese knives, a corkscrew, and another insulated compartment for food.
If enjoying bubbly is part of your romantic picnic plan, these stainless steel, insulated stemless flute glasses from Corkcicle are must-haves. Corkcicle also makes 12-ounce, stainless steel stemless wineglasses too. Relaxing outdoors with your loved one while you listen to favorite tunes, sip good vino, and nibble on this spread is sure to lift your spirits and help you reconnect.
Sunrise Breakfast Picnic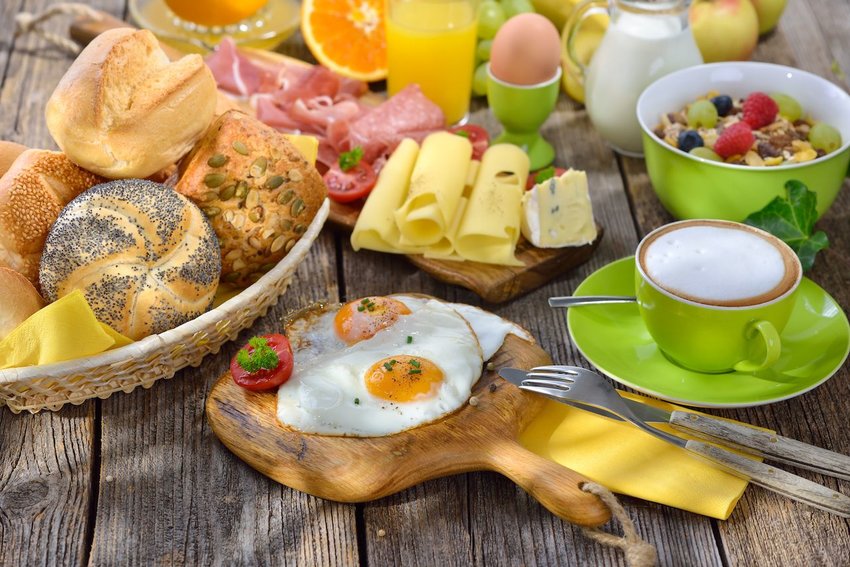 OK, you don't have to rise before the sun, but what better way to start your day than by enjoying breakfast outdoors? Make French-pressed coffee and keep it hot in a 48-ounce portable Stanley French Press. Or make your coffee at home and head out with it in a 20-ounce YETI stainless steel insulated mug, which will keep it hot for hours. Grab a few bananas or oranges and then pick up some bagels from a takeout bagel shop.
If you prefer something other than bagels, whip up a batch of breakfast egg muffins, which are an excellent, portable picnic food. Café Delight shares a recipe with three options: spinach and mozzarella, bacon and cheddar, and garlic, mushroom and peppers. Kids will love these double chocolate banana muffins, which are loaded with healthy ingredients such as bananas, chia seeds, and oats. With a start like this, you're sure to feel more energized and positive about the remainder of your day.
Italian Feast Picnic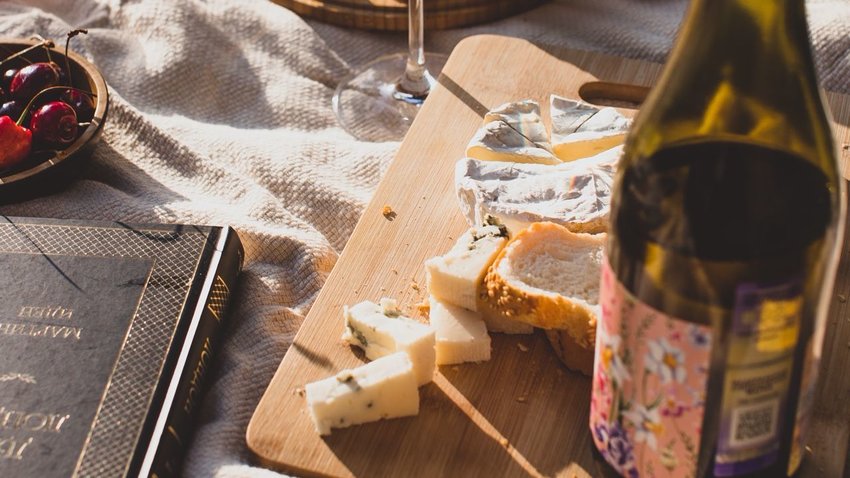 Italians know how to eat, so in addition to some Chianti or prosecco wine, a portable meal like this stromboli with olives, sun-dried tomatoes, ham, salami, and cheese make for a delicious lunch or dinner. Bring along an Italian pasta salad, which you can buy premade, or make from scratch with bell peppers, black olives, tomatoes, red onion, salami, cheese, and more.
For dessert, some simple biscotti cookies work, or take it up a notch with a peach crostata. For an after-dinner drink, wow your taste buds—and your brain— with a shot or two of Limoncello, a lemon-flavored, sweet dessert cordial. You can buy Limoncello (aka Lemoncello) from any liquor store, or if you're feeling ambitious, you can make it at home with lemons, grain alcohol (or vodka) and sugar.
Mexican Fiesta Picnic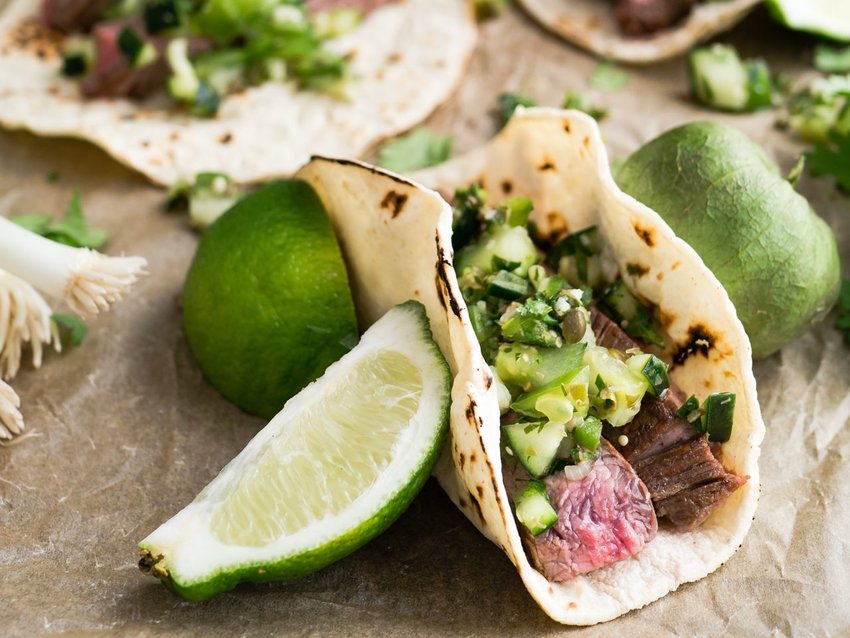 Margaritas taste even better when enjoyed outdoors, so mix up a batch or buy a premade mix for a Mexican outdoor feast. A lot of Mexican food is already picnic-friendly since we eat it with our hands — and it's kid-friendly (just swap the margaritas for lemonade). You can easily make refried bean and cheese quesadillas at home in a skillet. After they cool, slice them into pizza-shaped slices and wrap them in foil. Now they're ready to transport. Jazz them up by adding diced chicken and your favorite veggies. Another option is this recipe for steak tacos with cilantro-radish salsa. You can cook the meat and prep the toppings at home, and then assemble them right before eating.
No Mexican meal is complete without some fresh guacamole! Buy or make guacamole like the expert chefs over at Serious Eats, and be sure to remember the salsa and a bag of tortilla chips. This Mexican chopped salad is also sure to be a delicious and healthy hit. And don't forget dessert — grab some churros from a takeout bakery, or try making these easy sopapilla cheesecake bars.
Japanese Matsuri Picnic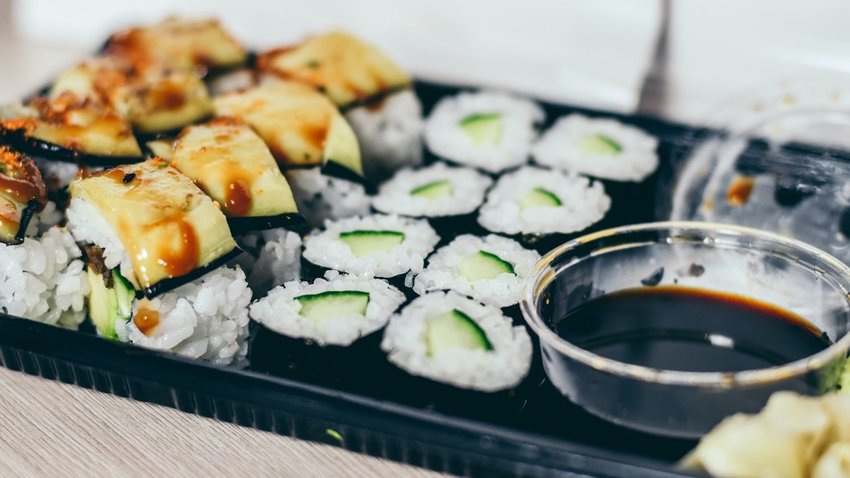 Japan is renowned for having stunning gardens and gorgeous cherry blossom trees, so it should come as no surprise that citizens spend a fair amount of time outdoors enjoying their exquisite surroundings. Which also means the Japanese know how to prepare excellent picnic foods. If you're short on time or love sushi, pick up some takeout sushi and head to your chosen picnic spot — just be sure to keep it well-chilled. Or if you live near an Asian or gourmet food market, you can pick up a bento box, which is a traditional Japanese lunch box that contains a variety of ready-to-eat foods. This RTIC Flip Top Portable Cooler will work well for sushi trays or bento boxes since they can remain flat.
If you want to make some traditional Japanese finger food, edamame is about the easiest (and healthiest) snack foods in the world. You may be unable to find fresh edamame, but even mainstream supermarkets carry it frozen. All you need to do is lightly steam it and then sprinkle it with salt. Onigiri rice balls are an excellent, portable picnic food, and you can choose different fillings to suit even the pickiest eaters. Cold rei-shabu, which is a popular chilled meat and vegetable dish, is a refreshing, delicious dish perfect for eating outdoors. Dishes like rei-shabu are super easy to transport and eat if you pack them into a stainless steel 12- or 18-ounce Hydro Flask food thermos. Try these Three Color Dango Dumplings for a portable dessert that doesn't need refrigeration. And don't forget to bring some sake! You can bring it warm or chilled, depending on the type of sake. Need some sake tips?
Moroccan Festival Picnic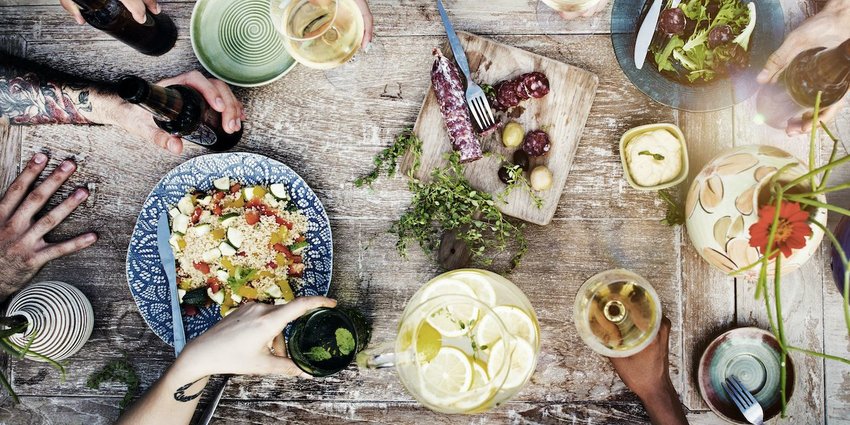 Savory spices—think cumin, saffron, turmeric, cardamon, ginger, cinnamon and paprika--are what you'll notice in Moroccan food. You've probably tried couscous; the tiny steamed morsels of wheat semolina mixed with vegetables and dried fruit is practically Morocco's national dish, alongside tagine stew. As it turns out, couscous is an ideal picnic food since it holds up well.
Bread and dips are great for picnics since you don't need plates and utensils. Try making one or two of these Moroccan dips and eating them with batbout, Moroccan pita bread, or buy ready-made pita or naan bread. Another portable dish is Moroccan Kefta Stuffed Rolls, which is batbout stuffed with sauteed ground beef and vegetables. For dessert, meskouta (Moroccan lemon cake) is a tasty option. You're sure to liven up your picnic with this Moroccan cocktail made with pomegranate vodka!
Photo: Willian Justen de Vasconcellos/Unsplash