I had never sat down on a rowing machine (or any piece of smart exercise equipment) when I bought the Hydrow. I knew nothing about rowing, and certainly didn't know how happy I was going to be to have the Hydrow during a global pandemic. My primary concern was whether the Hydrow would inspire me to exercise, and six months and 150 rows later, I've never missed a day (barring travel).
The Machine
Hydrow is a smart rowing machine with a built-in 22-inch touchscreen for streaming guided workouts. The Peloton of rowing, basically. Electromagnetism, rather than water or air, creates and changes the drag on the strap, making each stroke frictionless and quiet. The seat is shockingly comfortable from row one, and rolls as smoothly as the strap as long as you keep its track absolutely dust free.
The handlebar is a different story, unless you've already got the callouses from actual rowing to protect you. I've tried Eucatape to help my hands cope, which I like a lot in spite of its more-or-less single use nature, and it can come unstuck on longer rows. I have an interesting pair of rowing gloves on the way, and I'll be testing out wrapping the handlebar in various materials as well.
The Hydrow is 25 inches at its widest point—its front legs—and its dimensions are only 25" x 33" when stored upright using an optional wall hook. A sleek design and small, tapered footprint, along with the fact that very little clearance is needed to the side or behind the machine, makes rowing in a cramped apartment totally viable, as I can attest to. MSRP is $2,200, plus $38/month for a subscription to the streaming workouts, but more on that below.
The Rowing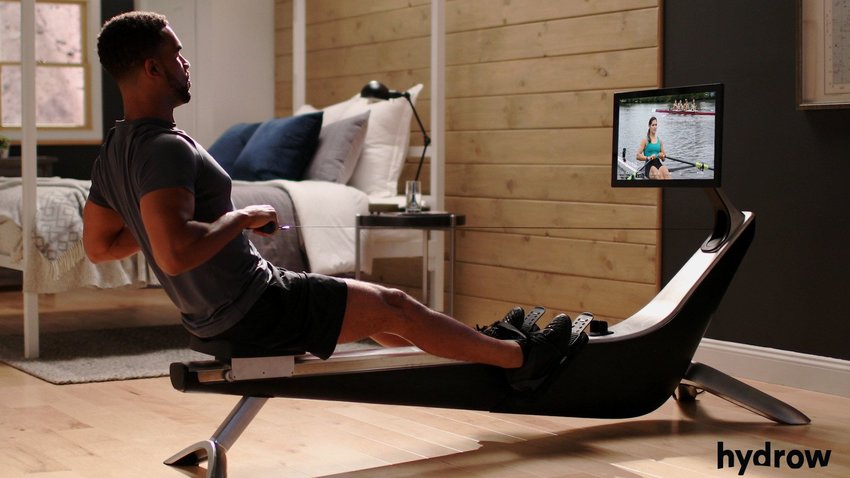 Rowing on the Hydrow is sublime. The act of rowing engages 86% of muscles and efficiently burns calories with little impact on your joints, and that balance coupled with the smooth glide of the Hydrow as you look out on the "water" in front of you make for by far the best physical fitness experience I've ever had.
As of this writing, Hydrow's library features 1,135 workouts, primarily divided into three categories in order of increasing intensity. Narrowing down to those three main categories (excluding things like Warms Ups, floor exercises, etc.) brings the total down to 783, and limiting to the highest intensity alone gets you 277. Your mileage (or meters, rather) will vary depending on what you're looking for in a row, and new workouts are added most days, so you should never run short on content.
Rowing Around the World?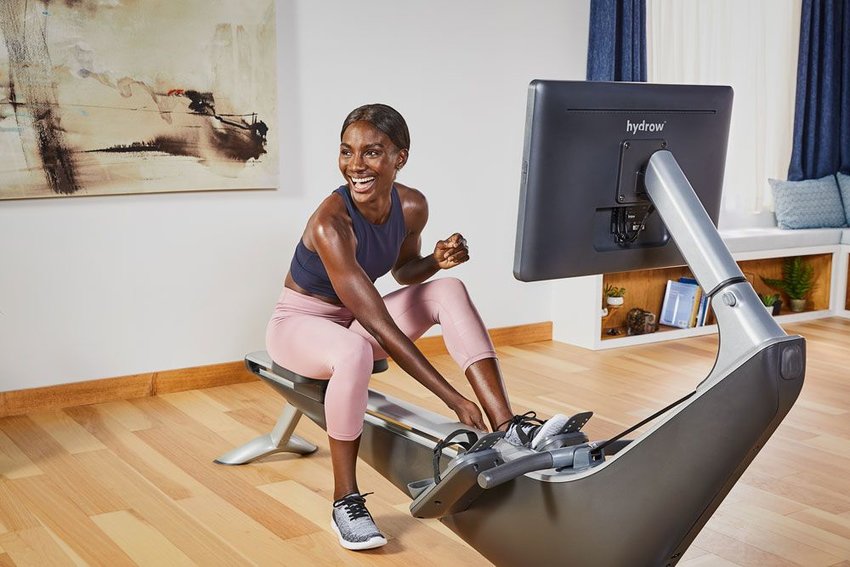 Given that a huge appeal of this machine is the experience of virtually rowing the world's most beautiful rivers, the biggest disappointment is the current lack of locales, or at least volume of workouts in those locales. The Locations tab only has three toggles: Boston, Miami, and "Destinations," with that third option only yielding 69 workouts when you drill down to the three main row types, some of which are detailed here.
Rowing Loch Ness is magical, but active rowers will burn through their body of water diversity quickly. Rowing through new and exotic locales would make for a great escape while we're all stuck at home, so here's hoping they can add some more locations soon.
The Experience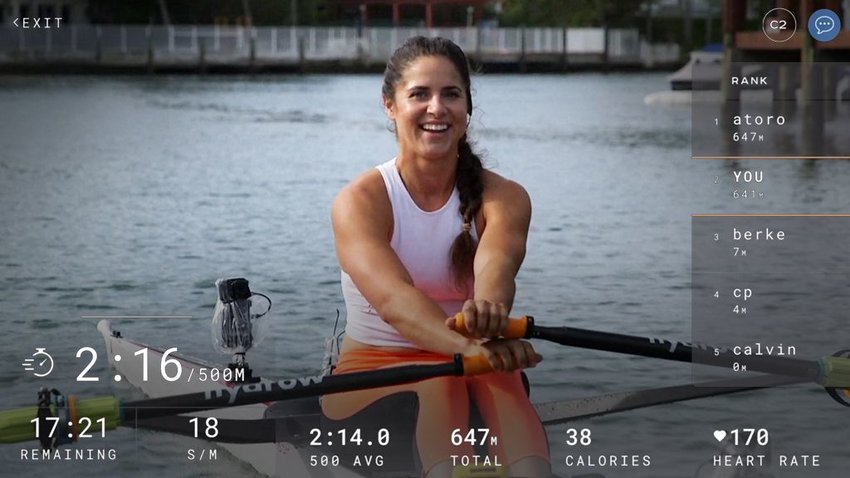 Hydrow tracks your strokes per minute, calories, total meters, average split (time to row 500 meters), and current split. It will also optionally track heart rate, and I'm sorry to tell you that as of now it can't connect to the Apple Watch, or anything that requires a pin to pair with. I bought the Scosche Rhythm 24 heart rate monitor just to use with the Hydrow, which is the best tracker I'm aware of that will play nicely. Other considerations include:

No way to make playlists of workouts
No way to play your own media, including music, through Hydrow's speakers or screen
No integration with Apple Health, MyFitnessPal, or most other services
Adequate but not snappy UI
Buggy Bluetooth pairing
In general, Hydrow's digital offering just isn't on par with their machine or their instructors, but firmware updates can hopefully go a long way toward closing that gap. Flashy pop-ups that let you know you've broken your previous distance record, for example, should be all over the rowing experience (with the option to toggle them off), but those notifications don't even come post-row in your notification feed. For every 60 active days that you row, the company makes a donation to water.org, and at various meter milestones, they'll send you gifts like a water bottle or socks, but ultimately there's a real lack of gamification here.
Conclusion and Pricing
Rowing machines are underrated. Given their almost-full body benefits, the fact that Hydrow more or less currently owns the smart rower space, and just how great a machine it is, there's a strong argument to be made for investing in and dedicating floor real estate to Hydrow. It's changed my life, so despite its rough edges, I still wholeheartedly recommend it. Plus there's a 30-day risk-free trial, if you decide it's not your thing.
About that $2,200 price tag...I pulled the trigger on my Hydrow in November when Best Buy offered a massive $1000 discount, and I'm currently seeing Amex Offers for $400 back on a Hydrow purchase on several of my American Express cards, including the Platinum, so discounts are not unprecedented. Be sure to follow our friends at Seeqr, and we'll certainly keep you in the loop about them.
I'm "Shane" on Hydrow. Be sure to give me a follow and we can get a "crew" going!