You can drop me off anywhere in the world and, even if I can't read the language of the signs, I'll figure out my way around town pretty quickly.
But there is one exception: San Francisco.
Growing up 50 miles south in San Jose, I dreaded day trips into the city — to the extent that I even blocked out its geography. As a child, I was usually dragged to San Francisco for one of two reasons: Either my family had business at a passport office or we had relatives in town and had to show them the city. And inevitably, no matter the purpose of the visit, there was always a trip to a Chinatown restaurant — which, as a suburban kid, just seemed crowded, loud and messy.
Somehow the combination of factors built up in my head to the point that I discounted the city. Maybe it was the hoards of pigeons in Union Square or seagulls on Pier 39 that haunted me as a child. Maybe it was the masses of people, some a little quirky and outspoken, when I was just trying to keep up with my parents in a crowd. Or maybe it was the dizzying mess of freeways and hilly streets that I simply couldn't untangle in my head.
Sure, there were happy memories sprinkled in as well: school trips to the interactive Exploratorium museum that I was obsessed with, buying Botan rice candy in a Chinatown grocery store (just to get the free sticker!) and a Girl Scouts Walk-A-Day career trip where we visited local media companies, but more importantly, Il Fornaio for its tiramisu.
Nevertheless, even those positive moments weren't powerful enough to break through my impressions of the city. So a few months back, I took a proper trip to San Francisco — my first as an adult on my own terms — to see how old memories of the place influenced my new impressions.
First Impressions, Revisited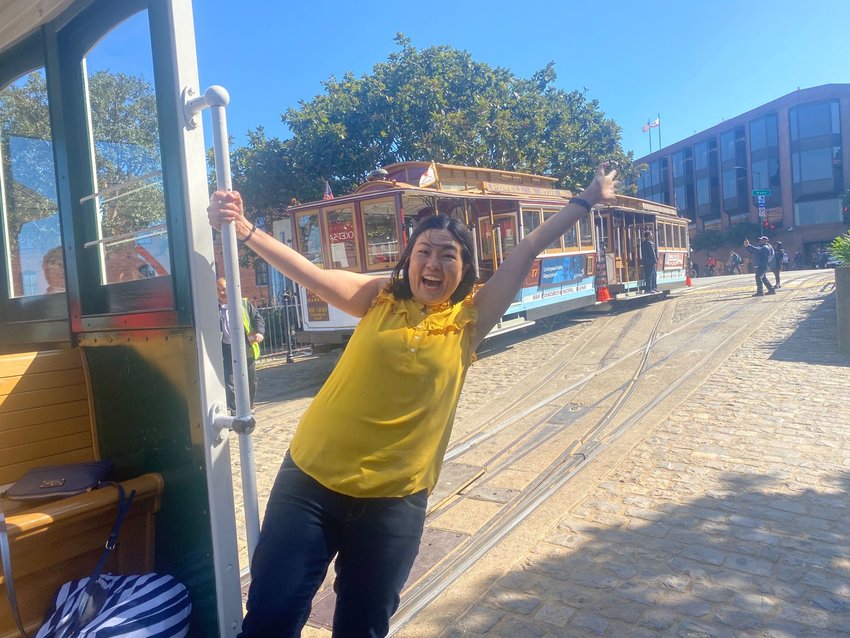 As I neared Union Square, a knot grew in my stomach. And suddenly an old memory rushed in. More than a quarter of a century ago, my family had come up to see Phantom of the Opera — and parking was a challenge, so my dad dropped us off first before going to find a spot. As the clock ticked toward showtime, I got nervous that he wouldn't make it. Just before the curtain rose, he slipped into his seat and said he parked the car in a lot for $20.
At that point in my life, I'd never seen my parents have to toss more than a few quarters in a meter to park our car, so this outraged me. I started thinking of all the things we could have done with that money instead — and thought maybe I should go have a talk with the garage later. Surely it was a mistake. I knew the city was more expensive, but that was robbery! (This was the mid 90s when the state's minimum wage was less than $5 an hour.)
This bothered me so much that I couldn't focus on the show. Not just that, I turned it into a hatred of the city for allowing them to charge that much.
But here in 2020, pulling up to my hotel, I laughed. The cost of my 16-minute Uber ride from the train station 1.8 miles away was $13.84 — and that seemed like a good deal. Had I really let one pricey parking lot ruin not just a three-hour live theater show, but my impression of this area for the last few decades?
As I looked out of the window of my room at the Westin St. Francis on Union Square, I forced those negative thoughts out of my head. Without those clouded memories, I saw everything differently… and other ones that had been buried started to emerge.
I caught a glimpse of the cable car and remembered hopping on one when my grandparents were in town. I saw the Dewey Monument where I had once come to see the huge Christmas tree during the holidays. And I noticed Macy's gridded window and thought, didn't each of them have a wreath in the middle? (Later I asked the hotel — and yes, they still do that for the holidays.)
The more I observed the scene, the more I felt something comforting about the hustle and bustle here, like it was city life doused with a laidback California cool. Maybe this city wasn't so bad.
Navigating By Memory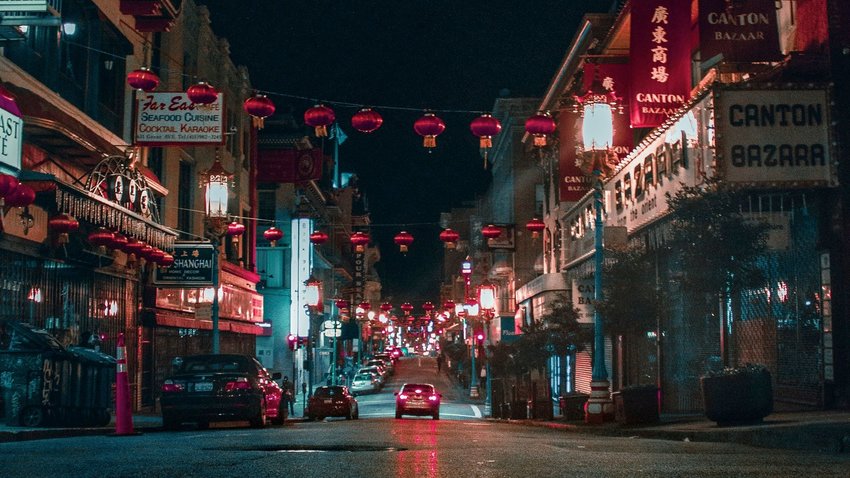 I plotted my next move: Revisiting Chinatown. Asian restaurants weren't as prolific in the South Bay in my younger days, so we'd always grab dim sum when we were in town. While the very nature of experience is chaotic, my memories were uncomfortable experiences of squeezing into packed restaurant lobbies and being knocked around while staring at a handwritten number on a ripped piece of paper until our number was called. It always felt like we were being shuffled in and out at a cattle feed.
As I walked toward the area, the first thing that caught my eye was the striking architecture. The Dragon's Gate instantly looked familiar, but this time, I learned that it was completed 1970 with materials from Taiwan, where my family is from. And beyond that, the 24 blocks of the neighborhood were filled with ornate homes that I had never taken the time to look upwards and appreciate.
At one intersection, I saw a small park and was suddenly flooded with memories of running around an open area after our meals. I wondered if this was the same spot. So I walked into St. Mary's Square and indeed it perched on top of a parking garage like I remembered (apparently, my vehicular memories of San Francisco run deep).
But what I hadn't noticed before was the public art, most notably a 12-foot statue of Dr. Sun Yat Sen, which has been standing there since 1937. Also, in the park was a Comfort Women Memorial that just went up in 2017, dedicated to women mistreated by the Japanese soldiers during World War II.
Roaming the streets on a Thursday afternoon, it felt like a whole different world than the weekend lunch crowds I remembered — and it gave me space to appreciate the area.
Of course, I couldn't leave without some sort of candy, so I decided to upgrade from those 99 cent boxes I loved as a kid and stopped by Dragon Papa Dessert for traditional beard candy, named as such since it's hand pulled until it's as thin as a beard. "That's my aunt making them," the gentleman behind the counter told me, adding a dose of authenticity to the sweets.
The following night, I went back to Chinatown for dinner at China Live, opened by restauranters George Chen and Cindy Wong-Chen in 2017. The sleek modern hotspot — and its second-floor speakeasy — were a stark contrast to the aging restaurants with stained tablecloths that I recalled. Clearly this wasn't just the old Chinatown from yesteryear anymore. Even this neighborhood was keeping up with the times and shattering my misconceptions.
Geography Lesson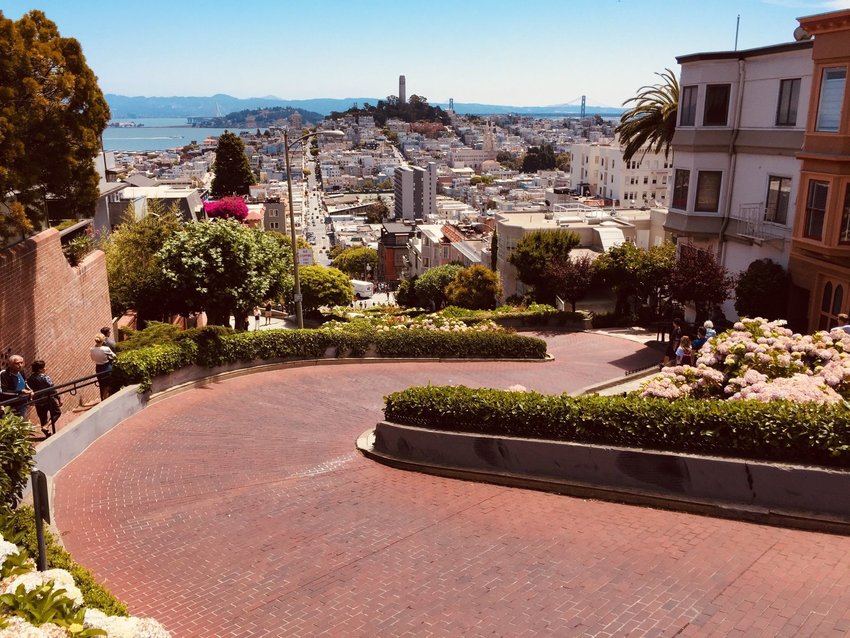 Now that the city was growing on me, it was time to tackle my biggest challenge here: Geography. So I went up to the The Lounge on the 39th floor of the San Francisco Marriott Marquis. As the sunset cast a burnt orange canvas across the sky, I finally could see how the city's landmarks sat on the seven-mile square peninsula. (And realizing seven times seven is 49, like 1849, when gold was discovered in California was mind boggling. No wonder my parents are such dedicated San Francisco 49ers fans!)
As much as I had studied maps, this aerial view broke down my previous mental blocks and started to piece the puzzle together. One thing that always threw me off were the hills, but this vantage point made it easy to see how the city grid worked within the topography.
Across the way, I saw another viewpoint, the Coit Tower, so I headed straight over before dark. After battling my fear of stairs to climb all the way up the 284-foot high Telegraph Hill and then taking an elevator up the 210-foot high tower, I was treated to a 360-degree view of the city from Pacific Heights. I filled in the missing pieces, identifying sites like Alcatraz, the Transamerica Tower, the Salesforce Tower — and in the distance, Golden Gate Park… or so I thought.
Stitching Together the Pieces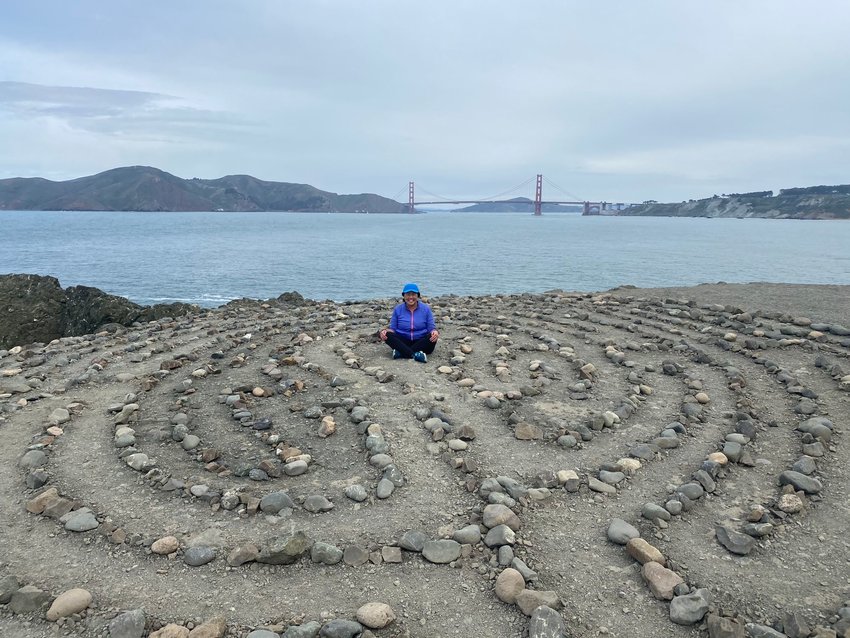 One thing that always eluded me was the Golden Gate Bridge. Even though it runs north-to-south, somehow in my mind, it went east-to-west, like the Bay Bridge. So I decided to get to know Golden Gate Park, by running through it.
The first thing I learned when I got there: Golden Gate Park was nowhere near Golden Gate Bridge (oops!). But I needed to figure this out, so I just started wandering. I hadn't realized that so many prime sights were all within the park: California Academy of Sciences, San Francisco Botanical Garden, the Japanese Tea Garden and even two windmills and a herd of buffalo.
Exiting the park, I went toward the bridge and found myself in a park I didn't even know existed, Land's End. The steep climb up was well worth it for the sprawling coastal views of the Pacific Ocean beaches. But when I saw there was also a Land's End Labyrinth, I had to find it.
Already conquering the upward climb, now I was faced with a steep staircase down a cliff. This didn't seem worth it. As I inched down each step, I asked every passerby how much further — and steeper! — it was. Everyone shrugged it off like it was no big deal. Maybe it was the California comfort, or maybe there was some sort of prize at the end.
Soon, I understood why they all encouraged me to keep going. It wasn't just about the stone art made by local artist Eduardo Aguilera — it was the panoramic view from this seemingly secret corner, so deserving of the name Land's End. Jetting out just perfectly, the ocean view meets the bay view, with the majestic Golden Gate Bridge (indeed going north-south) as a backdrop.
Still, I was quite a distance from the bridge, so I kept forging ahead. It wasn't until I got to a third park — the Presidio of San Francisco — that I finally found the (previously) elusive orange suspension bridge in all its glory, and the parking lot we used to pull into for our photo opps.
As I reveled in the grandeur of standing in the shadow of the landmark that has long been the icon of the state I grew up in, I realized that perhaps childhood memories often come along with childish emotions. Hanging on to all those silly feelings had made me avoid a spectacular city — right in the vicinity of my hometown — for so many years.
A few crowded restaurants and a few extra dollars for parking seemed like ridiculous reasons to miss out on this glorious place. Without them, I wouldn't have had any exposure to this city at all. And suddenly, I realized that all those visits that seemed to be such a drag were actually, well, a San Francisco treat.