From a sizzling hot paella to a table filled with tapas, the food of España is an experience that is meant to be shared. And while traveling to Spain may not be on the proverbial plate at this very moment, there's no reason its food shouldn't be.
Tapas, a traditional type of Spanish cuisine, consists of varied dishes served and shared on small plates. The origin story of tapas is said to come from King Alfonso X of Castile, who was recuperating from an illness and fortified himself by dining on small snacks that were served alongside his drinks.
Today, tapas are much the same — the small plates can be served for a snack or a light supper, and are often a good excuse for a cold beer or a glass of wine. And since many Spanish dishes are made with basic ingredients, a tapas night is an easy experience to recreate at home. Cook one or all three of the following popular dishes, add in some Spanish olives, Serrano ham, or salty peanuts, and enjoy a tapas night at home. Buen provecho.
Tortilla Española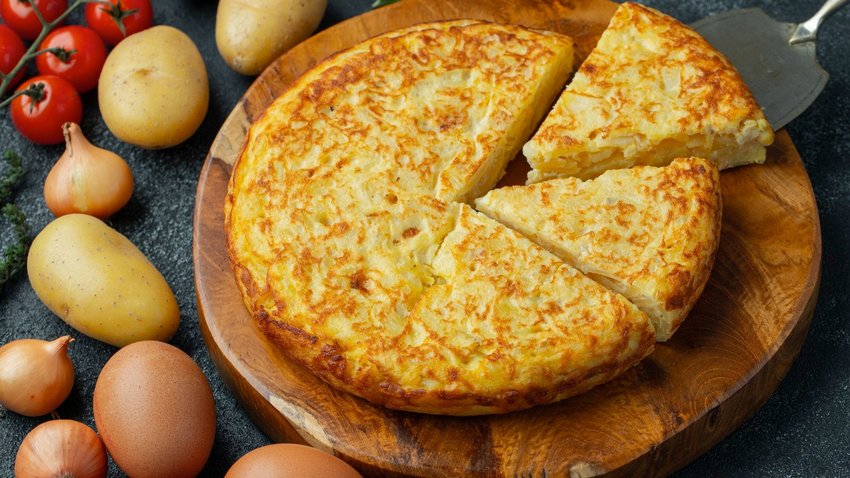 Tortilla Española, also known as Spanish tortilla, is one of the nation's most popular dishes. Spain's version of the omelet, tortilla Española is made with basic pantry staples: olive oil, potatoes, onions, and eggs. It might not sound like much, but from these humble ingredients, a rich and filling dish emerges. After the potatoes and onions are bathed in an ungodly amount of oil, they're soaked in the eggs and cooked on the stovetop. The end result is a meltingly tender dish that resembles a frittata but tastes much more robust. After one successful Spanish tortilla at home, this is a dish you'll want to make again and again.
To Make
Countless recipes and variations exist for tortilla Española, which means it's a fun dish for experimentation.  Personally, I enjoy the method and ratio used in this recipe from Penelope Casas' cookbook The Food and Wines of Spain (also available from Amazon). If you want to jazz it up, other recipes call for ham, peas, peppers, or cheese. Once you get the knack for cooking the tortilla (and flipping it), you won't even need to look at the recipe anymore. I often rely on using one large potato for each egg — a trick I learned from a very nice abuela in Madrid.
To Eat
In Spain, tortilla Española can be eaten for any meal, served either as a wedged slice or cut into cubes and eaten with toothpicks. It also can be served hot or cold, although I prefer it at room temperature, which means it's the perfect dish to take on a picnic.
Equipment Needed
A nonstick frying pan like this one from Caphalon and a good pair of oven mitts to flip the tortilla.
Gazpacho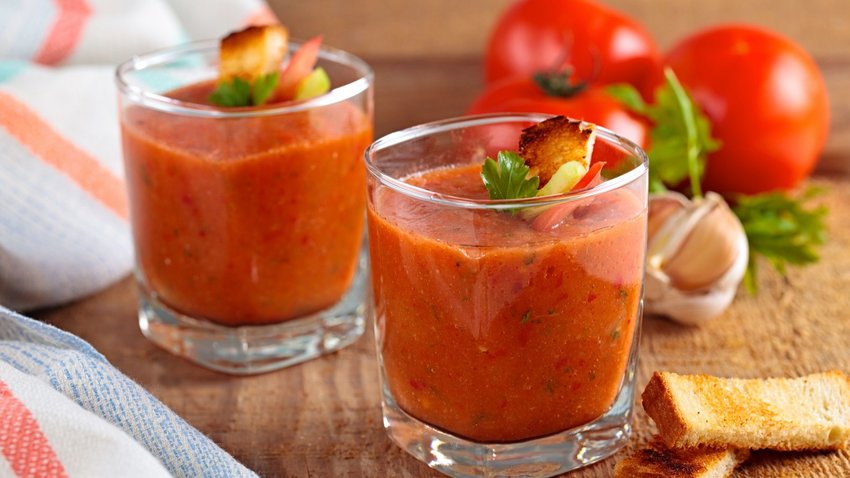 Another ubiquitous dish found throughout Spain, gazpacho can be served in smaller portions to fit into a tapas menu. The simple yet refreshing soup requires combining olive oil with fresh summer vegetables like tomatoes, cucumbers, and peppers, in addition to onion, garlic, and vinegar. The dish originated hundreds of years ago when laborers in Andalusia were given day-old bread and oil to eat for a midday meal. When the laborers added discarded vegetables to the bread and oil, they ground the fragments into a soup, and gazpacho was born. In fact, the word gazpacho is believed to be derived from the Latin word caspa, meaning "little pieces."
To Make
The best gazpacho I ever tried was made by a friend with Spanish heritage, who lived in Spain with her family as a young child. Her loosely written recipe, as directed by her father, is as follows: combine 4 big tomatoes (skins on or off, it's a matter of preference), ½ large white onion, three inches of a peeled cucumber, 2-4 garlic cloves, and ½ green bell pepper into a blender or food processor. (If you have the time or tenacity, her father also recommends skipping the machinery and chopping the vegetables by hand to create the perfect consistency.)  Add good quality olive oil and red wine vinegar in a 3:1 ratio; salt and pepper to taste.
To Eat
Unlike in the past, modern-day gazpacho is always served cold, so plan on making it ahead to chill in the fridge for a couple of hours, or even overnight. For a true tapas menu, serve in small glasses for your guests to sip throughout the meal. It also can be poured into a Hydro Flask or other thermos water bottle, to take with you on-the-go.
Equipment Needed
Unless you have time to chop it by hand, a good blender or a large food processor is essential.
Patatas Bravas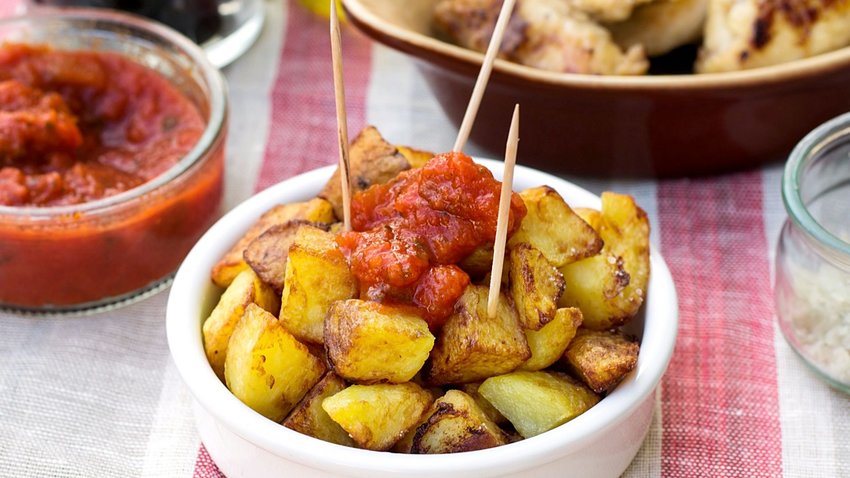 Almost every country enjoys its own iconic potato dish, and in Spain, it's called patatas bravas. Translated to "brave potatoes," this popular tapas dish is named for the spicy tomato sauce that accompanies the tubers. Although it originated in Madrid, you'd be hard-pressed to find a tapas restaurant in Spain or Catalonia without its own version of the brave potato. Just as you might enjoy fries in the U.S., patatas bravas are perfect for a midday snack with friends and are especially tasty when enjoyed with a cold beer.
To Make
To cook patatas bravas at home, I recommend Penelope Casas' recipe for Patatas Bravas and Verduras, found on page two. The key to roasting the potatoes is patience — once the potatoes are inside the oven, resist the urge to touch them. You want them to crisp up nicely and get all the browned, delicious edges that make patatas bravas so delectable. As for the sauce recipe, it's perfect as written, although the spiciness can be adjusted as needed.
To Eat
Traditionally, patatas bravas are served with the spicy sauce smothered on top of the potatoes, but I prefer to serve it on the side like ketchup. It's also not uncommon to eat these potatoes with garlicky mayonnaise, which also may be drizzled atop the potatoes or served on the side.
Equipment Needed
Any baking sheet will do, but using a Silpat or a lined baking sheet will help to crisp the potatoes quite nicely.
Photo by Elena Eryomenko