I caught my first glimpse of the San Francisco skyline from the backseat of our family's Volvo as my parents rattled off our itinerary. I was about 10 years old and beyond excited about the day trip from my hometown of San Jose, so I asked if I could see the AAA map to see where we'd be going. As my dad passed it back to me, a gust of wind swept the map out of his hand and through the open sunroof — and in a pre-cell-phone age, our perfectly planned day went out the window with it.
While I can't recall the details of where we ended up that day, I remember it being filled with delightful unexpected discoveries that we found by simply following our instincts.
Flash forward to today and I so often find myself standing in front of a restaurant checking its Yelp reviews before stepping inside or using Google Maps to find the most efficient route between landmarks — completely doubting my intuition.
So in December, I decided to try an experiment: Go to a city I'd never been to and explore it without using my smartphone. Relying solely on what little I'd heard and read about the city, Portland, Oregon, felt like the right choice. So I booked a flight and hotel (basically the first one that popped up) — and took off.
First Impressions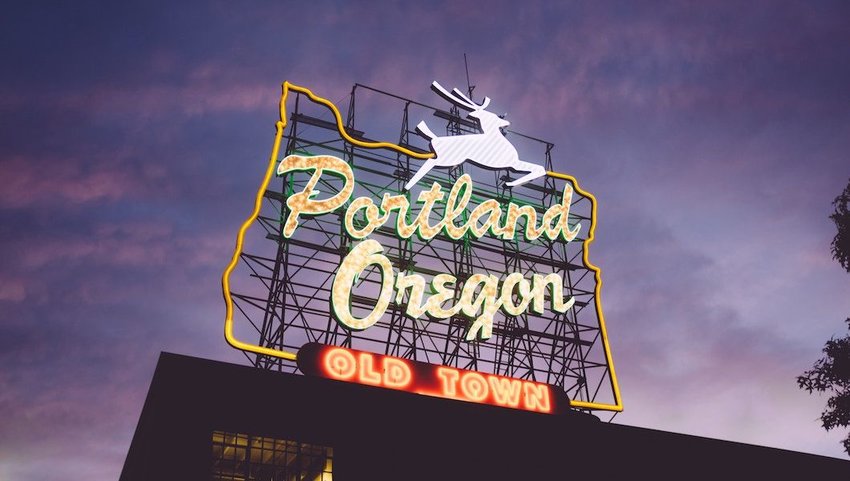 As I arrived at the airport, I considered what I knew about the city: rainy days, craft beer, coffee, an edgy food scene and the ginormous bookstore Powell's Books. That's about it.
It was well past 9 p.m. when my Uber pulled alongside a body of water that I later learned was the Willamette River. Soon, a small and stumpy skyline came into view. It was hard to tell much about the personality of the city in the dark, but one sign jumped out: a retro neon sign reading "Portland, Oregon" in the outline of the state with a stag above it. Fun and funky. I'm going to like it here, I thought.
We crossed a bridge and wound through the streets. The first few blocks felt like a smaller Chicago. Another few blocks in, I got more of a Boston vibe. Stop trying to compare this to other places, as I reminded myself to start with a blank palette.
I was dropped off in front of a very classic-looking hotel. As it turned out, I had scored a crazy deal for less than $90 a night at the historic Benson Hotel, one of the city's top hotels right in the middle of town. (Thanks, Agoda!)
As the front desk concierge checked me in, I pressed him for tips. "What's your favorite thing to do in town?" He said shopping since the city had no sales tax. Noted. Since it was already drizzling, I asked what the best rainy day activity might be. "Just walk around," he advised. "Portland's even better in the rain."
Navigating By Instinct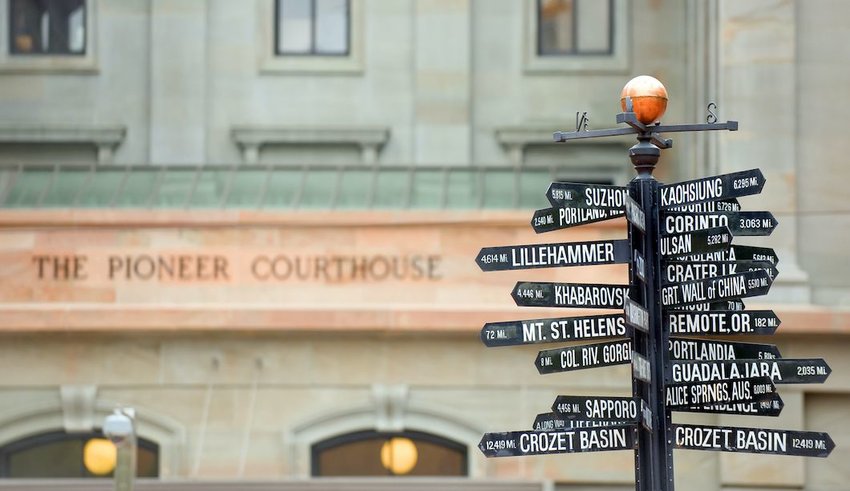 The next morning, I put on my raincoat and boots, grabbed my umbrella and started walking. I was so used to having every moment of my travels plotted out that I felt naked without an agenda. But I was determined to stick to this plan. Unless I was taking a photo or checking my work email (which I severely limited), my phone was to stay in my pocket.
I wasn't sure which way to start, but quickly saw a sign for Pioneer Courthouse Square and remembered the concierge mentioning it. In this world of crowdsourcing, following one person's suggestion seemed inefficient, yet it was the only cue I had to go by, so I followed.
As I rounded the corner, I let go of any hesitations. This was definitely a major landmark, as indicated by the giant Christmas tree, multiple food trucks and signs hawking various tourist activities. At the edge of the square, there was a sign pointing to the Waterfront seven blocks away, so I turned. After all, I never met a waterfront I didn't like.
I was expecting the kind of fanfare I'd encountered at New York City's South Street Seaport. But this wasn't that. Portland seemed more modest — with an old industrial bridge taking center stage.
The paranoid part of my brain started churning. I had gotten an early start since local news had forecasted rain for the bulk of the day. Sure enough, only ominous clouds lurked in the distance. Also, besides a handful of bikers and joggers, there weren't many people around. Was this area safe? The concierge had mentioned a sketchy part of town to avoid as a solo female traveler. Maybe this was it. I had passed by a few shady characters under a bridge. As far as I could see, there weren't any major landmarks or populated areas in the distance.
The further I went, the more doubts set in. Maybe the best move was to head back toward the more lively touristy area.
Fighting the Urge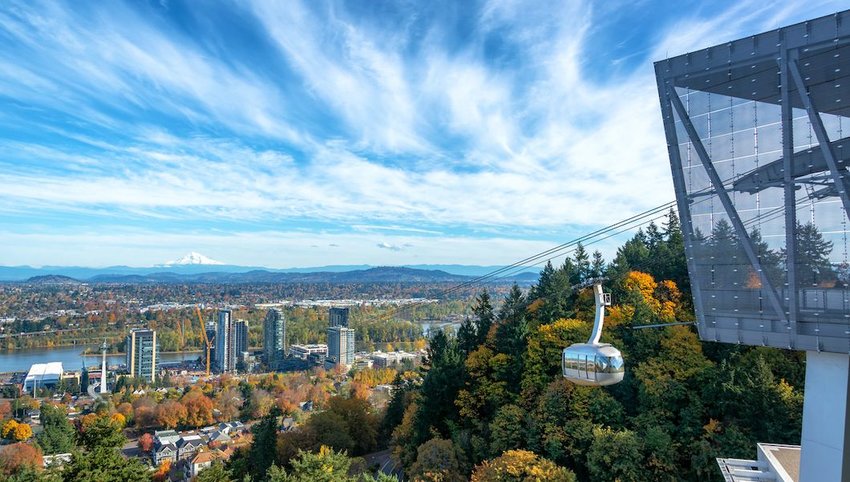 Just as I was about to turn around, I saw a sign for an aerial tram. Long obsessed with seeing sights from heights (whether it's somewhere as iconic as Taipei 101 in Taiwan or a tiny funicular in Locarno, Switzerland), I had to go.
But how far away was it? The solitude made it feel like I'd been walking forever. For all I knew, the tram could be miles away on the other side of the city. After all, none of the hills in view seemed tram-worthy.
This whole method was fighting all my instincts. When I travel, I'm typically in a place for so little time that everything becomes about efficiency. I want to pack in all the highlights and make sure I experience every element the city has to offer. What if I wandered another few miles to find it was only accessible by car?
I reached into my pocket to pull out my phone. No, not now. I'd come this far!
I started searching for visual clues. I looked high (maybe there would be signs of a tram cable?) and low (I spotted decorated boats in the harbor and delightful roses on storm drain covers), but there was nothing helpful. Finally, as I rounded a corner near what seemed like a dead end, I saw something moving in the distance — could it be the tram? Sure enough, half an hour later, I found myself in front of a giant retro sign reading "Go By Tram." Success!
As I excitedly handed the ticket-taker my pass to board the tram, I wondered why I was one of the few touting a ticket. But I was soon distracted as we started moving high above the Portland streets.
At the top, the view was vast, but covered in clouds. On a clear day, this would be spectacular. After all, I thought I could make out a couple of peaks. Weren't Mount Hood and Mount St. Helena somewhere in the vicinity? Maybe Google Maps could point out which way to look. Nah, I was better off imagining them. Knowing where they were behind the thick fog would be more frustrating.
I quickly realized I was the only one preoccupied with the view. No one else seemed to be looking out the window. That's when I realized, this wasn't a tourist tram. I was in a hospital.
The tram mostly transported the doctors, staff and students between the two campuses. On my way down, I noticed a doctor with a cooler marked "Tram Transport." Was it an organ — and should a silly tourist be in such close quarters with it? Alas, I now knew that Portland had top-notch medical transport.
A Jumping Off Point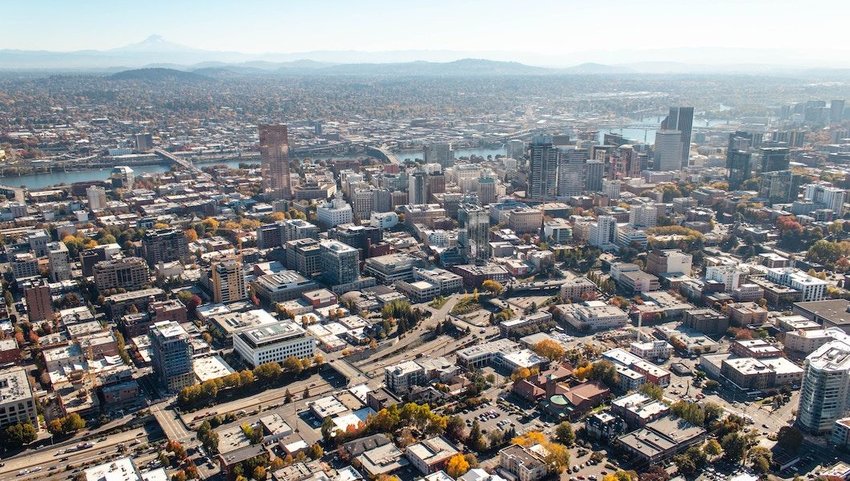 By now, the rain was really starting to pour, so I got on the Portland Streetcar. For $5, a day pass seemed like a perfect way to see the town and stay dry. I rode it for a while, eyes peeled for something noteworthy. A shop on Northwest 23rd Street eventually caught my eye, so I hopped off.
What looked like an old school vintage donut stop was actually the very modern Blue Star Donuts — the kind of shop that sells CBD Chocolate Hazelnut Custard donuts. I opted for the Meyer Lemon and Key Lime Curd, then, fresh off the sugar rush, I strolled down the street, stopping at Jim & Patty's Coffee for a pig newton (a pig-in-a-blanket meets a newton) and Tender Loving Empire for some shopping. Reveling in the charm of this part of town, I finally asked where I was. Turns out I had happened upon the trendy Nob Hill area.
Eventually, I made my way to a visitor center. It had been years since I'd gone to an information booth like this for advice, but being Google-less, I needed them.
The first volunteer pulled out a map and diligently pointed out the highlights helping me get my bearings and figure out where I had been. When he pointed to the tram, I laughed — admitting I'd gone up to the hospital. "We actually have started sending tourists there for the view," he said. Immediately, I felt justified. Maybe exploration by instinct wasn't such a bad thing.
Seemingly impressed that I'd found the tram on my own, another volunteer came over and handed me a sticker of a rose as a souvenir. Turns out, she explained, Portland is the City of Roses — that's why I'd seen the floral storm drains! Next thing I knew, we were all deeply immersed in conversation, talking about music (they pointed me to a local music shop), the charm of Portland's oddities (like the eclectic McMenamins hotels and bars built in old theaters, schools and churches) and holiday traditions, like the Christmas Ships, where locals decorate their boats and sail in a parade every night. While one volunteer looked up what time and which rivers they would be on that night, the other reminisced on her foolproof method to see the boats without having to deal with the crowds. Of course, I was intrigued — and immediately added it to my must-dos.
Almost half an hour and a bag of brochures later, I was equipped with analog information — and the most important detail: I was only a few blocks from my hotel!
That Human Touch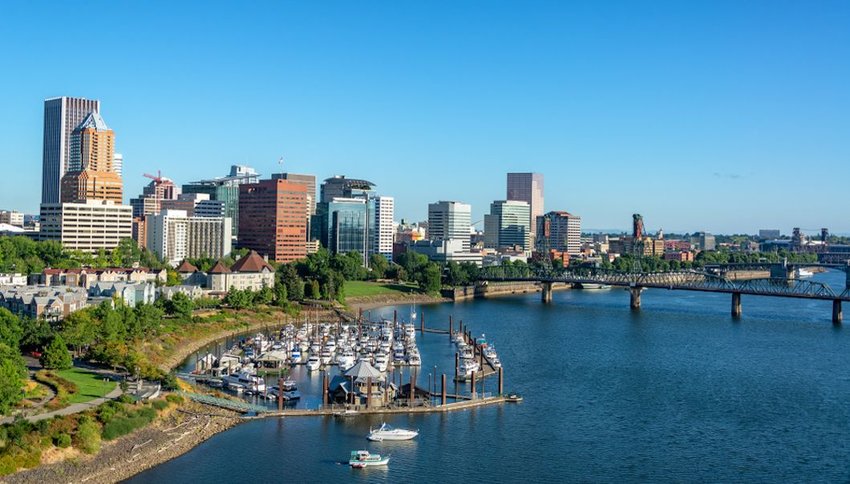 With a newfound sense of confidence — and a deeper understanding of Portland — I headed back out. That afternoon, I found myself enjoying Zen and baos at the Lan Su Chinese Garden, playing my old favorite video game Mappy at Ground Kontrol Classic Arcade and riding the entire "A Loop" of the Streetcar. And I spent the evening following the visitor center's exact recommendation of going to McMenamins Crystal Hotel bar for a drink, Everyday Music to browse the old CDs, and Deschutes Brewery for dinner washed down with the local brew.
At home, I'd never think of going to a bar alone, but there was something so comforting and welcoming about sitting here among the Portlanders, indulging in their local brewery scene. Or maybe it was just that I was feeling extra confident from having such a fruitful day of discovering city sights from actual human recommendations and not a computer's algorithm.  Having conversations about the local landmarks had given them more personality, like when the volunteers simply described the Deschutes' decor and food as "very Portland."
I still couldn't let go of the volunteer's enthusiasm about the Christmas Ships, so I headed back to the waterfront, expecting to see crowds greeting the boats. Again, it was fairly empty. As I got closer to the river, I saw a young couple walking away and asked them, "Did I just miss the Christmas Ships?"
They'd been there a while and hadn't seen them either. Relatively new to the area, they were taking a rare weeknight out on the town to get to know their new hometown. Despite the rainfall, we ended up chatting for about an hour. Admittedly, if I had run into these two elsewhere, we probably wouldn't share more than a quick nod. But here we were, diving into each other's lives and backgrounds and what brought us to the present moment. They were so taken by my no-phone experiment that they started sharing tips. The top of their list was the ice cream at Salt & Straw, as they raved about the pear and blue cheese flavor. "Blue cheese in ice cream," I said with a scowl. "Trust me," the wife said with a grin. Before we gave up on the boats, I took one last look at the river. "Is that a Christmas ship?" I asked.
While I had been expecting a major festival, what followed was a sweet and funky parade of about a dozen boats decked out with decorations. Some had traditional holiday decor while others had sharks and dragons with Santa hats.
"This is so Portland," I found myself saying out loud, realizing that in between donuts and arcade games, I had somehow figured out the essence of this quirky, lovable city.
That night, back in my cozy and dry hotel room, I let myself Google "Portland" for the first time. Sure enough, I had hit some of the highlights, but there were things I'd completely missed as well, like some of the food trucks that had limited hours.
Before my travel FOMO kicked in, I shrugged it off. After all, exploration isn't about going to the most recommended or most popular hotspots — it's about finding that slice of the city to make yours. By talking to people, they got a sense of the kinds of experiences that would fulfill my style of discovery, so the tips were personalized in a way no targeted search engine could replicate. Popular opinion from an app may get a landmark to the top of a results page, but there is no formula for traveling. And the art of travel becomes so much more personal when you learn to let go of the phone.