The Philly cheesesteak, a delightful melange of cheese and sautéed beef generously slathered into a crusty roll, is an institution in the City of Brotherly Love. Failure to have one while visiting Philadelphia is as egregious as not stopping at Independence Hall to see where our nation was born, something that speaks to how proud Philadelphians are of their namesake sandwich.
And with that pride comes numerous options, from the oft-recommended Pat's and Geno's, a pair of "dueling" sandwich shops directly across the street from each other, to restaurants where a cheesesteak doesn't jive with the rest of the menu but, because it's Philadelphia, is right there next to the linguine with clam sauce.
Before you make a hasty decision to satisfy both your hunger and your requirement as a visitor at the first apparently decent option you come across, I urge you to reconsider such an impromptu move. In fact, I urge you to leave the city altogether.
The best Philly cheesesteak isn't made in Philadelphia; it's made in New Jersey.
Meet Donkey's Place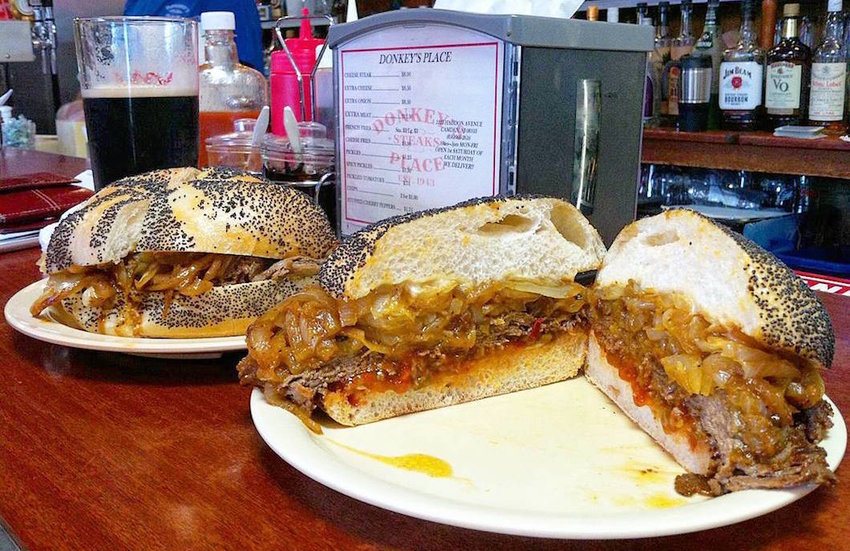 A short drive over the Ben Franklin Bridge is Camden, New Jersey, home to Donkey's Place, a corner dive seemingly disinterested in attracting hungry tourists. The tan brick building with its faded awning and generic font signage is remarkably unassuming. Instead of vacationers debating whether to say "wiz wit" to the cashier, you'll find a handful of regulars knocking back cold ones while watching the game on a propped up TV. Old neon beer signs flicker as bartenders wipe icy rings left from nondescript pint glasses. Servers dressed in Donkey's Place t-shirts scribble orders on notepads with old Bic pens. Such an unpretentious setting is fitting for such an unpretentious meal.
A disclaimer: there is something about the cheesesteaks at Donkey's Place that some Philadelphians may find blasphemous — something, I assume, that keeps the Camden bar from appearing on more "Best Of" lists. Whereas your classic Philly cheesesteak is served on a hoagie roll, a cheesesteak at Donkey's Place comes on a kaiser roll covered in poppy seeds. Does this disqualify it from cheesesteak championship contention? I can't answer that. But I assure you this decision is a delicious one.
Besides, you don't need to take my word for it; the late Anthony Bourdain made a similar proclamation, though he surmised that the roll makes such a sandwich a Jersey cheesesteak, not a Philly cheesesteak, a phrase, as a native New Jerseyan, I have never heard before. But really, your stomach doesn't care about semantics.
What's the Secret?
What is it that makes the cheesesteak at Donkey's so good? What reason could you have for beelining it out of Philadelphia for a single meal? As with any great dish, it's a total team effort among all ingredients, though, if I had to pick one, I would give the nod to the onions. They're caramelized into a jam-like consistency and ooze out the sides when you press down on the kaiser roll. Covered in American cheese, they cling to the exterior, catching tumbling poppy seeds and preserving all elements for a later bite. Other cheesesteak establishments will ask if you want onions; at Donkey's they come standard. There's a reason.
Donkey's Place also uses a secret seasoning blend that aids in the development of an umami profile often reserved for Asian dishes and hearty stews. It's ultimately rich and heavy, unctuous in a way few other cheesesteaks are. One will leave you tired but blissfully satiated. Your mouth will feel coated and the flavor will linger as you cross back over the Ben Franklin Bridge to continue your tour of Philadelphia.