First I looked down at my feet. I was wedged into a triangular corner between two slabs of glass. Then I looked past my feet. The view beyond was like a miniature model of New York City. I immediately could make out Madison Square Garden and the New York State Building — and as my eyes traveled up, I could see the Empire State Building and Williamsburg Bridge.
To my left, there was a patch of greenery, which was clearly Central Park, and a cluster of skyscrapers that had to be Times Square. And to my right rising above everything in the distance was One World Trade and the speck in the distance was the Statue of Liberty. They were all so, well, cute — as if they came out of a toy set. Except that they were real.
Perched 1,100 feet up in the air on the Eastern Point platform jutting 80 feet out from the 100th floor of 30 Hudson Yards, this is The Edge — New York City's newest viewpoint, and the highest outdoor skydeck in the entire Western Hemisphere. While I scored an invite to the opening day festivities March 11 just before it opened to the public that afternoon, the new attraction has been temporarily closed since March 13 due to COVID-19 concerns, though it's due to reopen in September.
I've never been comfortable with heights, so if I paused for even a second to think about the long way down to the bottom, especially in this open-air space, my legs would immediately turn to spaghetti. So I focused on studying what looked like a living 3D map of Manhattan, watching the 8.4 million residents of New York City scurry about their daily lives.
I had been to all the other vantage points in the city — and had even been on several flights to Laguardia Airport that traced the perimeter of Manhattan before landing in Queens — but there was something extra mesmerizing about this viewpoint. And it wasn't just because it was shiny and new. Somehow the experience felt immersive, like being held up on a giant's sturdy palm as he reached over the city's grid.
Even though I've lived in the area for 17 years, standing here gazing out at the sights I knew so well put an entirely new spin on my perspective of the city.
Heights and Sights Around the Globe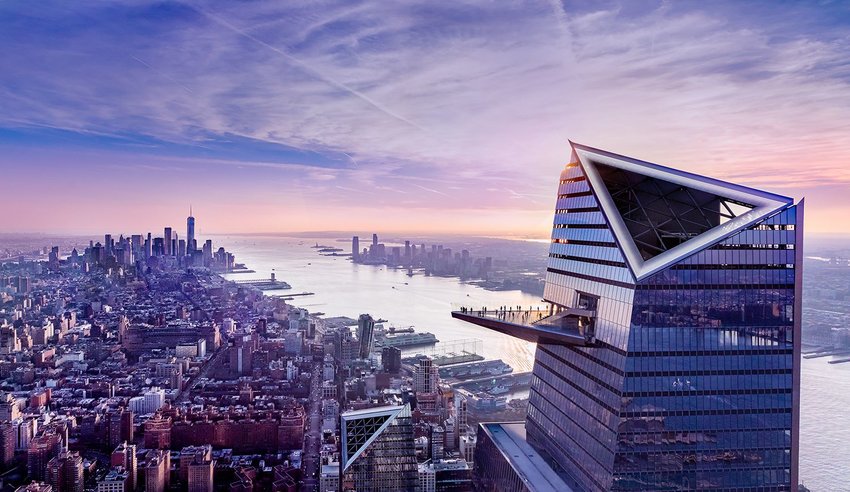 I didn't always feel that way about heights. I vividly remember going to the Grand Canyon as a kid and being so excited to see the view from the rim, but then immediately backing away from the edge. That all-compassing fear of being so high up overtook me — and my entire body went numb.
But a strange thing happened when I started traveling on my own. I found myself instinctively drawn to places that required riding up a funicular (like the TelefériQo in Quito, Ecuador; the Funicolare Locarno-Madonna del Sasso in Locarno, Switzerland and Petřín in Prague, Czech Republic) or a zipping up an elevator (like the CN Tower in Toronto, Canada; Taipei 101 in Taipei, Taiwan, the Willis Tower in Chicago and Space Needle in Seattle).
It just became a habit — and it wasn't until recently when fellow travelers in Quebec City questioned why I was prioritizing going to the Observatoire de la Capitale and those in Verona asked why I spent our short amount of time there visiting the top of the  Torre dei Lambert that I realized the commonality. Apparently I was drawn to elevated viewpoints where I could see how all the pieces in a city fit together.
Hometown Perspective Shift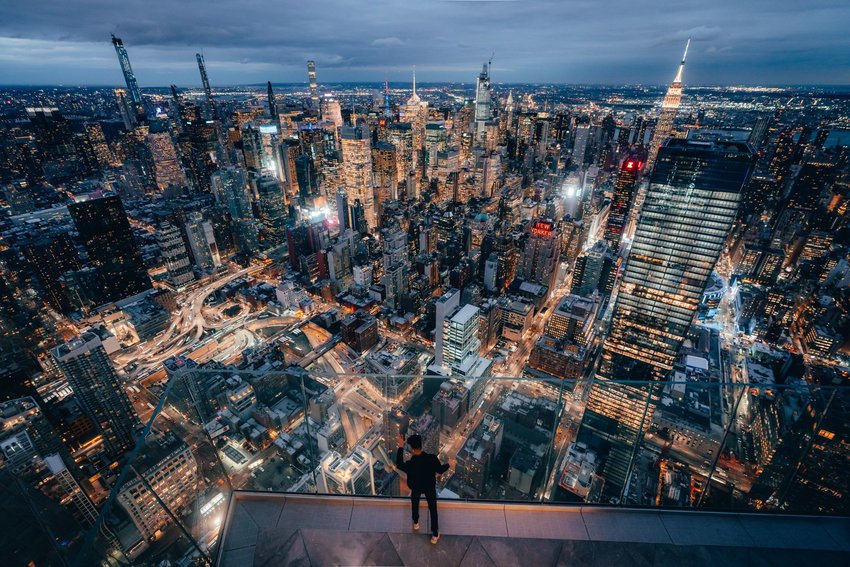 Here in my own hometown though, I had been to all the iconic towers — One World Trade, Top of the Rock and even the private 103rd floor of the Empire State Building — all hovering above central locations of the city (Rockefeller Center, 34th Street and the 9/11 Memorial, respectively). But The Edge is set off to the west side above Hudson Yards between 32nd and 33rd Streets between 10th and 11th Avenues, and it rises above the city with a panoramic view that fans out across all of Manhattan.
"I honestly felt pride the first time I saw the view," Brian G., who works as an ambassador at The Edge told me. "I've lived in the city all 27 years of my life and getting to see it from so high up and a completely different angle was mind-blowing and magical."
Having previously worked at Top of the Rock, he clearly knows the difference. "The view there was also nice because it gives you more of a sunken view since you're in the space with everything around you," he explained. "But The Edge provides an overhead view from a more elevated point."
He also gave me an insider tip to look straight down from the western point of the deck — and you get a view directly into the middle of the city's other new icon, the Vessel — a set of 154 staircases woven together in a pineapple-like shape. Indeed, what seemed like such a behemoth structure from the ground level looked like a tiny accessory from 100 floors up in the sky.
Hanging On For Dear Life
Wandering around the 7,500-square-foot observation deck, which weighs 765,000 pounds and has 15 sections bolted together — each between 35,000 and 100,000 pounds — felt sturdy and secure. Even the glass floor portion in the center, looking straight down at the street below, felt solid.
But when I posted photos of it, my heights-fearing friends exclaimed, "This gives me vertigo," "I got flat-out dizzy" and a simple "Nooooo!" I was baffled. In the moment, it didn't feel nerve-wracking at all. But then I looked at the view from below. The deck literally was jetting out from the building, hovering in the sky, creating the illusion of being airborne. All I had done was take a 52-second elevator up, yet I seemed to be floating on top of the world.
During my visit, a group of performers from the Oakland, California-based aerial dance company Bandaloop took the experience to even further heights by scaling the part above the 100th floor and performing a vertical dance on it for the opening day celebration.
"We were all overwhelmed," dancer Jessica Swanson admitted. "There's so much sensory input up there with the glass being completely reflective, but the view is beautiful." Now living in the Bay Area, she used to call New York home. "I haven't seen it from this height and this is completely a new experience," she said. "I can see the places I used to live — the city looks so much bigger now."
And she was right. Even though everything looked toy-sized and small, from this point of view, I had gained a greater appreciation for how beautiful this massive community of New York City is truly stitched together.