The Good Food of Szechwan: Down-to-Earth Chinese Cooking is something of a cult classic, considered by many to be the definitive book about home-cooked Chinese food in the U.S. Written in 1974 by Robert A. Delfs, it's collected a host of devotees since then, myself included.
The book showcases the Sichuan region's most beloved dishes, including details on essential ingredients and how to use them, and the techniques and equipment necessary for cooking authentic Chinese food at home. The slim hardcover may appear basic — the photos are few and the print is small, like a textbook — but don't let that dissuade you. The recipes between these pages are just as good — even better — than your favorite Chinese takeout.
I was introduced to The Good Food of Szechwan as a kid, since my parents were also fans of the cookbook. I remember many happy evenings at home, hearing my dad clanging around in our tiny kitchen — chopping vegetables, frying meat, stirring sauces— emerging later with heaping platters of piping hot Chinese food that we'd immediately devour. This sort of food was usually for special occasions, like New Year's Eve or birthdays, and to this day making Chinese food at home feels festive to me.Unfortunately, the book is no longer in print, but it can be procured from used book stores and there are always copies floating around on Amazon (although the cost varies). When you finally get your hands on a copy, try these five recipes immediately.
Chicken with Peanuts, Cabbage, and Red Peppers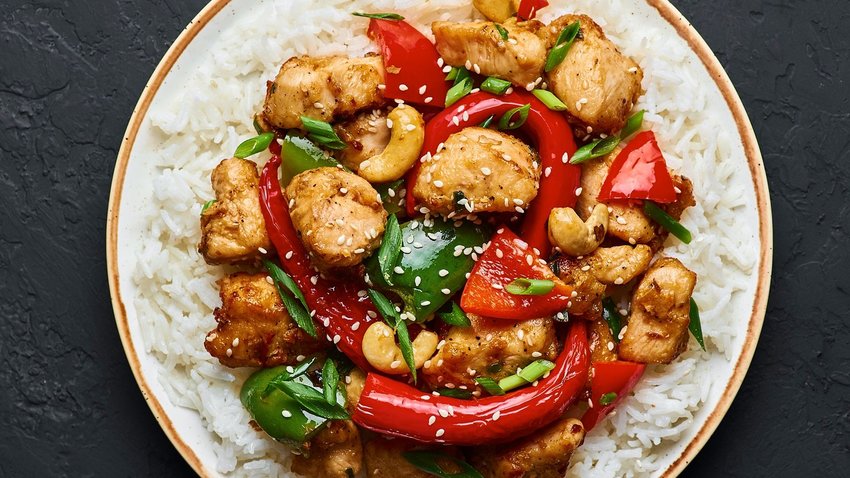 This is perhaps my favorite of all the recipes in The Good Food of Szechwan, mostly for sentimental reasons — it was my favorite as a kid. It's also a great first recipe to try out of the book, with easy to find ingredients and an uncomplicated cooking method. The chicken breast is marinated in a basic sauce of cornstarch, rice wine, and soy sauce. While that's happening, you slice the peppers, crush the peanuts, and chop the cabbage. From there, it's a straightforward stir fry, but with the right ingredients (like hot bean sauce, found at any Chinese grocery store or online), it tastes as authentic as any Sichuanese restaurant.
Twice Cooked Pork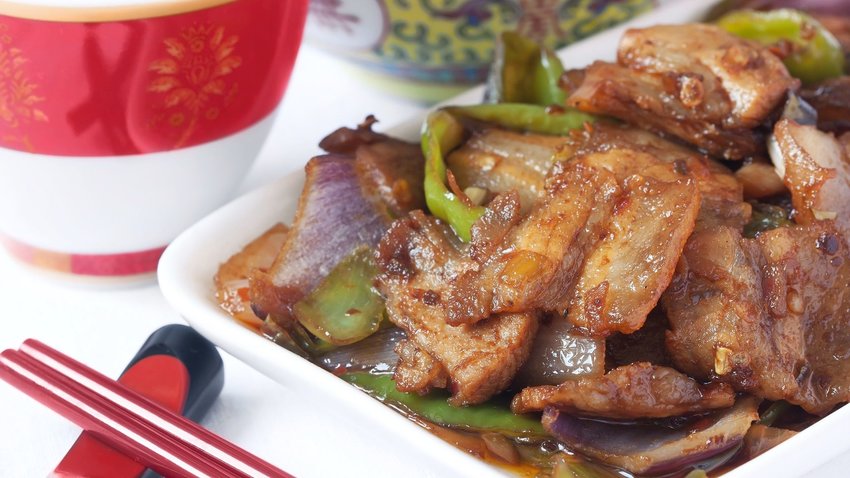 Twice cooked pork was another family favorite in our house, in addition to being a popular dish in the Sichuan region. If you love Chinese food, then this recipe is sure to be a winner. It hits all the right notes — tasty pork bites enveloped in a flavorful sauce that is both spicy and sweet. The name of this recipe is quite literal, as the pork is indeed cooked two times. First, a pork loin is boiled in a stock of green onions and fresh ginger, before being cut into thin slices that are then fried in a wok and combined with both sweet and spicy bean sauces. Even better, this recipe can be partially made ahead. Boil an entire pork loin, use half for the recipe and then freeze the other half for the next time you're craving Chinese food.
Ma-po Dou-fu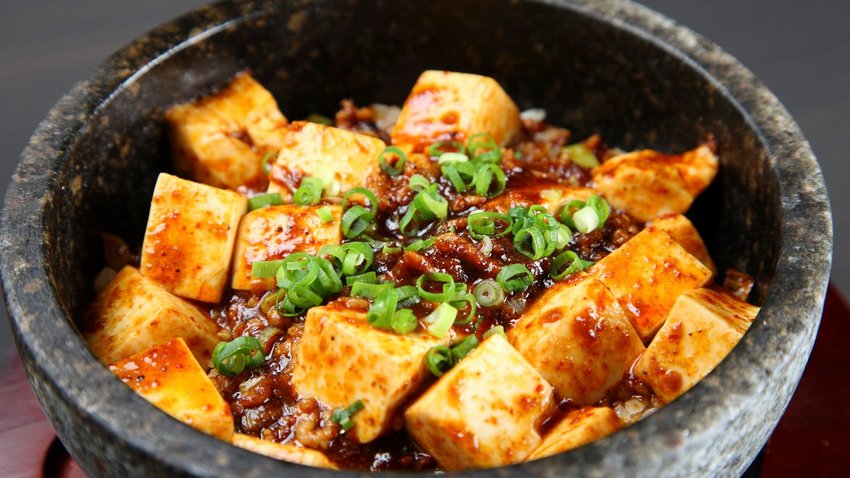 According to Delfs, the English translation for this dish is "Old Pockmarked Mrs. Chen's Bean Curd," which may be why most people stick to the Chinese name: Ma-po Dou-fu. A recipe that blends bean curd (also known as tofu) and pork in a thick, rich, spicy sauce, this is a dish you'll find on most Sichuanese menus. In fact, it was in a Sichuan-style restaurant that I first fell in love with the complex flavors of Ma-po Dou-fu; when I later recognized the dish in The Good Food of Szechwan, I knew I had to make it for myself. Amazingly enough, the result was remarkably similar to the restaurant's version: the Sichuan peppercorns brought on the tingly, low-burning, heat that is the trademark of this dish and the region. If you love spicy food, this is one to try.
Eggplant with Yu-Xiang Sauce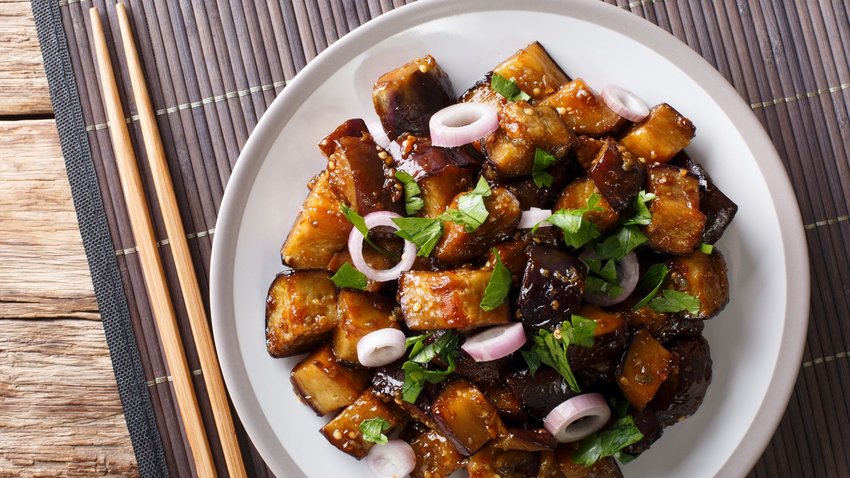 When I lived in Boston, my favorite part of the city was Chinatown. Located a stone's throw away from South Station, this bustling part of the city is filled with sights and smells not found elsewhere in the city. Plus, it's home to my favorite restaurant in Boston, the Gourmet Dumpling House. This restaurant is where I first fell in love with the velvet texture and rich flavors of Chinese-style eggplant — now I order it anytime I see it on a menu. Luckily, thanks to The Good Food of Szechwan, I now am able to make the Sichuanese version at home for myself. Delf's version is made with Yu-Xiang sauce, a classic Sichuan sauce that translates to "fish-fragrant," although no fish is listed in the ingredients. What is used is a lot of garlic, ginger, green onions, and hot bean sauce, turning the humble eggplant into an all-star dish.
Dan Dan Noodles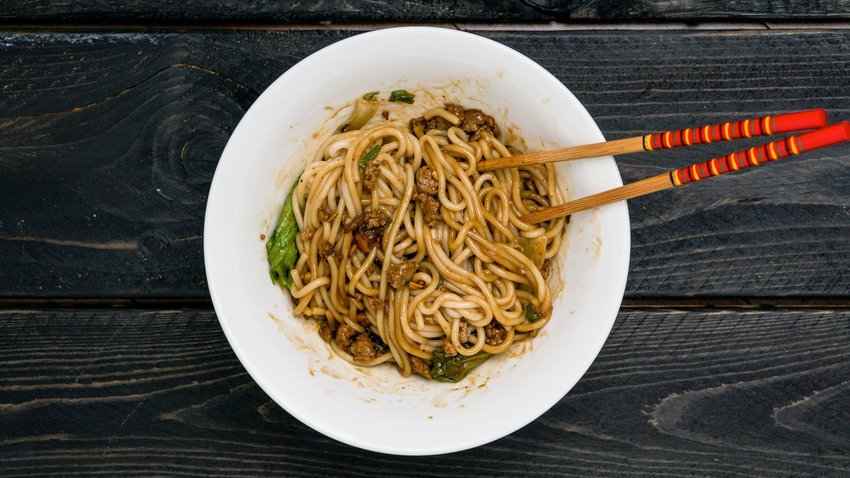 I have a soft spot when it comes to any Chinese noodle dish, which means I immediately gravitated to this recipe for Dan Dan Noodles. Originally a Sichuanese street food, Dan Dan Noodles are named for the dan, or bamboo pole, that used to be employed by street hawkers — on one end of the pole was a basket holding ingredients, on the other, the cookware. If you've ever made a Chinese noodle stir fry at home, this recipe isn't very different, except that the authentic ingredients will elevate it to another level. The fresh noodles at a Chinese grocery store are ideal; their toothsomeness is the perfect texture for the flavorful sauce. If you can't find them, using flat, dried fettuccine noodles is a good backup plan. Also, it's best to double this recipe, because the leftovers the next day are even better.
Photo by 06photo