Watching a meteor shower isn't always easy, but I can say from experience, that it's totally worth it.
Four years ago, the Perseids were tailing the Swift-Tuttle comet, creating a lot of buzz in the astronomy community. Since it was hailed as "the best meteor shower of the year," by NOAA.gov, I was determined not to miss out on the event.
On the expected peak date, I made my way to the 7,000-foot base of Sacajawea Mountain in Bozeman, Montana, and did my best to stay up all night. Around 2 or 3 a.m., the meteors appeared, and I was astonished by the orbs of light blazing through the sky.  It was a clear night and the show was spectacular, an unforgettable experience that I hope to repeat whenever possible.
Lucky for me — and for all of us — the Quadrantids are expected to travel through our atmosphere at the start of the new year. Considered to be one of the best annual meteor showers, the Quadrantids are predicted to peak in the late-night hours of January 2, 2021, into the early dawn hours of January 3. People who live in the Northern Hemisphere will have a good chance of seeing this event, provided they find a dark enough location on a clear evening.
If you're game to chase a meteor shower, it's not a bad idea to start preparing now. From staying warm and comfortable to capturing the moment on your phone, there's plenty of things that will enhance the experience. Here's all the gear you need to enjoy a meteor shower to the fullest.
Headlamp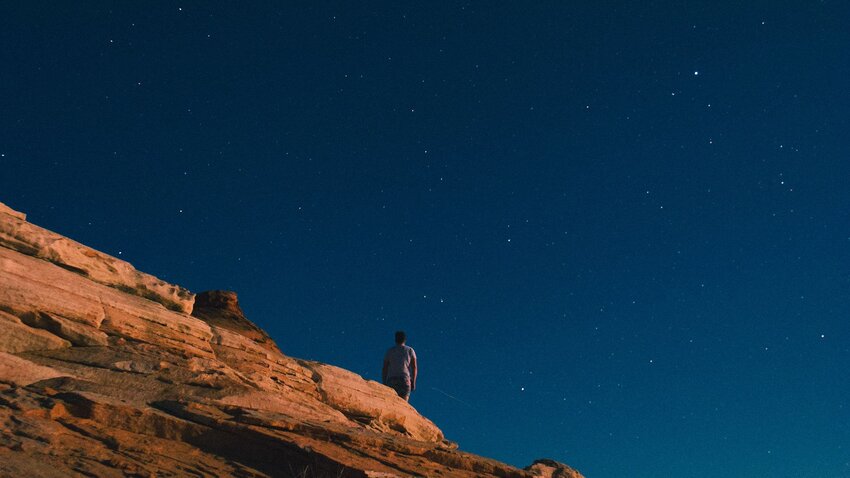 Light pollution is detrimental to any sort of astral event, which means that darkness is vital to seeing a meteor shower. International Dark Sky Parks are some of the best spots in the world to spy meteors in the night sky, but if you don't have access to such a place, traveling outside of city limits is best.
Although the night sky will be illuminated in your chosen viewing spot, the darkness also means that things on the ground will be challenging to see. To remedy the situation, bringing a headlamp is essential. Whether you're walking to a remote viewing site or carrying other supplies, the hands-free lighting device allows you to safely view your surroundings.
While some headlamps are bulky, BioLite's Headlamp 330 is compact and sleek, sitting directly on the forehead without adding extra weight or bouncing as you walk. This means it's a fantastic headlamp for an active person and would be perfect to wear as you trek into a dark place in search of a nighttime light show.
Seating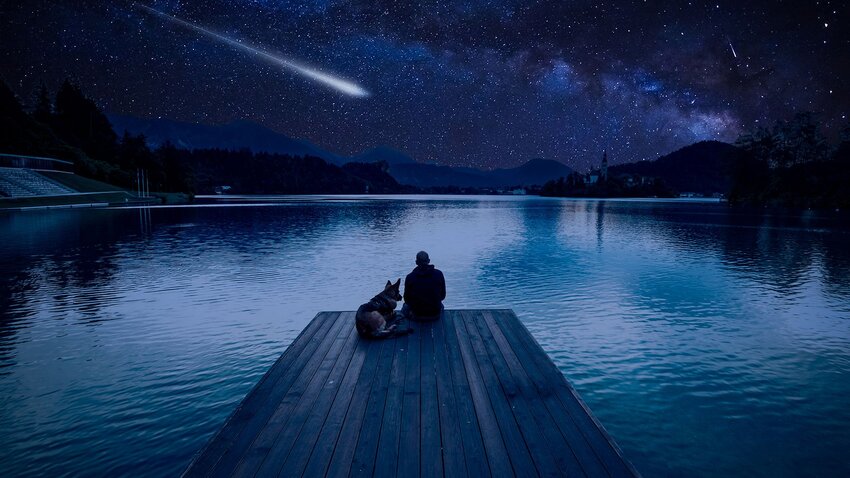 Meteor showers are magnificent events that will take your breath away, but they also require a certain amount of patience. At its core, witnessing a meteor shower is a waiting game. Astronomers can estimate the peak of a meteor's trajectory, but the shower may not arrive at the exact time predicted.
To avoid impatience, it's best to stay comfortable while you wait. If you're planning on watching the meteor shower with a special someone, there's no better chair than the Loveseat Camp Chair. The lightweight camping chair has space for two people to snuggle next to each other and it collapses into a carrying case for easy transport.
If you're flying solo, a Crazy Creek might be up your alley. A perennial favorite of backpackers due to its versatility and lightness, the foldable chair makes sure you're comfy and cozy, even if you're sitting on the ground. When the meteors finally arrive, it can be unclipped and used as a supine pad for watching the night sky.
Blankets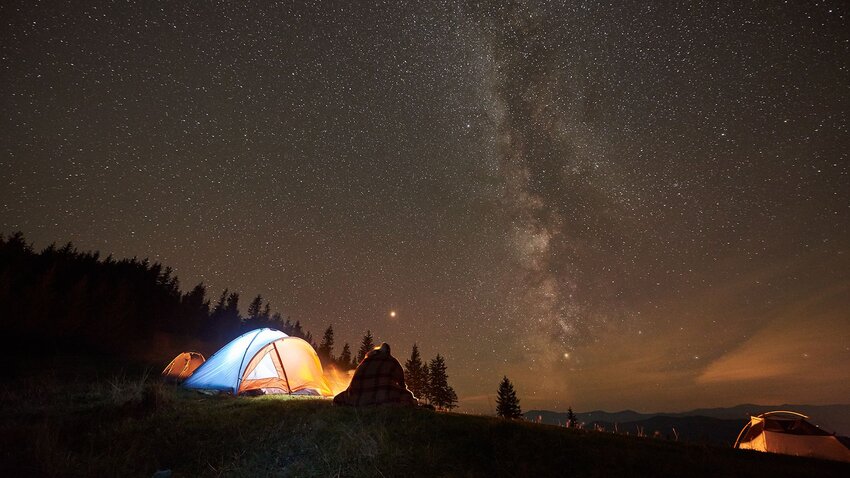 So you've found the perfect site to watch the meteor shower and you've staked your claim with a couple of chairs...what's next? You need to make sure you stay warm. Regardless of the season, it's likely you'll need a blanket to keep you heated while you wait.
When it comes to outdoor blankets, Rumpl is a cult-favorite, and for good reason. Employing the same materials found in most sleeping bags, the company makes a Puffy Blanket that's designed to keep you warm amongst the elements. Rumpl often features products that are a result of artist collaborations, like this gorgeous blanket from a Northern Cheyenne artist. The Puffy Blanket's best feature is it's cape hooks, which allow you to secure it over your shoulders if needed. It also comes with a stuff sack, so it's easy to carry into remote locations.
Binoculars and Photo Gear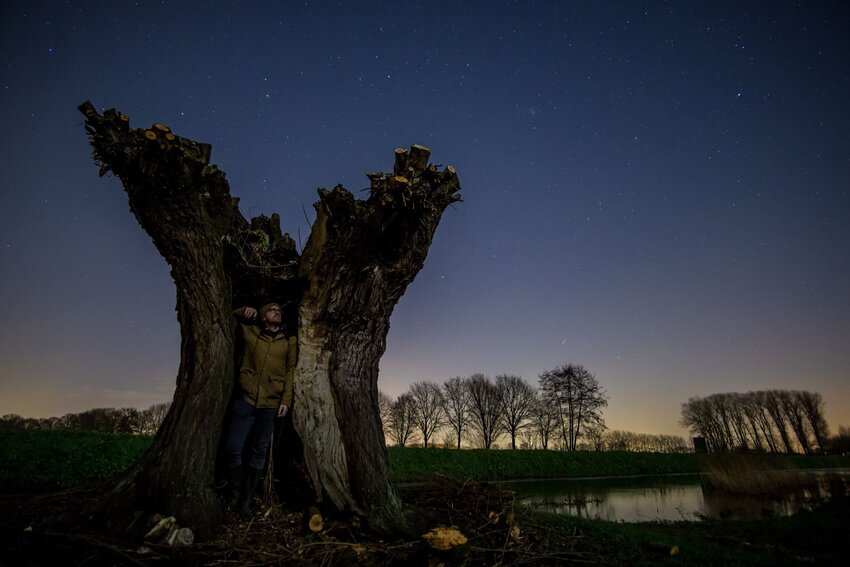 After all the planning, trekking, and waiting, the time has finally come! But since the meteors occur in the thermosphere, which is about 50 to 75 miles in altitude, a quality pair of binoculars will allow you to get the best view possible.
Since they're basically mini-telescopes, binoculars can cost a pretty penny. Unless you're a full-fledged bird nerd or planning a coveted safari trip, it's okay for beginners to start with a lower-priced pair. At only $75, Gosky 10x42 Roof Prism Binoculars are reasonably priced, while the 10x power magnification still offers an amazing view of the night sky. It also comes with a smartphone mount, so you can take gorgeous magnified photos of the meteor shower when it arrives.
Speaking of photography gear, buying the necessary equipment to take photos of the night sky — which includes a DSLR manual camera, tripod, and wide-angle lens — can add up pretty quickly. The good news? The cameras on smartphones have made vast improvements in recent years and can take pretty phenomenal photos, even in the dark. If you're a novice photographer interested in taking photos of a meteor shower, our recommendation is to purchase the NightCap Camera App. The $3 app is designed to work in low light using a long exposure, and it has a special astronomy mode to help you capture once-in-a-lifetime astral events.
Main photo by marcin jucha/Shutterstock.