Although famed for its traditional culture, spectacular history, and scenic coastline, one of the most compelling reasons to visit Turkey is arguably the food. Village-made olive oil, farm-grown fruits and vegetables, handcrafted cheeses, and top-quality meat and seafood combine to offer a truly exceptional cuisine.
It's tough to pick an ideal Turkish dish, but most locals would agree that meze — side dishes or appetizers — top their foodie favorites list. It's typical to start a meal with a spread of different meze, usually placed ortaya (in the middle) for everyone at the table to share. If you're not able to visit this incredible country, don't despair; it's possible to make the top Turkish meze at home. Read on!
Saksuka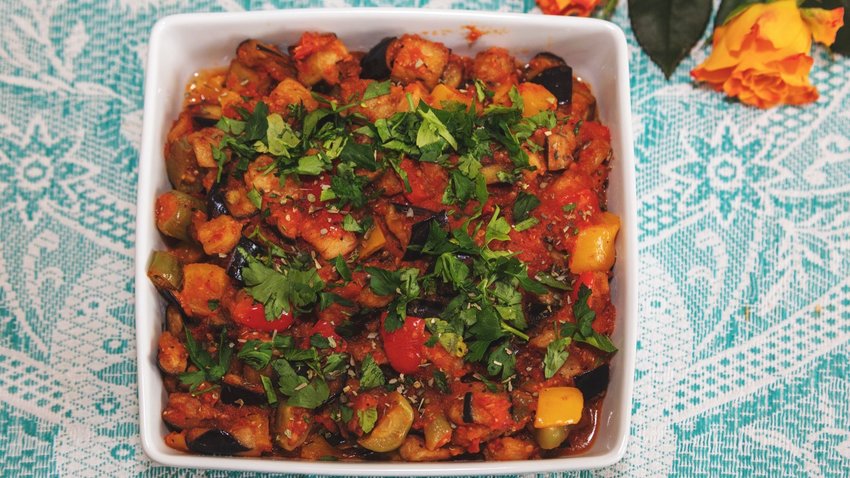 Many Turkish dishes include some form of eggplant, or patlican. Whether it's stuffed with ground beef or blended with creamy yogurt, it's clear that Turkish people appreciate this vegetable's versatility. One of the most popular eggplant dishes is Saksuka. Chopped and sautéed eggplant, green peppers, and zucchini are bound together with a homemade tomato sauce, likening it to a  vegetable casserole or ragout. This dish can be served warm or cold and accompanies main dishes, pide (pita bread), or can stand alone and be eaten as is. Mix up this meze and make it your own by adding your favorite seasonal vegetables or adjusting the spiciness level.
Antep Ezmesi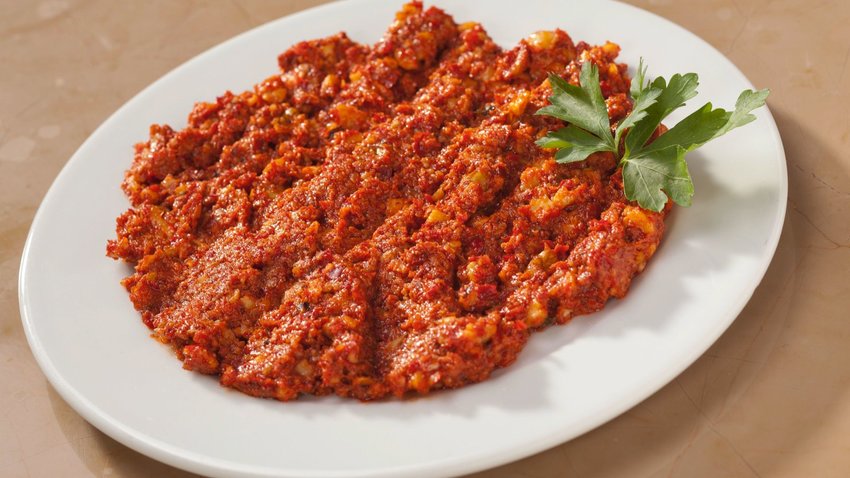 Hailing from the southeast city of Gaziantep, this meze's name combines its birthplace with ezme, the Turkish word for "crushed", acknowledging the style in which it's prepared. Commonly served as a dip alongside kebabs or as a spread for pide, the Turkish version of fresh salsa packs a serious burst of spicy flavor. The secret to Antep Ezmesi's intense taste comes from using the freshest ingredients, a tip especially important to keep in mind when selecting your tomatoes and chile peppers. Other must-have components are onion, parsley, and olive oil. All the ingredients are chopped very, very fine and further seasoned with red chili flakes and mint.  Some variations suggest a dollop of  tomato paste to thicken and bind the ingredient together.  

Cacik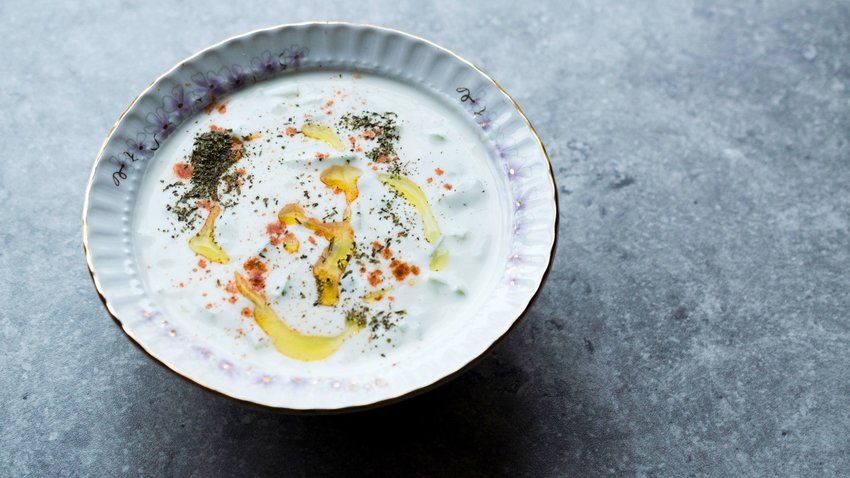 Often compared to the better-known Greek Tzatziki, Cacik's roots can be traced back to the Ottoman Empire. Boasting a slightly thinner consistency than its Greek cousin, it's not uncommon to spoon the soup-like meze, although this cucumber, mint, and garlic-infused yogurt works best as a dip. Cool and refreshing, Cacik is the perfect summer appetizer after a hot day, no cooking required! Ten minutes is all it takes to peel and grate the cucumber, mince the garlic, and chop the mint and dill. Stir in the yogurt, then add a pinch of salt and a few tablespoons of water to dilute the mixture. Don't be shy about garnishing with Turkish cuisine's two most common ingredients, lemon juice and olive oil. Drizzle over the yogurt and you're ready to serve.
Kisir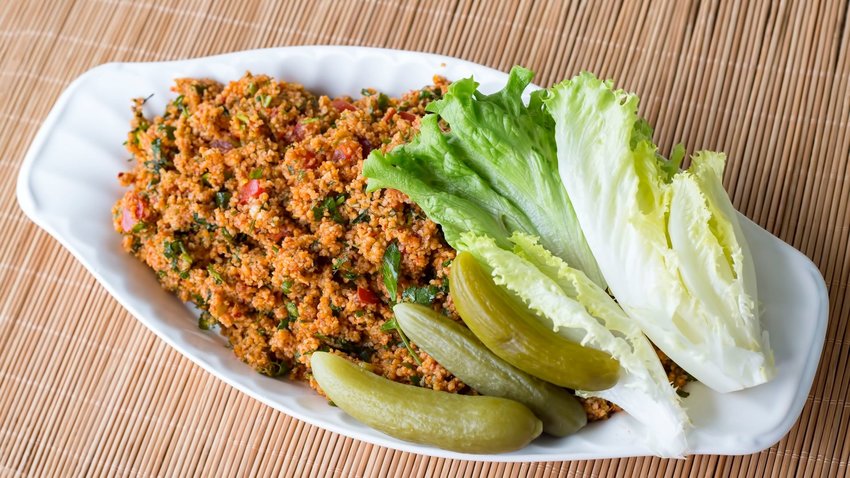 This bulgur salad is filling, wholesome, and enjoyable at BBQs, buffets, picnics, and mealtimes.  Originating from southeast Turkey, it's traditional in this region to welcome guests into your home with an offering of Kisir. Delicious and nutritious, this meze's popularity caught on and is now found all over the country. Slight variations in ingredients are found depending on where the kisir is made, i.e. dressed with pomegranate sauce in the east and lemon juice in the west and north. Regardless of the alterations, the simple instructions and no-cook approach make it a favorite meze for whipping up in a pinch.
The secret to Kisir is to use a very fine grain bulgur, which is "cooked" by simply saturating the grain with boiling water and letting it sit. While the bulgur is softening, prepare the chopped veggies. Add your paste of choice (tomato, plus chile or red pepper paste), spices, salt, and blend together. Toss in the vegetables, give it a final mix, and refrigerator for an hour. Kisir can be served alone or with lettuce leaves which can be used to fold the mixture into a mini wrap.
Fava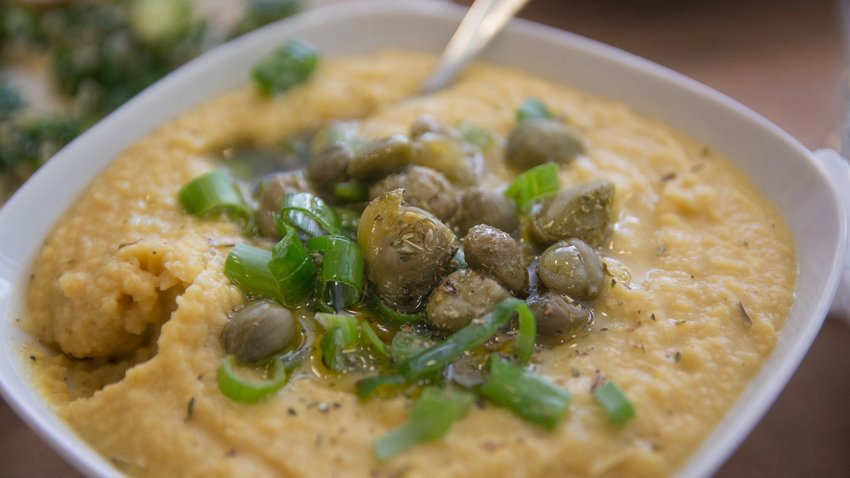 High in protein and nutritional value, the cultivation of broad beans (fava's base ingredient) in the Mediterranean dates back to 6000 B.C. The earthy-flavored bean is still favored today in Turkey, the best example of which is showcased in my all-time favorite meze, Fava.
This creamy white bean and herb dip is readily available at Turkish restaurants. Since I'm no longer living in Turkey and haven't been able to find Fava anywhere in the U.S., I'm especially glad this meze is easy to make at home. All it takes is a few simple ingredients thrown in a pot, cooked, and blended together. The trick is getting the amounts just right, so follow this recipe carefully and you'll see optimum results. Eat alone, or spread on lavash or pide.
Top photo by myasinirik