The threat of the COVID-19 means international travel is mostly off the table for the foreseeable future, especially for us Americans.  But, if you miss the feeling of genuine discovery that comes with international and adventure travel, now might be a great time to get a pair of Virtual Reality (VR) goggles.
I'm an avid traveler, and one of the saddest things for me about this pandemic was knowing it will be a long time before I travel internationally again. Recently, and somewhat begrudgingly, my husband and I purchased a pair of Oculus Quest VR goggles for my teen daughter who's been begging for a pair.  We figured it might be a good escape for her during quarantine.  As it turns out, they're great fun for all of us!
While my daughter is using them to ride incredibly "Epic" roller coasters or play Beat Saber, I've been having a blast traveling to places like Mt. Everest, Angel Falls, and Petra.  The immersive, 360° experience provides me nearly the same feeling of wonder as I feel when I travel.  In fact, the experience is so good that my husband and I agreed not to travel virtually to places on our bucket list because it's too good a preview of the real thing.
Virtual Reality Basics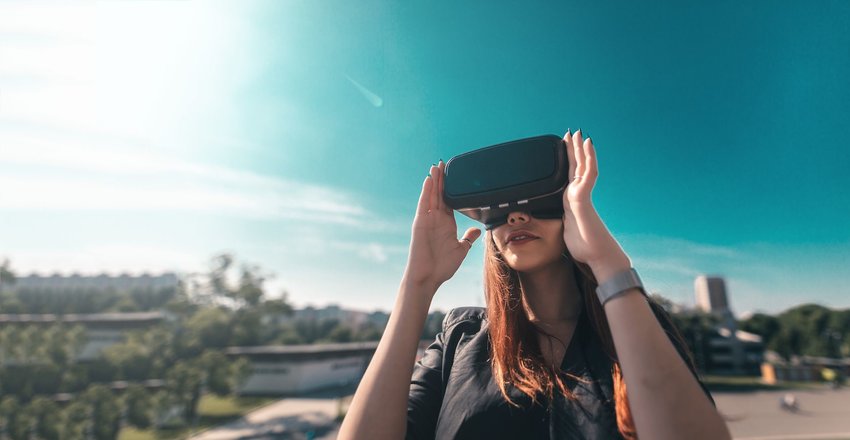 VR goggles run the gamut from inexpensive headsets that use your phone as the screen all the way up to high-end computers that you wear on your face, but no matter your budget or needs, there will be opportunities for you to virtually explore the world.
At the most basic level, companies that specialize in VR content have created videos you can watch on the integrated YouTube app in the headset.  In fact, you can preview these videos on your computer before you even put on your headset.  Search "360 VR travel" in YouTube, and you'll find thousands of 360 videos from all around the world.  Many of these short videos fly you over famous travel destinations such as Petra or the Matterhorn by using circular, drone-based, video cameras to capture experiences you'd never get by just being there.
Just a word of caution:  if you have a fear of heights, don't look down!
Best VR Travel Apps for Oculus Quest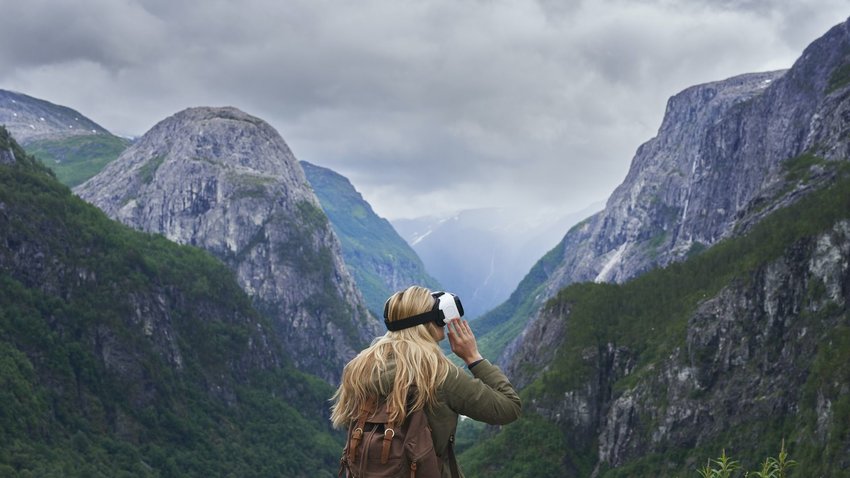 We decided the Oculus Quest (which has been hard to find since the pandemic began) was the best option at the best price point for our family. It can be used as a wireless, standalone headset, or optionally connected to a PC for more intense gaming experiences. Since I have the most experience with Quest, here are my recommendations for the best travel apps on that system.
Wander uses Google Street View to allow you to go anywhere around the globe.  You can teleport using the integrated map, or let the app choose a random destination for you.  While looking around on the map was fun, I was a bit overwhelmed by being able to go literally anywhere, and the random destination was sometimes just a bit too random. Luckily, Wander has a feature called "Collections" where you can choose interesting starting points in various destinations. I tried using Collections for Singapore since I've never been. I was able to visit some of its famous temples, look up at the amazing skyscrapers, and walk under the Supertree Grove.‌‌
National Geographic Explore VR
National Geographic has created an immersive travel game for two destinations, Machu Picchu and Antarctica.  The game starts you out at a National Geographic base-camp where you're given a photography assignment. Once you choose your destination, the virtual guide helps you navigate the location as well as interact with objects and historical re-enactments.  I found myself in awe at how steep the cliffs were at Machu Picchu and at how high above me the glaciers were in Antarctica.  There were limited "walking" opportunities, however, so unlike Wander, I couldn't go wherever I wanted within the destination. For instance at Machu Picchu, I wanted to explore more of the citadel, but the app made me stay in only a few locations of programmed interactions.‌‌
Best VR 360 Videos for any VR Headset
With more and more 360° VR videos being produced every day, the options to travel the world are endless. To find any of these videos, simply access the YouTube app on your headset (or on your smartphone in the case of phone-based VR headsets), and search for wherever you want to go. The videos are shot using circular cameras on drones or carried by the photographer with a camera pole.  Personally, I like to watch these on a swivel chair so I can look at the view in all directions.‌‌
LIFE VR, Sports Illustrated - "Capturing Everest"
LIFE VR and Sports Illustrated teamed up to create a collection of short minute videos that follow climbers as they climb Mt. Everest.  While I have climbed some tall mountains such as Mt. Kilimanjaro, I've never quite had the courage to attempt Mt. Everest.  But this made it easy!  Crossing a treacherous Khumbu Icefall crevasse on a bendy aluminum ladder?  No problem in VR.   Sleeping at Camp 4 in a tent that barely clings to the snowy slopes knowing you'll have to wake at 10pm for your all-night summit bid?  Way more restful in VR.   When I stood at the top of Everest and looked out at the endless views in every direction, I was genuinely relieved I didn't have to go back down.  So while I know I'll never climb Everest, these videos made me feel like I actually did!  ‌‌
Russia-based AirPano 360 makes short, 360° drone tours of awe-inspiring places around the world.  The videos are accompanied by robotic sounding voice-overs and subtitles, but the information provided gives you a good overview of what you're seeing.  One of the most impressive videos was the Angel Falls experience that takes you from the bottom of the highest falls in the world in Venezuela (3000') all the way to the top of the plateau where the waters make their perilous dive off the cliffs. You can spin around to look either at the falls, or out at the incredible view of the valley below.  I don't know how many times I exclaimed, "Wow," as did the rest of my family when I made them watch this video.  Seeing as how a regular trip to Angel Falls requires a plane trip from Caracas, a day-long riverboat ride, and then a hike up to the falls, this VR experience might actually be better than the real thing!  ‌‌
‌‌
‌‌‌‌