At best, I'm a reluctant runner. Yet somehow running has become a major part of my life. For me, it's never been about fitness, but rather, the experience. There's a different feel when you explore a place on foot, powering through with an efficient pace, that makes this form of discovery thrilling. It's almost like hopping on an immersive Disneyland ride, but maintaining control over every turn.
After running a few 5Ks at home, I started searching for races in every city I visited. It started on Thanksgiving 2011 with a Turkey Trot in Washington, D.C., where we raced down the center of Pennsylvania Avenue toward the Capitol Building. The cops cheered us on, literally stopping traffic for us, as we passed by major landmarks like the National Gallery of Art and Smithsonian Air and Space Museum. My racing bib felt like a VIP pass, granting me access to the capital in a way that was never meant for tourists.
I've since run 5Ks in Savannah, San Juan, Las Vegas, Asbury Park, Chicago and St. Louis, plus a 10K in London and a 10-miler in D.C. — and they've never been about the pace, but rather the discoveries made on the run.
The Local Persona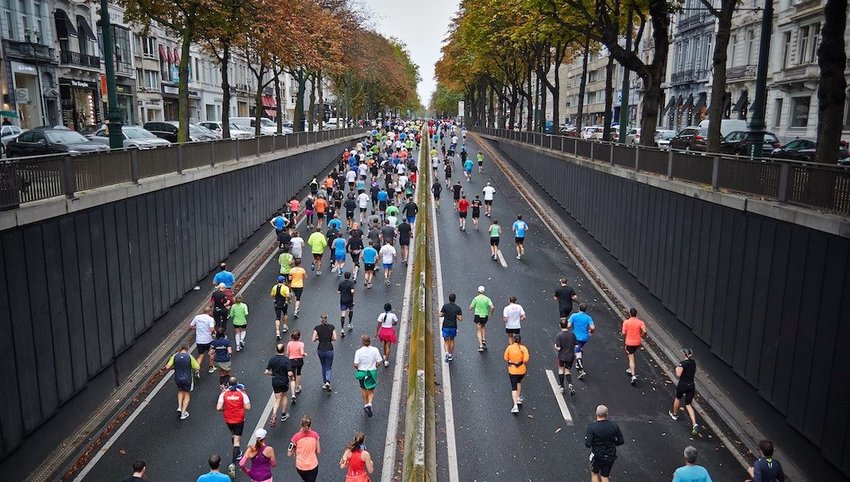 While I was in Savannah for the first time, I found myself seeing the historic downtown area for the first time by running in the Unity 5K on MLK & Music Festival. The Martin Luther King Jr. Day weekend race was fairly small, and it felt like everyone knew each other, so I hung back during the pre-race festivities. But once we started running, I organically became part of a pack with two other runners. Sometimes the other woman would pull ahead of me, subtly encouraging me to run faster — and other times the guy would slow down, signalling to me it was okay to take it easy.
As we looped from Forsyth Park through some of the city's most famous squares, we kept each other going, without saying a word. After I crossed the finish, I heard a voice behind me say, "Thank you for encouraging me to continue — I was about to give up." I turned around and, sure enough, it was the woman I had kept pace with. I laughed. "I was going to say the same thing to you," I replied. As we continued chatting about the route, confirming our unspoken dialogue, I realized that good ol' southern hospitality and the spirit of encouragement sure shines in Savannah.
On the other side of the Atlantic, there was a decidedly different air in the start area for London's Regent's Park 10K. People were definitely cordial — and showed their British humor with some snarky comments when the ladies' room ran out of toilet paper. But the finish line was surprisingly tame compared to what I'd experienced in the U.S. Sure, it wasn't a huge race, but there was professionalism to it, almost like finishing was no big deal. Guess that British stiff upper lip attitude even holds true with running.
Scouting the Sights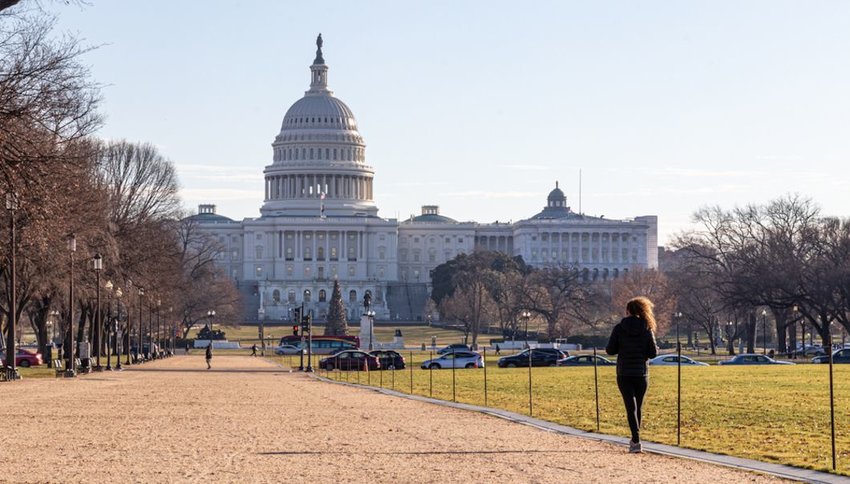 While fellow runners paint a personality of a place, it's the sights themselves that give cities a distinct flavor. When the Uber dropped me off in pre-dawn Old San Juan, I had no sense of the area or the language. But the infectious Puerto Rican spirit needed no translation. I easily followed the enthusiasm to the start line of the 5K del Amor, realizing that the early start time was because the race took over the main road into the historic district. As the sun rose, I gasped as the stunning coastal scenery came into view. I found myself multitasking, taking photos of a colorful mural and Castillo de San Cristóbala, as well as making mental notes of the key sites I wanted to check out later. By the time I crossed the finish line, I was completely comfortable with the geography and knew exactly where I wanted to go for my post-race celebration coffee.
Likewise, the Rise Up 5K in Chicago was in a part of town I'd never been to before. My plan was to take the L right back to the Chicago Athletic Association Hotel by Millenium Park, where I was staying. But as I ran the suburban streets, I got so familiar with the neighborhood, I just started walking afterwards. Soon, I had walked all the way to Wrigley Field — an hour away from the race finish line. I hadn't even planned on going there, but after the overview of the area from our race loop, I was completely at ease in a strange place.
But that ease can also cause a false sense of comfort. After completing the Girls on the Run 5K in St. Louis, I thought I knew the area so well that I skipped the Uber and just walked, hopping from the City Museum to Pappy's Smokehouse. The mile didn't seem like anything — although I did wonder why I was the only person walking. Later on, I was chatting with a St. Louis native who said that's exactly the part of town most people avoided. Thankfully I got to enjoy my pulled pork without incident, but the adrenaline high may have suppressed my safety checks.
Soaking in the Cultural Vibes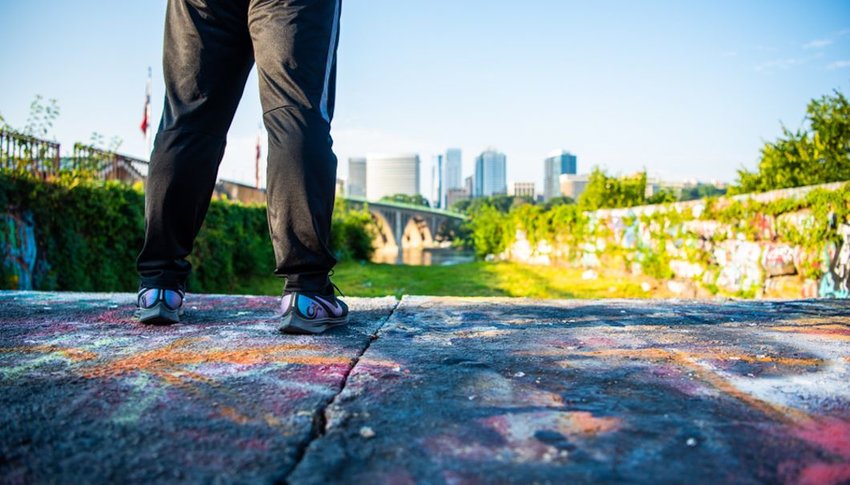 Often the local races become the embodiment of the cities themselves. While running the Cherry Blossom 10-Miler in Washington D.C., a political debate broke out mid-run. And I maintain that the best tour of New York City is by running the TCS NYC Marathon through the five boroughs — along the way, every neighborhood explodes into life, with gospel singers in Brooklyn and street parties in the Bronx. But perhaps no city is better captured with a race than Las Vegas and its Strip on the Strip 5K.
Starting at what was then the Hooters Hotel & Casino (where else?), the 5K literally ran down Las Vegas Boulevard, with race organizers encouraging us to take our clothes off. But in a charitable twist, we were to remove items and dump them into donation bins for the Goodwill Southern Nevada in support of their Veterans Integration Program.
So I layered up — and every time I got to a green bin at a mile marker, I peeled off a piece of clothing. First it was a dress, then a blouse and finally a shirt (don't worry, I still had running clothes on underneath!). And now I can officially add to my resume: Stripped in Vegas.
Pave Your Own Course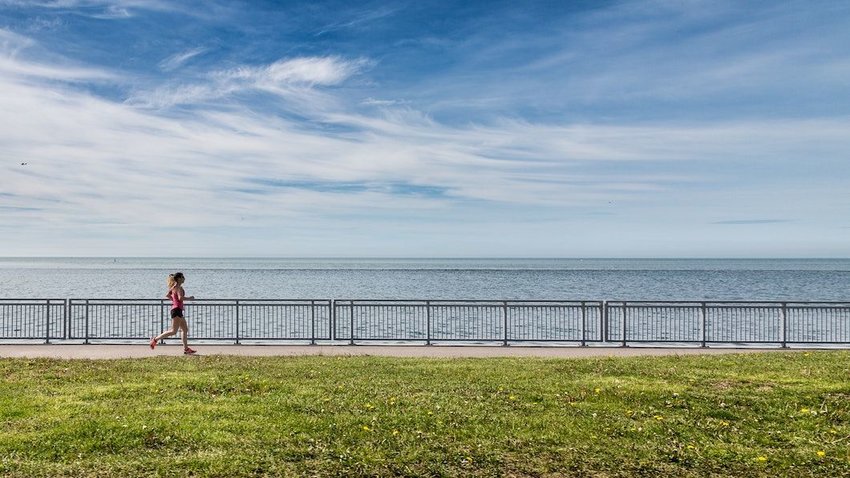 While an organized race provides a common agenda and built-in camaraderie, just hitting the pavement on your own in a new place can offer the same sense of exploration — minus the timed pressure.
I was recently having an idyllic winter weekend at the cozy chic Shandaken Inn in New York's Catskill Mountain, living the very definition of hygge by roasting marshmallows in the firepit and playing ridiculous games well into the night. But admittedly, I felt a tad lost out in the middle of the mountains. After all, I had taken a bus in and didn't really have a grasp of where I was.
So I asked the innkeeper Rafael if he knew a good running route. He immediately pointed out a loop around a creek, but there was an intersection that sounded tricky. The next morning, I got up and found a hand-drawn running map waiting for me — it was perfectly sketched, down to a specific house and tree at the tricky fork, which even Google Maps couldn't show me.
Even though there were soft flakes falling as I started down the road, I immediately felt a sense of place. Instead of whizzing over the creek and past the retro post office in a vehicle, I was immersed in the setting, seeing every trace of where the river had frozen and feeling every flake that landed on my forehead. I was no longer a passerby, I was part of the scene — and now I understood exactly the character of the area and how the inn exactly captured the sophisticated yet rustic vibe of the Catskills.
If you don't have a Rafael to draw you a map, check out MapMyRun for running routes all around the globe — or simply plot your own course using Google Maps between landmarks so that you can sightsee along the way.
I've also run on my own in Rio de Janeiro, Buenos Aires, San Juan, and Colonia, Uruguay — each time, immediately feeling like I was part of the community, even though I didn't speak the language. And when I ran in my California hometown of San Jose, I discovered pockets of the neighborhood I'd never seen growing up there. There's some magic mix of adrenaline and movement that just opens your eyes in a different way.
Find Your Own Run Style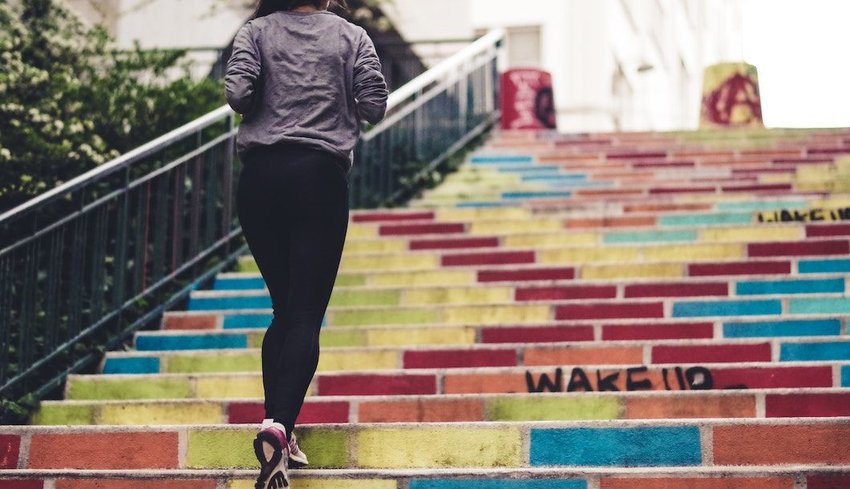 While running can feel like a drag (I get it, I'm the ultimate run procrastinator!), once you find your pace, it becomes surprisingly freeing. And your pace may be that you don't have one — after all, it's not about how fast you go, as long as you get out there. Personally, I mix running and walking — it's just about finishing a run, no matter the distance, in your own time.
To find a race, simply Google "5K" and the city. Active, Runsignup and Raceroster host many race registrations, with Eventbrite increasingly listing them as well. And if the pressure of running with other people is too much, New York Road Runners also has virtual racing, which allows you run on your own, tracking it on Strava and uploading the results to see where you rank with others. Most virtual races have free registration and you'll officially become a NYRR athlete with a race results record.
Hotels have also started making running while traveling easier, with the Westin offering a Workout Gear Lending Program with New Balance, which I tried out in Montreal. All I had to do was call the front desk with my sizes and a shirt, shorts and shoes were delivered to my room. The only cost was $5 for the socks that I got to keep (and has become one of my favorite pairs of running socks).
Once you get going, running can take you to some extraordinary places. My next mission is my first traveling half-marathon at the Asheville Marathon and Half, which winds around trails that are normally off-limits on the 8,000-acre historic Biltmore Mansion property. But I've also done the Lincoln Tunnel Challenge 5K, where they shut down the tube between New York and New Jersey as you run from state to state, and have my eyes on the Damon Runyon 5K in Yankee Stadium and JFK Runway 5K — further proof that racing is the ultimate all-access fast pass to the world.
Every race has its own personality and joining one on unfamiliar turf offers that immersive slice of life into the city's personality, giving you a deeper dive into the people, places and things that make the city tick. But whether you race, run, jog or sprint, just lace up those shoes and go. There's an entire world waiting to be conquered.