As we continue to head outdoors and into the backcountry this winter for some naturally socially distanced activities, it's important to layer up properly so you can stay warm and dry. Knowing a few things ahead of time, like the weather conditions, and whether you'll be car camping or conquering a steep peak, helps you choose technical clothing that's best suited to the occasion. By building a layering system tailored to your needs, you can easily add or shed layers when you're adventuring outdoors.
Choose the Right Base Layer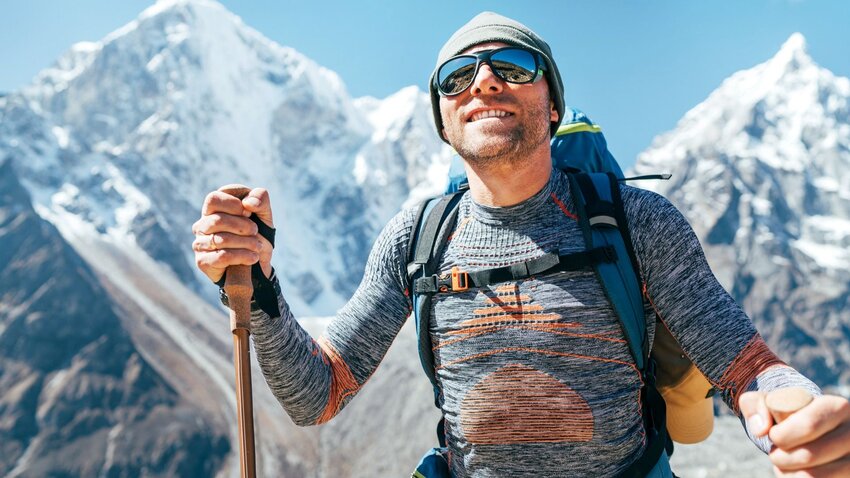 At the core of any layering system is your base layer, which works to protect your body from the sun, as well as regulate your natural body temperature by wicking moisture and evaporating sweat. The right material has the capacity to do that whether you're racing down the ski hill or casually strolling through the forest.
Base layers come in a variety of materials, but the most popular ones are merino wool and polyester. It's important to remember when choosing your base layer that thicker doesn't necessarily mean warmer.
Polyester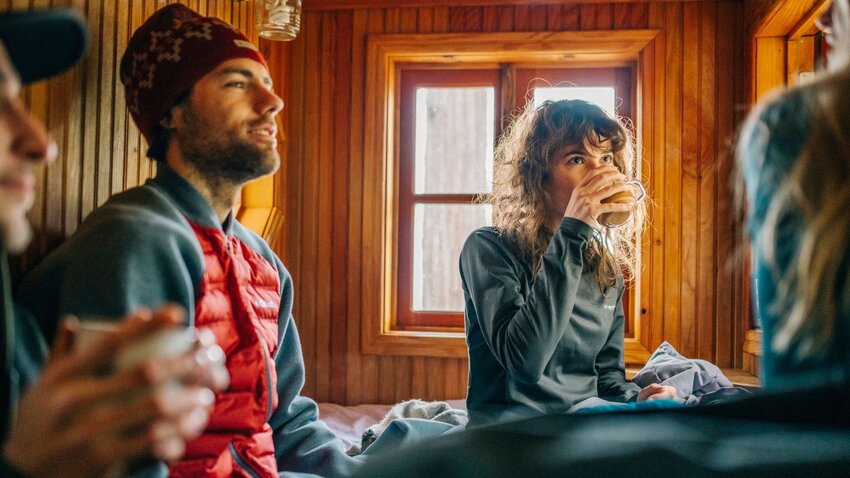 Polyester is ideal for moderate to high output activities because it allows for plenty of airflow to help sweat evaporate from your body while you're climbing, running, or participating in any type of backcountry activity. This durable synthetic material also dries quickly, in case you have to wash your garments part way through your trip.
For a more comfortable and next-to-skin type of fit, look for polyester blended with spandex, like this Omni-Heat 3D™ Knit Crew II Baselayer Shirt by Columbia.
Buy it here for $85: Men's | Women's
Merino Wool
For more relaxed activities that require minimal exertion, like sipping hot cocoa at your campsite or easy day hikes, reach for merino wool. Ultrafine and non-itchy, merino wool  contours your body and stretches with it. And because this material can absorb roughly 30% of its own weight in water before it starts to feel wet, you'll still be warm for a brief period of time if caught in a light drizzle, though the clothes will feel a little heavier on you. Merino wool is also naturally antimicrobial, which reduces odors so you can confidently go on multi-day camping or backpacking trips and know that you won't smell.
New Zealand-based Icebreaker has led the way in merino wool wear since 1994, and this soft 200 Oasis Crew Top is a popular choice.
Add a Midlayer for Extra Warmth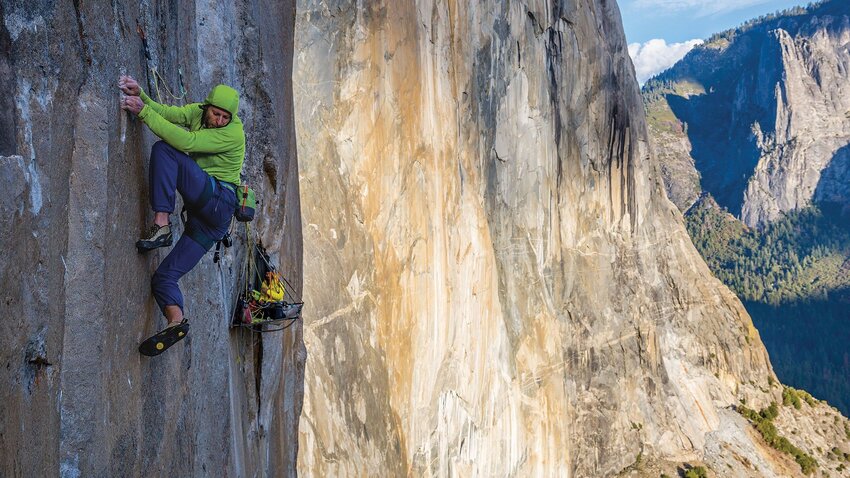 For an extra boost in warmth, a midlayer can be worn over your base layer, whether it's a long-sleeved merino wool shirt, a polyester fleece vest, or a packable down jacket. This layer fits snugly over top of your base layer but still allows for movement. A high performing midlayer is both lightweight and packable.
Polyester Fleece
Polyester fleece is the go-to material for midlayers because it's soft, insulating, and breathable. Its downside is that fleece can sometimes be bulky, so look for gridded or waffle knit polyester fleece, which is more compact but still traps warmth and promotes air circulation. While fleece doesn't do well in wet conditions, it dries quickly, which means if you're caught in a downpour, you'll warm up quickly when you find cover. Fleece also performs best when worn under a shell.
The Patagonia R1 Pullover is lightweight and breathable, thanks to its gridded interior. Its zippered front allows for additional venting to regulate your body temperature. It also comes in crew, ¼ zip, and hoodie varieties for both men and women.
Merino Wool
Though merino wool is popular as a base layer, this material also works well as a midlayer, especially for those who need to pack light. If you're tight on space, the antimicrobial and anti-odor properties of merino wool are appealing and ideal for multi-day adventures that involve casual exploration and short hikes. Merino wool allows for versatility when you don't have much space.
The Smartwool Smartloft 60 even has wind-resistant panels to offer protection from the elements and isn't bulky for the high amount of warmth it offers.
Buy it here for $180-$200: Men's | Women's
Down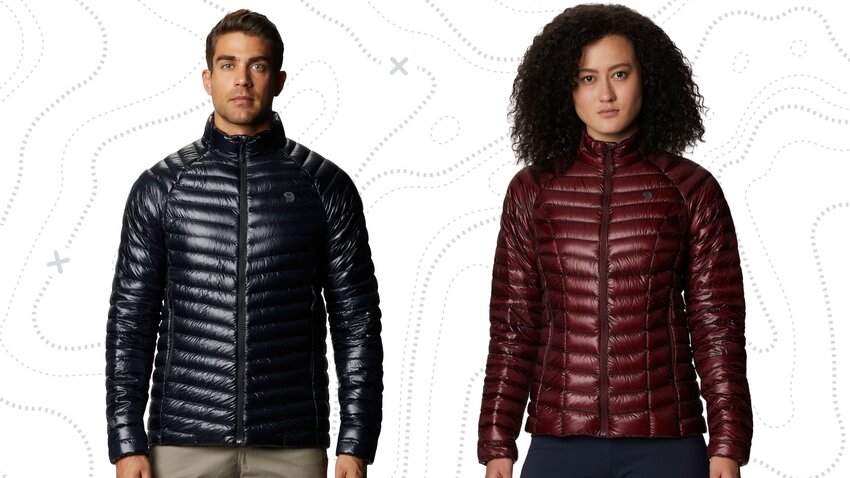 Down jackets provide a high warmth to weight ratio, making this material one of the most insulating. The warmth to weight ratio refers to the fill power of a down jacket (or down sleeping bag), so the higher the fill power, the warmer the garment is for its weight. What you need depends on the weather conditions and activity you're doing, and in extreme conditions, you might even wear a down jacket over top of your polyester fleece or merino wool midlayer for added warmth. Down is extremely lightweight and compressible, and does best in cold and dry climates. It's also slow to dry, so it's best for relaxed activities instead of high energy ones where moisture needs to be wicked quickly.
The Mountain Hardwear Ghost Whisperer/2 is incredibly light, which makes it highly packable, but still offers breathable warmth. Its ability to stretch makes it suitable for highly mobile activities, and this piece is good as a standalone or can fit snugly over top a fleece midlayer.
Pick the Appropriate Shell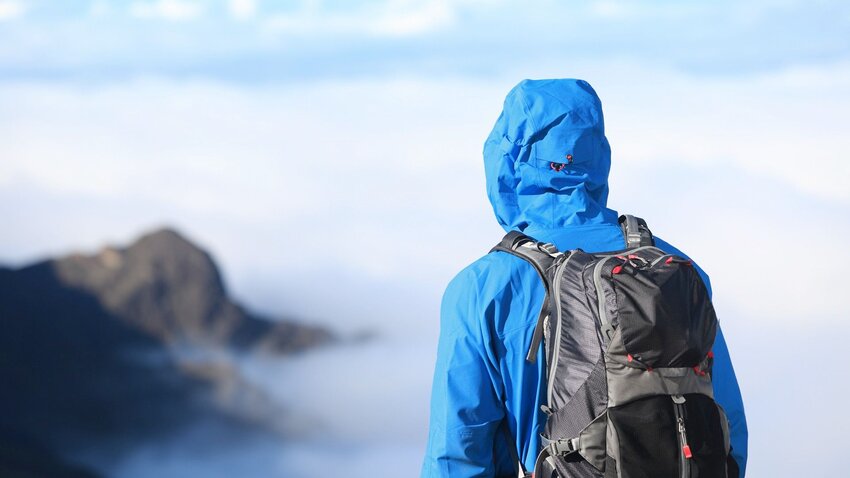 Shells don't provide any warmth on their own, but this final outer layer is important to have in wet and windy conditions, especially when your fabrics underneath are breathable because the elements can steal warmth from your body. There are several factors to consider when choosing the right shell for your needs, and the general rule of thumb is that the drier you want to stay, the higher the price tag.
Breathability
Breathability refers to the shell's ability to wick perspiration from your body. So if you're going to be outside in squalling conditions and doing something that requires a lot of movement, you'll want a jacket that's breathable to keep you dry, both on the outside and inside. But if you just need a shell for a rainy day stroll at the park or something that requires minimal exertion, then a non-breathable shell will do the trick.
Water Resistant or Waterproof?
Most rain gear, whether they're waterproof or water-resistant, are treated with a DWR (durable water repellent) coating that allows for rain to bead and roll off your garment, which should be refreshed each season to extend its shelf life. A shell that's water-resistant means it can handle a light drizzle for a short period of time, but if you're going to be in wet conditions for long, or if the intensity of the rain increases, then chances are you're going to get wet. A shell that's fully waterproof and incorporates technology like Gore-Tex, H2No from Patagonia, or DryVent from North Face is going to offer you the highest protection from the rain.
A waterproof and breathable shell is going to give you the most versatility if you're active in the outdoors in wet conditions. This Torrentshell 3L Jacket by Patagonia is a top choice for value. Its build quality and H2No technology mean you're protected from the harsh elements, and its extra features like pit zips and adjustable hood keep you dry in blustery winds and from overheating.
The overwhelming number of options for technical clothing on the market can be intimidating. But by taking the time to build a layering system that works for you, you'll make getting outside this winter — whether you're cross country skiing, backcountry snowshoeing, or glamping — infinitely more enjoyable.

Top photo by Yuya Hata