Lovers of national parks are a rare breed. These nature enthusiasts prefer campfires over caviar, tent sites over table service, and mountaintop vistas over multi-course meals. If you have someone like this in your life, then you already know they'll use any excuse to visit a national park. But in case they need ten more reasons, getting them any one of these 10 gifts will encourage, inspire, and assist the national park lover in your life on their next big trip.

National Parks Pass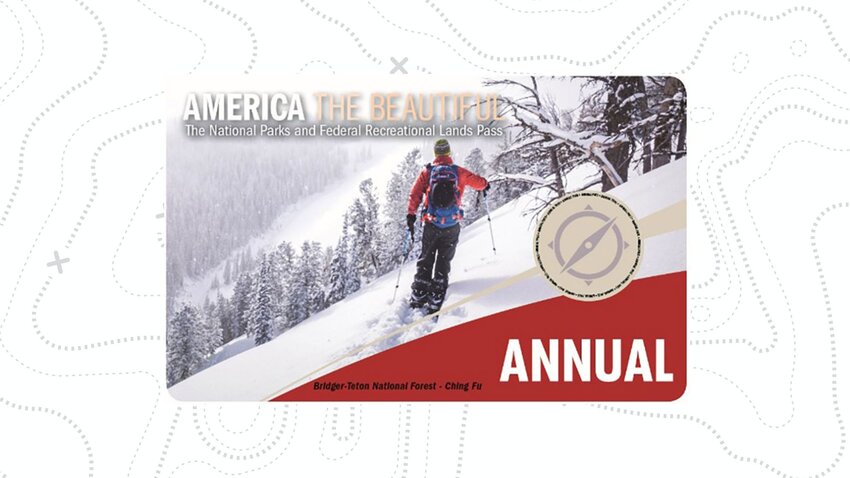 People who love scenic spaces want one thing, and one thing only — to visit national parks. The ultimate gift for park lovers, the America the Beautiful Pass allows entry to national parks for one calendar year. With access to 2,000 federal recreation sites, the pass includes all the popular and lesser-known parks, plus any lands managed by the Forest Service, Fish and Wildlife, and the Bureau of Land Management. At only $79.99 annually, the park pass is also a bargain and would be a wise investment for any nature enthusiast.
Buy it here: America the Beautiful Pass - 2020/2021 | $80
National Park Socks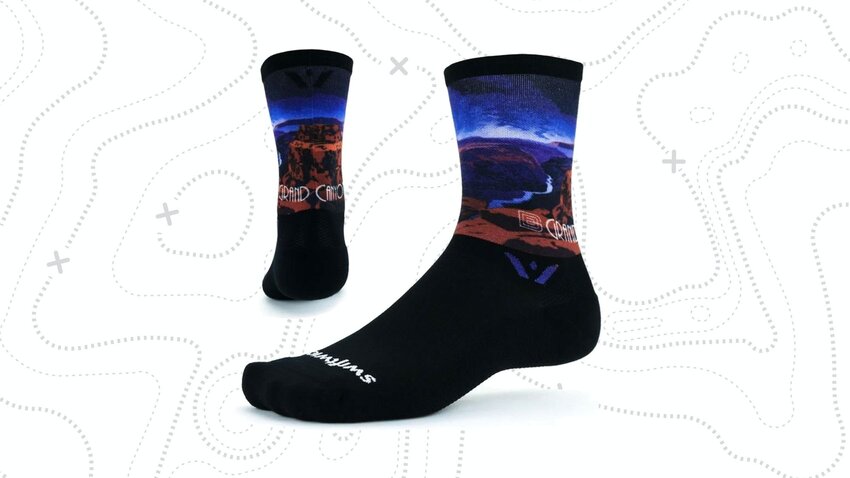 As spectacular as the parks themselves, these VISION impression national park socks are the perfect gift for active explorers. Featuring 360-degree graphics of the nation's most treasured parks — including the Grand Canyon, Great Smoky, Yosemite, and Zion —  the special blend of wicking materials ensures their feet are dry, happy, and odor-free. After I received a pair of Yellowstone socks, I was thrilled to discover that the snug fit and slight compression worked perfectly for high-cardio activities like mountain biking. Even better, they look fantastic and remind me of a place I love, making them a favorite in my sock drawer.
Buy it here: VISION Six Impression National Parks Collection | $20
"National Parks: An Illustrated History"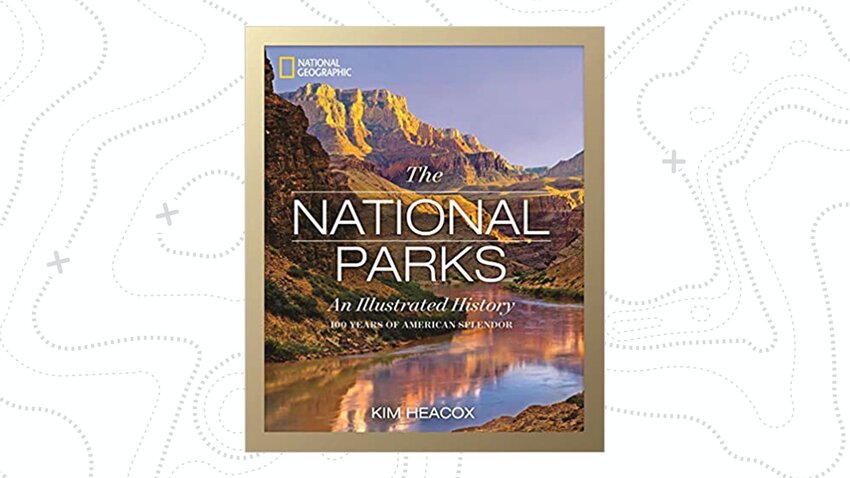 National Geographic: An Illustrated History will keep park enthusiasts inspired all year long, even when they're stuck at home. Featuring professional photos of the most beautiful and beloved parks in the U.S., this coffee table book will speak to anybody who yearns to see the country's national treasures. It also details the history of America's national parks, with first-person narratives from rangers, explorers, and experts. In addition to the magnificent photo fold-outs and informative text, the true aim of the book is to demonstrate the importance of the National Park System in our nation's history.
Buy it here: National Geographic The National Parks: An Illustrated History | ~$30-$50
Trekking Poles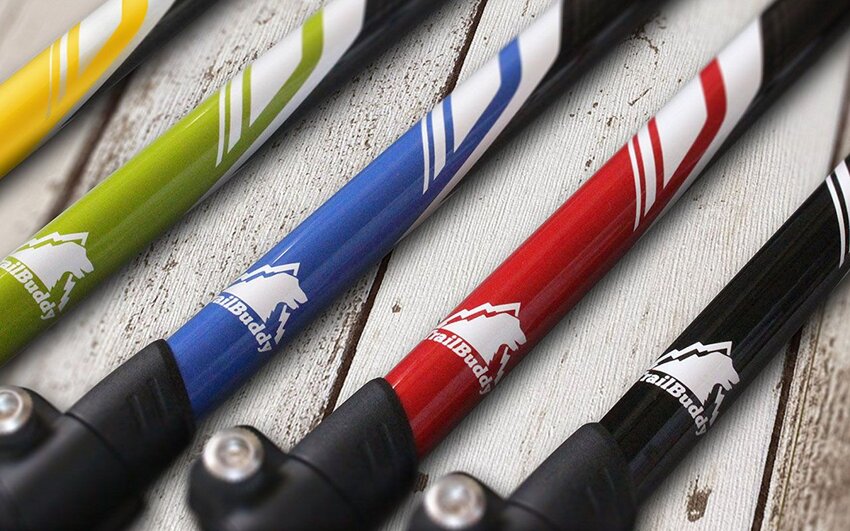 Loving parks and outdoor activities often go hand-in-hand, which is why most people visit parks as a way to walk or hike in nature. As an avid hiker myself, I began using TrailBuddy Trekking Poles last year when I was in need of extra support due to an ankle injury. Since then, my ankle has healed, and these trekking poles have helped me ascend difficult peaks, tackle long hikes, and increase my walking speed on the trail. Regardless of ability, anyone who visits national parks on the regular would greatly benefit from these sturdy trekking poles, which are sure to become their constant companions on the trail.
Buy it here: TrailBuddy Trekking Poles | $35
National Park Passport and Checklist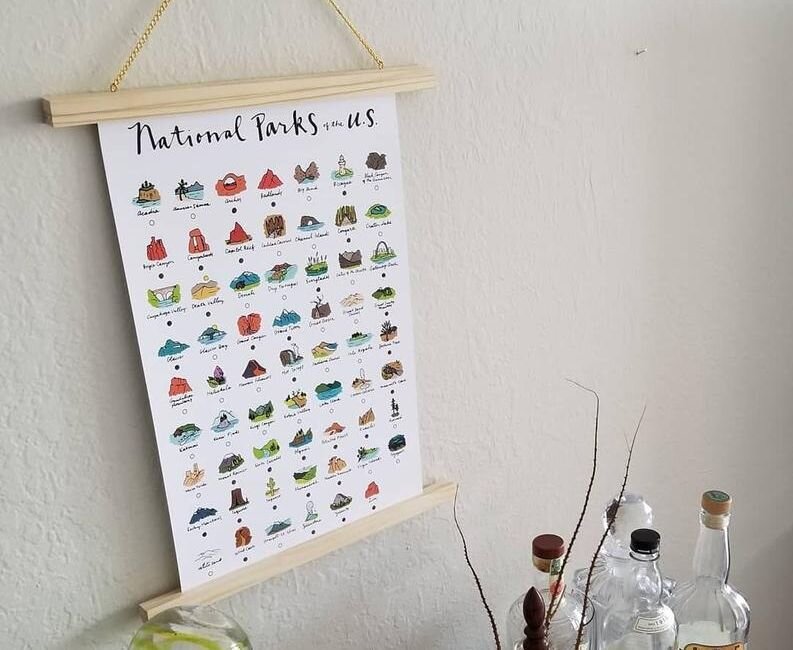 Lovers of national parks share one thing in common  — they want to leave no stone unturned when it comes to the National Park System. While it may be a hefty goal to visit every national park, it's entirely possible with a little organization and planning. Kids and adults alike are sure to love a National Park Passport, which mimics an international passport with official stamps that can be obtained in the Ranger Office. The stamp also marks the date of each visit, so it serves as a memory of the trip. Alternatively, a National Parks Check List can be a visual representation of the objective, with hand-drawn illustrations that can be checked off after each destination is reached.

Buy it here: Passport to Your National Parks | ~$20-$30
Buy it here: National Parks Check List | $30

Vintage Park Posters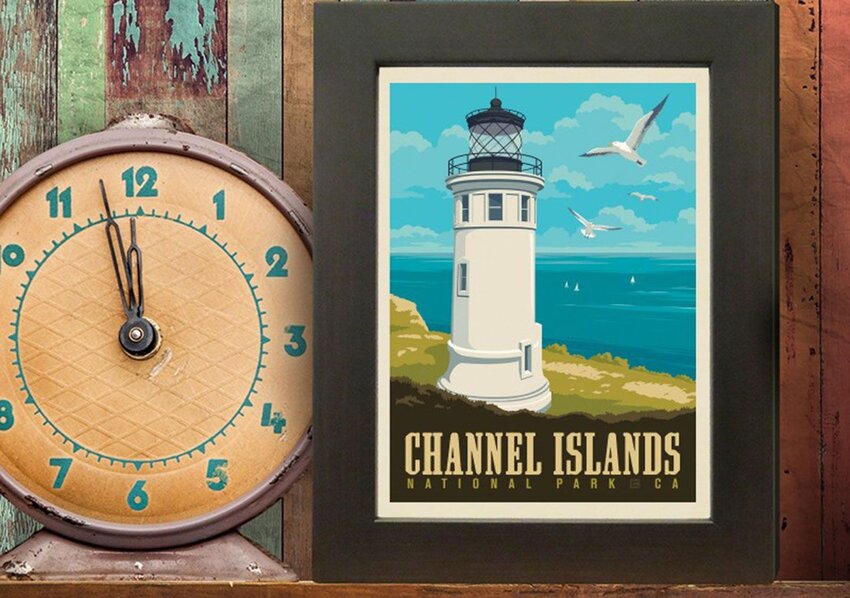 These vintage park posters demonstrate that, at over 100 years old, the National Park System has played an important role in our nation's developing history. What were once advertisements created by the Works Progress Administration during FDR's New Deal are now iconic pieces of art that showcase the country's most beautiful places. Vintage national park posters not only celebrate the duration of America's most famous parks, but they're also the perfect souvenirs for adventurers. They're much more interesting than any trinket or keepsake that can be found in a gift shop, especially when framed and hung in a favorite part of the home.

Buy it here: Illustrated National Park Art Prints | ~$17
Chimani Subscription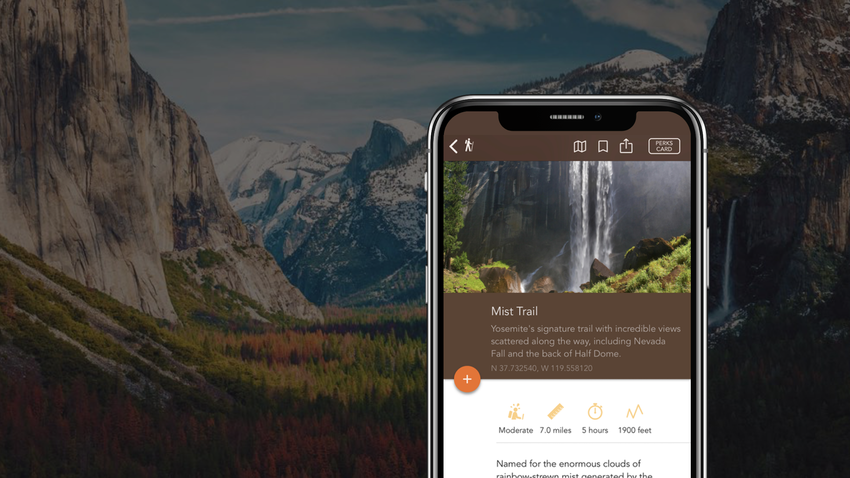 Chimani is an app that is guaranteed to be appreciated by anyone who loves the outdoors. With content that's been curated by local experts at over 60 national parks, Chimani is a comprehensive tool that provides access to detailed park information. The Perks Subscription gives users full access to the app's content, which includes detailed maps, guides, points of interest, trails, and amenities, in addition to unique add-ons such as virtual park badges and discounts. The best part? The app doesn't require signal or WiFi, so everything can be accessed in remote locations, eliminating the need for excessive paper maps or brochures.

Buy it here: Chimani Perks Subscription | $30-$100

National Park Blanket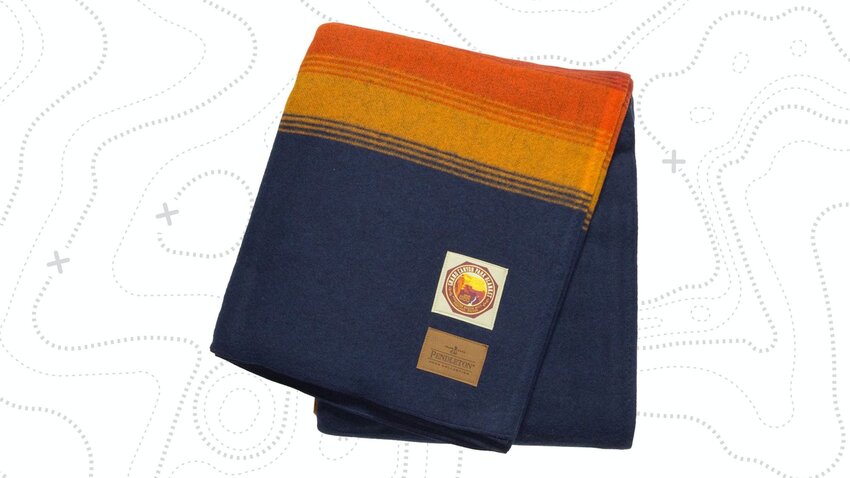 These wool blankets from Pendleton aren't only practical, they're also gorgeous representations of iconic national parks. The distinctive pattern on each blanket commemorates a different park, with designs for Glacier, Yosemite, Yellowstone, Grand Canyon, Olympic, and Crater Lake. Available in a throw, twin, full, or queen size, the wool blankets are warm but not scratchy, which makes them perfect for beds and couches alike. They're also rugged enough to throw in the car for picnics and camping trips, and with decent care, are guaranteed to last a lifetime.
Buy it here: Pendleton National Park Blanket Collection | $199 to $319

Sneakerboots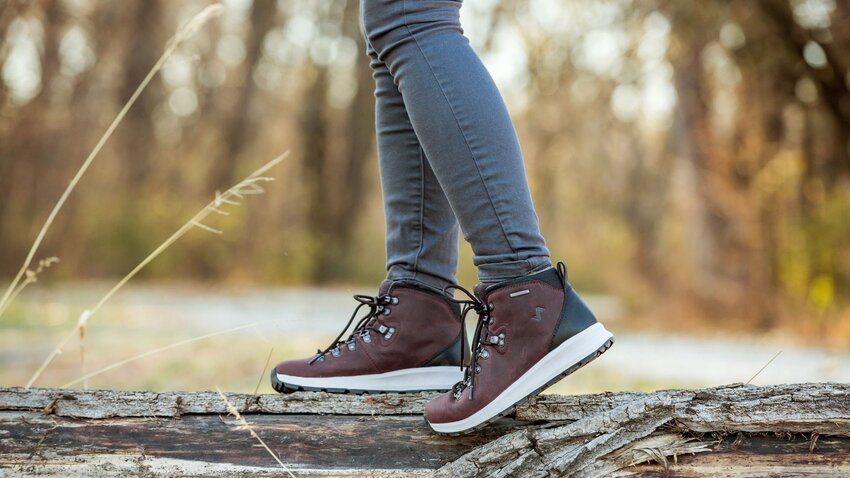 Most people can agree that the best way to see a national park is on foot. That's why visitors to public lands need a pair of all-purpose, versatile boots that can hit the trail, pavement, or rock scramble without a second thought. Luckily, Forsake sneakerboots can do it all. A combo hiking boot and sneaker, I've used my sneakerboots for all sorts of outdoor travel, from climbing up the Arches to roaming through Acadia. They're comfortable, stylish, and sturdy and have become my shoe-of-choice for outdoor travel. Forsake's newest line of sneakerboots offers waterproof protection from the elements, which makes them the kind of footwear that can go anywhere and do anything.
Buy it here: Forsake Women's Thatcher | $160
Buy it here: Forsake Men's Maddox Mid | $140
National Parks Midi Mat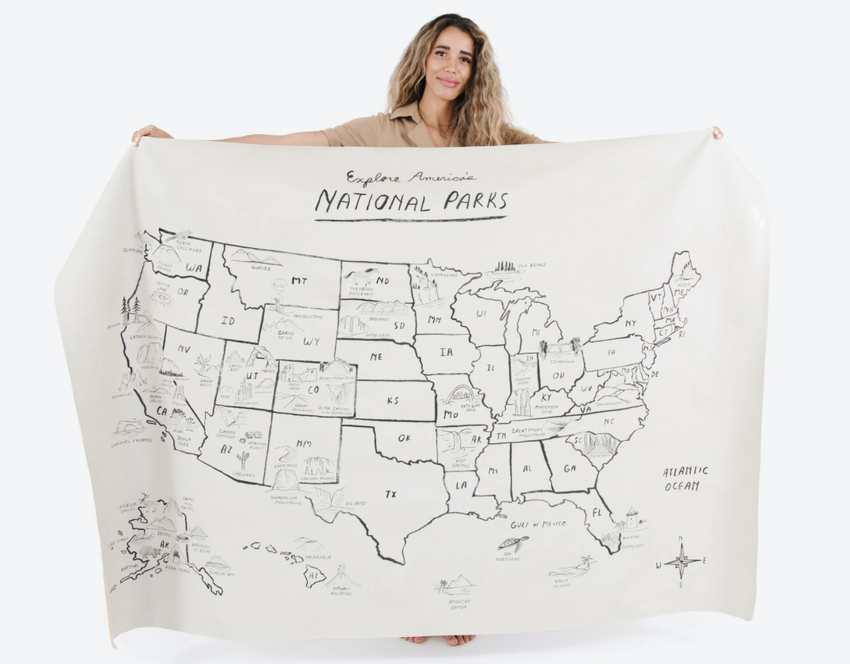 The Midi Mat from Gathre features a full map of the U.S.'s most famous national parks, with hand drawn images of the country's most iconic locations. The all-purpose mat can be used in a variety of ways, including as a water-resistant tablecloth, a sturdy picnic blanket, or a unique hanging tapestry. Most importantly, the mat's PVC coating can be wiped clean, making it a perfect play space for the kiddos. This is a great gift for someone who has a budding nature lover in the family, as it provides a visual and tactile way to learn about the National Park System.

Buy it here: National Parks Midi Map | $142
Main photo by Toa Heftiba/Unsplash