Amongst other things, 2020 has been the year of the home chef. At the beginning of quarantine, many of us turned to international cookbooks to satiate our need for travel and experiencing other cultures. Along the way, we realized that cooking at home is actually pretty fun. And a healthier way to live. And way more economical than eating out. Whether you have someone in your life who is a budding international chef or a seasoned cooking pro, there's a gift on this list that will make them happy to be in the kitchen.
Sous-Vide Cooker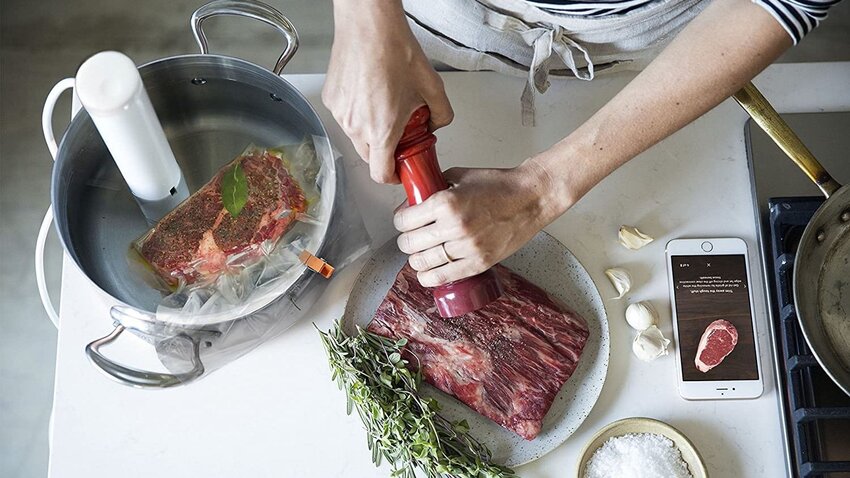 The sous-vide method of cooking is beloved by professional chefs for two simple reasons —  it all but ensures perfectly cooked food, and it takes very little effort. For home chefs who want to level up their skills, purchasing a sous-vide cooker will change the game. Case in point: a couple of years ago, my sister bought my father a Joule Sous Vide, and it transformed the way he cooked. Since then, his signature dishes — from flavorful ribs on the Fourth of July to juicy Prime Rib at Christmas — have turned into flawless masterpieces. Whenever I give my compliments to the chef, my dad rightfully gives most of the credit to this sous-vide cooker, which hasn't failed him yet.
Buy it here: Breville Joule Sous Vide | ~$200
Japanese Chef's Knife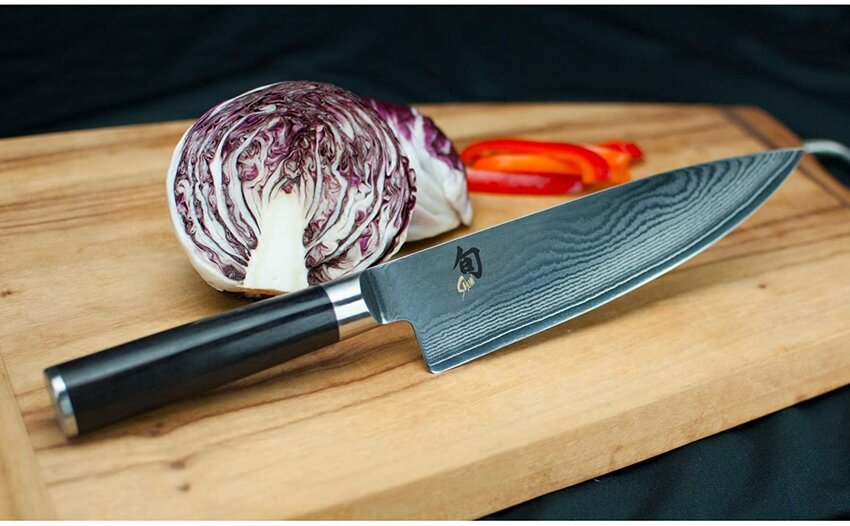 Every aspiring home cook needs a proper chef's knife. And when it comes to knives, quality goes a long way. There's much debate about German versus Japanese knives, and while it may be a matter of preference, I favor the harder, sharper Japanese style. I was given a Shun Chef's Knife several years ago, and it's still one of my most used knives in my kitchen. Not only is the knife beautifully crafted, but it's incredibly light, with an easy-to-grip PakkaWood handle. And as long as I keep it sharp, it's a workhorse in the kitchen, slicing through onions, carrots, and winter squashes with a grace not found in lesser-quality equipment.
Buy it here: Shun 8' Chef's Knife | ~$100-$150
Ulster Weavers Apron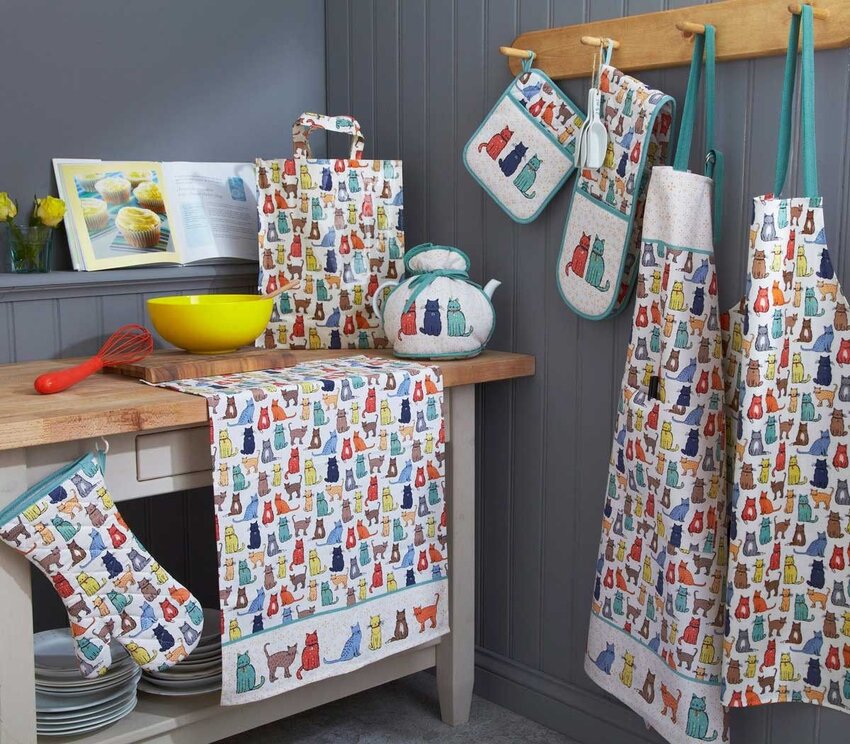 Years ago, on a trip to London, my mom bought an apron that changed her life. Instead of a typical cotton apron, which would always end up getting splattered with spaghetti sauce or drenched in dishwater, this particular apron was coated with plastic PVC. As a result, it was entirely indestructible in the kitchen, surviving even the worst cooking mishaps with a simple wipedown. A couple of years ago she gifted me the very same PVC apron from Ulster Weavers, a British company that sells kitchen goods in a variety of cute, kitschy designs. Now, I don't so much as chop an onion or scrub a dish without donning my apron first. Having saved me (and my clothes) countless times from the sort of disasters that befall the industrious home cook, this is a gift I plan on using for a lifetime.
Buy one here: Ulster Weavers PVC Apron | $30-$33
Ramen Soup Bowls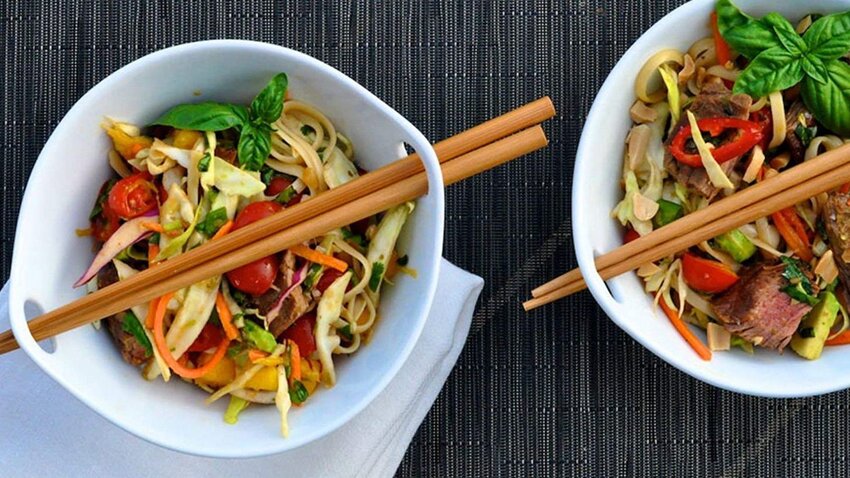 From learning how to make ramen from scratch to tasting the perfection of homemade wontons in broth, budding international chefs love to recreate exotic dishes from China, Thailand, and Japan. However, when it comes to international recipes, the dishware is nearly as important as the food itself. My friend from Japan sent me these ramen bowls, and although I do use them for all my favorite Asian soups, they also work well as everyday bowls — the chopstick storage holes double as a unique carrying system for hot food. And since they come complete with chopsticks and spoons, it makes dining on ramen at home feel much more authentic and fun.
Buy them here: Ramen Soup Bowls | ~$22-$27
French Braising Pan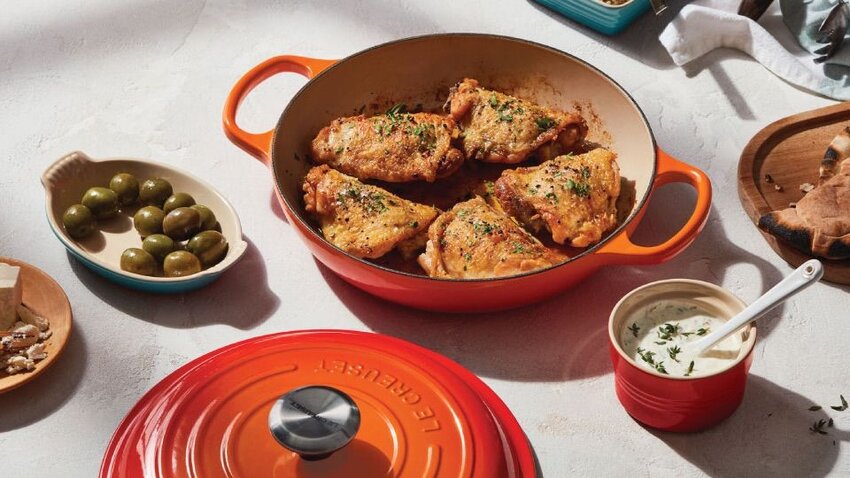 If the chef in your life loves French cooking, a braising pan is sure to bring a smile to their face. Braising is a French cooking technique that requires a slow simmer in a small amount of liquid, resulting in extremely tender, melt-in-your-mouth dishes. Although Dutch Ovens can also be used for braising, they actually work better for dishes like stews and soups that require more liquid. A true braising pan, like this one from the iconic French brand Le Creuset, has a broader shape that fits larger cuts of meat and conducts heat quickly for a better sear. If you're wondering what can be braised, the answer is...nearly anything. From short ribs to chicken to Swiss Chard or cabbage, many foods benefit from being cooked properly in this type of pan.
Buy it here: 3.5 Quart Le Creuset Braiser | $310
Maldon Sea Salt and Salt Cellar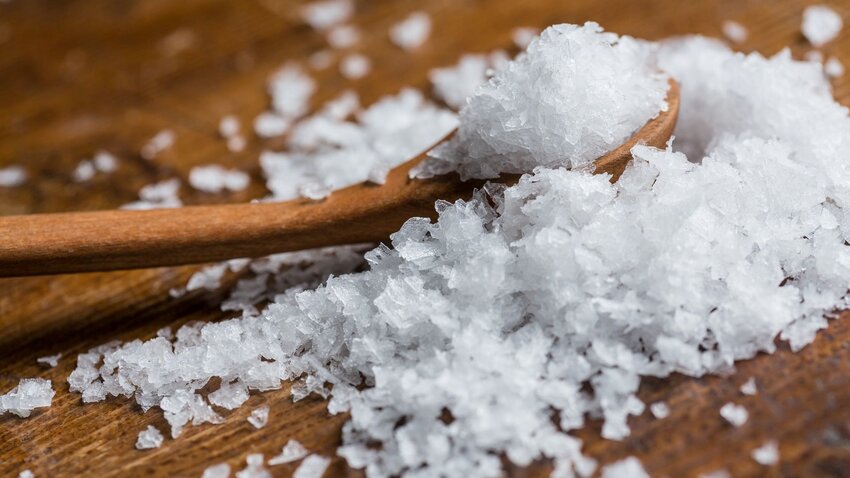 Salt is arguably one of the most important, and ubiquitous, ingredients in a chef's kitchen — but not all salt is created equal. Most chefs agree that cooking with high-quality ingredients results in better tasting food, and these chefs also choose Maldon Sea Salt from Maldon, England — just ask Ina Garten. Maldon is a flaky sea salt that doesn't dissolve on hot food, adding flavor to any type of dish, from avocado toast to grilled steaks to patatas bravas. And while it is pricier than your typical table salt, it's worth every penny. A gift like this is best paired with an elegant container, like this French Marble Salt Cellar from Crate and Barrel. It's small enough to fit on any counter, but the lid will ensure the gourmet salt is protected.
Buy it here: Maldon Sea Salt 3.1 Pounds | ~$27
Buy it here: French Marble Salt Cellar | $15
Outdoor Pizza Oven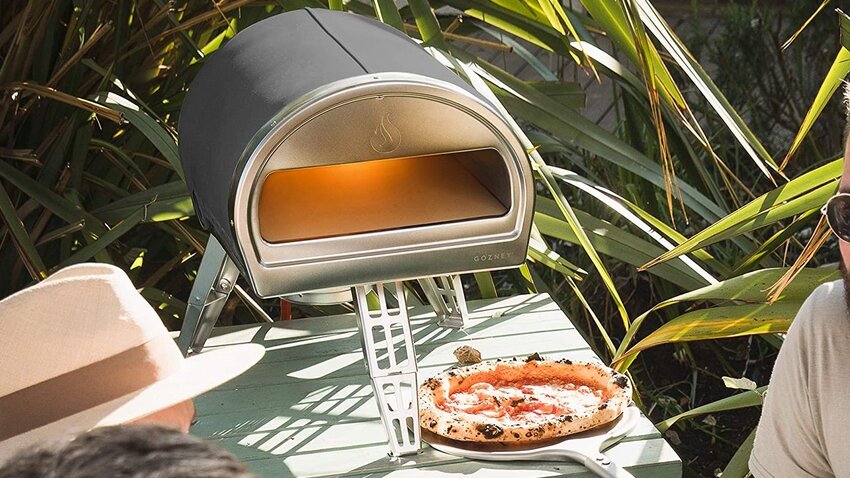 There's a reason why takeout pizza tastes better than the pizza you make at home — commercial pizza ovens cook at exceptionally high temperatures, ranging from 700-900 degrees. Since most home ovens top out at 500 degrees, it's impossible to achieve the right temperatures that will create the crispy pizza crust we all covet. For this reason alone, pizza lovers will adore this portable outdoor pizza oven from ROCCBOX. Small, lightweight, and with retractable legs that make it easy to store, this pizza oven can be fueled by gas or wood, and its cooking temps reach up to 900 degrees. The outcome is fantastic Italian-style pizza that will soon become part of your weekly routine.
Buy it here: ROCCBOX Portable Outdoor Pizza Oven | $499
Sushi Making Kit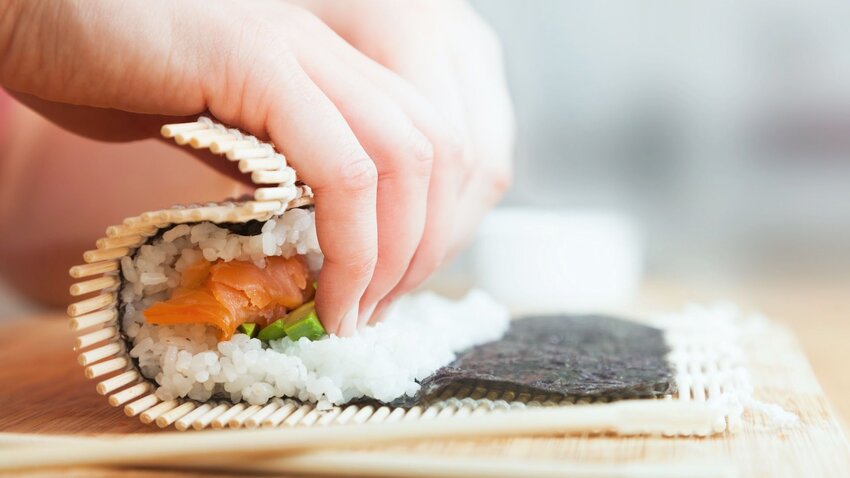 Learning how to make sushi at home is a revelation. Not only is it an incredible cost-saver, but it is a fun activity to do with friends and family. However, the first time I rolled sushi at home, I did it by hand and the end-result was not pretty. Then I learned about the sushi bazooka, which is a modern contraption that takes the hard work out of sushi rolling, allowing you to create a perfectly shaped roll every single time. Still, there were plenty of other accessories I had to buy to make restaurant-quality sushi at home. Looking back, this Sushi Making Kit would have saved me a lot of trouble, since it comes with everything you need, such as a sushi bazooka, chopsticks and chopstick holders, bamboo mats, and even an avocado slicer. With something like this, sushi lovers will be thrilled to make spicy tuna rolls as often as they like.  
Buy it here: ATOKIT Sushi Making Kit | ~$20
Silpat Baking Mat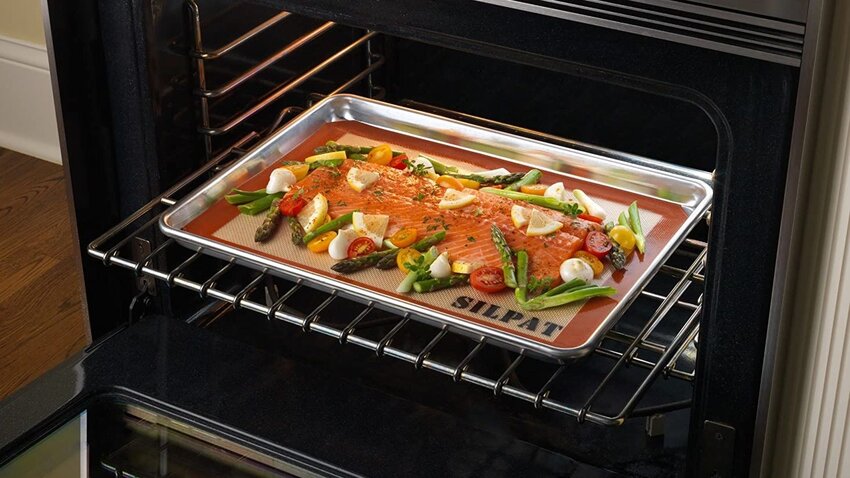 Professional chefs and bakers alike swear by their Silpats, French baking mats that function like reusable parchment paper. Made from food-safe silicone and fiberglass mesh, these versatile baking mats are sized to fit both half-sheet and full-sheet pans and provide fantastic results when baking or roasting. In addition to negating the need to grease a pan with butter, the added insulation from the mats results in more evenly baked cookies and pastries. The best part? They protect the baking sheet, which makes for super easy clean-up that requires zero scrubbing. The Silpat itself can be hand-washed with mild soap and re-used countless times.
Buy it here: Silpat Non-Stick Silicone Baking Mat | ~$14-$25 each
Tagine Dish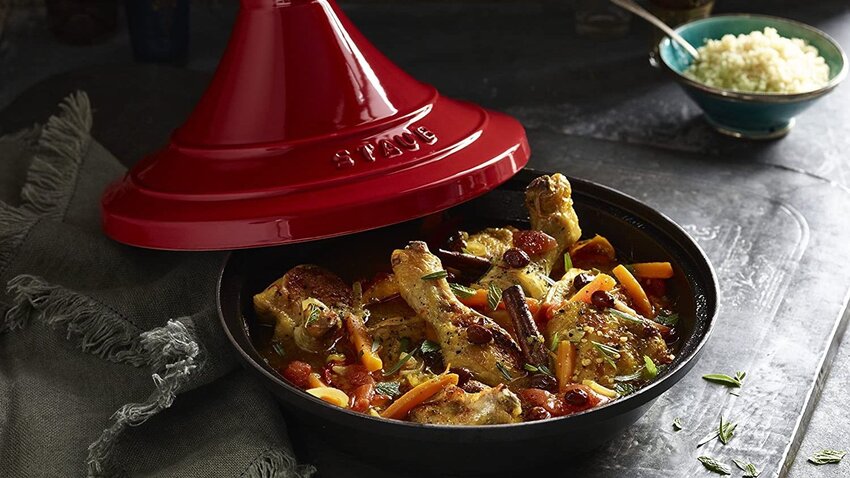 Home chefs who crave exotic flavors will love learning how to make Morraccan tagine.  Traditionally, this distinct international cuisine involves cooking meat and vegetables in a specialty dish over open coals. Fortunately, Staub makes a cast iron tagine dish that can be used over open coals or the stovetop. The pot's distinctive shape ensures the food is cooked slowly, with the cone-shaped top allowing steam to reabsorb into the food, resulting in the incredibly tender cuts of meat that define true Morraccan tagine.
Buy it here: Staub Cast Iron Tagine | $150-$225
---